HealthyPi v4 Campaign Starts
ProtoCentral has started a Crowd Supply campaign for the HealthyPi v4, its latest vital signs monitoring dev kit. The HealthyPi v4 is wearable, wireless, and can be mounted on a Raspberry Pi. The units are all open source and stand-alone made for end-users, students as well as researchers and developers.
An Improvement on HealthyPi v3
The recent increase in health-related tech has fueled ProtoCentral's desire to bring its HealthyPi v3 up to current usability and development standards. The retail versions of the HealthyPi v4 are made specifically to work in conjunction with the Android OS for ease of use and mobility. Also, the Raspberry Pi HAT form factor is also supported in this version of the device.
Articles On Health-Related Development
The articles that have touched on health-related issues and topics from our archives, as well as very recently include HEGduino a neurofeedback monitor and the HealthyPi v3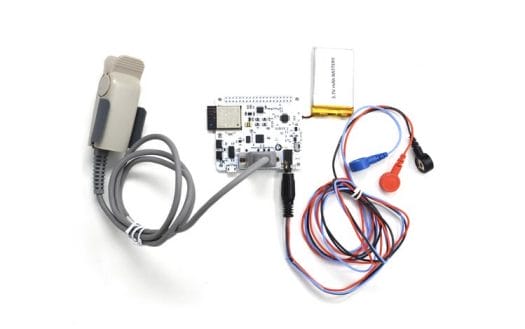 What The Units Measure
The units have a microcontroller and wireless connectivity with ESP32 and support's Adruino IDE and Espressif ESP-IDF. The measurements that the HealthyPi v4 provides are –
Electrocardiogram (ECG) data, heart rate, and heart-rate variability
Respiration based on an impedance pneumograph
Pulse oximetry (SPO₂)
Body temperature
Functionality and Future Applications
The HealthyPi v4 was designed to increase the ability to monitor vital signs in all types of situations, during exercise, or work, or play. They provide valuable insights into the real-time effects of different activities on the body, but the functionality and diversity open up the doors to a vast expanse of new research possibilities.
Designed for Research and Development
Students and Researchers –
for many types of scenarios where vital sign monitoring is necessary, usually the monitors require proprietary software, and most times there are major differences between the different types of monitoring software. HealthyPi v4 is opensource with software that is easily applied in many situations. The software is fully customizable and can be built to function in almost any type of circumstance, across applications. the results are more reliable, versatile and more effective across data collection spectrums and affordable.
Developers –
The use of the HealthyPi v4 in the development of devices that fit into the health and wellness industry, especially wearable devices, is made easier with the unit's viability in prototyping. If a given prototype works for the designer's intention then hardware and software functionality can be integrated into the design, with minimal effort.
Worldwide Versatility –
The use of Bluetooth Low Energy and its standalone capability the HealthyPi v4 is an excellent choice for those regions where access to monitoring devices is difficult or impossible.
Specifications
Microcontroller and wireless connectivity: ESP32, in WROOM32 module, with a Dual-core Xtensa 32-bit CPU, 4 MB of on-board flash, Wi-Fi, and support for BLE

Wireless interface: Wi-Fi and Access Point (AP) modes, a 2.4 GHz radio with an on-board PCB antenna that is compatible with Bluetooth 4.2 and BLE

Firmware programming: Supports Arduino IDE as well as Espressif ESP-IDF
Sensors:

ECG and respiration front end: Texas Instruments (TI) ADS1292R 24-bit analog front end with signal-to-noise ratio (SNR) of 107 dB
Pulse oximetry front end: TI AFE4400 pulse oximetry front end with integrated LED driver and 22-bit ADC
Temperature sensor: Maxim MAX30208 digital body temperature sensor for monitoring skin temperature

Form factor: Raspberry Pi HAT form factor (65 mm X 56 mm)
Power Access
The HealthyPi v4 has an onboard power management system that supports a Lithium Polymer Battery (LiPo) to give it a continuously wearable functionality.
Changing Modes
The HealthyPi v4 can be changed from continuous mode, where it is accessing the Raspberry Pi platform, to wearable mode which allows the unit to function as a standalone monitor.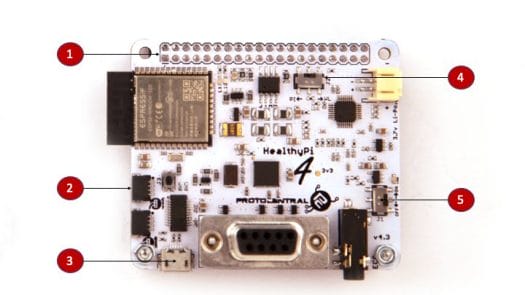 40-pin Raspberry Pi HAT connector: standard HAT-compatible headers for connecting to any Raspberry Pi
Qwiic connectors (x2): Connect any Qwiic-compatible board for virtually limetless I²C sensor modularity
USB-CDC: On-board USB-to-UART converter for programming and data transfer
Sliding mode switch: Easily transition between wearable mode and HAT mode
Power switch: Turn the device on and off
Mobile App
The HealthyPi v4 connects easily to an Android device, through the mobile app, which connects through BLE. The device will appear on the homepage of the app, where it can be selected. Once selected the heart rate, respiration rate, temperature, and SPO₂.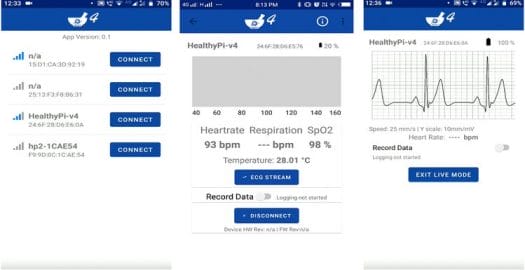 Webserver Mode
A simple button push can connect the unit to Wi-Fi Access Point (AP) mode which allows the device to access the HealthyPi Wi-Fi network using a computer or mobile device. The browser that is used needs to be pointed at http://healthypi.local. The page will display vital signs and plotting of vital signs and also Over-the-air (OTA) software and firmware updates
Viability with v3
HealthyPi v4 is fully compatible with HealthyPi v3, and through continuous mode, the unit streams real-time data to a processing-based application compatible with raspberry Pi devices or desktop platforms. Desktop platforms that are supported are Mac, Windows, and Linux.
HealthyPi v4 HAT Kit – $199

Each HAT Kit includes:
HealthyPi v4 mainboard
1,000 mAh battery
Three-electrode cable with ECG "snap connectors" on one end and a stereo connector on the other
A sheet of 20 single-use ECG electrodes
Finger-clip SpO₂ probe with a Nellcor-compatible DB9 connector
Qwiic-based temperature sensor
HAT mounting kit with headers and screws for stacking HealthyPi v4 atop a Raspberry Pi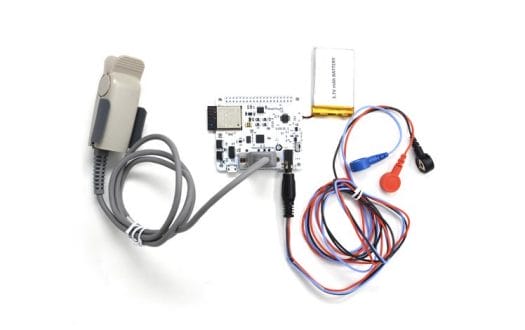 HealthyPi v4 Complete Kit – $399

This kit has all you need to quickly put together a standalone monitor. Each kit contains everything in the HAT Kit, plus:
Raspberry Pi 3 Model B+ computer
16 GB microSD card with Raspbian and HealthyPi software
Official, 7" Raspberry Pi touchscreen LCD display
SmartiPi Touch enclosure for the Pi and the display
Isolated, medical-grade (5 V, 2.5 A) USB wall power adapter (100-240 VAC) with snap-on plugs for the following regions: US, EU, UK, and AU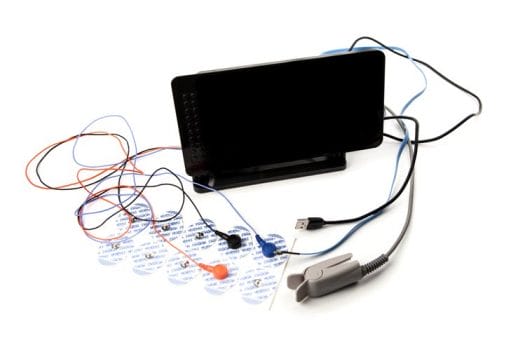 Shipping and Post-Campaign Pricing
All orders ship from Crowd Supply warehouses in the United States.
The HealthyPi v4 Complete Kit costs $399.00 right now but will increase to $499.00 post-campaign. The HealthyPi v4 HAT Kit is $199.00 but will increase to $249.00 post-campaign. Shipping is free and will be on Jan. 10 2020, for orders placed now.

Stephen started writing about technology after publishing sci-fi short stories. His first White-Paper, written in 2008, was well received and inspired him to continue writing about technology. Today he writes in the technology space full time, covering a multitude of topics. During the time he wrote part-time he edited hundreds of titles for large publishers, in science and technology. He lives in Staten Island, with his wife and children.