We covered MatchX M2 Pro LPWAN Crypto-miner yesterday, and at first, I really thought that combining LoRaWAN gateway with cryptocurrency mining was really just a gimmick. But after talking with others, I found out that MXC Foundation HashDash used with the MatchX gateway was not the only such solution, and I was introduced to Helium Hotspot.
A Helium Hotspot is a LoRaWAN gateway that also allows you to earn HNT cryptocurrency, and it could more than just prove a way to fund the deployment of public LoRaWAN networks, as as we'll see below some people or companies are making some serious money, while others not so much. A DIY Helium Hotspot can also be made from a Raspberry Pi 3/4 and a RAK2245 Pi HAT.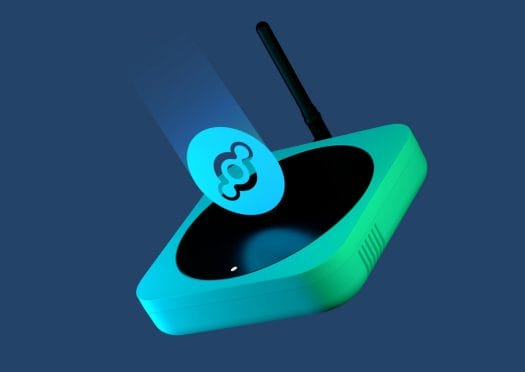 Helium Hotspot key features and specifications:
SoC – Quad-core Arm Cortex-A53 application processor
System Memory – 1GB RAM
Storage – 64GB Storage
Connectivity

Ethernet
Dual-band Wi-Fi
Bluetooth 4.2 LE
LoRaWAN bands – RF: 902-928MHz (US), 868MHz (Europe), 779MHz (China)
Capacity: Approximately 1.5 million devices per day, 62,500 per hour
ZOE-M8Q GNSS timing module

Power Consumption – 5Watts
Dimensions – 14 x 14 x 3.8 cm
The specs are a bit better than MatchX M2 Pro, but there's no ASIC for crypto-mining, and instead, Helium relies on the same low-power Proof-of-Stake model, except it's called "Proof-of-Coverage challenge". HNT token allocation is currently 5 million per month, and are shared among users depending on the work done by their gateway(s), as well as to pay for network data transfer and maintain the infrastructure.
There's no mention of the LoRa module used, but there are instructions to build an Helium Hotspot with a Raspberry Pi 3/4 and RAK2245 Pi HAT, and the source code is on Github. Considering Helium Hotspot is only currently available in some countries, and it costs 450 Euros to purchase, make your own look like an interesting proposition, except I was told DIY gateways cannot participate on the blockchain yet, but that something that should change next month (September 2020).
The price of the gateway is quite steep, so it would be interesting to find out how much money you can actually make… The answer is it depends on the location and traffic going through your gateway. But it's easy to check as everything is public just like most other blockchain-based solutions.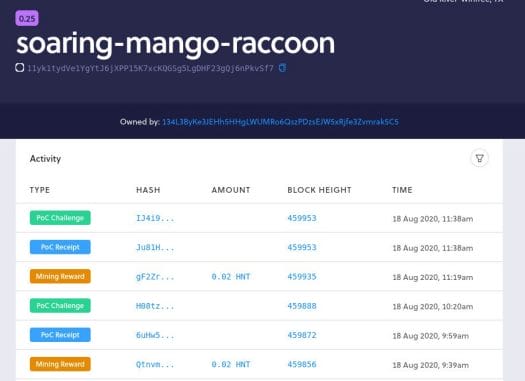 The screenshot above shows the activity and mining rewards for an account with a single gateway located in a small Texan town with a little over 1,000 inhabitants. It earns about 0.28 HNT per day or around 50 cents a day with the current price for HNT of about $1.80.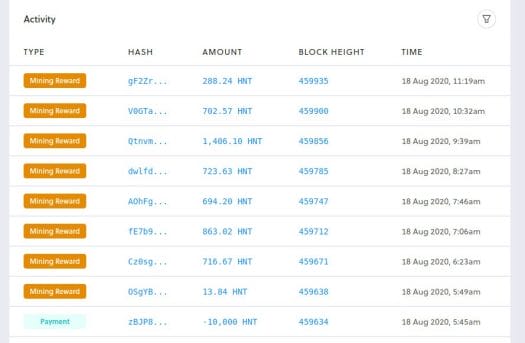 But if we look at another account with 63 gateways located in larger towns and cities across the US, the story is completely different. This account makes around 27000 HNT a day in mining rewards. At $1.8 per HTN, that's close to $50,000 a day. Note that like other cryptocurrencies, HTN price is highly volatile and can go up or down in a major way.
There are some reviews on the Internet, and some commenters claimed that "Antenna placement and proximity to other hotspots is the biggest factor in mining rewards since you earn a lot more for proof of coverage vs challenge creation". So you may want to browse the coverage map to find out if there are already other Helium hotspots in the area where you live.
You'll find more details on Helium website.

Jean-Luc started CNX Software in 2010 as a part-time endeavor, before quitting his job as a software engineering manager, and starting to write daily news, and reviews full time later in 2011.