This morning I received a message from DHL informing me of an incoming package from Hong Kong and sent by a company (i.e. an agent) I had never heard of. My first reaction was "Ah" shortly followed by "Why?!".
But in any case, I've just received the package, and after tearing the plastic out, I found a FriendlyELEC branded package. So I thought to myself it must be a NanoPi board for review. Wrong! I actually got two NanoPi "boards" namely NanoPi NEO3 with 2GB RAM, and NanoPi R2S both of which are Rockchip RK3328 powered SBC's designed for Linux headless applications.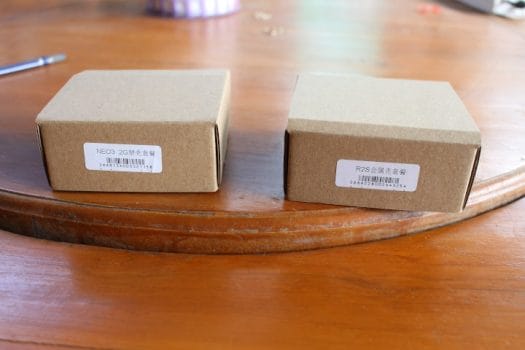 Unboxing
After opening both packages, I realized I did not get the SBC versions, but instead the complete gateways with their respective enclosure.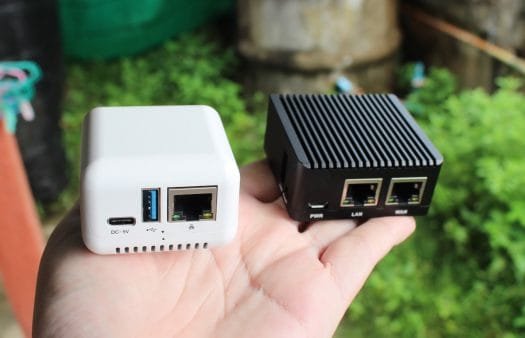 NEO3 is really light since the case is in plastic, while R2S is a bit heavier due to the metal case. NanoPi NEO3 gateway comes with Gigabit Ethernet and USB 3.0 as well as a USB Type-C power port, while R2S includes dual Gigabit Ethernet (one native one via USB 3.0) and a Micro USB port for power.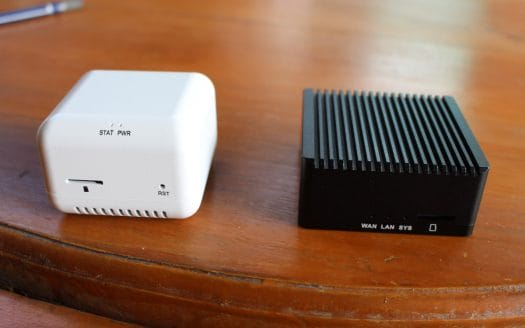 The opposite side of both devices includes a MicroSD card to boot the system since none of them come with an eMMC flash (note: R2S does have an SPI flash footprint for network boot), as well as power and status LED's. NanoPi NEO3 also has a reset pinhole that is found on another side of R2S together with a USB 2.0 port.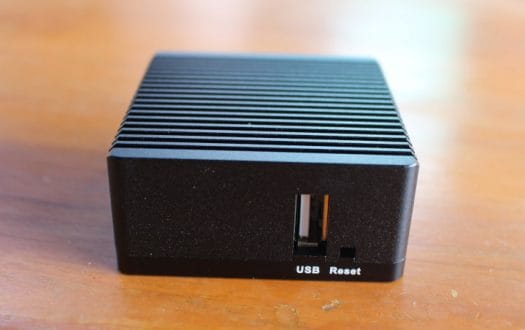 The company did not provide any other accessories with the gateway, but that's OK as all we need are USB power supplies and some Ethernet cables.
Teardown
Neither enclosures are made to be disassembled. The two parts of NanoPi NEO3 plastic enclosure are just clipped together, while NanoPi R2S case comes with four screws including one topped with what looks like a "warranty void" sticker.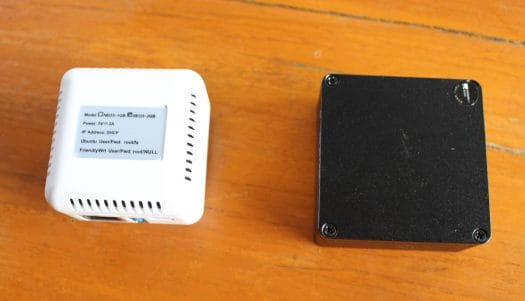 The bottom side of NanoPi NEO3 also shows the username and password for the Ubuntu and OpenWrt images provided by FriendlyELEC.
Let's start with NanoPi R2S teardown. Once we have loosened all four screws, the cover will come off easily. Note at the top left corner of the photo below, we have the SPI flash footprint.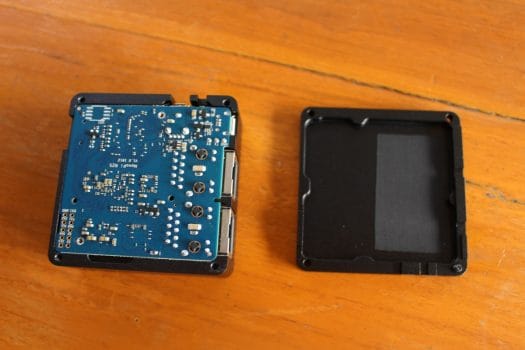 Then the board can equally be removed from the top part of the enclosure. This allows us to see the Rockchip processor is covered by a thermal pad directly in contact with the metal case, which should be good for cooling.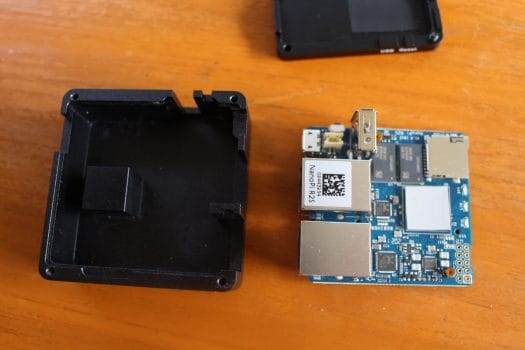 This may be important as people using the board with a plastic case noticed the board suffered from thermal throttling. The metal case is probably worth the extra $3 the company asks for.
There are really only three reasons people may want to open the case to access NEO3 or R2S SBC:
Access the 3-pin UART header for kernel/uboot debugging or troubleshooting via the serial console.
Connect a 5V fan (obviously not useful with this case)
Access the GPIO header(s).
Let's switch to NanoPi NEO3 gateway teardown.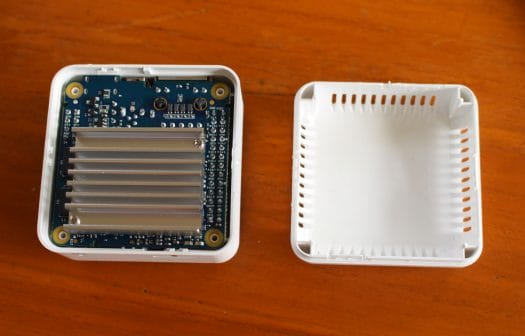 Somehow I could not find my plastic tools, so I opened it with a metal tool, and if you look close on the right side I slightly damaged the case in the process. Cooling is achieved with a largish (considering the enclosure size) heatsink and ventilation holes on each side of the enclosure. I wonder if placing the device upside-down may yield better cooling, so I'll test that once I have Linux running on the board.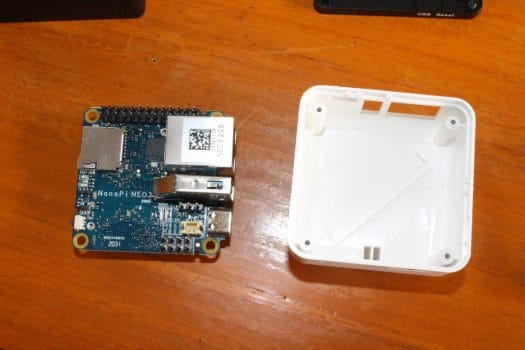 Again, the board comes very easily from the top part of the enclosure. If your project requires I/Os, you'll have many more I/Os to play with than with NanoPi R2S.
NanoPi NEO3 with 2GB RAM and the plastic enclosure is sold for $27 and up on Aliexpress or FriendlyELEC store, while NanoPi R2S goes $25 and up on Aliexpress or FriendELEC store.
Continue reading "NanoPi R2S & NanoPi NEO3 tested with Armbian – Thermal test, Ethernet and USB performance"

Jean-Luc started CNX Software in 2010 as a part-time endeavor, before quitting his job as a software engineering manager, and starting to write daily news, and reviews full time later in 2011.