CNXSoft here. I've been tasked with reviewing Famisafe parental control app for Android and iOS acting both as a parental control app and phone tracker app and designed for parents who want to track their kids' location and better control when to use the phone and what content they may access.
The first thing to get started is to download the free trial on either Android or iOS.
I actually downloaded both versions for FamiSafe for this review, since I used Huawei Y9 Prime 2019 (Android 10) as the "parent" smartphone, and an iPhone 6 as the "kid" phone.
Famisafe Initial Configuration
We'll have to start with the "parent" phone.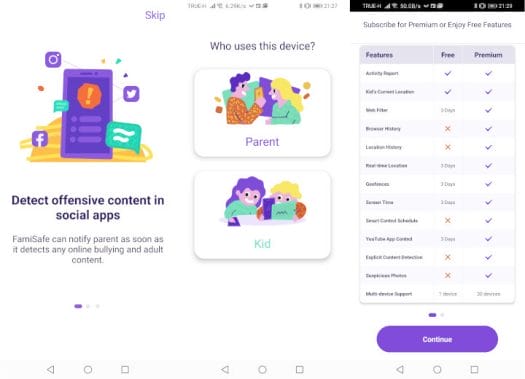 After a welcome screen explaining some of the main features including offensive content detection, device & app usage rules, web filter, etc.. you'll be asked to select whether it's the parent or kid device. Once we select "Parent" we'll be shown the differences between the Free and Premium version. The only real long term use case of the free app is if you have a single kid and all you want to do is to track he/her current location.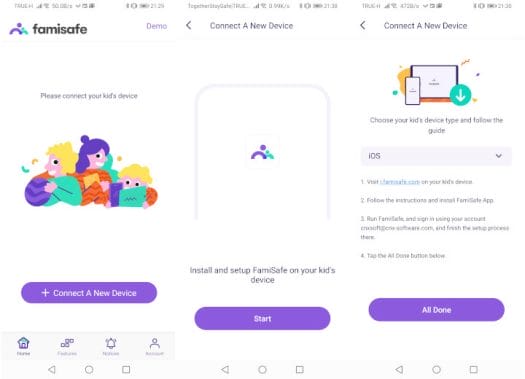 At first, I continued with the Free version, and the next step is to connect your kid's device, and we're being asked to visit i.famisafe.com on the kid's device to carry on. The page will prompt you to download the app for your OS (Android, iOS, or Amazon FireOS), and help you to through the setup.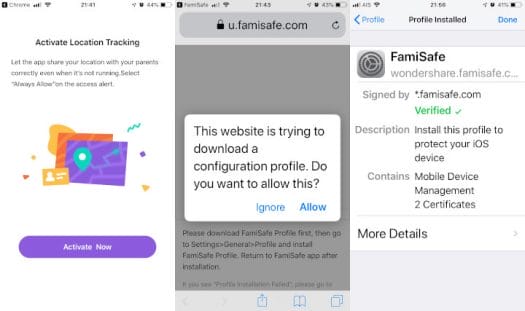 This includes the activation of iOS or Android location tracking and the installation of a configuration profile with iOS settings to enable remote management of the phone. You'll also enter a nickname and age of your kid.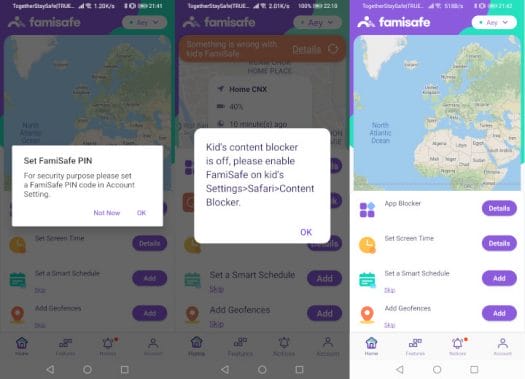 The final steps on the "parent" phone include setting up a four-digit pin and more instructions to change your kid's settings to enable Web Filtering on Safari. The app is now ready to use.
FamiSafe Features Overview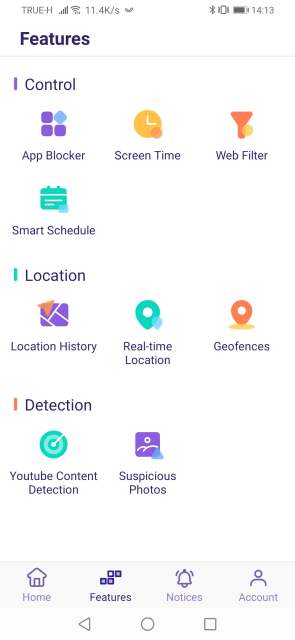 The company provided a one-month subscription to allow me to access all features for the review. While we've got some shortcuts on the Home of the app, tapping on Features will bring out the full list of features divided into three main areas:
Control

App Block to block all apps or specific apps depending on age.
Screen time to allow your kid to only use the phone for a specified amount of time each day. Once the time has expired, this will block all apps installed from the app store, but your kid can still receive calls and SMS.
Web filter to control which type of websites your kid can access, and even specific URLs to block or allow

Location

Location history will show where your kid went during the day, and it keeps a history for several weeks
Real-time location shows where you kid is located together with the battery level of his/her phone. Good to remind him/her to charge the phone.
Geofences – Very useful feature that let you set perimeters around the home, school, work, etc… and you'll get notified each time the phone leaves/enters a location

Detection

Youtube content detection will scan subscribed videos for suspicious content, and show you potentially harmful videos based on your predefined and/or custom word filters
Suspicious photos – This was always empty for me probably because there were no dodgy photos on the kid's phone.
Control Features
Let's start with the control features and specifically the App Blocker. The screenshot below illustration what happens on the iPhone (aka Kid phone) when app blocking is enabled.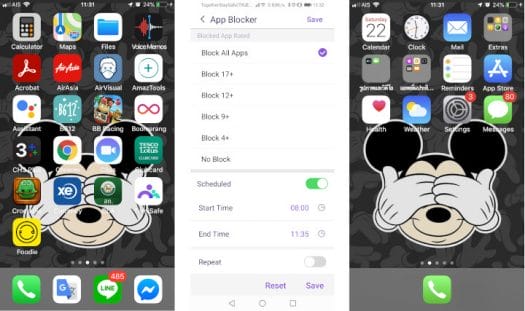 On the screenshot on the left all apps will show, but as soon as we block all app, LINE, Message, Google Translate, games, etc.. all disappear as shown on the right screenshot. It's possible not to block all apps and select the allowed ones based on age rating, as well as setting a time for blocking. This looks particularly useful for a kid that uses his phone to play games or access social networks during school.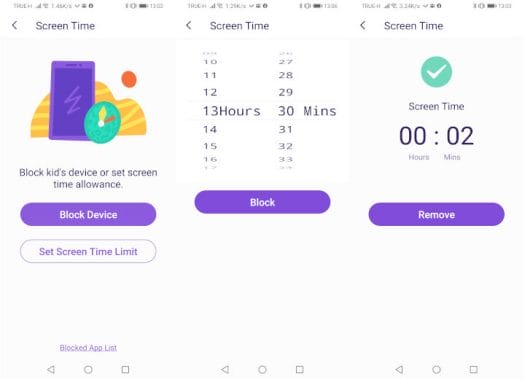 In some ways, the Screen Time function works the same way as Block All Apps in the App Blocker app, except you can set the daily usage for your kid. So screen time is set to two hours, and the phone was actively used for two hours, all apps will disappears except the default apps. It's certainly easier that way to just ell you kids he/she can only play two hours, then having to argue once the time is up…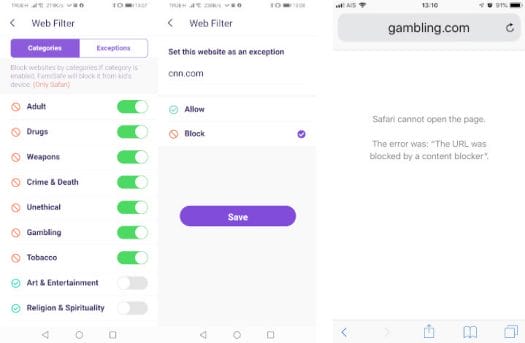 The Web Filter will let you block categories of websites (Adult, Drugs, Gambling, etc…) or even specific websites, and if your kid tries to access this type of content it will show "The URL was blocked by a content blocker" in Safari. Not this won't work with other web browsers like Chrome. Note that I tried to block CNN website but it did not work for me. I tried some adult and gambling websites, and all were properly blocked.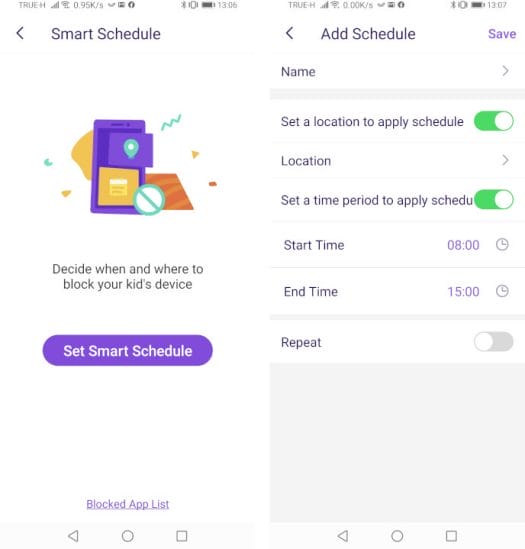 The final control feature is Smart Schedule where you can set the time and location when the phone is "blocked".
Location / Phone Tracker Function
IMHO, the phone location tracker feature of the app is the most interesting in the app. The Location History section will show the whereabouts of your kids for the day.
The full view will be hard to decode but zooming will show more details. If you have a single GPS coordinates circle that most probably means your kid is in a car, a bus, or another vehicle, but multiple circles indicate a stop, for example, the second screenshot represents a visit to the market, while the third shows jogging in a public park. You can also navigate in the past to check out other days. I've been using the app for a week now, and I have data for all days.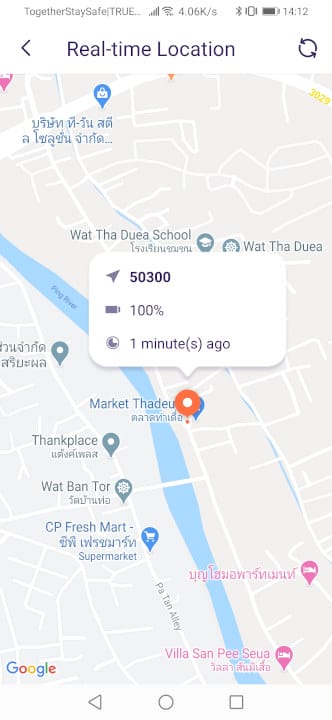 The Real-time location has not much to it, but it's one of the key features of the app and is always available even in the free app. It just shows the location of your kid together with his/her phone battery level and time of the latest GPS coordinates update.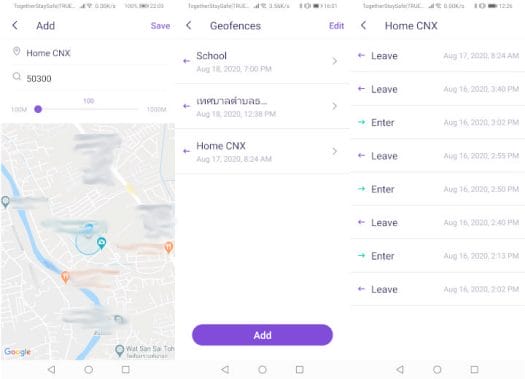 The Geofences section is really nice albeit with one limitation. It allows you to set a perimeter from 100 meters to 1km around various locations to get alerts whenever your kid enters or leaves an area. It's easy to add a geofence around your current location, and searchable locations like schools, sports centers, shopping malls, etc…, but you cannot easily add a remote location such as a friend house since it's not searchable. It's still possible to add it but you have to be physically present. Nevertheless, it's really useful to get alerted when your kid leaves or enters home or school. I don't always check my phone notifications, and my phone is usually set to "Do not disturb", so I added FamiSafe to my smartwatch to get important notifications right on my wrist.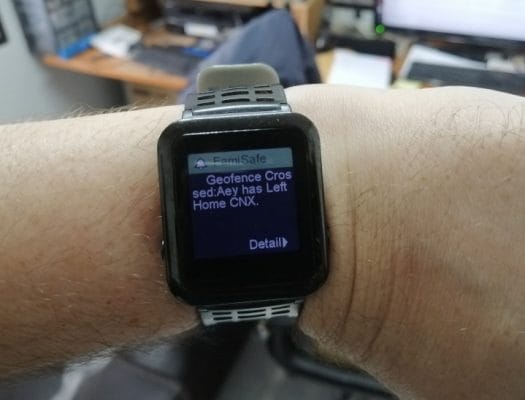 The ability to track a cell phone can bring peace of mind to parents. Note that from time to time I would not be able to track the phone, albeit the real-time location was still updated. A workaround was to manually launch FamiSafe app on the kid's phone.
Suspicious Content Detection
The Detection section of the app was the least useful to me. It allows you to check out any potentially harmful YouTube videos in a YouTube account, or photo stored on your kid's phone.
Your kid would have to have a Google account that he/she use to login to YouTube for the "Youtube Content Detection" to work. Since the iPhone user would never log in to YouTube, I used my own account for testing instead.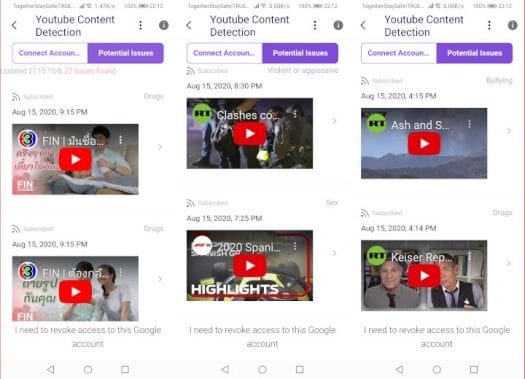 The Potential Issues tab has rather mixed results partially because of having both English and Thai videos, and for instance, some Thai TV series/soap operas are marked as "Drugs", while a Formula 1 racing video is detected as potential "Sex" content. But a video of clashes during riots/protests is correctly detected as being "Violent or aggressive" and I would not be surprised is Max Keiser had talked about drugs…
FamiSafe Pricing
If you are only interested in checking out the real-time location of a single child, FamiSafe is completely free forever. But if you'd like to use the other features, I'd recommend you try the free app for 3 days which includes many of the premium features, and after you could purchase a subscription:
$9.99 US monthly for up to 5 devices
$19.99 US quarterly (equivalent to $6.66 per quarter) for up to 10 devices
$59.99 US per year (equivalent to $4.99 per month) for up to 30 devices
Note that only the parent device needs a subscription, FamiSafe is free on kid's phones.
Conclusion
FamiSafe phone tracking & parental control app can help bring peace of mind to parents who want to look after their kid online and offline even when they are busy with work or other activities. I found the app to be really useful especially the phone tracking and phone control features, but the detection part less so. FamiSafe worked pretty well at all times, except for a few times when I did not get Geofences notifications, and there are a few OS-specific limitations but all of which are well documentation. I can really recommend the app to parents, and you don't even have to take my words for it since you can try it for free for three days.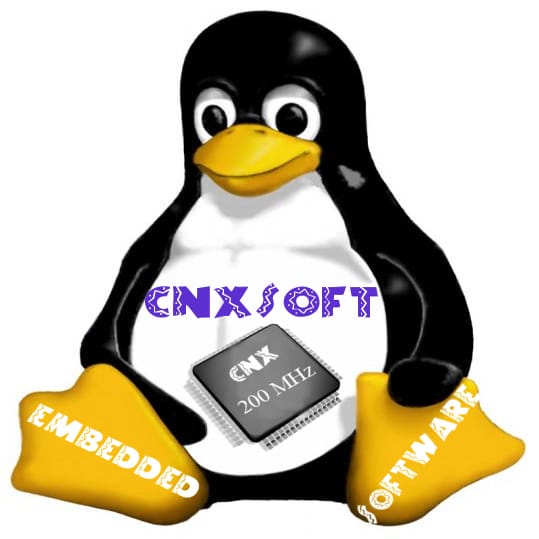 This account is for paid-for, sponsored posts. We do not collect any commission on sales, and content is usually provided by the advertisers themselves, although we sometimes write it for our clients.