As mentioned previously I did not have such good luck with smart wearables so far, with disappointing products often with a short lifetime (a few weeks to a few months, and some design issues here and there like an e-Paper display without backlight, a touchscreen display with poor locking mechanism (so it's activated while taking a shower), unreliable heart rate monitor, poor waterproofness and so on… My main requirements are always-on display, battery life as long as possible, notification support, good waterproofness to do tasks like taking shower or swim without having to remember to remove the watch, among others less important requirements.
I mostly gave up on the category for about year, but decided to give it a try when GeekBuying asked me if I was interested in reviewing WeLoop Hey 3S sports smartwatch. Maybe things have improved since then. I've already gone through unboxing and initial setup in the first part of the review entitled "WeLoop Hey 3S Sports Smartwatch Review – Part 1: Specifications, Unboxing, First Try with Android App(s)", and I've now tested the watch for a while over a week, so I can now provide an informed opinion about the device.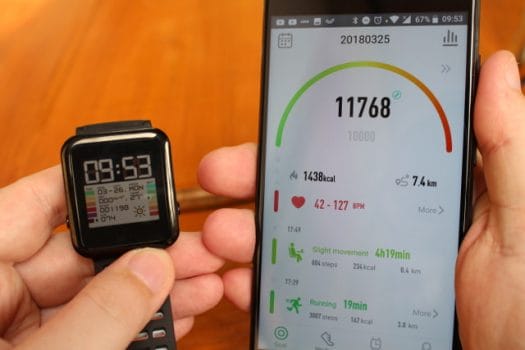 Watch User Interface
I've already shown the default watchface in the first part of the review, but I've selected another watchface from the Android app which show most useful data on the screen including time, date, step count, heart rate, weather, and battery life.

By default, the touchscreen is locked / unusable (and that's a good thing), so you need to press the right button to lock it, and you can swipe up or down to access more weather data, or a screen with step count/ estimated calories, and distance.
Swiping right to left will reveal three screen with different icons:

Screen 1 – Notifications, heart rate monitor, running mode, cycling mode
Screen 2 – Swimming mode, stopwatch, count down timer, watch face selection (default or uploaded)
Screen 3 – Settings
Notifications worked well for me, and I got a bit too much, so I disabled social networking like Twitter and Facebook, and only kept SMS and calls notifications. You can also decline a phone call from the watch.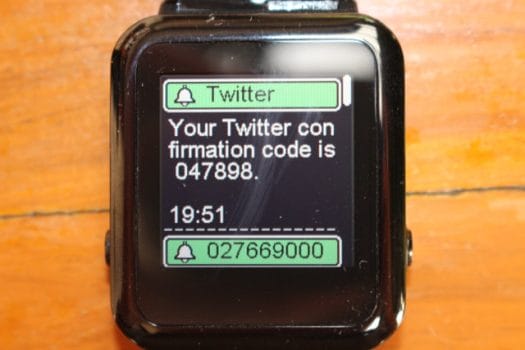 The HRM menu has two mode: "Static HR" taking measurements from time to time, and "Dynamic HR" taking measurements continuously.

I have not used it that much since I've most interested in HRM during running or cycling mode, both of which have their own user interface. Running has two modes: Outdoor (with GPS) or Indoor (without GPS).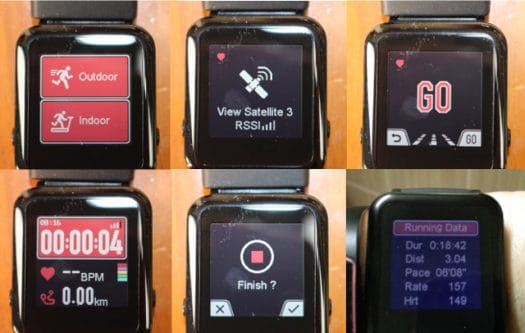 Once you select outdoor, the watch will look for satellite, and get a fix within 10 to 20 seconds, after which I'll be able to tap on GO and start your run.
During the you'll see time, BPM, distance (using GPS), and if you swipe more data about estimate calories, time per km, etc… Once you are done, press the left button, and confirm you want to finish. A summary of your data will then be shown. The data can be synchronized with the phone after the run, so you don't need to carry your phone with you.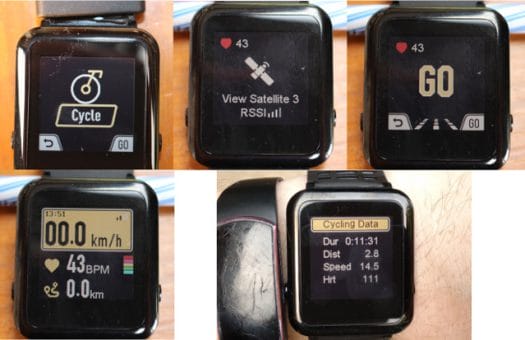 Cycle is pretty similar, except it only works outdoor, since GPS is required. The main display will show current speed, your hear rate, and distance.

I have not tried swimming this time. You are first ask to set the pool length, before tapping on GO, and starting your swim. I'd assume they can detect when you turn, so that way they can figure out the distance using the number of length you've done. HRM does not work under water as it's using an optical sensor, and data input would be completely messed up.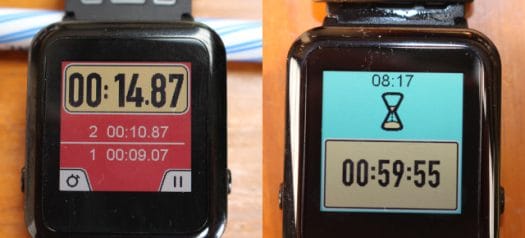 The stopwatch and countdown timer are doing what they are expected too.

The Settings menu include the Do not Disturb mode to stop notification, and About section to show the watch ID and firmware version, as well as Reset and Power Off options.
WeLoop Android App
As we've seen in the first part of the review, WeLoop app is available for iOS and Android, in Chinese or multi-lingual version. I've use the app in Xiaomi Mi A1 smartphone in English.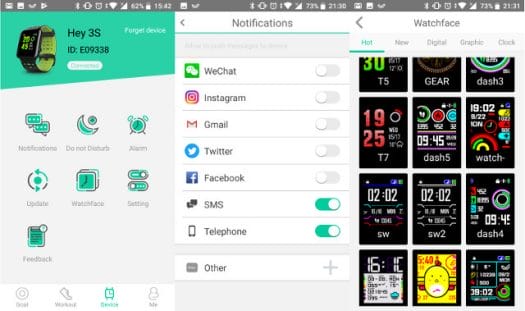 The Device section of the app allows you to configure which apps are used for notifications, set Do not Disturb times, configure alarm (the watch will vibrate, no audio), update the firmware if any, select a custom watchface, send feedback to the developers,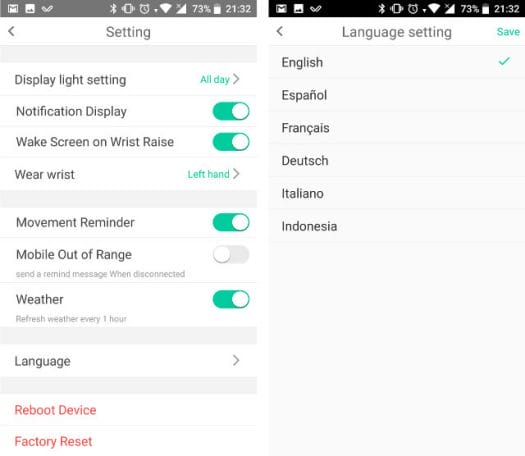 and access the Setting section where you can adjust the backlight behavior, enable/disable notifications, set left or right hand, enable movement reminder, weather, etc.., as well as select one of the following languages: English, Spanish, French, German, Italian, or Indonesian.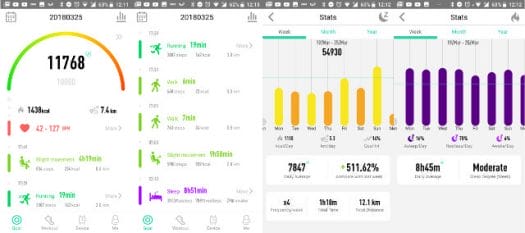 The goal section of the app is pretty good, at least that's an improvement to what I used before both in terms of the information and the design. It will show different event during the day such as sleep, walk, running, cycling, and slight movement. You can also keep track of your stats over time with weekly, monthly and yearly charts.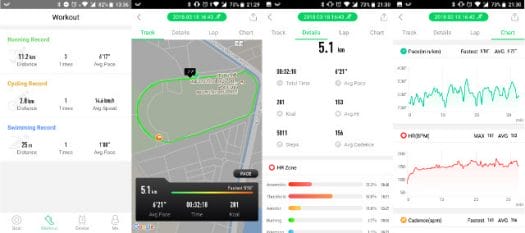 The workout section records all running, cycling and/or swimming activities you have performed, and you click on the details, you'll find the map of your run (I've found GPS to be pretty accurate, although I lose connection for a short time once), and various charts of your pace, heart rate, and cadence (steps per minute). I've found the HRM to provide believable values at all times, contrary to some other devices I tried a while back, where my heart rate suddenly drops to 60 bpm, as I was nearly out of breath… I've also noticed that checking the HRM during running may motivate me to go faster if my heart rate drops below a given value (e.g. 150 bpm).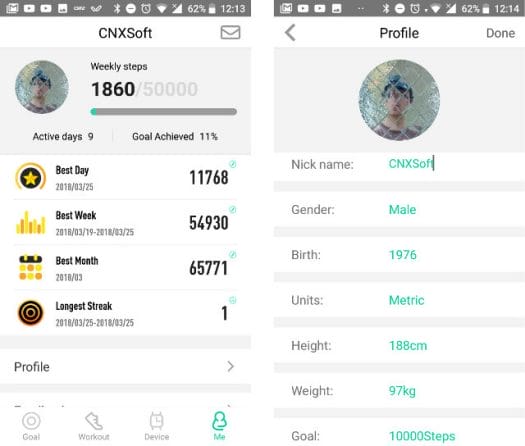 The "Me" section is about your profile, with stats, and the information you set during the setup wizard.
Video Review
If you prefer watching the device and app in action, I've also shot a video showing both.
Conclusion
I'm very happy to have decided to go ahead with the review, as WeLoop Hey 3S is a big improvement compared to the devices I reviewed in 2016. Many of the issues have been be fixed. I've got an always-on color display that can also be used at night / in the dark thanks to a backlight triggered with a button or wrist movement, battery life looks goods (2 to 3 weeks for 1h30 activity with GPS per week), the touchscreen behaves properly, the heart rate monitor appears to be reliable, and the watch is rated 5 ATM so no worry about swimming (in shallow water). Activities like snorkeling may be asking for trouble, and diving should be avoided.
The built-in GPS was also a nice surprise, as you get a proper distance and timing data. I also found the Android app to be pretty good presenting data is an eye-pleasing and useful way. WeLoop will also show up in the notification bar of your phone in theory showing the step count, but in my case it would not update unless I manually launch the app to synchronize the data.
I'd like to thank GeekBuying for sending a review sample of this interesting sports smartwatch, which I plan on keep on using. If you are planning to get one, you can purchase it on their store for $89.99 with free worldwide shipping. Other shopping options for the watch include Amazon and Aliexpress.
I've also been asked to try to get raw data from the watch using GadgetBridge, which – if it works – will be worth its own post.

Jean-Luc started CNX Software in 2010 as a part-time endeavor, before quitting his job as a software engineering manager, and starting to write daily news, and reviews full time later in 2011.