When I first discovered SMA-Q smartwatch, I really found it interesting with its always-on color e-Paper display, Bluetooth 4.0 connectivity, heart rate monitor, and promise of 30-day battery life (standby) for just $56. GearBest send me one sample so that I can have a close look at this interesting smartwatch and fitness tracker. I'll start by unboxing the watch, and checkout some details that were unclear in the specifications.
I received it in a retail package that calls it SMA WATCH-Q instead of SMA-Q watch with a link to the official website.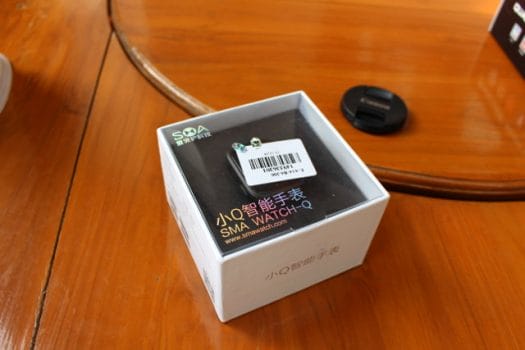 On one side we'll get the specifications, all in Chinese, but even if you can read, it's clear the watch supports Bluetooth 4.0 and Android 4.4+ IOS7.0+ as announced in the specs, and we also learned a 150mAh battery is included, and it's compliant with IP65 ingrees protectin ratings meaning it's "protected from total dust ingress and low pressure water jets from any direction". But I'll come to that later. I'm not sure what 80mA means here (power consumption? it's charging current).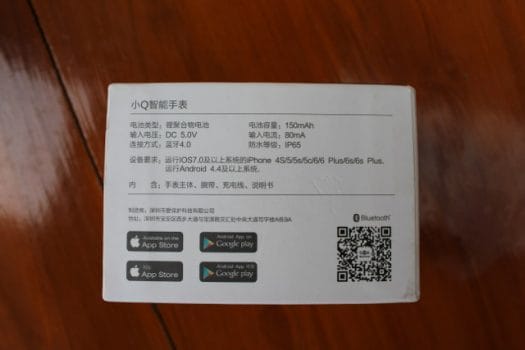 On the back of the package we've got some information about the capabilities of the device including call notification, anti-lost feature, activity tracking. HRM, a Sharp Color LCD, and so on.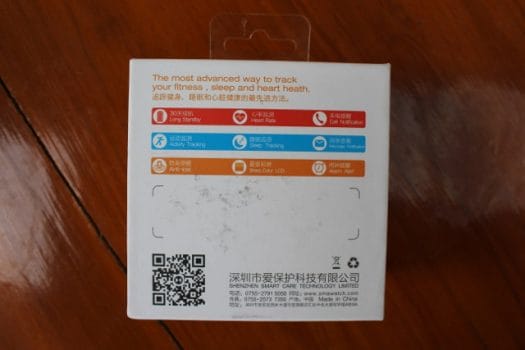 The watch comes with a user's manual in Chinese and English, and a USB cable with a magnetic end to charge the watch.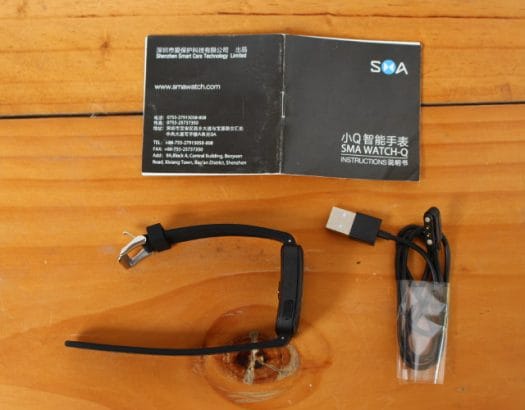 Before checking out the watch itself, let's see some useful part of the user's manual.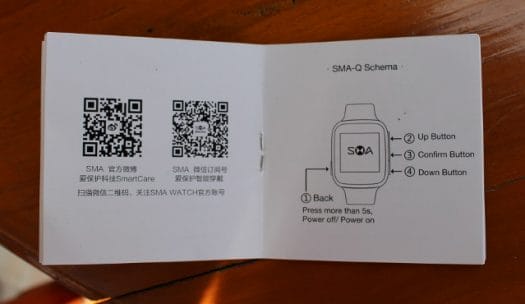 The first page of the manual descript the four buttons on the watch: Back & Power On/Off button on one siode, and Up, Down, and confirm button on the other side. There's no touchscreen, so you'll have to use the button to control the user interface.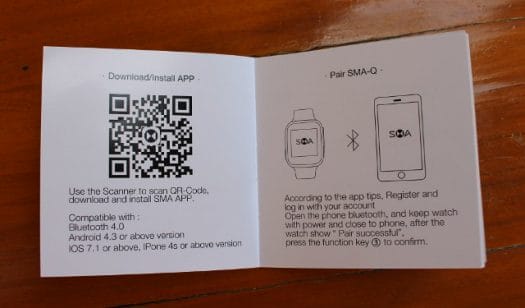 Then there's a link to download the Android / iOS app, and I'll go through it in details with an Android smartphone in the full review.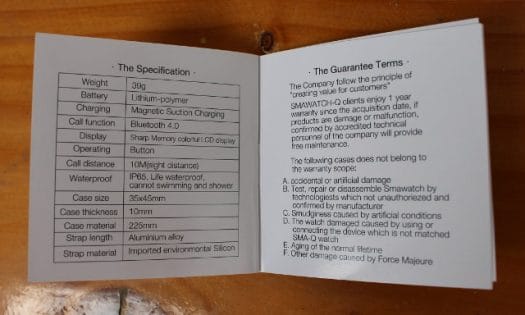 The specifications clarifies what "IP65", and "30-meter water resistant" means: "cannot swimming and shower". Apparently 30-meter water resistant is an old "standard" used in watches meaning it's not really waterproof… and Wikipedia explains it:
a watch marked 30 metres water resistant cannot be expected to withstand activity for longer time periods in a swimming pool, let alone continue to function at 30 metres under water. This is because the test is conducted only once using static pressure on a sample of newly manufactured watches.
As a side note, Vidonn X5 activity tracker was also rated IP65, and I had to problems while taking shower for over a year, but obviously you are taking the risk of damaging your device if you do so…
Back to the watch itself.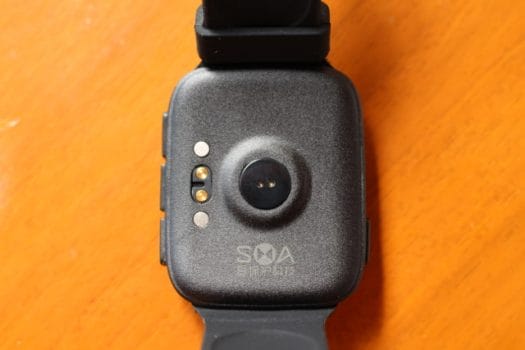 On the back we've got the magnetic charging connector on the left, and the heart rate sensor in the center of the watch. For what it's worth, It has two small "holes" instead of one on No1. D3 smartwatch which was placed close to the side, and did not work very well, i.e. did not work at all.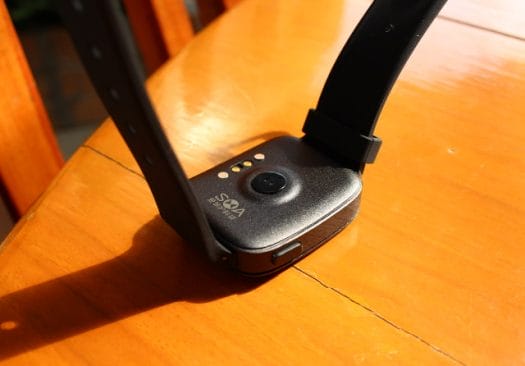 On of the left side of th watch, you've got the back button, which also acts as power on/off and backlight button, and on the right side, the up, down and OK buttons.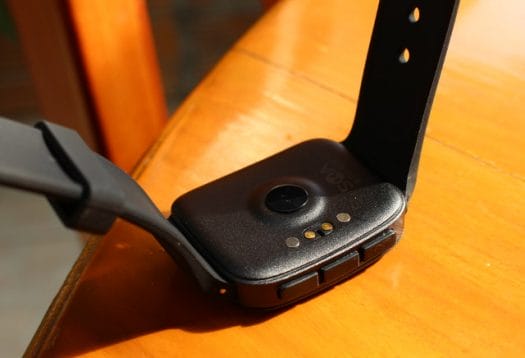 SMA-Q smartwatch is neither very small not big, and I think it should be suitable for both men and women.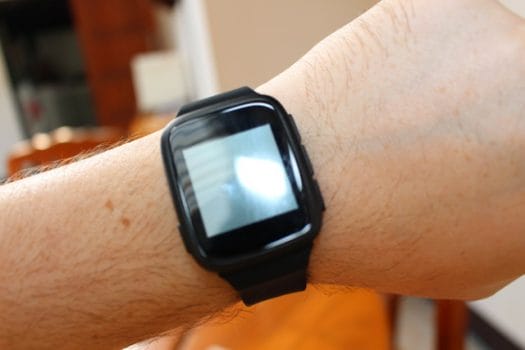 However, if you have large wrists, the watchband might be a little short, as I had just 3 holes left on mine.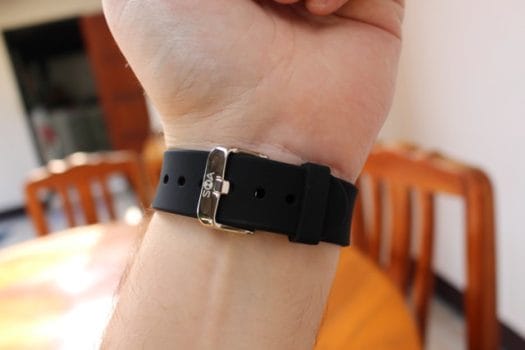 It's also clearly shorter than No.1 D3 smartphone's band, and the screen is also smaller. The metal part is said to be made of stainless steel.
Normally at this stage, I would try to teardown the watch, but I could not find any safe way to open the watch without risking to affect this waterproofness, so it might be something I try after the review. Instead, I went to charge the watch.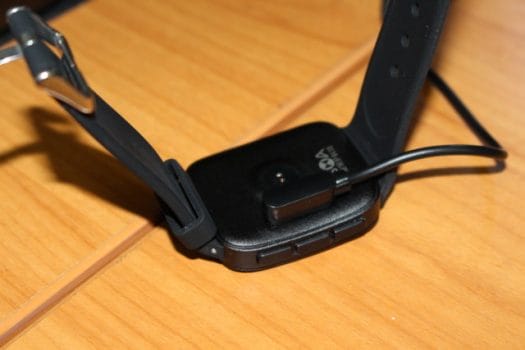 The magnetic end of the USB cable can only be plugged in one direction, but you can't do it wrong as the magnets will prevent you from plugging it in the wrong direction. At first, I tried to charge it via the USB port of my computer, but as nothing showed up on the screen, I started the watch.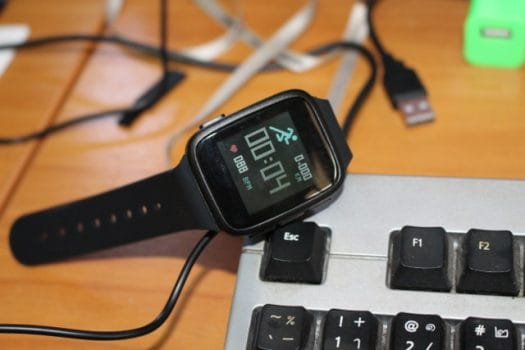 The first thing that confused me was that the screen was so dim, but I quickly found out that e-Paper displays behave exactly the opposite of OLED displays when it comes to visibility, and work like paper or an old-fashioned digital watch: you can't see anything in the dark, but it's very clear in bright light. And since my office is quite dark, I could not see clearly the display, but the left button also triggers a backlight which makes the watch readable in the dark. The screen looks much brighter on the picture above because of my camera flash. Anyway, I still and no indication that the battery was charging so I switch to a 5V/2A charger, and charging started…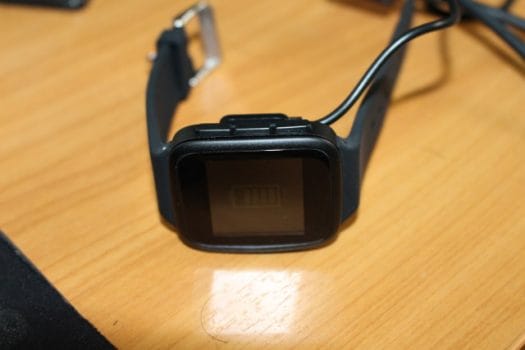 So I'll test all features of this smartwatch including heart rate monitor, smartphone synchronization, and battery life over the next week or two weeks, before publishing a full review of SMA-Q watch.
GearBest sent the device for review, so if you are interested you can consider purchasing from them for $55.90 including shipping. beside Black color, the watch is also available in Khaki, blue and red for the same price. Other e-retailers listing the watch include Tinydeal ($59), Amazon US ($75), and Dealsmachine ($49.99 + shipping).

Jean-Luc started CNX Software in 2010 as a part-time endeavor, before quitting his job as a software engineering manager, and starting to write daily news, and reviews full time later in 2011.