Now even endpoints like sensors are capable of running basic artificial intelligence workloads thanks to microcontroller-class chips with built-in AI accelerators or instructions such as Kneron KL720 Arm Cortex-M4 AI SoC, GAP8 RISC-V IoT processor, or Cortex-M55 MCU core coupled with Ethos U55 MicroNPU.
Maxim Integrated has now launched its own AI capable microcontroller with MAX78000 combining a Cortex-M4F core, a 32-bit RISC-V core, and a CNN accelerator enabling AI inferences at less than 1/100th the energy or 100 times the speed of software solutions making especially suited for battery-powered AI applications.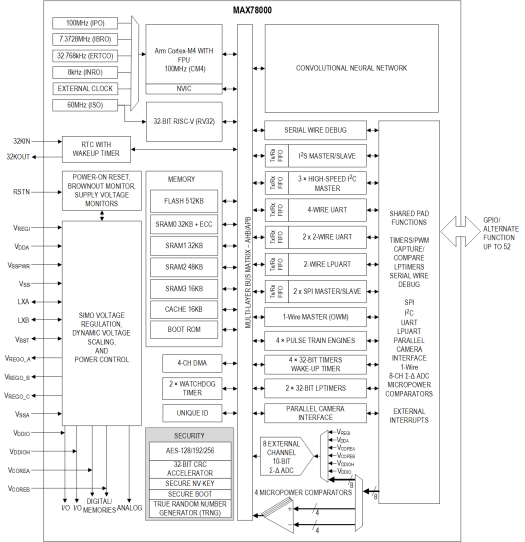 MAX78000 specifications:
Ultra-Low-Power microcontrollers

Arm Cortex-M4F core with FPU Up to 100MHz with 512KB Flash and 128KB SRAM
32-Bit RISC-V ultra-low-power co-processor up to 60MHz

Neural Network Accelerator optimized for Deep Convolutional Neural Networks​​ (CNN)

442k 8bit Weight Capacity with 1,2,4,8-bit Weights
Input Image Size up to 1024 x 1024 pixels
Network Depth up to 64 Layers
Layer Network Channel Widths up to 1024 Channels
1D and 2D Convolution Processing
Streaming Mode
Other Network Types Support – MLP and Recurrent Neural Networks

Peripherals

Up to 52x General-Purpose I/O pins with alternative functions like UART, I2C, SPI, 1-wire, etc…
12-bit parallel camera interface
One I2S Master/Slave for digital audio interface

Security and Integrity

Secure Boot
AES 128/192/256 Hardware Acceleration Engine
True Random Number Generator (TRNG) Seed Generator

Power Management

Integrated Single-Inductor Multiple-Output (SIMO) Switch-Mode Power Supply (SMPS)
2.0V to 3.6V SIMO supply voltage range
Dynamic voltage scaling (DVS)
22.2μA/MHz during loop execution at 3.0V from cache (CM4 only)
Selectable SRAM retention in low-power modes with real-time clock (RTC) enabled
It's unclear what exact role the Arm and RISC-V cores play, but the RISC-V is said to be even more power-efficient. The CNN accelerator can execute AI networks trained in conventional toolsets like PyTorch and TensorFlow and converted for execution by Eclipse-based tools provided by Maxim.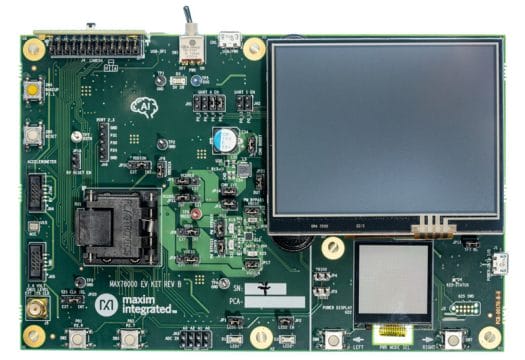 Maxim Integrated also provides MAX78000EVKIT evaluation kit with a digital microphone, a gyroscope/ accelerometer, a 3.5-inch touchscreen color TFT display, and parallel camera module, and a secondary display driven by a power accumulator for tracking device power consumption over time. The board also features GPIO and analog inputs headers, and a micro USB port to access the serial console.
The devkit ships with MAX32625PICO debugger with cables, Olimex ARM-USB-OCD-H, Olimex ARM-JTAG 20-10 adapter, a camera module, various USB cables, and extra shunts.
Extra ShuntsYou'll find a video showing how to get started with the board on Maxim website. They show the content of the kit, blink some LEDs, and finally show MNIST CNN demo that identifies numbers from 0 to 9. Other demos include cats & dogs, faceid, object classification (cifar-10/cifar-100), etc…
MAX78000 targets battery-powered applications that may benefit from AI acceleration such as audio processing, facial recognition, object detection and classification, and time-series data processing such as heart-rate analysis, multi-sensor Analysis,  or predictive maintenance
Maxim Integrated MAX78000 MCU samples can be purchased for $12, and price drops to $8.5 per unit for 1,000+ pieces. MAX78000EVKIT can be pre-order now for around $182 US, and stock is scheduled for November 18th. More details may be found on the product page.

Jean-Luc started CNX Software in 2010 as a part-time endeavor, before quitting his job as a software engineering manager, and starting to write daily news, and reviews full time later in 2011.