Last week I received Reolink RLC-810A 4K smart security camera with support for people and vehicle detection. I listed the specifications and check out the content of the package of the first security camera I've received with artificial intelligence. That should be great to avoid all unnecessary alerts from motion detection I get from my "dumb" IP cameras. In this review, I'll write a small guide showing how to use the camera with the Reolink app, the web interface, and check out RTSP and ONVIF support. I'll also see if people and vehicle detection lives up to my expectations.
Reolink RLC-810A Camera installation and setup
As noted in the first part of the review, the camera does not come with a power adapter and does not support WiFi. So I had to find a 12V power adapter and used a 15-meter Ethernet cable to connect it to my router.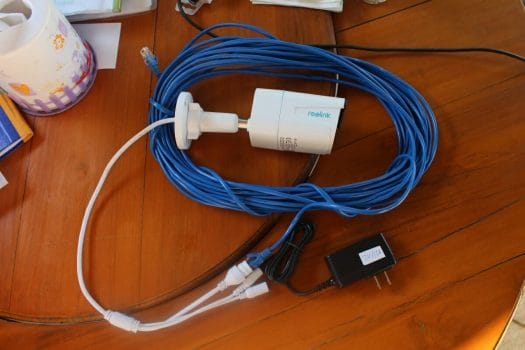 Before mounting the camera, I connected it to the power and router to make sure I could add it to Reolink app, and everything works as expected.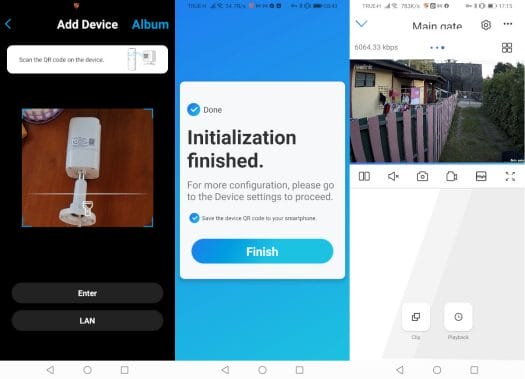 You'll need to scan the QR code on the camera, set up a name and password, and you'll be good to go. Please note the left part of the image is my neighbor's house, the right side is the way to my house. We'll see why it matters later.
Now that we've made sure the camera works, we can install it. I attached it to a bush with some cable ties and PVC tube.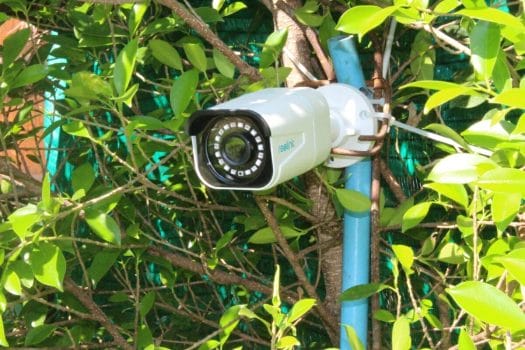 Great! But wait… I have the feeling I may have forgotten something…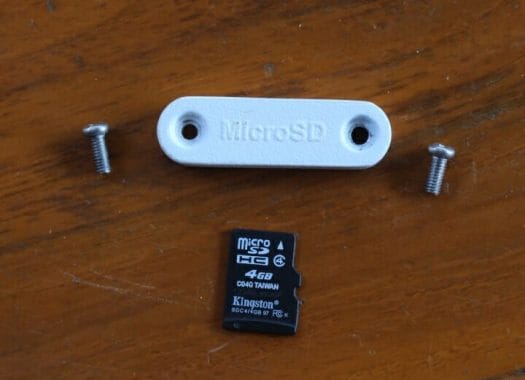 And sure I did, as we'll need to insert a MicroSD card to be able to store the recorded videos. It's much easier to insert it before installation though.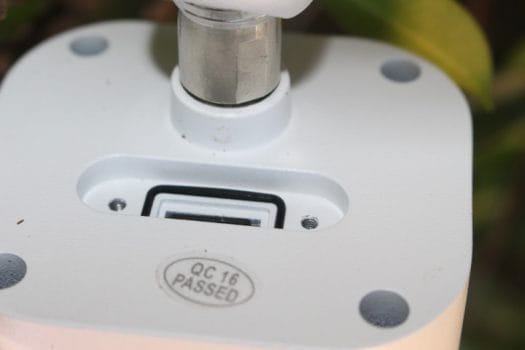 You can see a rubber joint around the MicroSD card slot that is meant to protect the card from rain, dust, and humidity. I tightened the two screws and installation is now complete. We just need to configure the camera to complete the setup, notably the Motion detection.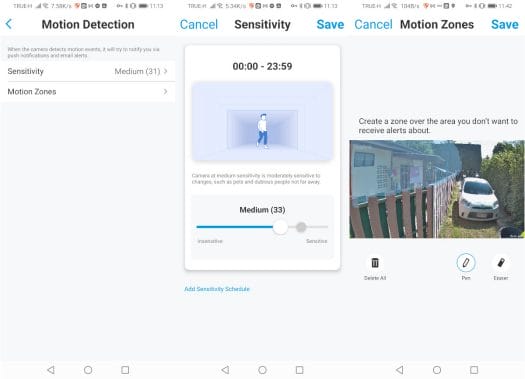 First sensitivity, and a new setting specific to RLC-810A camera: Motion Zones. This allows you to cover the areas where you don't want to receive alerts. As you can see above I draw on my neighbor's house since I don't need to know when they get in and out of their house. The only problem: It does not work for me. Maybe I didn't use the function correctly…
Another method is to use the new Privacy Mask option to completely blackout areas on the videos.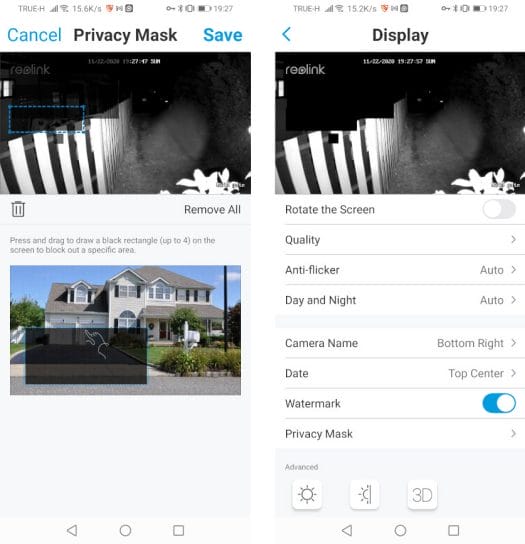 This will completely blackout the area in all videos, and no alerts will be generated either. For more details about other settings, I invite you to check out my Reolink Argus Eco review.
Reolink App and Person/Vehicle Detection
What interests me most about this camera is person & vehicle detection, because I get so many useless "motion detected" alerts with my other cameras, I have stopped to care.
And I can say I am not disappointed. It's really fantastic.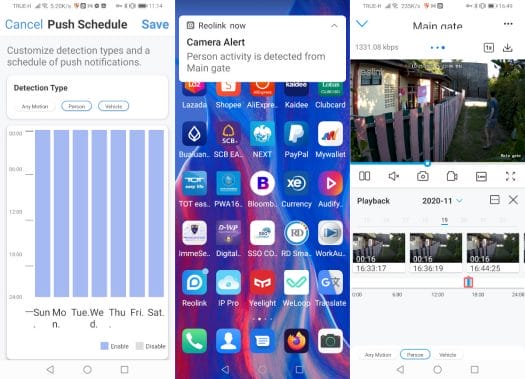 First, as you can see from the screenshots above, it's possible to configure push notifications to only send alerts when a person or vehicle is detected, instead of getting a motion detection alert when a leaf moves… You can also filter the video by "Any motion", "Person" or "Vehicle" in the Playback section of the app.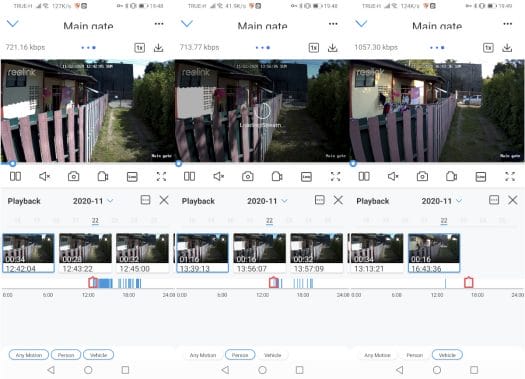 Just to show how much noise is removed see the number of videos with "Any motion" compared to Person only or Vehicle only over the same period. There's no comparison. The feature is really useful. You may wonder why there's nothing before 12:00. That's probably because a 4GB microSD card is just too small to record 4K videos, so older recordings get deleted pretty quickly. So it's better to either change the resolution to something lower than 3840×2160, completely disable "Any motion" recordings, or just get a larger MicroSD card.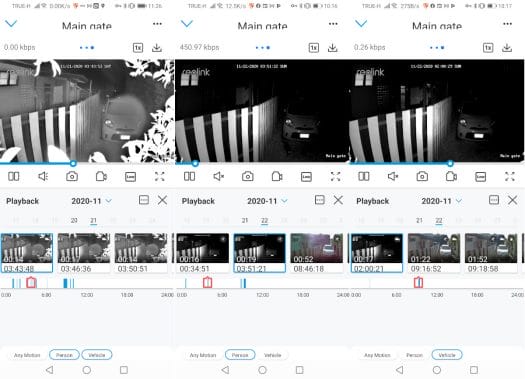 I had less luck during the night with many false positives. I watched some videos and I could not see any ghosts, so I decided to push and cuts some leaves to get a clear view, as you can see the next night I had almost no false alert. The only person detection I had was because of a black cat (you can see the shiny eyes in the screenshot in the middle), and vehicle detection got triggered when my neighbor turned off her lights, which makes the camera adjust its light settings, and re-detect the car.
I also download one video both in Fluent (low res) and Clear (high res) from the app, but the problem is that it does not work well at all.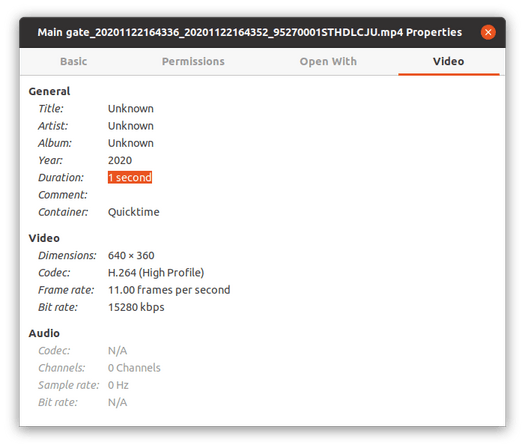 It only downloaded a one-second video from a 16 seconds sample, and only the "Fluent" version was available, as downloading in "Clear" mode would also get the same video with 640×360 resolution and H.264 video codec. When we are in the app we can see a clear difference between "Fluent" and "Clear" as seen below.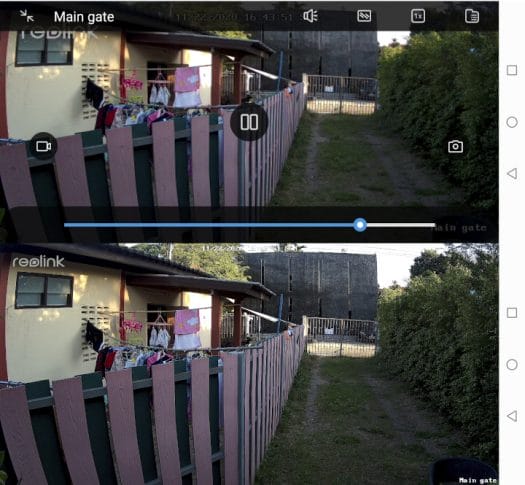 I could download the full length "Fluent" video through the web browser, but I have not found a way to download the "Clear" 4K UHD video. The only solution would be to get the video from the MicroSD card that's very impractical. As I was about to complete the review, I was informed a new firmware update would fix the issue. So let's upgrade through the Android app…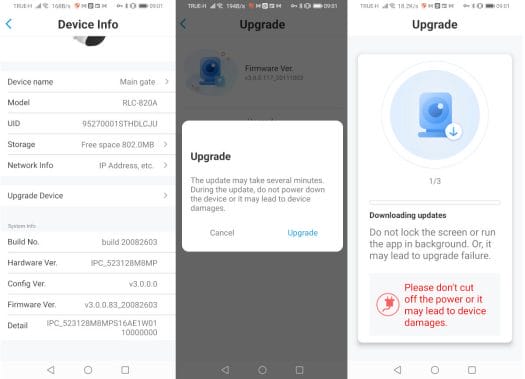 It went from firmware version to v3.0.0.83_20082603 to v3.0.1.117_20111003, and indeed it fixed the download issue with the videos. I could get the full clip at both Fluent (640×360) and Clear (3840×2160) resolutions.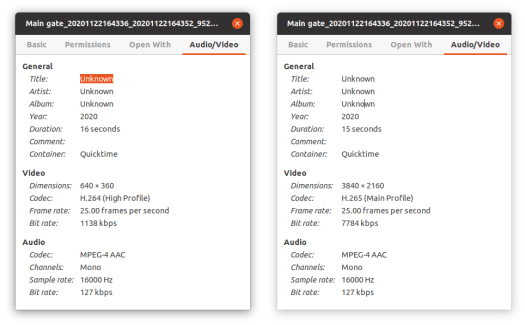 The sub-stream at 640×360 resolution is using H.264, and the main stream at 4K UHD (3840×2160) resolution is encoded with H.265. Note the resolution of the main stream can be adjusted to a lower resolution in the app as needed.
Please find the video sample for the sub-stream

Accessing Reolink RLC-810A camera through a web browser
One issue I have with my earlier two solar-powered, WiFi cameras from Reolink is that I can not access the streaming from my Ubuntu computer. That's not a problem with RLC-810A (and other mains powered Reolink cameras) since we can access it through a web browser, in this case, Firefox in Ubuntu 20.04.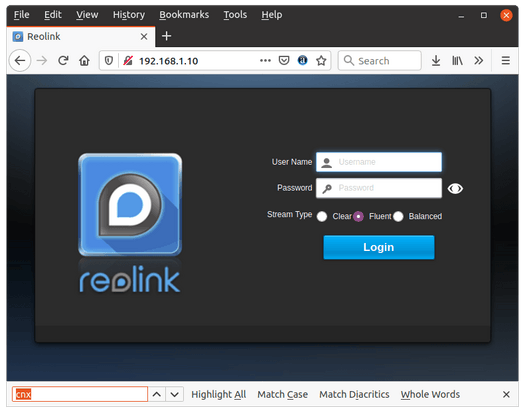 Simply find the IP address in the Android app or your router settings, then enter the username (admin) and the password you set in Android. In theory, we can also select the Stream Type between Clear, Fluent, and Balanced, but I got an error message when selecting Clear maybe because my computer is connected to a Full HD display. The firmware update did not fix this issue.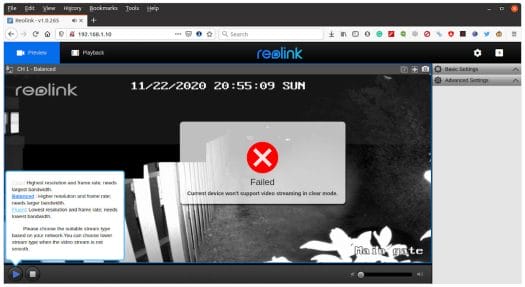 Apart from that issue, it works with most features from the Android app including live preview, playback, and settings. What we don't get is the option to filter by "Person" or "Vehicle".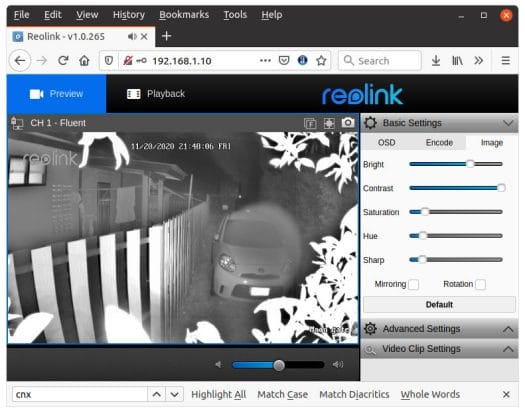 RTSP Streaming
Does RTSP streaming work? Yes, it does, but again only for the lower resolution substream. I followed the instructions on Reolink website, and could play the substream with VLC and ffplay.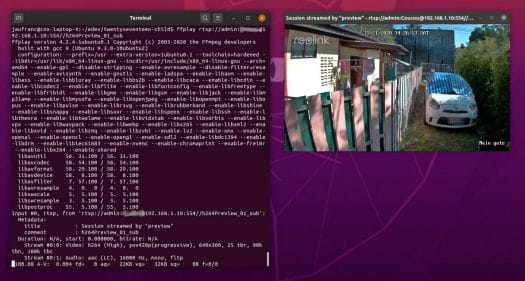 Here's the command I used with ffplay:

ffplay

rtsp

:

/

/

admin

:

password

@

192.168.1.10

:

554

/

/

h264Preview_01_sub

If I use h264Preview_01_main instead to play the 4K stream, nothing happens with ffplay (note: error 404 returned after firmware update), and VLC returns the following error:

'rtsp://admin:password@192.168.1.10Your input can'

t

be

opened

:

VLC

is

unable

to

open

the

MRL

'

rtsp

:

/

/

admin

:

password

@

192.168.1.10

:

554

/

/

h264Preview_01

_

main

'

.

Check

the

log

for

details

.

[Update: it's possible to stream the main stream (4K UHD) over RTSP using:

ffplay

rtsp

:

/

/

admin

:

password

@

192.168.1.10

:

554

/

Input

#0, rtsp, from 'rtsp://admin:password@192.168.1.10:554/':=0/0

title

:

Session

streamed

by

"preview"

Duration

:

N

/

A

,

start

:

0.000250

,

bitrate

:

N

/

A

Stream

#0:0: Video: hevc (Main), yuv420p(tv), 3840x2160, 25 fps, 25 tbr, 90k tbn, 90k tbc

Stream

#0:1: Audio: aac (LC), 16000 Hz, mono, fltp

]
ONVIF in Android and Ubuntu
I was asked to check whether ONVIF worked. I first thought I'd use it in Ubuntu, but after seeing fairly complicated installation instructions for programs like Zoneminder, I decided to try in Android first with ONVIF IP Camera Monitor (Onvifer) app.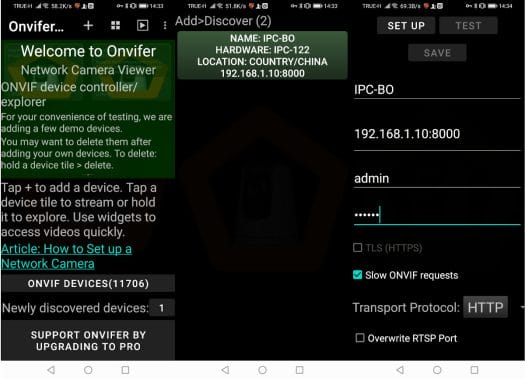 The app automatically detected the camera, and I could enter the username and password to connect to it and access the stream.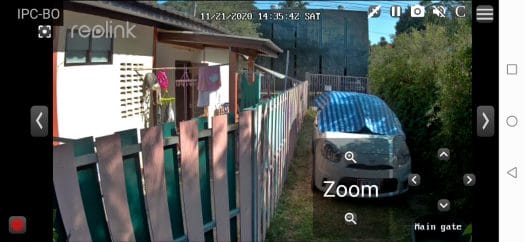 Nice and easy. However, if you plan to use Android with ONVIF note that all/most apps offer a PRO version to access all features such as changing the stream resolution of the fly.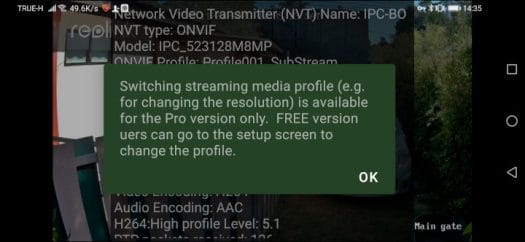 I could change the profile to "mainstream" in the setup screen…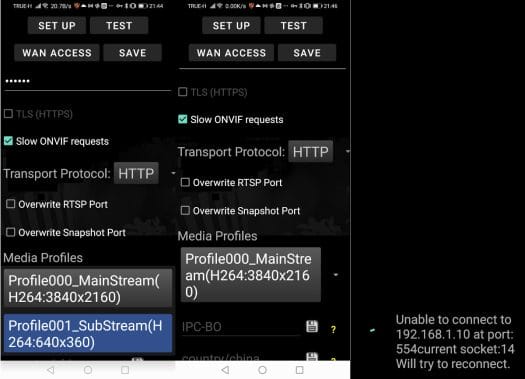 But as you can see on the left side, the app won't connect to the camera. Switching back to the "SubStream" profile works again.
Before completing this review, I had a final try at using ONVIF on Ubuntu 20.04, and after several attempts with various programs – not requiring the installation of the LAMP stack – that fails in one way or the other, I installed Xeoma program trial version, and it detected the camera automatically.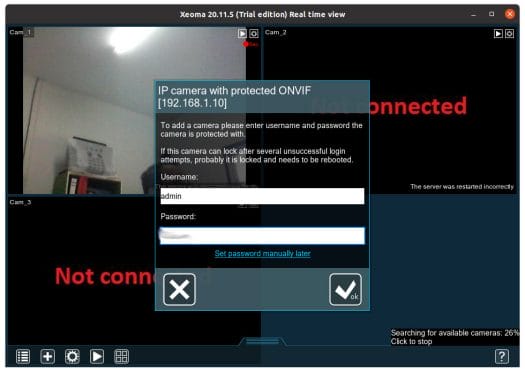 I just had to enter the username and password, and I had access to the stream. Nice and easy. But as a trial version, I could not switch profile to test 4K which I suspect does not work anyway, at least not yet.
Conclusion
The person and vehicle detection feature in Reolink RLC-810A security camera is just great, and I could not imagine reviewing other CCTV cameras or NVR  systems without AI in the future, as in my experience, standard motion detection just does not cut it with too many false positive.  As we've seen in the review, the way to position the camera may be important to make sure it works optimally, and at night, cats may be detected as persons, but it still removes 99% of the noise I got with PIR sensors.
I don't like using Windows, simply because I only use Ubuntu 20.04 on my laptop and Android on my phone unless I have no other choice. So I also really appreciated the multiple ways I could access the camera from the Android app and a standard web browser in Ubuntu, and support for RTSP and ONVIF is also great for people wanting to integrate the camera into their own CCTV solution. It should be noted I could only access the "Clear" 4K UHD stream from the Android app (it should also work in Reolink Windows and Mac program), and RTSP, but only the "Fluent" 640×360 stream from the web browser and ONVIF, so that's probably something the company will want to fix in a new firmware update.
I'd like to thank Reolink for sending RLC-810A 4K AI-powered security camera for review. The camera can be purchased on Amazon for $94.99, or alternatively, if you don't need 4K resolution, there's a cheaper Full HD model with the same features including people and vehicle detection: RC-510A that goes for $64.99.

Jean-Luc started CNX Software in 2010 as a part-time endeavor, before quitting his job as a software engineering manager, and starting to write daily news, and reviews full time later in 2011.