M5Stack has just launched its unique and latest core device with a touchscreen e-Ink display. M5Paper ESP32 IoT Development Kit is a fully programmable microcontroller-based platform that can be an ideal choice for your IoT applications. This low-power device could suit such purposes as an industrial controller or smart weather display.
The M5Paper comes with the ESP32-D0WD, the same chip that has powered M5Stack Core2. The e-Ink display supports 16-level grayscale, which provides a great reading experience. The display is a GT911 capacitive touch screen that supports multipoint touch and a variety of gesture controls.
M5Paper ESP32 IoT Development Kit Specifications
SoC – Espressif ESP32-D0WDQ6-V3 dual-core clocked at 240MHz with 520KB SRAM, Wi-Fi, dual-mode Bluetooth connectivity.
Memory/storage – 16 MB of flash memory along with 8 MB of PSRAM.
Antenna – 2.4GHz 3D antenna.
Display – GT911 capacitive touch screen with 960×540 resolution (IT8951 driver) along with 4.7″ e-Ink display, 235 PPI, and display area of 58.32×103.68 mm.
Misc – BM8563 RTC
Battery – 1,150mAh battery @3.7V.
Dimensions – 118x66x10 mm (Polycarbonate material).
Weight – 86 grams.
Temperature Range – 32°F to 104°F (0°C to 40°C)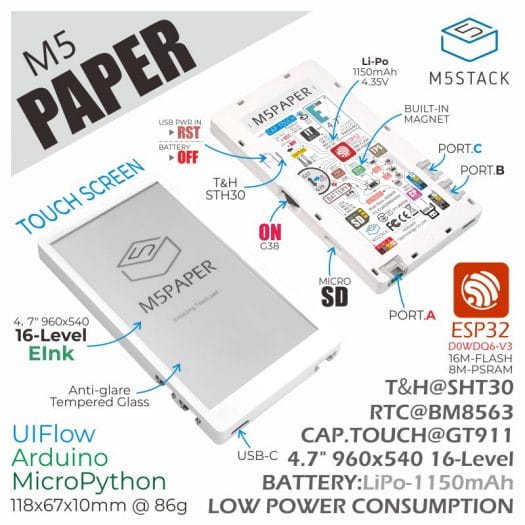 Some of the advantages of an e-Ink display are the low power consumption and the ability to retain the image even if the power to the display is terminated. Additionally, the FM24C02 internal EEPROM chip (256KB EEPROM) can be used to store vital data even when the device is off.
Three HY2.0-4P external expansion ports allow you to use existing sensors in the M5Stack ecosystem.
How to get started?
You can use the Arduino IDE development platform to program the device. Before you burn the program, make sure to download the corresponding CP210X driver package according to the operating system. Don't worry, even if you are new, M5Stack has provided some examples to make it easier, as well as a step-by-step guide. You'll find all those plus the schematic and videos on the documentation page.
M5Paper ESP32 IoT development kit can be purchased for $69.00 on the M5Stack store, or via distributors.

Abhishek Jadhav is an engineering student, RISC-V Ambassador, freelance tech writer, and leader of the Open Hardware Developer Community.