If I'm asked about a Linux or Android platform with HDMI input, I would immediately think about Realtek RTD1295 SoC with products like Zidoo X9S or X2 TV stick which enabled picture-in-picture (PiP), UDP/TCP broadcast of HDMI input, or PVR functions.
Some Rockchip boards such as Orange Pi RK3399 SBC do come with both HDMI output and HDMI input, with the latter relying on a Toshiba TC358749XBG HDMI interface bridge IC. But Rockchip has decided to design its own HDMI input chip with Rockchip RK628D supporting HDMI, parallel RGB or BT.1120 as input and dual MIPI, dual LVDS, GVI (general video interface), parallel RGB, or BT.1120 as outputs. The new chip would enable PCB designers to add display output ports to application processors such as RK3288 or RK3399, or add an HDMI input interface.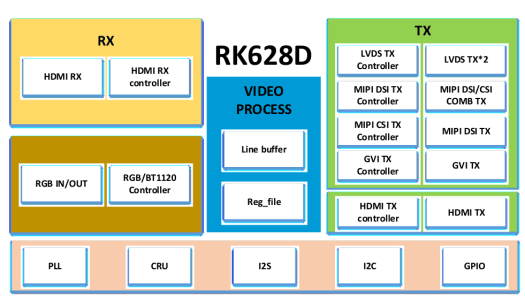 Rockchip RK628D key features and specifications:
Video input interfaces

HDMI 1.4/2.0 RX interface up to 4Kp60 (yuv420) – Support 8-/10-bit, RGB888/YUV420, EDIC and CEC.
Parallel RX interface up to 1080p60 supporting either 16-bit BT.1120 or 24-bit parallel RGB.

Video output interface

HDMI TX interface up to 1080p60 – Supports EDID and CEC functions
MIPI TX interfaces

DSI up to up to 2kp60 (dual-channel), 1080p60 (single channel); DPHY v1.2 compliant; Supports the DPI interface color-coding mappings into 24-bit Interface; Up to 4x DPHY Data Lanes per channel, supports data rates up to 1.2Gbps; dual-channel DSI0 and DSI1
CSI compliant with MIPI DPHY V1.2; support YUV422 format, up to 4x DPHY Data Lanes with data rates up to 1.2Gbps; single-channel multiplexed with DSI0

GVI TX interface up to 4Kp60; RGB666/RGB888/RGB101010/YCbCR422-8bit/YCBCR422-10bit formats
LVDS TX interface up to 1080p60 (dual-channel), 720p60 (single channel); compliant with TIA/EIA-644-A LVDS standard
Parallel TX interface up to 1080p60 using 16-bit BT.1120 out or 24-bit parallel RGB out

TX/RX adapter

Interaction of HDP signal between HDMI TX and HDMI RX
Support HDMI TX CEC function
Support RX HDCP1.3 inside-key memory (writable)
Support HDMI RX/TX
Support on-chip EDID R/W memory

Post-process

Color space conversion (CSC) – RGB2YUV, YUV2RGB, YUV2VYU
Display interface – Parallel display Interface: 30-bit(RGB/YUV), asynchronous output pixel clock (PLL required), flexible display timing setting, configurable border black area
Downscaling – Max input resolution: 4096×2160; Max 1/4 scaling ratio for bilinear scaling down, Max 1/6 scaling ratio for average scaling down
Upscaling – Max output resolution: 4096×2160, supports four upscaling modes for different effect; Max 6 scaling ratio
Split – Left-right mode; odd-even mode (LVDS only)

Audio

HDMI RX I2S interface, up to 48kHz sample rate, 8 channel
Support I/O I2S interface, 8 channel
Support HDMI TX I2S interface, 8 channel

EFUSE – One-time programmable nonvolatile EFUSE storage cells organized
Package – BGA144 (body: 8mmx8mm; ball size: 0.3mm; ball pitch: 0.65mm)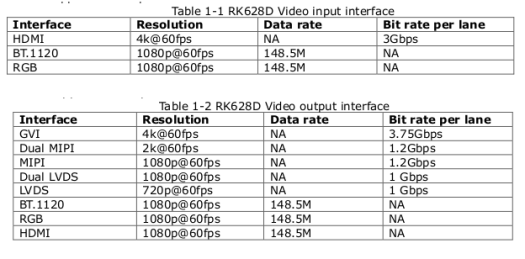 The chip would allow you to add video output interfaces to Rockchip RK3399 by, for instance, connecting the HDMI output to RK628D HDMI input, and select output the video to LVDS, MIPI, RGB, etc… from the bridge chip. Alternatively, you could connect the RK628D MIPI CSI Tx interface to the processor's MIPI CSI Rx interface to add HDMI input to your product.
More details can be found in the datasheet.

Jean-Luc started CNX Software in 2010 as a part-time endeavor, before quitting his job as a software engineering manager, and starting to write daily news, and reviews full time later in 2011.