I've been asked to review robot vacuum cleaners in the past but refused because they were quite basic with a simple vacuum function, obstacle detection, maybe a mopping function, and not much else. But Kyvol Cybovac S31 is different as it integrates a laser distance sensor (LDS) enabling visual SLAM to create a map of your house, and can be controlled with a mobile app for Android or iOS which ended up even more useful than I initially expected.
S31 Smart Robot Vacuum Cleaner Unboxing
The package was much bigger than I expected, mostly because the charging station also includes a dust bag where dust from the main unit is automatically vacuumed each time cleaning is complete.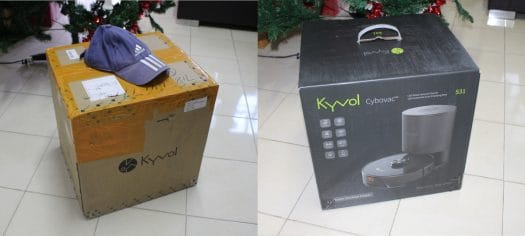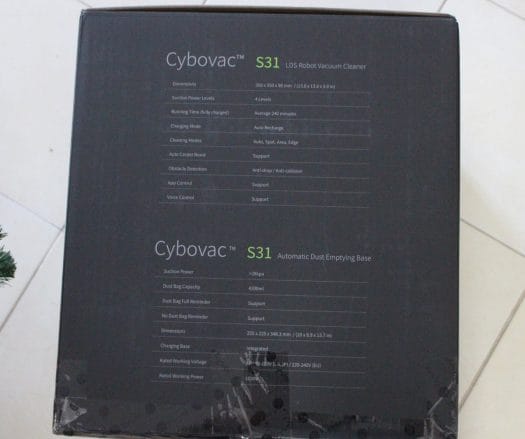 Key features of the system as shown above:
LDS robot vacuum cleaner (main unit)

4 levels of suction power
Cleaning modes – Auto, area, spot, edge
Anti-drop and anti-collision features
2.4 GHz WiFi connectivity for mobile app and/or voice control
Battery life – 240 minutes of use per charger (typ) with auto-recharge function
Dimensions – 350 mm Φ x 98 mm

Automatic dust emptying base (and charging base)

Suction power – > 28kpa
Dust bag capacity – 4.3 liters
Rated working power – 1050 Watts
Power Input – 100-120V or 220-240V
Integrated charging base –
Dimensions – 255 x 225 x 348.3 mm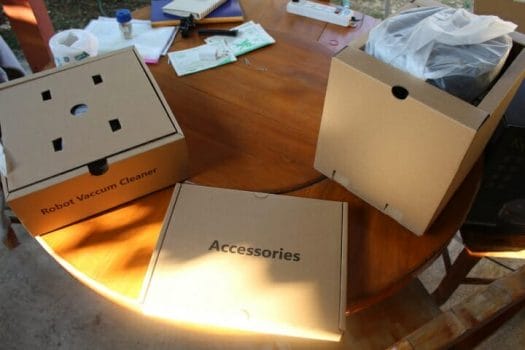 Once we open the package we get three smaller packages with the robot vacuum cleaner, the charging base, and accessories.

The charging base comes with a dustbin and dust bag pre-installed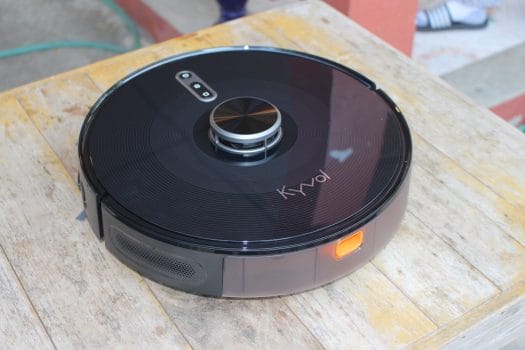 The main unit comes with power, return to base, and spot cleaning buttons, the LDS (on top in the center), as well as a speaker, a reset pinhole, and several collision sensors.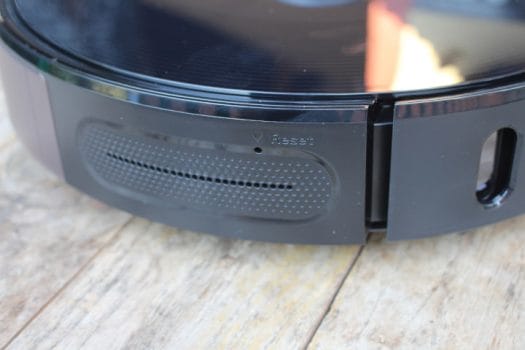 On the bottom, we've got the usual brushes (main brush plus two side brushes), three wheels, multiple anti-drop sensors, charging contacts, dust emptying sensors, and more…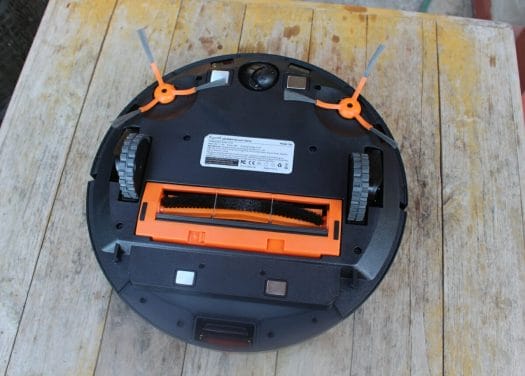 The accessories box comes with the user manual for the product, a user manual for the Kyvol app, spare side brushes, remote control and batteries, a washable mopping pad, ten disposable mopping pads, a water tank (for mopping mode), HEPA filters, and spare dust bags.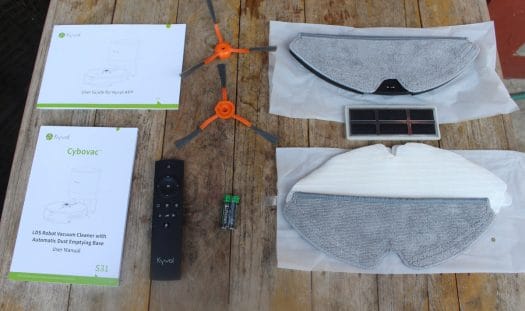 If you've never heard about Kyvol and worry about customer support, the company offers support in North America, several European countries, and Japan. I haven't tried support, so I can't comment.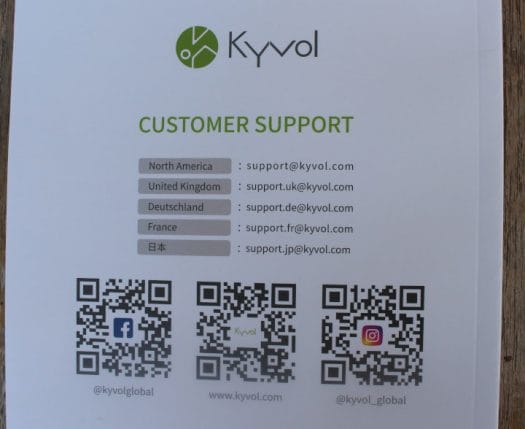 Time to connect the charing unit to the main, and place the vacuum cleaner on the charging pad to charge it for a few hours.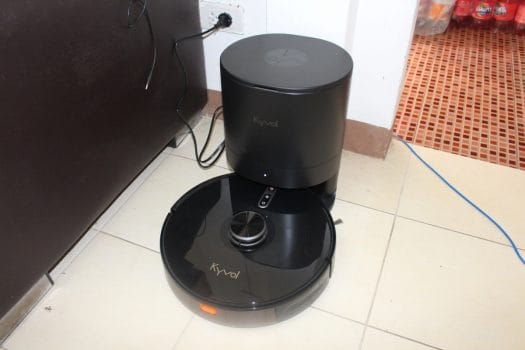 Cleaning and Mopping functions (without app)
I first used the vacuum cleaner with the remote control. The vacuum cleaning function works well, and the automatic duct emptying at the end of the cycle is useful if you don't want to empty and clean the vacuum cleaner each time. For some reason, it's still recommended to clean after each use in the user manual.
Mopping mode is OK, but not very good at removing water stains from the floor unless I repeat the cleaning two or three times. Manual mopping still needs to be done in some parts. Just like other such vacuum cleaners, Cybovac S31 will only be able to clean reachable areas, so corners and other areas that can't be reached by the vacuum cleaner will need to be cleaned with a broom.
Kyvol Android app
It's a Smart vacuum cleaner so the most interesting part is the house mapping function (visual SLAM) made possible by the LDS and WiFi connectivity to connect to your smartphone using the Kyvol Android or iOS mobile app. I don't own any Apple device, so I installed the Android app on my smartphone.
Setup
After registration with an email or phone number, you'll be greeted by a welcome screen inviting you to add a device. Kyvol offers several models, and I selected Kyvol S31…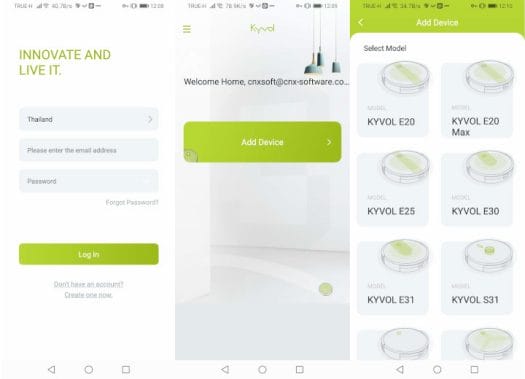 … to configure WiFi. The power button was already blinking, but after a first failed attempt to connect to WiFI, I decided to reset WiFi just in case. When you do so, you are presented with a pop-up for a 10% discount for a product you've probably already bought and haven't use it. Nevertheless, I could reset WiFi on the vacuum cleaner after turning it off, and press the Home and Spot button for 3 to 5 seconds on the unit. A voice prompt let me know the procedure was complete.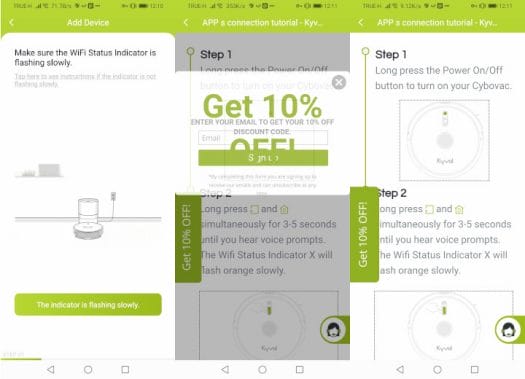 After connecting to a 2.4 GHz access point, we're being asked to switch to AP mode by selecting KYVOL-XXXX access point, and then wait until the connection is successful… or not!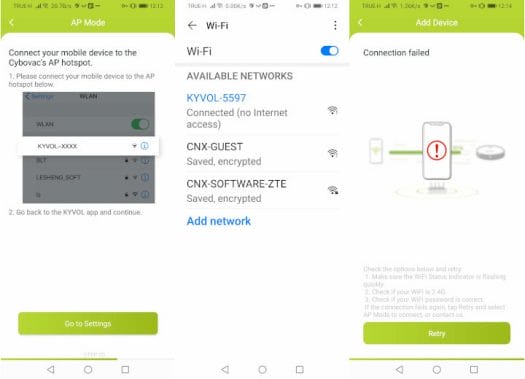 It would just not work for me. I tried another SSID, and even created another one with no special characters at all in the access point and password. After contacting Kyvol. I was told to try connecting to a hotspot on a smartphone instead of my router. This delayed the review but a few more days, and when I finally tried with the mobile hotspot, it failed again… Then, I thought I have an add blocker on my phone (Blokada), so I disabled it, and it worked. I could reenable it right after the initial setup is complete, and the Kyvol is still working. If you don't hear the vacuum cleaner says "Connecting to WiFI" right after you've selected to KYVOL-XXXX access point, and it's trying to connect that means the Cybovac S31 did not receive the message, and something may block it.
Firmware update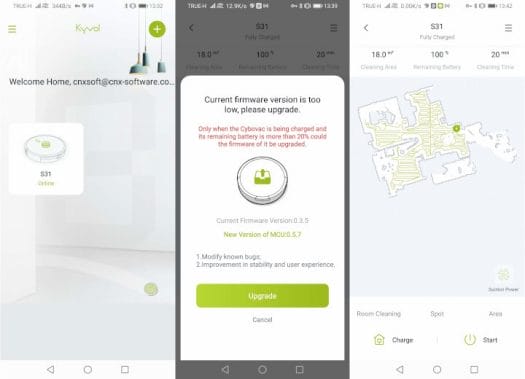 The first time you click on the device, you'll probably be offered to upgrade the firmware on the device. This will take a minute or so, the vacuum cleaner will reboot, and you'll see the map of your house if you've already used the vacuum cleaner without the app first.
First cleaning with Kyvol app
While the app is aware of your house map, it has not detected rooms just yet. The first cleaning started with the Kyvol app will do just that.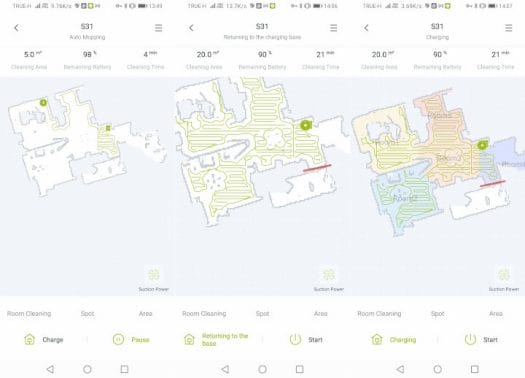 We can see the position of the vacuum cleaner in real-time, and zones already cleaned. Ignore the right line on the map for now, as I added it manually. More on that later. Once the cleaning is done it will show rooms detected by the system. It was not quite fully correct on my side possibly because the kitchen and living room don't have an actual door to separate them. You can actually easily see the doors and even chairs (4 or 5 dots) on the map.
Settings
Before editing the map, let's go into the settings, as we can do it there.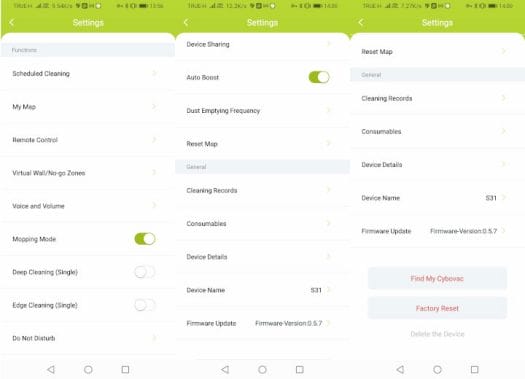 As one would expect, the vacuum cleaner can be scheduled by time, day and/or the weekday, and it's also possible to select the suction levels to avoid making too much noise or clean as well as possible.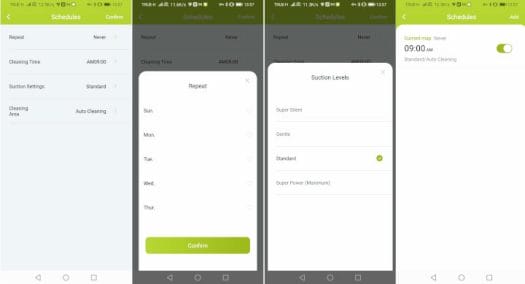 The second option in the setting is for map editing. The Kyvol supports up to five floors, but I have not tried this option.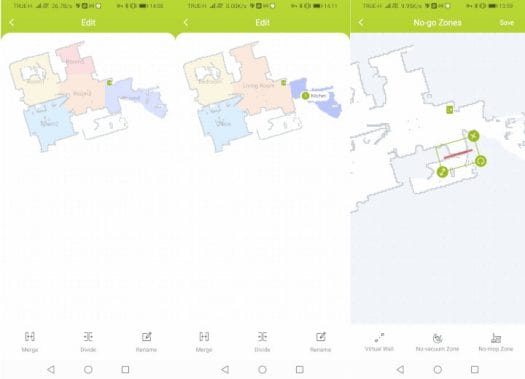 The editing function is pretty good, we can merge and divide room, name them properly to match exactly the layout of the house. There's also an option for virtual walls that can be useful to prevent the vacuum cleaner to go over small steps not detected by the anti-drop sensor, and protect areas with cables, etc…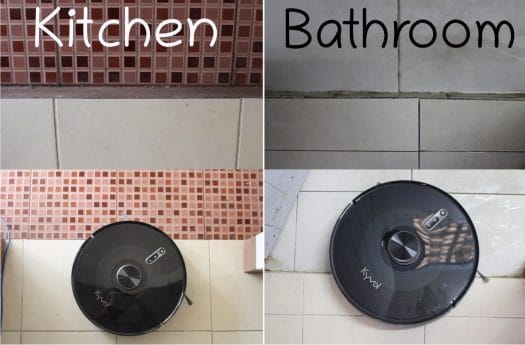 My living room has a white floor, so while the vacuum cleaner can detect the small step in the kitchen with a darker floor, it's unable to do so with the bathroom with a floor that has a similar color. Closing the door of the bathroom would do the job, but it's open most of the time, so instead, I set up a virtual wall (the red line) that does a great job at it.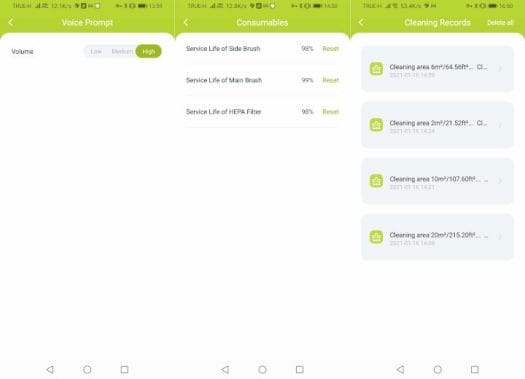 There are other settings such as volume control for the speaker, a Consumables section which indicates the remaining service life of brushes and the filter, cleaning records, and more.
Room, area, and spot cleaning
You may not always have to clean the full house, and the Kyvol app allows you to select the room to clean.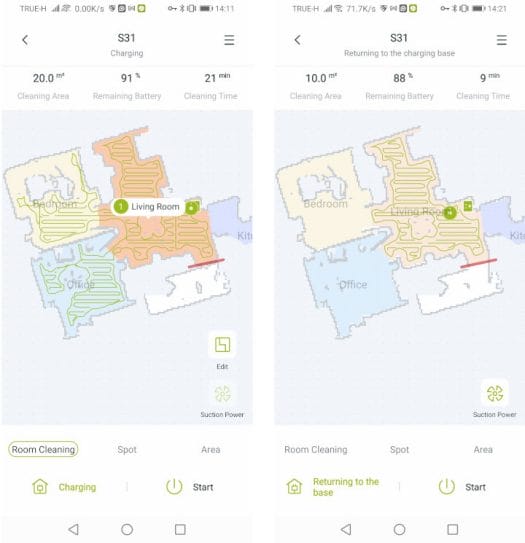 Spot and area cleaning is also possible. Both options are similar, but Spot cleaning target a 1.6 x 1.6m fixed-sized area, while Area cleaning allows you to resize the cleaning area.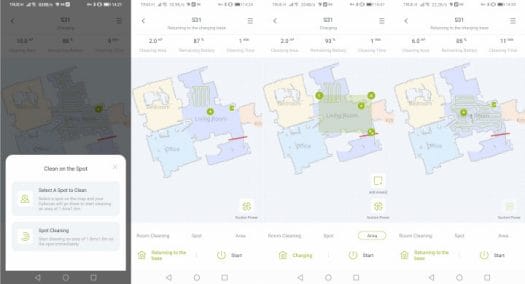 I really like the app, especially the way it allows you to map your house, and vacuum specific areas. Note the Kyvol Cybovac S31 can be interested with Google Home and Amazon Echo, but I don't own any smart speakers so I have not tried that part.
App permissions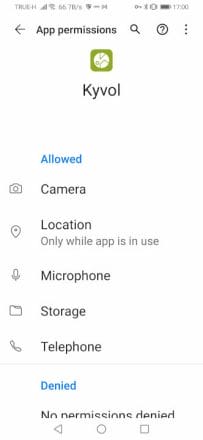 People concerned about privacy (and/or safety) may also be interested in checking out Kyvol Android app permissions that include:
Camera
Location
Microphone
Storage
Telephone
I've not sure why the Camera is needed. Location is also odd except for locating the country of residence during registration or unless the vacuum cleaner can be used in multiple houses, and the app can somehow detect the location to select the right map. Microphone access is probably needed for voice commands, and storage for configuration, while Telephony is for people registering using a mobile phone.
While I'm sure the company has taken precautions and has no mal-intent, a potential data breach could expose GPS coordinates of your home together with a map of your home with the name of rooms, doors location, etc… So maybe avoid names like "safe is here", "gold storage room", and so on 🙂
Conclusion
Kyvol Cybovac S31 smart robot vacuum cleaner is probably one of the most useful Smart Home devices I've gotten so far. It will save me time, and mostly avoid the chore of cleaning the floor, except for unreachable areas and harder to clean floor stains where only manual mopping will do.
The visual SLAM function works great to a degree of details (doors, chair feet) I did not expect. It's my first LDS vacuum cleaner, so maybe that's why I was impressed… I'd wish some vacuum cleaners could climb small steps, so it could mop all my house in one go including the kitchen and bathroom, but maybe I'm asking too much here 🙂
If you are interested in Kyvol Cybovac S31, it's sold for under $500 on Amazon, Walmart, or Aliexpress, where you also find replacement parts.

Jean-Luc started CNX Software in 2010 as a part-time endeavor, before quitting his job as a software engineering manager, and starting to write daily news, and reviews full time later in 2011.