We have already seen the powerful Amlogic A311D powered Khadas VIM3 SBC, and Orbbec announced the Zora P1 development board for Orbbec 3D cameras, supporting robotics, gaming, smart homes, etc. Some of the other products showcased at the CES 2021 by Orbbec include its first 3D sensor with time-of-flight (TOF) technology, the latest Astra+ camera, and a real-time industrial 3D camera.
"Innovations in 3D imaging, combined with broader advances like 5G, artificial intelligence, and ultra-fast processors, are transforming the application landscape for designers and engineers," said David Chen, co-founder, and director of engineering at Orbbec. "Our new camera with time-of-flight (TOF) technology is a great example. Its high resolution and tracking capabilities make it perfect for all kinds of products including fall detection, security, even at-home yoga and exercise products." 
Orbbec's Zora P1 Development Board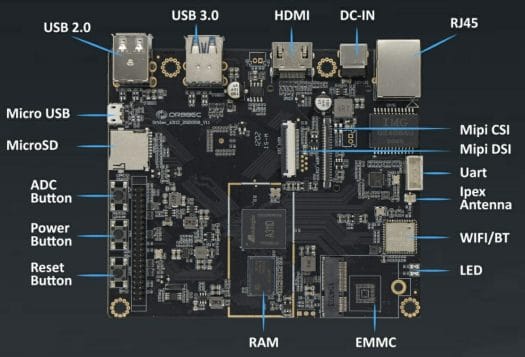 Zora P1 is a processing board for developers and enthusiasts to integrate 3D imaging and associated computing tasks for demanding industrial applications. Orbbec has specially designed this long-lasting solution to work with its 3D cameras. This board runs Linux on the Amlogic A311D processor.
The new Zora P1 development board is the ideal platform for accelerating the development and reducing the risk of new designs. These new boards are completely modular and provide an optimal solution in terms of speed, accuracy, flexibility, and cost.
Specifications of Zora P1 Development Board
Processor – Amlogic A311D Quad-Core A73 and Dual-Core A53 with Neural Processing Unit
System Memory – 4 GB DDR4 RAM
Storage: Swappable eMMC module – 16 GB, 32 GB, 64 GB and expandable using MicroSD up to 128 GB
Power Supply – 12V DC
Interfaces – 2x USB 3.0 + 2x USB 2.0 + 1x USB XHCI OTG 2.0, HDMI 2.1
Connectivity – Wi-Fi 802.11a/b/g/n/ac, 2×2 MIMO, Bluetooth 5.0
Antenna – Swappable IPEX Wifi + Bluetooth Antenna
Operating Systems – Android; Ubuntu 18.04
Dimension – 100mm x 116mm
Amlogic A311D SoC with its integrated NPU supports all major deep learning frameworks, including TensorFlow and Caffe. With USB ports onboard, it gives a broad range of USB hardware support. If you want extra storage for the development board, the manufacturer has provided an additional optional slot for the eMMC slot that is expandable to 64 GB other than the MicroSD card option.
Time-of-Flight Camera, 3D Industrial Camera, and Astra+
At CES 2021, Orbbec demonstrated several cameras to their long list of 3D cameras. The first 3D sensor with time-of-flight technology is capable of scanning moving objects with a high-accuracy camera. The TOF sensor has a "depth-of-field range of 0.2 to 5 meters along with 6-axis IMU motion tracking, multi-camera synchronization support and the ability to be used in complete darkness."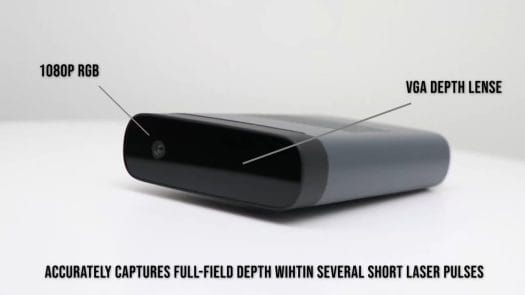 Additionally, the company announces the launch of an industrial-level 3D camera, developed in partnership with Purdue University. The camera has ultra-high depth resolution and real-time 3D reconstruction with availability starting in 2021.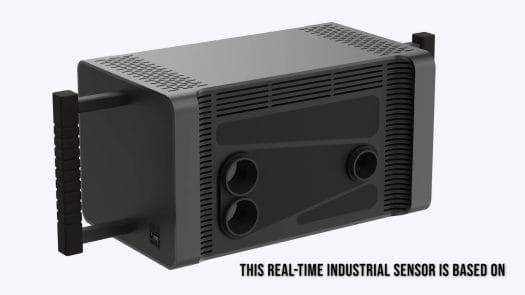 Lastly, the manufacturer adds the latest Astra+ camera to the Astra line of structured light 3D cameras. Orbbec claims the camera has "better thermal performance along with an RGB camera that has been updated from VGA to 1080p resolution."
More information
If you are interested in any of these products, you can look for the press release of CES2021 on Orbbec's website.
The Zora P1 Development board is priced at $142.50 plus an additional price for an optional eMMC storage. The first-generation development board along with a clear case is now available for shipping. Also, there are several more links to the products, including the product page and shop page.
More details on the Time-of-Flight sensor and Real-Time Industrial 3D Camera is provided by Orbbec. Unfortunately, we do not have any product page available for Astra+ as of writing this article.
Source: All the images were taken from Orbbec's website.
Via LinuxGizmos

Abhishek Jadhav is an engineering student, RISC-V Ambassador, freelance tech writer, and leader of the Open Hardware Developer Community.