When it comes to STMicroelectronics' STM32H7 series, there are three product lines- Dual-core lines, Single-core lines, and Value lines. ARM Cortex-M7 based – STM32H7 MCU series is capable of delivering 1327 DMIPS/ 3224 CoreMark. These MCUs are designed for factory automation (HMI, process control, power management), connectivity & security (Alarm panel, Wireless Modules). To continue with the growth of the STM32H7 series, we have China-based MCUdev DevEBox's STM32H7XX-M development boards taking a single-core line and a value line module.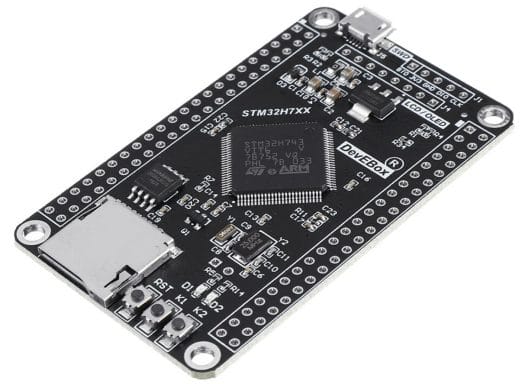 The two STM32H7XX-M development boards use STM32H743VIT6 and STM32H750VBT6 core modules. The STM32H743VIT6 comes from a single core line that offers ARM Cortex-M7 gets up to 2 Mbytes of dual-bank flash memory and 1 Mbytes of RAM. While the STM32H750VBT6 module from the value line is one of the cost-effective STM32H7 devices featuring 128 Kbytes of flash memory.
STM32H7 Development Boards
These boards from MCUdev measure approximately 40mm x 68mm in size with the same peripherals. The manufacturer has produced both boards in the same form factor as the STM32F407VGT6 mini development board. Due to this, these models should be pin-compatible with each other.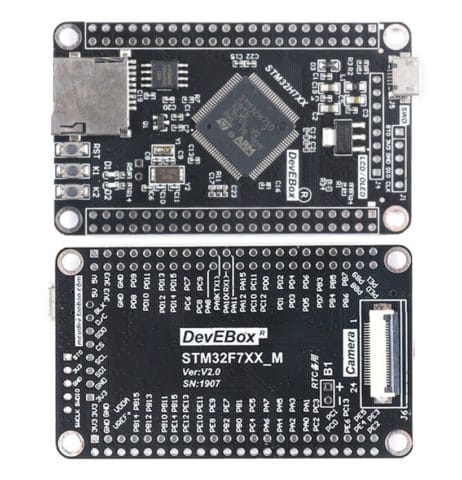 Specifications
These same form factor boards showcase similar features other than the onboard SoC.
Core module:

STM32H743VIT6- Single-Core Module

Flash memory: 2048KiB
SRAM: 1024KiB

STM32H750VBT6- Value Line Module

Flash memory: 128KiB
SRAM: 1024KiB

Oscillator: Same oscillator for both the boards

HSI: 64MHz
LSI: 32kHz
HSE: 25MHz
LSE: 32.768MHz

Graphics:

OLED interface – plug and play, support 0.96-inch / 1.3-inch OLED

TFT liquid crystal interface

Connect 1.3-inch HD full-color LCD

Connect 2.0-inch HD full-color LCD

Power Supply: Any +3.3V pin (+3.3V) or +5V pin (+5V), and via

USB connector (+5V).

Dimensions: 40mm x 68mm
Operating Temperature: -40 up to +85 °C
How to get started?
STMicro has always provided complete software support for its core modules in the past. No different for the STM32H7 MCU series that comes with complete support of Arm Cortex-M architecture. Irrespective of the board (should have STM32H7 series core module), you can use the STM32CubeH7 embedded software package, which comes with many examples for this MCU series.
More details about the getting started guide, (in general for STM32H7 MCUs) can be found on STMicroelectronics' website. There are also "user manuals" specific to the boards taken from the Banggood link below for STM32H750VBT6 (158MB) and STM32H743VIT6 (164MB).
More information on STM32H7XX-M Development Boards
For those interested in these boards, you can now buy them on Aliexpress or Banggood. These are priced at $10.92 for the STM32H750VBT6-based board and $18.20 for the STM32H743VIT6 module board. 
Thanks to Hedda for the tip.

Abhishek Jadhav is an engineering student, RISC-V Ambassador, freelance tech writer, and leader of the Open Hardware Developer Community.