NXP introduced i.MX 8M Plus AI SoC with a built-in 2.3 TOPS neural processing unit (NPU) last year, and we've already covered several early announcements about i.MX 8M Plus systems-on-module (SoM) with Variscite VAR-SOM-MX8M-PLUS and DART-MX8M-PLUS, TechNexion EDM-G-IMX8M-PLUS and AXON-E-IMX8M-PLUS respectively using SO-DIMM edge connectors and board-to-board connectors, as well as SolidRun i.MX 8M Plus SoM that was announced together with the HummindBoard Mate carrier board with dual Gigabit Ethernet.
But as Embedded World 2021 Digital is taking place virtually until Friday, other companies have now made their own announcements of i.MX 8M Plus SoMs as the processor enters mass production this month, and since as far as I know, it's pin-to-pin and software compatible with earlier i.MX 8M Nano/Mini SoCs, the update must have been easy. That means we've got a longish list of modules, and I have probably missed some. Supported operating systems are basically the same across companies with Linux using Builroot or the Yocto Project running on Cortex-A53 cores, and FreeRTOS on the real-time Cortex-M7 core. Some also offer Android support.
PicoCore MX8MP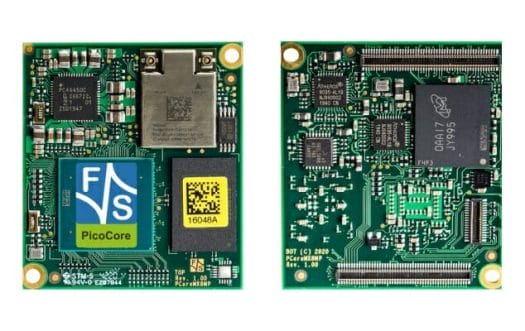 F&S Elektronik Systeme i.MX 8M Plus system-on-module is an update to the company's earlier PicoCore MX8MN based on i.MX 8M Mini. The tiny (40×35 mm) board comes up to 32GB eMMC flash, 8GB LPDDR4 RAM, and various I/O as described in the block diagram below via board-to-board connectors.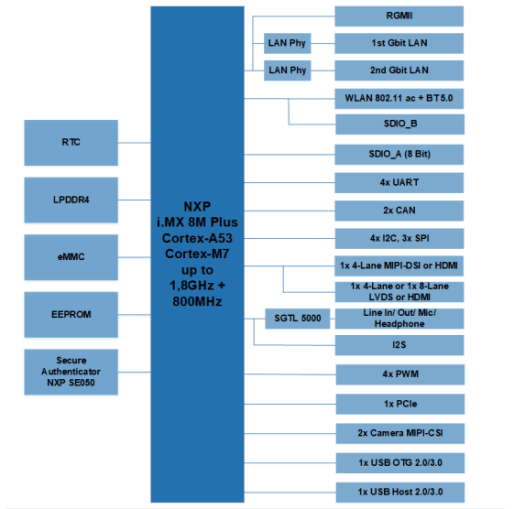 The PicoCore MX8MP starterkit allows you to get started with a baseboard with dual Gigabit Ethernet, MIPI CSI & DSI, USB port, mPCIe socket, etc…, a cable kit, a 7-inch TFT display with PCAP touch panel, and access data to the
F&S download area.
Pricing is available on request, and more details may be found on the product page.
phyCORE-i.MX 8M Plus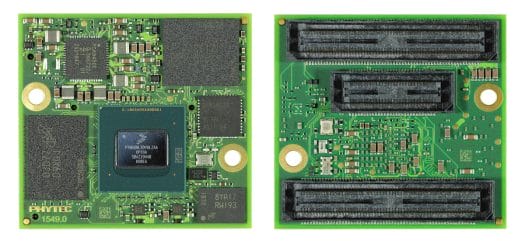 Phytec phyCORE-i.MX 8M Plus module is barely large than the PicoCore module at 40x37mm, comes with 300-pin Samtec board-to-board connectors exposing dual MIPI CSI-2 camera, USB 3.0, dual Gigabit Ethernet, and PCIe as well as options for display including MIPI-DSI, LVDS, and HDMI.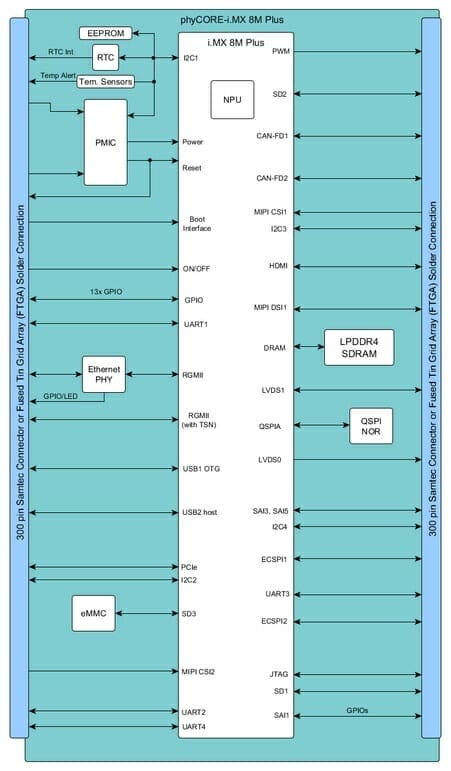 The company also offers three development kits with phyBOARD-Pollux Alpha Kit, phyBOARD-Pollux Alpha AI Kit, and phyBOARD-Pollux Alpha Imaging Kit with the latter two adding an HD Camera with a 12 mm lens, and demo software for either AI and/or imaging.
The module is available now at an undisclosed price, while the development kit will shortly be in stock with pricing ranging from € 185,00 to € 274,00.
Visit the product page for more information.
conga-SMX8-Plus SMARC 2.1 module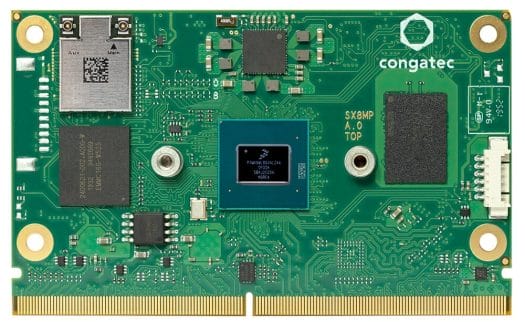 Congatec conga-SMX8-mini launched in 2019 with NXP i.MX 8M Mini now has a new sibling with conga-SMX8-Plus SMARC 2.1 system-on-module.
The module comes with up to 128GB eMMC flash, up to 6GB RAM, optional WIFi and Bluetooth connectivity, and the 314-pin MXM 3.0 edge connector routes dual Gigabit Ethernet, USB, 24-bit LVDS, HDMI 2.0a, MIPI-DSI & CSI, etc…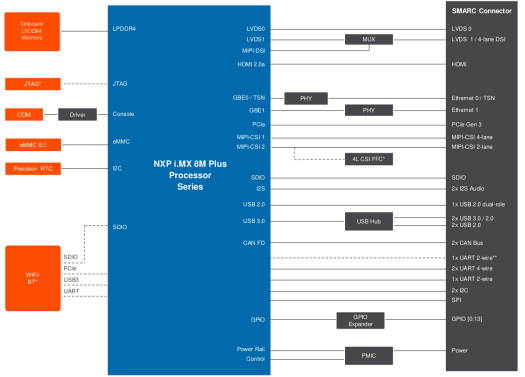 There's no specific mention of carrier board on the module's product page, but considering it's SMARC 2.1 compliant, it should be compatible with the company's conga-SMC1 3.5-inch carrier board for integration into products and Conga-SEVAL for evaluation and development.
Verdin iMX8M Plus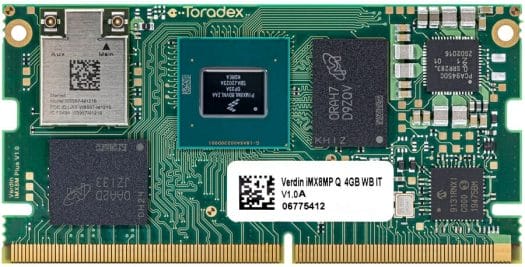 As its name implies, the Toradex Verdin iMX8M Plus module is part of the Verdin family of Arm-based systems-on-module. The module is offered with 16GB eMMC 5.1 flash, and 2 or 4GB RAM, plus an optional WiFi 5 and Bluetooth 5.0 wireless module.
The 260-pin edge connector exposes the usual interfaces with Gigabit Ethernet, USB 2.0/3.0, LVDS, MIPI DSI/CSI, CAN FD, and so on.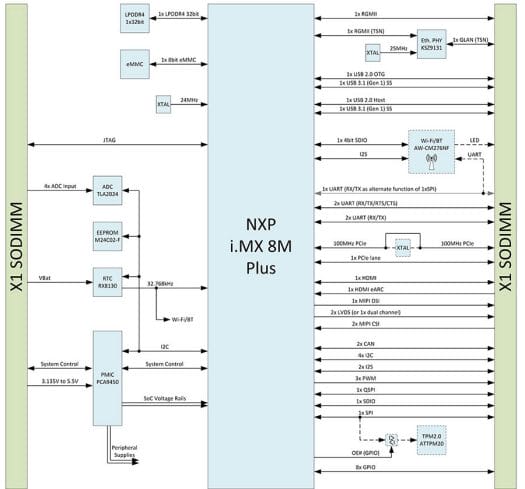 Toradex offers two Verdin carrier boards with the Verdin development board and Dahlia carrier board. You'll find additional details on the product page.
iW-RainboW-G40M i.MX 8M Plus SMARC SOM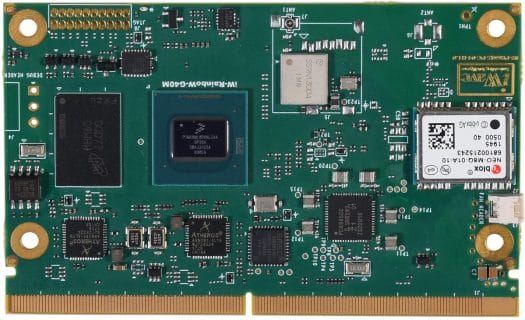 iWave Systems iW-RainboW-G40M is the second SMART 2.1 compliant SoM from our little list. It supports up to 8GB RAM, 128GB eMMC flash, an optional microSD card slot, a WiFI 5.0 and Bluetooth 5.0 module from u-blox, and an optional GNSS receiver with GPS/GLONASS/Galileo/BeiDou support.
Besides the standard MXM edge connector, there's also an optional camera header with a 4-lane MIPI CSI interface, I2C, and some GPIOs.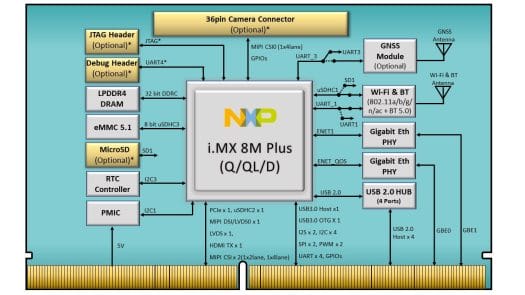 iWave Systems offers a development kit with two RJ45 Gigabit Ethernet jack, PCIe x 1 or Mini PCIe slot, USB 3.0/2.0 ports, HDMI output, a 5.5-inch 1080p MIPI DSI display with capacitive touch, an  LVDS Connector, a MIPI CSI camera connector, Audio In & Out jacks, a CAN header and more.
Both the module and devkit appear to be available now, but as in most cases, you'd need to request a quote to find out about pricing. Check out the product page for further information.
Compulab UCM-iMX8M-Plus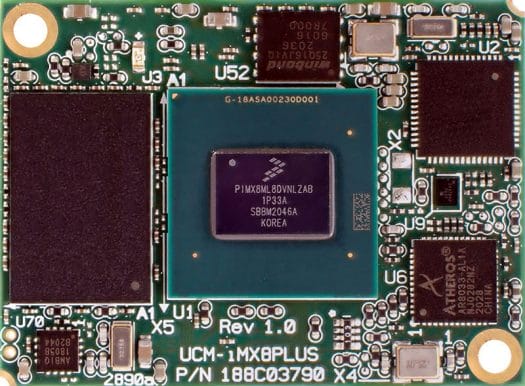 An update to UCM-iMX8M-Mini system-on-module, UCM-iMX8M-Plus is the smallest i.MX 8M Plus module from your list at just 38x28mm, and a weight of 7 grams.
The module comes with up to 4GB LPDDR4 and 64GB eMMC flash, and offers, HDMI, LVDS, MIPI-DSI, 2x MIPI-CSI, GbE, PCIe, 2x USB3.0, 2x CAN, 4x UART, 63x GPIO via board-to-board connectors.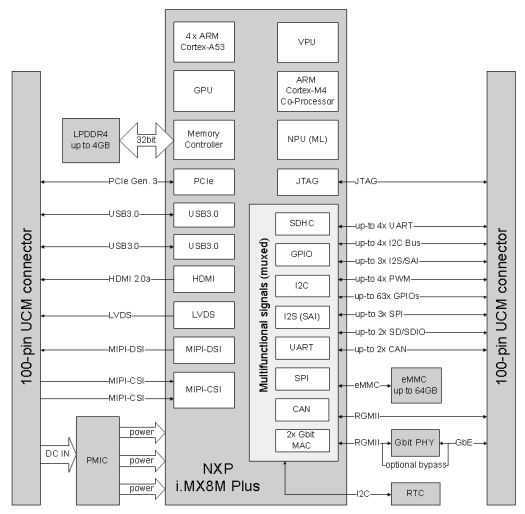 UCM-iMX8M-Plus Evaluation Kit is offered with one UCM-iMX8M-Plus SoM, one  SB-UCMIMX8 carrier board, a 5" WXGA LCD panel, a 5MP camera module, a power supply, cables, and technical support.
Contrary to all other companies from this list, Compulab does provide pricing for the UCM-iMX8M-Plus module with pricing starting at $54 per unit for 1k orders with i.MX8M Plus QuadLite processor, 1 GB RAM, and 16GB eMMC flash. They also provide a handy price guide for options and volume pricing.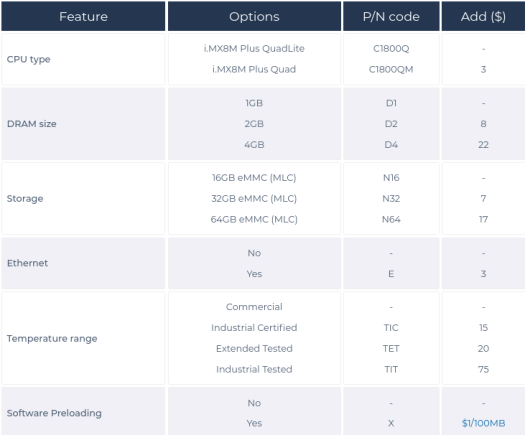 More information about the SoM, devkit, and prices can be found on the product page.
But wait! There's more!
With the 5 modules we've covered last year, and the 6 modules from the list there's some competition! But there are others with i.MX 8M Plus systems-on-module from Boundary Devices, Engicam, and others are coming since we'll still need that Qseven compliant module…

Jean-Luc started CNX Software in 2010 as a part-time endeavor, before quitting his job as a software engineering manager, and starting to write daily news, and reviews full time later in 2011.