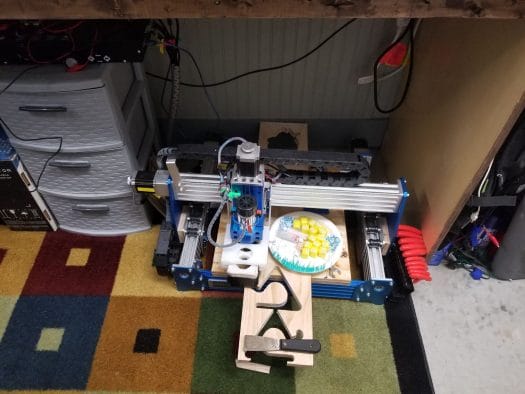 Hey, Karl here. Today I am writing about my opinions on the Genmitsu PROVerXL 4030 CNC Router and sharing the projects that I have done. My initial review was published back in January. I have been working with the tool for several months now and I have had a lot of fun. I have also gained a ton of experience and am really proud of what I have been able to make. I attribute my success to doing my homework and not doing my usual feet first approach. Let's start with my opinions then showcase the projects I have completed.
First opinions. The machine is well thought out and the build quality and materials are good. Other than a few modifications I outlined in the first part I have done nothing else. I installed an rpm meter but found that it was unnecessary. I don't even look at it anymore and just run full speed all the time. I test slower speeds occasionally but end up running the spindle full speed. I also designed a dust shoe but have since redesigned it. I will share more on that later. Thankfully SainSmart now has a first party dust shoe that looks good. I also mentioned in the first part that I wish the 500w spindle was included but now that I have used the machine more I have found that I have been able to complete everything that I wanted with the included 300W spindle and have not had a project I couldn't complete. I thought milling aluminum would require it but after finally lubricating the aluminum while milling I was able to get good results. If you own a beefier spindle leave a comment below with your opinion.
Sending Gcode through Rock Pi 4
Sending gcode directly from Windows was problematic for me. Occasionally I was getting some errors in my cuts and after loading cncjs on a Rock Pi 4 SBC to send gcode, I stopped having this issue. I may have been getting some missed steps but I really doubt it. I don't think I was pushing the steppers/drivers too hard.
Tramming on PROVerXL 4030 CNC Router
Here is one area that I think that can be improved with the machine. I initially trammed the spindle and spoke about it in the first article. Tramming is the process of ensuring the spindle is perfectly perpendicular to the bed. I started a project that needed a perfect surface and a surfacing pass turned out wavy. I must have been lucky the first time. It took me several nights to do it the second time. I used aluminum foil as a shim the first time and I believe it became compressed over time. My problem this time was getting all axis to line up at once. I finally stepped back and thought about the problem and ultimately created a 3D printed jig.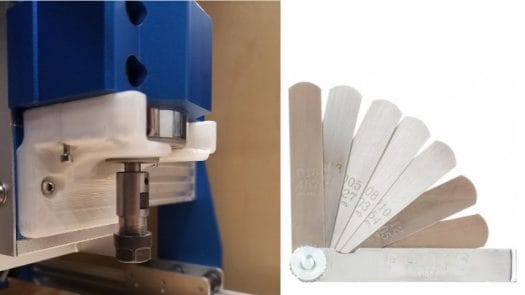 I designed it to fit into the extruded aluminum with t nuts and used some m3 screws for fine adjustment. There are 4 holes for m3 but I ended up using 1 hole closest on each side. This time I used a feeler gauge as a shim. I first trammed the spindle from left to right with the m3 screws. It ended up resting on the left side and a slight turn on the right to get within a few thousands of an inch over about 10 inches. Then I worked on front to back with the feeler gauges. My spindle mount slightly dips forward so I put the feeler gauge at the bottom. It is not a perfect solution but way better than without the jig. I did find it better to tighten the bolts with the same pattern each time starting with the bottom right for consistency. I just snugged it up and did an x pattern like a head on an engine. I shared all the mods here.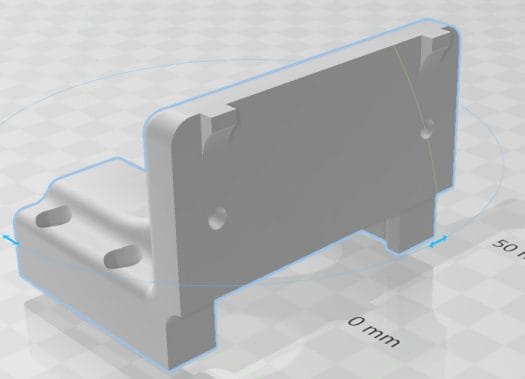 Neodymium Magnet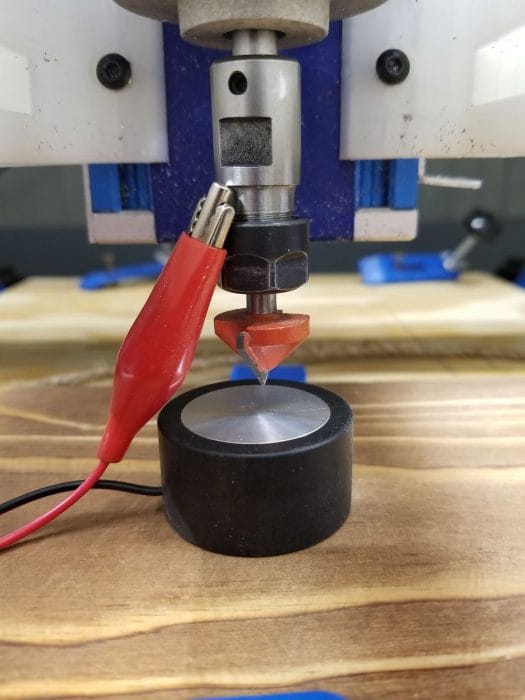 Simple quality of life addition. I got tired of clipping the alligator clip so I used a magnet to help with zeroing out the z-axis.
Aluminum milling with PROVErXL 4030 CNC router
I found milling aluminum without lubrication difficult and painfully slow… The first project that I completed I had to sit and watch. I would spray and brush away chips. I did not want to do this anymore so I created a recirculating system with a peristaltic pump. It worked out very well.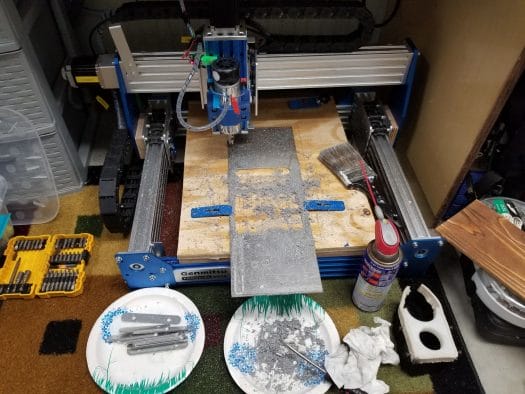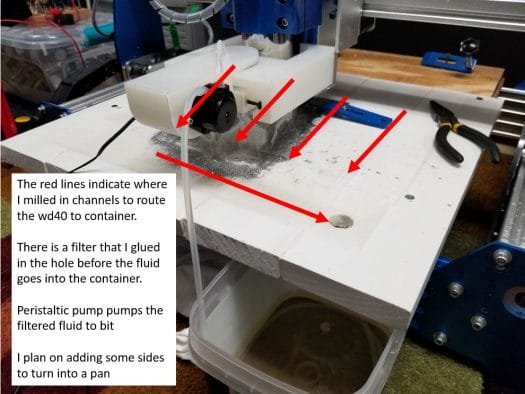 I passed this onto SainSmart.
This was the most cost-effective way that I could think to do this. I bought a length of PVC molding and glued the pieces together for my milling surface. A cutting board would have been perfect but couldn't find one the appropriate size. I then surfaced and routed some channels on a slight angle toward the front that overhung the edge. It then channels the fluid to a hole that I glued a fine filter in. WD-40 is collected in a small container. The peristaltic pump is run off of a 12V power brick. It is from some retired device. My hoarding paid off. I created a housing that normally fits the vacuum hose for the pump and it directs the WD-40 to the bit continuously. I also created a new dust shoe with clear plastic to stop splashes. The STL's are included in the thingiverse link above. I couldn't be happier with this setup.  It cost about $60 altogether with a gallon of WD-40. One idea would be to use the power going to the spindle so the pump turns off but would require a buck converter to do this and take some power away from the spindle.
Software for PROVErXL 4030
Vectric puts out some awesome software. Super simple to use but pricey. If you plan on making money with this machine it is the way to go. I really wish it was not so expensive. Fusion 360 is good but their software is way easier.
Sample Projects with PROVerXL 4030 CNC Router
The projects below are listed in chronological order.
Welcome Sign
I got so many likes with this project. It turned out so good. It was the first one that I did following the initial review. It took 9 different operations but was so worth it. I still have to make a few more for my family. Super simple process. Carve, paint the letters white, then come back with a stiff sponge roller to paint the black. I did several light coats of the black and made sure not to press too hard.
Bit Holder
Quick one-nighter here. Designed in Fusion 360 and cut. Doesn't get much easier than this.
Tree of Life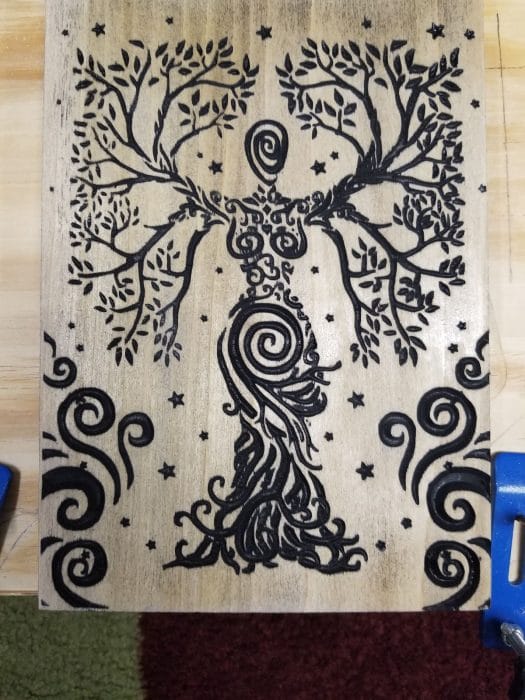 Another super simple one. Someone shared this picture on Facebook. Another one-nighter. Turned out ok. The process I did was to trace in Aspire. Vcarve. Paint and sand away the top surface. After some research, I found out that you should put a light clear coat down before painting. This way the sanded paint shouldn't go into the pores of the wood.
Phone Holder V1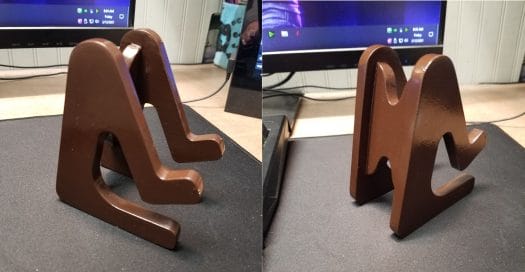 I finally got my wife to give me a project that she wanted. This was the first iteration. It ended up being too weak and the phone slipped out the front. Created in Fusion 360, cut, glued, and painted. It ended up breaking because it was too thin. I used a little glue to fix it back up. She uses this at her desk at home.
Dust Shoe v2 and v3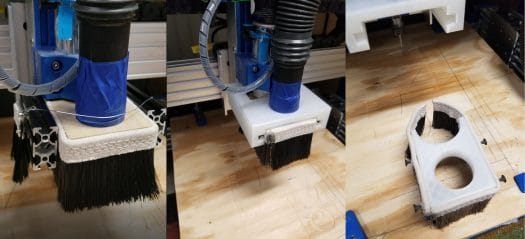 I was getting tired of having to pull out the Allen wrench to take the first dust shoe I designed off and it was a pretty weak design. I wanted to use the vacuum hose itself to hold it in. Version 2 lasted 2 seconds. It didn't look the best and wasn't easy to reproduce. Version 3 is a winner and really easy to use. Doesn't look bad. And not difficult to reproduce. It is designed to be 3d printed or milled from wood and glued together as well. Only somewhat special hardware are the T nuts and bolts. Again files are in the Thingiverse link above.
Wooden Owl
Next I did my first 3D carve with Vectric and it turned out pretty good IMO. 1 rough and 1 finishing pass.
Mandalorian Coin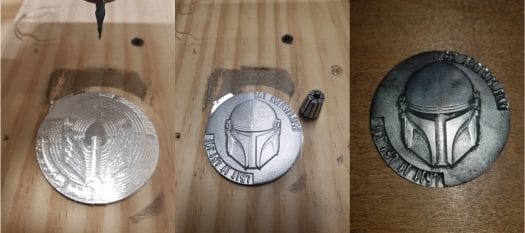 OMG This turned out so good. This was before I used lubrication. This was 3 passes. 1 Rough super slow. Then a finishing pass. I wasn't happy with the look so I lowered the bit .1mm and ran the finishing pass again and it turned out awesome. I then used some black acrylic paint and weathered it. Super proud of this one.
Phone holder version 2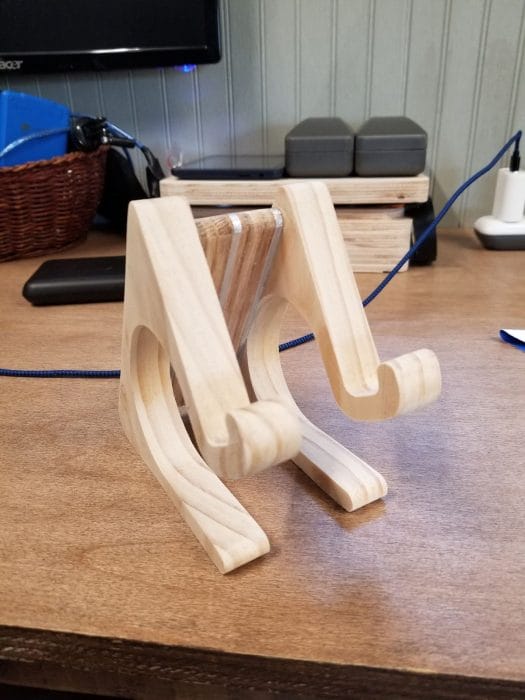 This was more of a proof of concept/test. Again I made the feet too thin and it broke while sanding. This one is on my desk. Pine, Oak in the middle, and aluminum in between.
Phone holder version 3 Final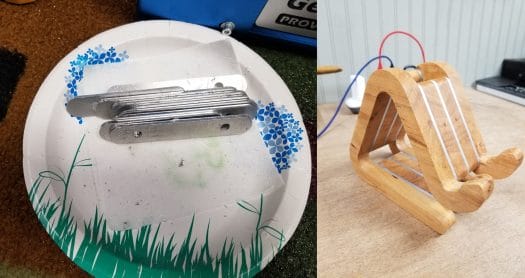 I really like this one too. This is what ended up being the final version and lives at work on my wife's desk. I like the aluminum/wood combination. It was a challenge to sand. I used files, a rotary tool, and sandpaper. One thing to note is you can't sand across aluminum to wood or else the fine aluminum stains the wood. It took forever to sand. I also used super glue which is also a pain to sand. I finished it with tung oil. It's a chunky boy but should last a lifetime or 2.
WandaVision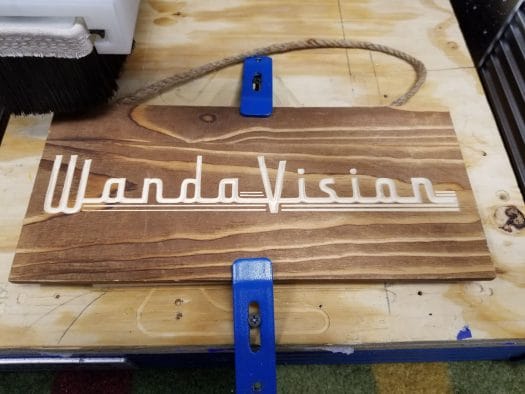 I bought this sign ages ago at the dollar general when I was using the 3018 for just a couple of dollars. My daughter and I really enjoyed the show and made this one night. Literally, Vcarve and done. It replaced a sign that was on her door.
Genmitsu PROVerXL 4030 CNC router review wrap up
This article is getting a little long so will wrap this up now. I did more projects but decided to stop here. I would like to give a big thanks to SainSmart for sending the Genmitsu PROVerXL 4030 CNC router for review. It was an honor.
I admit I don't have much experience with CNC routers but I found that I could do all the projects that I wanted with it. I believe it is best used with wood but aluminum is doable. I see lots of projects in the Facebook group and always recommend joining them before making a purchase.
I want to point out that CNC routers take a lot of time to learn. I have seen some posts where people didn't realize this and end up selling their machine. This is true about any complex task. I thought this was obvious but wanted to directly address this.
There are so many different techniques I haven't tried yet and look forward to. I want to do wood inlays, wire inlays, dot art, and several more I have seen.
Final verdict and opinion. First, if you are new to CNCing I would definitely start out with one of Sainsmart's smaller 3018 machines to test the waters. I have seen a ton of cool projects done on them and the initial investment is low. If you already have the CNC bug and looking for a larger machine I would not think twice about recommending the 4030. I have never given a formal thumbs up on any review. It has always been just sharing my experiences and letting whoever reads decide how they want to interpret it. This time I feel it is worth putting my opinion out there like this. I have been reviewing Sainsmart products for a while now and have always had a good experience with them and seen very few complaints in the FB groups.  SainSmart Genmitsu PROVerXL 4030 CNC router can be purchased on Amazon for around $1,000.
Teaser
Sainsmart just released an expansion kit to increase the build volume to 600×600. I received it and will share my thoughts shortly. I have only put it together and completed one surfacing project on a desk I built my son. Here is a little tease of the result.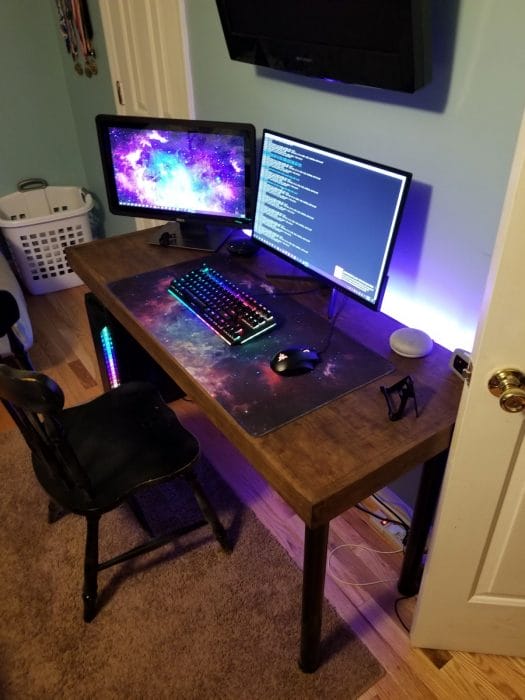 Karl is a technology enthusiast that contributes reviews of TV boxes, 3D printers, and other gadgets for makers.