USB to UART debug boards are a necessity for anyone playing with single board computers, at least when using bleeding-edge bootloader or Linux kernel where the target board may not always boot, or when troubleshooting booting problems.
Those are often based on FDTI or WCH chips, but Sipeed RV-Debugger Plus features Bouffalo Lab BL702 Zigbee & Bluetooth LE RISC-V SoC instead and offers both UART and JTAG interfaces. So let's have a look at both the board and SoC.
Sipeed RV-Debugger Plus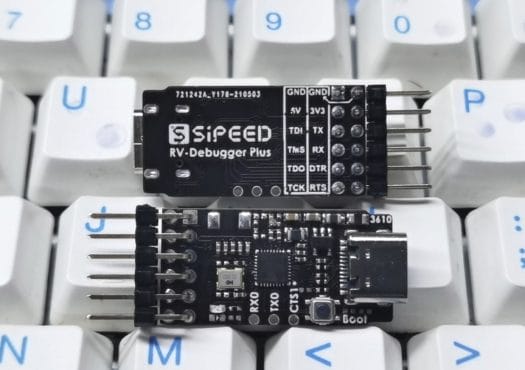 USB to TLL debug boards are meant to be simple and that's the case for Sipeed latest BL702 board as it comes with a 12-pin connector with Tx/Rx for UART, 8 signals for JTAG, plus 5V, 3.3V, and GND power signals. We can also see pads for Tx/Rx/CTS, a boot button, a crystal oscillator, and a USB-C port to connect to the host computer.
What I don't see is an antenna to use of Zigbee and/or Bluetooth LE connectivity, so I asked on the Twitter thread where Sipeed showcased the prototype, and that's the company answer:
There is the antenna pad upon the osc. it is reserved, as there is no much space for RF clearance.
So it may not be the best board to play with Zigbee/BLE. Sipeed says it will soon be sold for around $3 on Aliexpress and Seeed Studio.
Bouffalo BL702 Zigbee/BLE SoC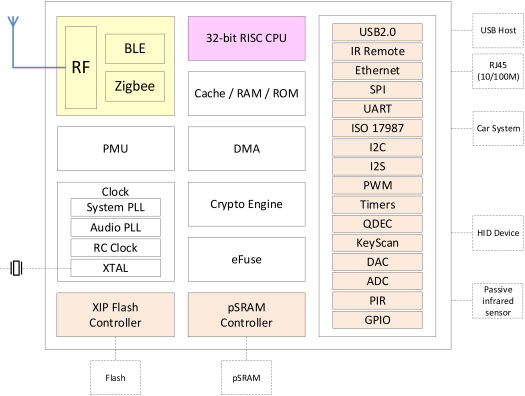 It's not the first time we mention the BL702 microcontroller as we shortly listed it in our post about Bouffalo Lab's BL602/BL604 RISC-V WiFi & BLE SoC last October. But we have a good opportunity to look at the chip in more detail today.
BL702, BL704, and BL706 key features and specifications:
MCU Core – 32-bit RISC-V Core with FPU up to 144 MHz
Memory – 132KB RAM
Storage – 192KB ROM, 1Kbit eFuse
External Memory/Storage – Support for XIP pSRAM and QSPI flash
Connectivity

Ethernet RMII interface
Bluetooth 5.0 Low Energy up to 2 Mbps, Long Range 500/125Kbps
Zigbee 3.0 / IEEE 802.15.4
Support Wi-Fi/Bluetooth/Zigbee coexistence
2.4 GHz RF transceiver with integrated RF balun, PA/LNA

USB – 1x USB 2.0 FS device interface
Other I/Os

SPI master/slave, 2x UART (Support ISO 17987), I2C master
Audio – I2S master/slave
5x PWM channels
Quadrature decoder
Key-Scan interface
12-bit general ADC, 10-bit general DAC
PIR (Passive Infra-Red) detection
15 (BL702) or 23 (BL704) or 31 (BL706) GPIOs
IR remote control interface

Security

Secure boot, secure debug
XIP QSPI On-The-Fly AES Decryption (OTFAD)
AES 128/192/256, MD5, SHA-1/224/256
TRNG (True Random Number Generator)
PKA (Public Key Accelerator)

Clocks – Support XTAL 32MHz, XTAL 32/32.768KHz; Internal RC 32KHz & 32MHz oscillator; internal system PLL & audio PLL
Debugging – JTAG
Power Modes – Off; Hibernate (RTC/GPIO wakeup); Power Down Sleep (Flexible retention); Active
Package Type

QFN32 (BL702)
QFN40 (BL704)
QFN48 (BL706)
The only difference between BL702 and its larger siblings, BL704 and BL706, only seems to be the number of GPIOs. The chips are designed for low-power IoT applications, BLE devices, Zigbee devices, Smart Home applications, and remote controls.
Availability and documentation
RV-Debugger Plus board is available on Aliexpress for $3.49 plus shipping. You'll find the documentation and source code (C SDK) on Github. The board can be used as a JTAG+UART board or a dual UART board although support for the latter is on a TODO list. More information about the BL720 chip itself could eventually surface on the product page on Bouffalo Lab website.
[Update: The post was initially published on May 28, 2021, and updated on June 21 as the board became available on Aliexpress, and source code and documentation released]

Jean-Luc started CNX Software in 2010 as a part-time endeavor, before quitting his job as a software engineering manager, and starting to write daily news, and reviews full time later in 2011.