In the first part of Foscam SPC WiFi spotlight camera review, we checked out the specifications, the package content, and some of the main components of the camera with SigmaStar SSC337DE processor and a Realtek RTL8822CS dual-band WiFi 5 module.
I've now had time to play with the camera and tested it with the Foscam Android app, including human detection, and enabled ONVIF support to use the camera with compatible third-party apps or programs.
Foscam SPC installation and setup with Android app
Foscam SPC camera is designed to be wall-mounted, but for this review, I simply attached it to the branch of a small tree.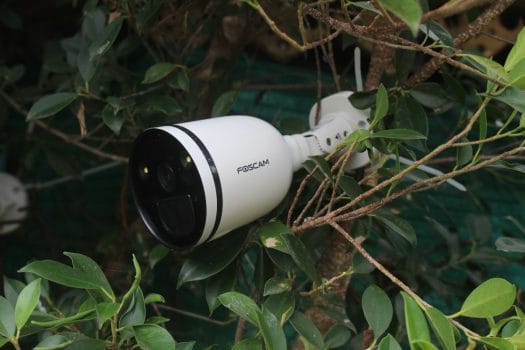 Note that contrary to the other cameras I've tested, the camera angle can only be adjusted up and down or rotated, but there's no direct left or right adjustment. I've also connected the power adapter to power up the camera, but I did not install a MicroSD card as a free 3-month trial cloud storage period is provided, nor did I connect an Ethernet cable, relying on WiFi connectivity instead.
The next step is to install the Foscam app for Android and register an account with the company. I'm using the traditional email/password to login, but the app also supports Fingerprint login.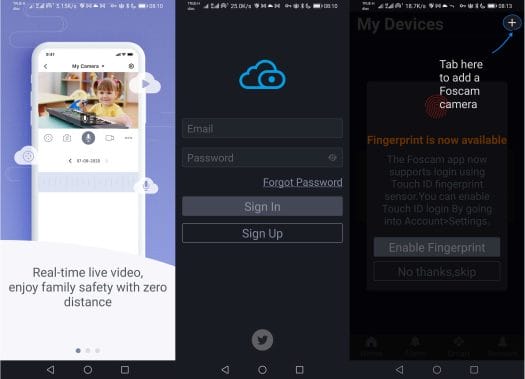 We can now add the camera to the Foscam app. There are several methods, but with WiFi, I went with the "Scan the QR code" method. The camera will "talk" to you and says something like "Ready for WiFi configuration".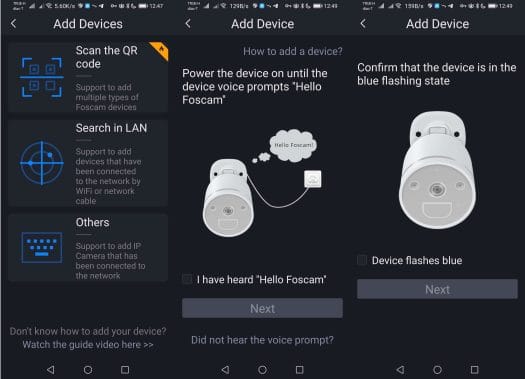 After scanning the QR code on the camera, we are asked to input the password for the access point used by the phone. It's not possible to change it at this stage, for example, to configure 5GHz WiFi (my phone only supports 2.4GHz), but it can be done later.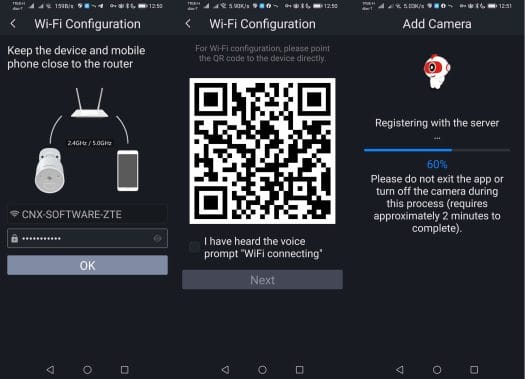 Once this is done, a QR code will be shown on the phone, and we need to place the phone about 15 to 30 cm from the camera to let it register with Foscam's server.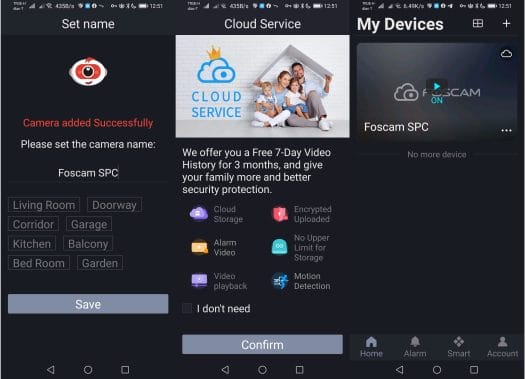 We've almost done. Simply give the camera a name, confirm whether you'd like to use the free 7-day video history for 3 months place, and you'd then be redirected to the "My Devices", aka Home", section.
We're then asked to create a password the first time we access the camera, and go through a short tutorial showing how to use the app.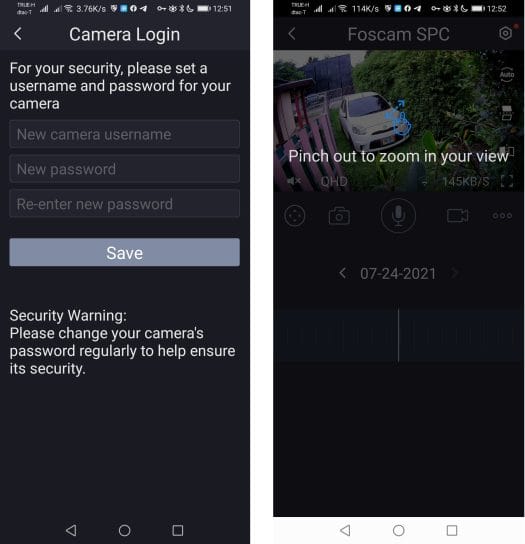 Foscam App – Features, options, human detection
The image quality looks pretty nice, but it should not be too surprising for a 2K camera. I also feel the colors are brighter than one the Reolink 4K camera I'm currently using.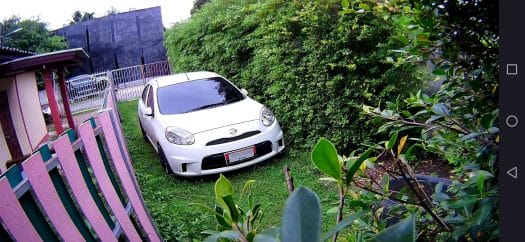 That's all good, but activity detection is not working yet. We have to go to the settings to enable it.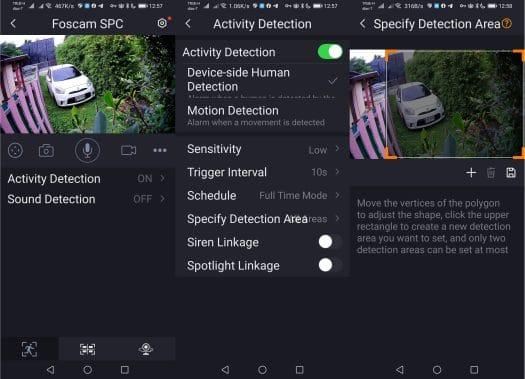 By default, motion detection is enabled, and it's good to detect all types of motions, but obviously, there could be a lot of negatives. So instead, I've enabled "Device-side human detection". We can also enable the built-in siren and spotlight upon activity detection, and define up to two zones of detection.
The first times I tried, sensitivity was set to low, and while my girlfriend was detected from time to time, I was not looking human enough for the camera. So I changed the sensitivity to high, and it worked very well with notifications showing up on my phone, as I could access the video samples in the cloud to watch them back.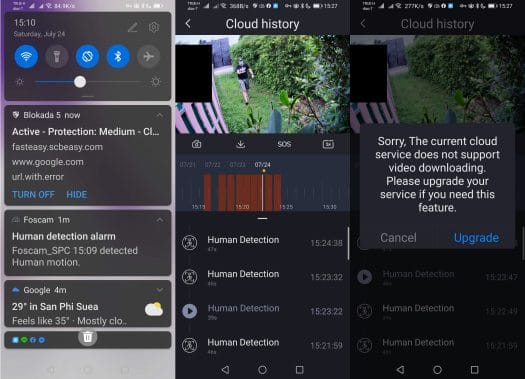 What I could not do, however, is download video samples from the cloud, as it is not included in the free trial, and you'd need to pay for the service. I thought I had found a workaround by going into the Alarm/Alerts list in the main menu, and tap on "Save to phone".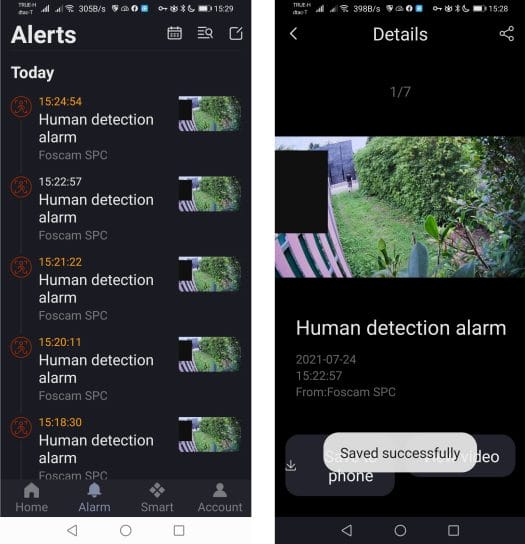 But instead, it saves a GIF animation as shown below. Note the black area is a privacy zone that I defined in the settings.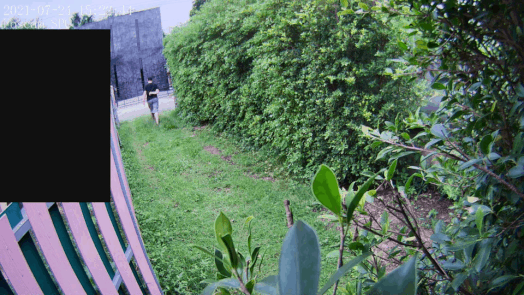 Foscam provided me with a coupon code to let me download videos samples, and it works but only at 720p (1280×720) resolution.

So only relying on Cloud storage may not be ideal, as with a MicroSD card should you be able to store higher resolution QHD videos (2560×1440).
While human detection works, there's a pretty long lag before the siren or/and the spotlight (at night) are enabled. I'd say it may take close to five seconds. That's where a processor with a built-in AI accelerator would probably be useful… Here's what the siren sounds like for those interested.
That's with maximum volume, so quite loud, but you can adjust the volume in the settings. There are plenty of options in the settings, especially in the Advanced Settings section.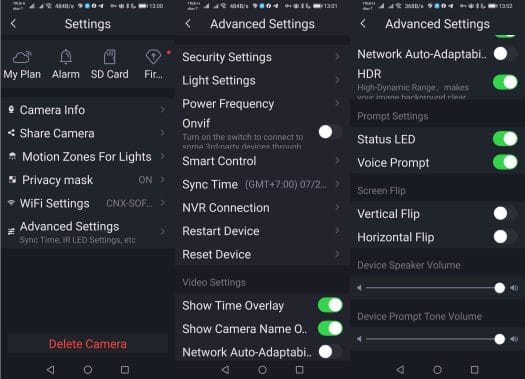 It's possible to adjust the IR LED and spotlight behavior (always on or off, auto switch, or scheduled). I ended up scheduling the IR LEDs because I had noticed them turning off after the spotlight was turned on and off, and used auto switch (e.g. based on activity) for the spotlight. ONVIF can be enabled/disabled from the Android app, and that's a good thing, as some other manufacturers may force you to use a desktop program for this type of setting.
Smart Contol is about controlling the camera with Google Assistant, time and name overlay text can be turned on/off, there's a setting for HDR, status LEDs, voice prompt, as well as vertical and horizontal screen flip that enabled ceiling mounts or other alternative mounting options. The camera also supports two-way audio, but when the microphone in the app (speaker on the camera) is enabled, the microphone from the camera is disabled. So you'd have to speak in turns.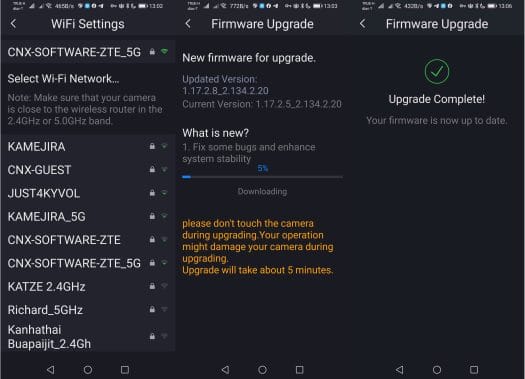 I could also switch the 5GHz band in the settings, and update the firmware to the latest version. As a side note, this complete review used the latest firmware at this time, i.e. 1.17.2.8_2.134.2.20.
Foscam SPC at night
Most security cameras are only using an IR filter to show black and white video at night, but Foscam SPC comes with two very bright LEDs that enable it to take color snapshots and shoot color videos in the dark.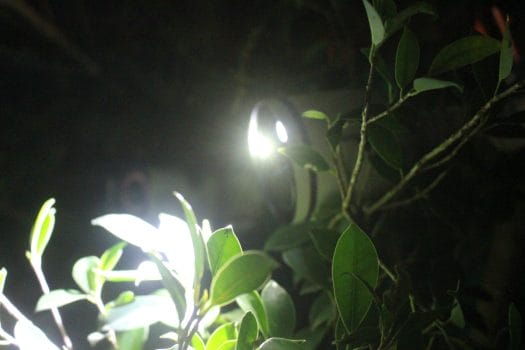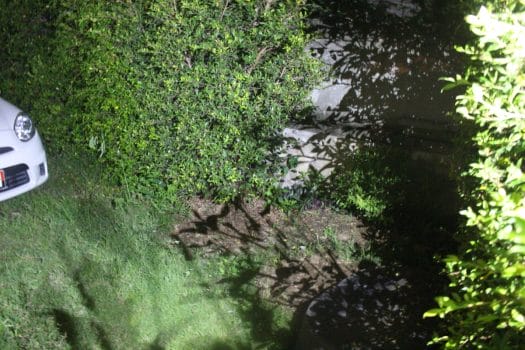 I took the photos above at night with a DSLR camera with the flash turned off.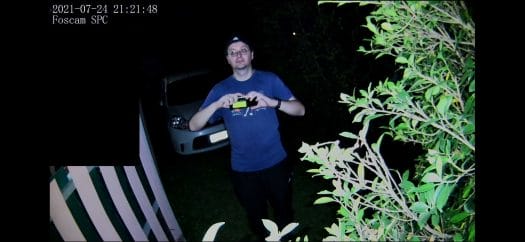 The screenshot above is from the ONVIF app with the spotlight on which shows how effective it is.
Here's a sample download from the cloud, again limited to 720p since that's the resolution stored in the cloud.

ONVIF Testing
Some people may prefer to integrate the camera with their own ONVIF compliant system. So I turned on "Onvif" support in the settings, and Onvier Android app, previously known as Onvifer, automatically detected the camera. I just inputted the username and password and I could access the video stream.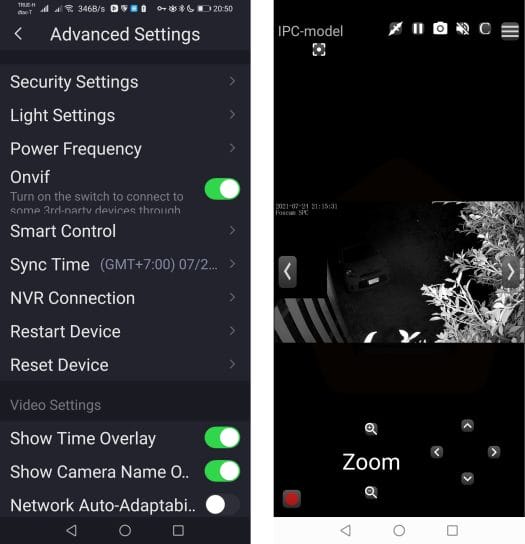 The resolution is 1920×1088 with H.264 encoding for video, and G711 for audio.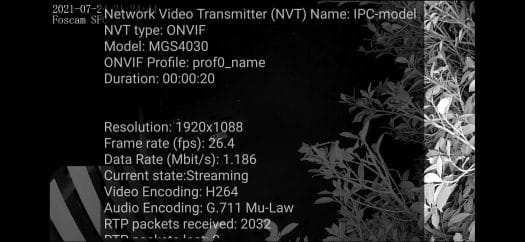 I captured a video sample at night,
and during the day.

If the quality looks poor, the image freezes from time to time, or artifacts are visible. That's normal as that's what the recordings look like. Wifi may be the bottleneck here, and an Ethernet cable should help at least for the latter two.
Conclusion
Foscam SPC AI security camera's main differencing features are the spotlight for clearer color image and video capture, and support for 2.4 GHz/5 GHz WiFi. Both work quite well, and I found the image quality to be superior to other IP cameras I've recently reviewed both during the day, but especially at night with the spotlight.
Human detection works OK, but I've noticed a lag of around 5 seconds before the siren or the spotlight is enabled, which may be something to keep in mind. I also like that the camera comes with free cloud storage, albeit limited to three months, as some cameras do not come with a free trial at all, while other companies (e.g. Reolink) basically offer a lifetime cloud subscription limited to one camera. So I thought to review the unit with cloud storage only, but as noted in the review there are limitations, notably the video is stored at 720p to save on bandwidth and space, while the native resolution of the camera is 2.5K (2560×1440), so a decently-sized MicroSD card would be preferred optionally in combination with cloud storage.
Other notable features included two-way audio (but only one way at a time), as well as ONVIF support, but in that case, connecting an Ethernet cable is preferable.
I'd like to thank Foscam for sending a sample of the Foscam SPC WiFi spotlight camera for review. If you are interested it can be purchased for $89.99 or less with SPC coupon on their store or Amazon.

Jean-Luc started CNX Software in 2010 as a part-time endeavor, before quitting his job as a software engineering manager, and starting to write daily news, and reviews full time later in 2011.