PicoVoice offline Voice AI engine has now a free tier that allows people to create custom wake words and voice commands easily for up to three users on any hardware including Raspberry Pi and Arduino boards.
I first learned about PicoVoice about a year ago when the offline voice AI engine was showcased on a Raspberry Pi fitted with ReSpeaker 4-mic array to showcase the company's Porcupine custom wake word engine, and Rhino Speech-to-Intent engine. The demo would support 9 wake words with Alexa, Bumblebee, Computer, Hey Google, Hey Siri, Jarvis, Picovoice, Porcupine, and Terminator.
More importantly, the solution allows you to easily create your own custom words in minutes from a web interface by simply typing the selected wake word, with no need for hundreds of voice samples or waiting weeks to get it done. So I tried "Hey You" first, but I was told it was too short, so I changed that to "dear master" and could try it on after only 20 minutes on my Ubuntu 20.04 laptop using Firefox browser. But at the time, it was only available for Windows, Linux, or macOS, and Arm Linux platforms required a commercial license.
But this has just changed, as Picovoice Free Tier enables anyone with an email address or a GitHub account to use Picovoice for free, even commercially, for up to three users. The offer includes Porcupine wake word and Rhino Speech-to-Intent engines, as well as the new Cobra VAD engine. The company says "No credit card required, no hidden fees". Let's check it out.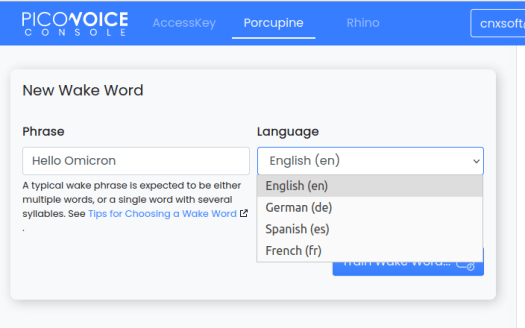 I'll use "Hello Omicron" and select the English language, but PicoVoice also supports German, Spanish, and French. After I click the button "Train Wake Word", I'm asked to select the platform…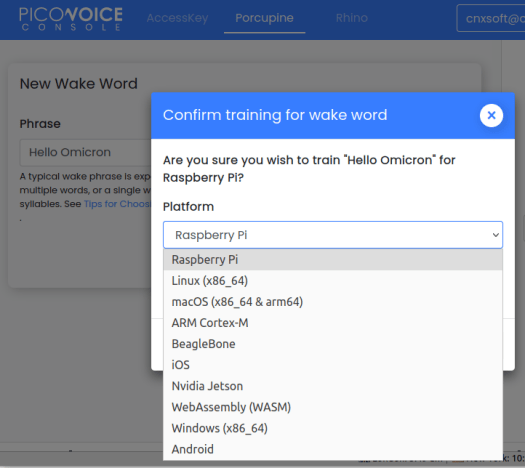 The good news is we're not limited to x86 platforms anymore, Raspberry Pi, BeagleBone, Nvidia Jetson, iOS & Android devices. macOS arm64, and even Arm Cortex-M targets (e.g. Arduino Nano 33 BLE Sense) are supported in the free tier. Not sure about other Arm Cortex-A Linux platforms though, maybe selecting "Raspberry Pi" would work? One limitation is that you can only train three wake words per month, but that should be enough for most personal projects.
This time around, it only took a few seconds after clicking on "Train Wake Word", to get the file required for Raspberry Pi. I don't have hardware setup for this, so I may try it in more detail another day, but I could still confirm "Hello Omicron" worked just fine in Firefox using my laptop's microphone. Read the documentation to learn how to get started.
What if you need to handle more than three active users per month? There's a paid option for $899 per month for up to 1,000 active users. I'm not quite sure how it compares to competitors since pricing is not usually made public. Custom pricing is also offered for companies requiring more than 1,000 users.

Jean-Luc started CNX Software in 2010 as a part-time endeavor, before quitting his job as a software engineering manager, and starting to write daily news, and reviews full time later in 2011.