I started the review of ANNKE NC800 security camera with color night vision last month by checking out the specifications and package content. I've now had time to install and test the camera with a focus on night image quality and person and vehicle detection.
ANNKE NC800 installation
The camera should be powered by a PoE injector, but since I don't have any spare one, I just used an Ethernet cable and a 12V power supply.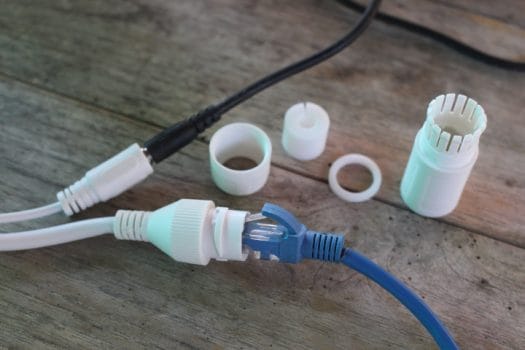 The kit includes bits to make sure the Ethernet cable is waterproof, but I would have had to cut the plastic bit on top of my connector, so I skipped that part. The cable is also protected from rain and sun where I'll install it.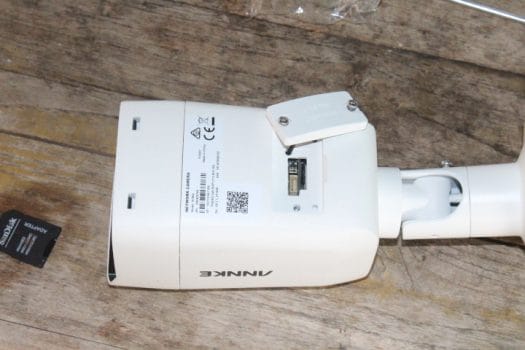 I also installed a MicroSD card after formatting it to FAT32 to make sure it is recognized by the system, but it may not be necessary as the card will be formatted using EXT-4.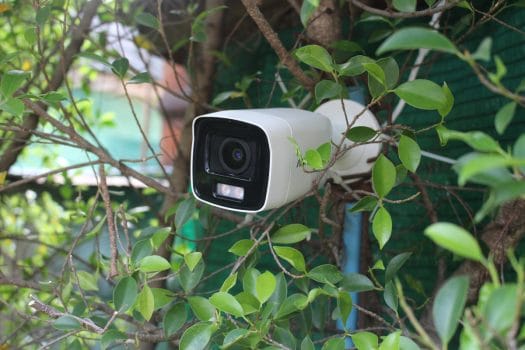 I finally installed the camera to a tree and a pipe using cable ties.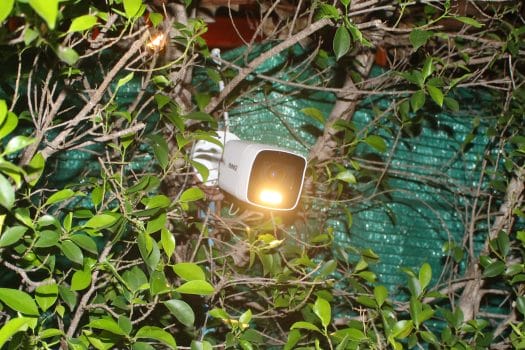 This is what it looks like a night when the soft light is on. As its name implies, it's not a bright light like the spotlight found on the Foscam SPC reviewed last year, and it's not always on even at night.
Initial setup with Annke Vision Android app
While there are multiple methods to configure the camera, we'll go with the Annke Vision app for Android or iOS to configure the camera. I already had the Android app installed from my review of ANNKE CZ400 last year. So I just logged in with my existing credentials and scanned the QR code on the camera to go through the setup wizard.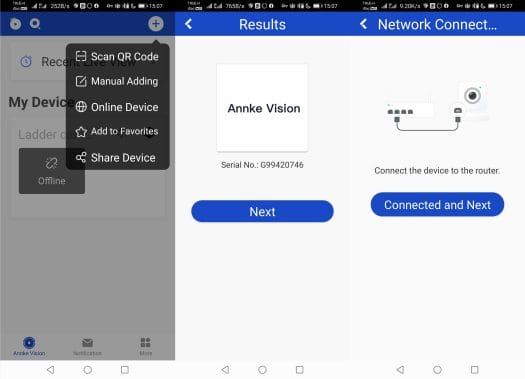 The setup includes two user-defined passwords with the "device password" and the "verification code" to encrypt videos stored in the MicroSD card or NVR. You'll need to remember or write those down since they'll be needed later on.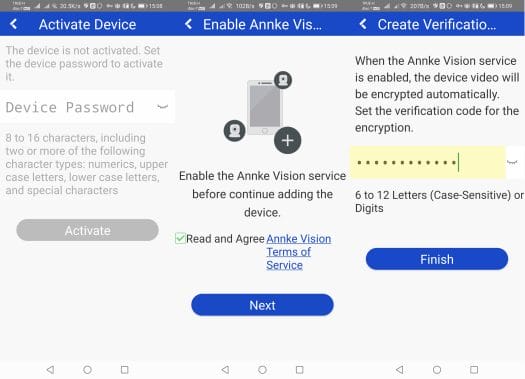 The setup did not go 100% smoothly as I got the "Operating failed" (sic.) message several times. Retrying once or twice should fix the problem. My Internet connection should not be a problem, since the camera is directly connected to a modem router with a 1 Gbps Fiber-to-the-home connection.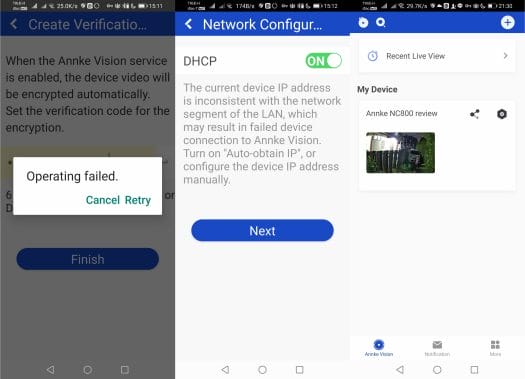 The initial configuration was eventually successful.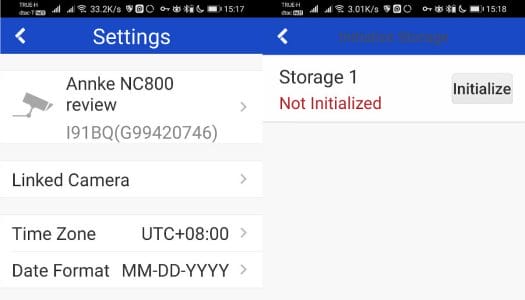 You'll also want to change settings such as the time zone (UTC+08:00 by default, i.e. China), and initialize the MicroSD card, so image captures and videos can be stored properly.
Image quality during the day and at night
The sample below shows the image quality in HD format (i.e. 2K), and it looks pretty good to me, but nothing amazing compared to other 2K or 4K security cameras I have tested.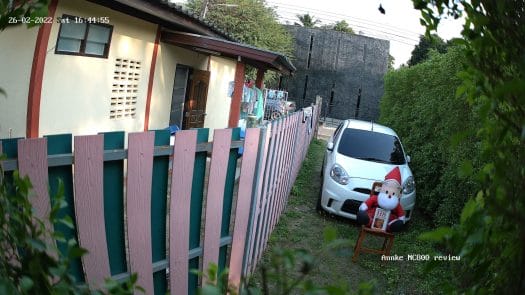 There's no optical zoom in this model, but using the digital zoom up to 5.0X still allowed me to read some of the text on the book.

As expected, the Annke NC800 camera really shines at night with amazingly clear pictures, even with some leaves in the foreground, and a close to fully dark scene (This was not taken over sunset, but at night).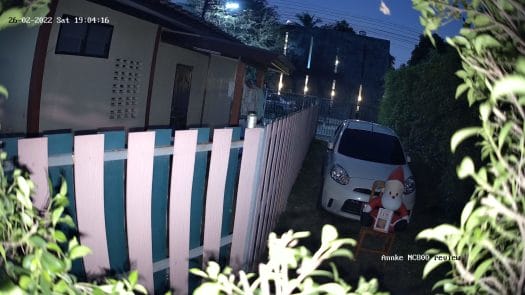 The text after a 5X digital zoom is almost as readable as during the day.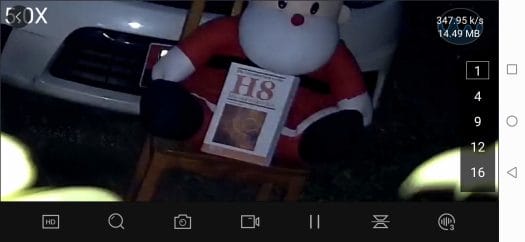 As a comparison, I used my Huawei Y3 Prime smartphone, which admittedly does not have the best camera, first taking a photo without flash, but the soft light from the security camera on…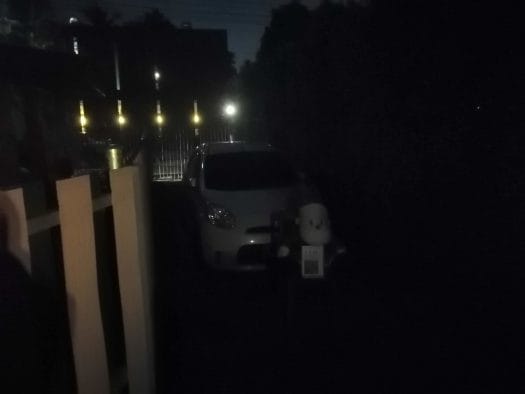 and then with the flash. The foreground is clear, but the background is close to pitch-black, while ANNKE NC800 is capable of providing a clear image in all sections.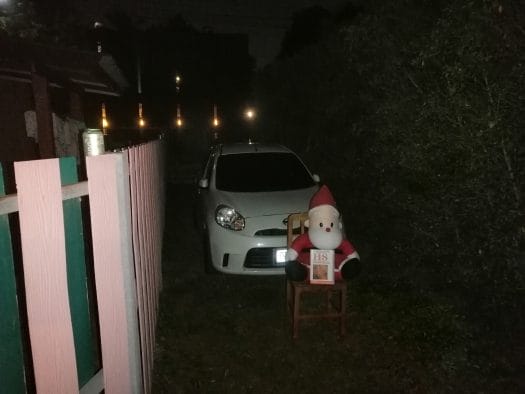 Daytime video sample.
Nighttime video sample
We were quite impressed by the nighttime shots which were as if they were taken at sunset, or right after it.
Human and Vehicle detection
Let's try the AI features with human and vehicle detection. I connected to the web interface just like with Annke CZ400 to configure that part. Vehicle detection is brand new, as previously only human detection was possible in the motion detection section of the "basic event" menu.
I just typed the IP address of the camera in Firefox, and logged in with admin username and the password I've just set in the Android app.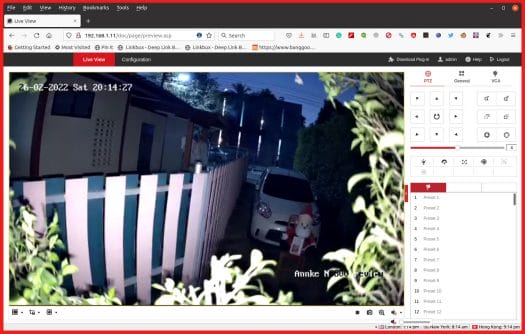 I got access to the web interface with the video stream (no plugin needed anymore), and camera controls, most of which are not active since for instance the camera does not support PTZ, optical zoom, etc… But at least there's a way to access the stream easily from a computer. ONVIF is also supported by needs to be configured.
Let's click on Configuration in the top menu, and then Basic Event to configure Motion Detection.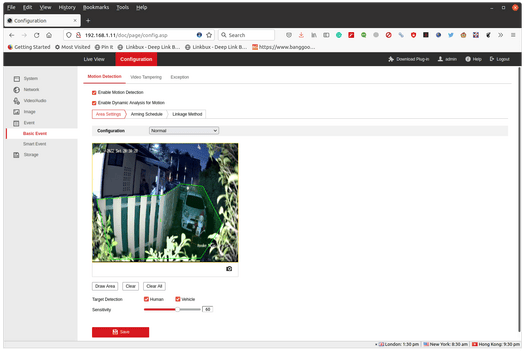 I ticked "Enabled Motion Detection" and "Enable Dynamic Analysis for Motion", and defined a zone to only generate alarms when sometimes happens in my home, and filter activity from my neighbors. At least that was the plan. I then enabled Human and Vehicle target detection, to filter any unneeded alarm, for instance from moving leaves.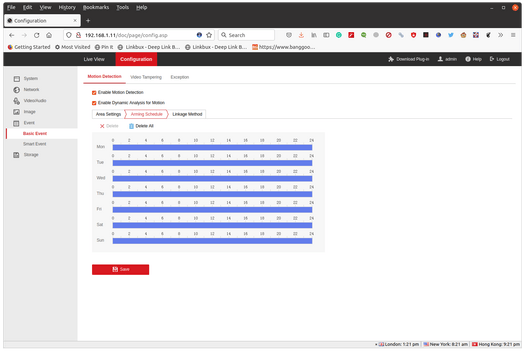 I set up motion detection to work 24/7 in the "Arming Schedule" tab.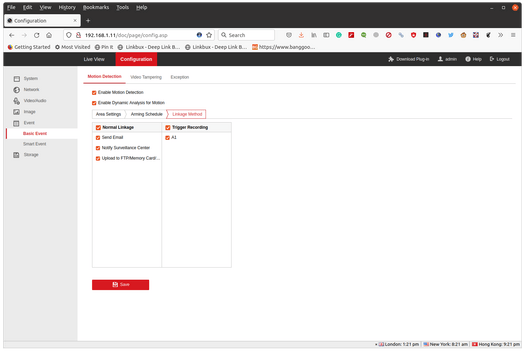 Then selected "Normal Linkage", "Notify Surveillance Center", and "Upload to FTP/Memory card", as well as A1 trigger recording. I initially ticked "Send Email", but this did not work for me, or I failed to find the right way to set it up, as you may have noticed the whole process is far from being user-friendly.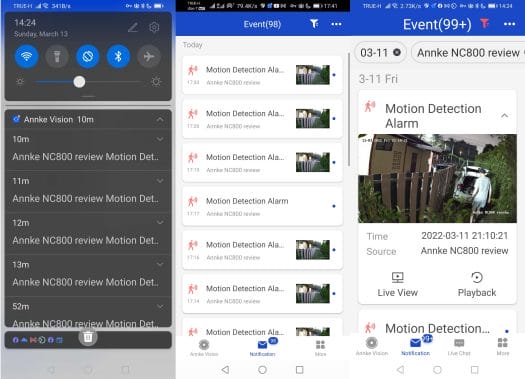 But at least, I get motion detection alarms in the notifications, with a list found in the app (it can be filtered by day and camera), plus a thumbnail for each motion detection alarm plus the ability to playback the recorded video.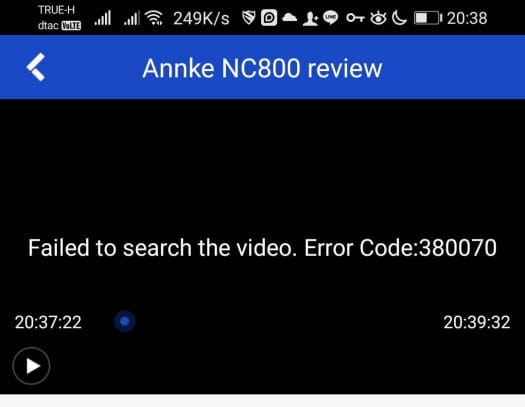 Except at first, it did not work as expected and I got the error "Failed to search the video. Error code: 380070". There's a method to fix the issue when using an NVR, but in my case, all I had to do was wait a bit, and new video captures worked. The very first videos would still not play. I thought the problem was solved for good, but now I've noticed that while I can play the videos captured the current day or the day before can play, if I go back in time further the error will show again.
Another issue is that I had a lot more alarms than expected, even when I was not at home for 10 days, I would still get a hundred or so alarms a day. But based on the zone I have defined in the web interface above. I should only really receive alarms when a vehicle or person passes in front of my main gate.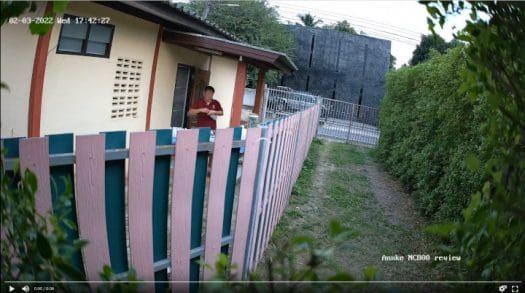 The example above shows a person out of the detection zone, but I still received an alarm. I first suspected the system tried to detect a person or vehicle in the complete frame, and if there was any type of motion in the detection zone, be it just moving leaves, the alarm would be triggered no matter where the person/vehicle is in the frame, which obviously would not be ideal. But I eventually found out I inadvertently enabled "Scene change detection" in the "Smart Event" section.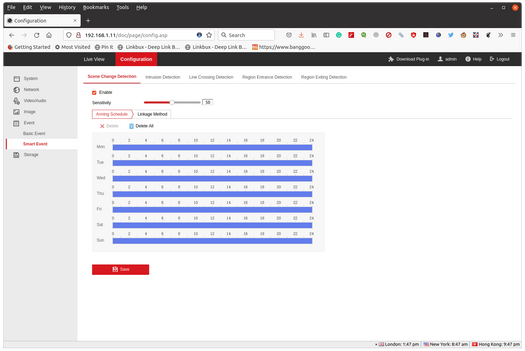 Disabling it greatly reduced the number of false positives. There are fewer smart events than when I tested the Annke CZ400 camera with scene change detection, intrusion detection, line-crossing detection, region entrance detection, and region exiting detection, probably because some of the older ones were redundant. I invite you to check out the Annke CZ400 review for details since the workflow is the same.
One disappointment is the lack of "motion", "vehicle" or "person" filtering within the Android app itself, like can I do in the Reolink app. When we receive a motion detection alarm, there's no way to know the reason for the alarm, it will always show the same logo.
DDNS is not working anymore, and mobile app's "web management"
Since I was going out of my home, I planned to use DDNS (Dynamic DNS) to be able to remotely access the web interface. Annke has a detailed guide explaining how to do just that, and I managed to go through it fairly easily, only to find out the SimpleDDNS had been discontinued on February 15, 2022:
Dear customer,

Thank you for your long-term support to us.
We plan to discontinue SimpleDDNS service from February 15, 2022. We sincerely apologize for the inconvenience caused to you.

The impact of the service discontinuation: the www.simpleddns.com website will be closed. The SimpleDDNS domain service cannot be used.

If you have any questions, please contact your dealer.
The domain is now down and inaccessible. But I did notice a new "Web Configuration" menu in the Settings section mobile app that gives access to the features of the web interface.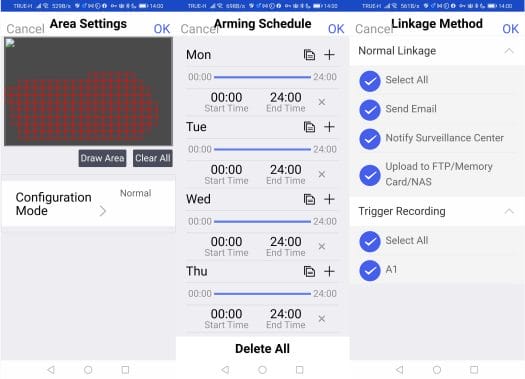 It looks good until you realize there's no option to enable Human/Vehicle detection, and the "draw area" does not show the live stream so it's close to impossible to use accurately. Unless I missed something using a web browser is still required to configure AI features of the camera properly.
Conclusion
ANNKE NC800 NightChroma security camera's night vision capabilities are truly fantastic, it can deliver bright and colorful images even at night in a way no other security cameras I've tried. Vehicle and Human detection works fine, greatly reducing the number of false alarms, although I'd wish to have the ability to filter those within the mobile app. Reliability can be an issue, however, as from time to time I was unable to playback recorded videos, so using an NVR is recommended whenever possible. ANNKE camera are not super-intuitive to configure, especially when using AI features, as users need to configure the camera in Android or iOS (or Windows), before switching to a web interface in a computer or laptop.
I'd like to thank ANNKE for sending the NightChroma NC800 for review. It's currently listed on Amazon, but currently unavailable/out of stock. You can also find it on ANNKE website for $279.99 plus shipping.

Jean-Luc started CNX Software in 2010 as a part-time endeavor, before quitting his job as a software engineering manager, and starting to write daily news, and reviews full time later in 2011.