In the past, new mini PCs were released as a result of new processors coming to market. However, with the pandemic and its consequences on the supply chain, some Chinese manufacturers' survival response has been to source old processors in order to continue presenting new devices.
It could be argued that for this approach to be successful these alternative older processors should at least be comparable in performance terms to the latest processors that are currently, or theoretically potentially, now available. In terms of low-end Intel mini PC processor chronology which started with Bay Trail and then Cherry Trail followed by the Lakes of Apollo and Gemini, the current benchmark is Jasper Lake.
A good example of this adaptation to market circumstances is Beelink's release of their latest additions to their SEi and SER product lines which feature the older Intel Core i3-8109U (Coffee Lake) and AMD 3200U processors respectively. Both mini PCs effectively compete in price and performance against the already released Beelink U59 and the soon-to-be-released Beelink MINI S which both feature the newer Intel N5095. Beelink have kindly sent both the SEi and SER mini PCs for review and I'll start by looking at performance when running Windows.
Beelink SEi8 and SER3 Hardware Overview
In the 'blue' corner we have the SEi8 which physically consists of a 124 x 113 x 41 mm (4.88 x 4.45 x 1.61 inches) square metal case with a plastic top. As an actively cooled mini PC, it uses Intel's 14++ nm Coffee Lake Refresh Core i3-8109U processor from 2018 which is a dual-core 4-thread 3.00 GHz mobile processor boosting to 3.60 GHz with Intel's Iris Plus Graphics 655.
In the 'red' corner is the SER3 which is physically very similar and consists of a 126 x 113 x 40 mm (4.96 x 4.45 x 1.57 inches) square metal case. Again actively cooled, the mini PC uses AMD's 14 nm Zen Ryzen 3 3200U Picasso processor from 2019 which is a dual-core 4-thread 2.6 GHz mobile processor boosting to 3.5 GHz with Radeon Vega 3 Graphics.
Both mini PCs' front panel has an illuminated power button, a 3.5mm headphone jack, a Type-C 'USB 3.0' port (neither mini PC supports 'Alternate Mode' which is found on the U59), dual 'USB 3.0' ports (but see below) and a reset pin-hole 'CLR CMOS'. The rear panel includes a gigabit Ethernet port, dual 'USB 3.0' ports, dual HDMI 2.0 ports, and the power jack.
Internally, each has a replaceable M.2 2230 Wi-Fi 5 (or 802.11ac) Intel Wireless-AC 3165 card which is located under an M.2 2280 NVMe PCIe Gen 3.0 SSD drive (the SEi8 review model included a 512 GB Intel 660p drive whilst the SER3 review model included a 500 GB Kingston drive with both having Windows 11 Pro installed) together with the ability to add a 2.5" SATA drive to the lid which is connected to the motherboard via a short ZIF cable.
There are also two SODIMM memory slots that support up to 64 GB of memory but the review models only included a single stick of Crucial 16 GB DDR4 3200 MHz memory noting that this particular memory is single-rank and was configured to run at 2400 MHz on both mini PCs:
The specifications state: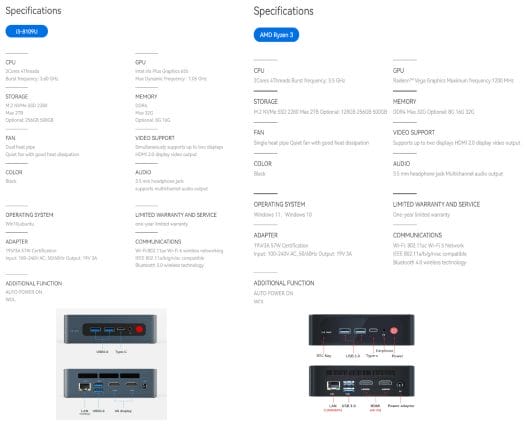 and list the USB ports as 'USB 3.0' so I tested them together using a Samsung 980 PRO PCle 4.0 NVMe M.2 SSD housed in a 'USB to M.2 NVMe adapter' (ORICO M2PAC3-G20 M.2 NVMe SSD Enclosure) which showed that they were actually 'USB 3.1' (USB 3.2 Gen 2×1 i.e. 10 Gbit/s):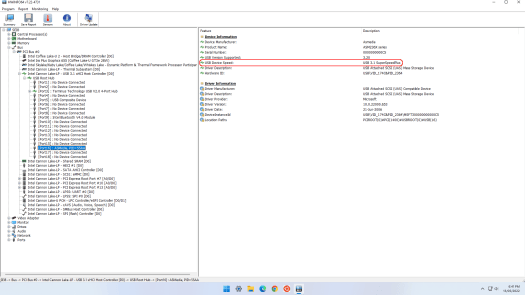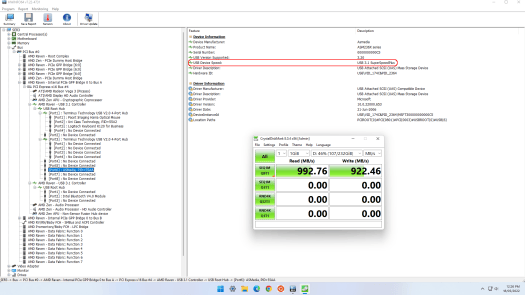 with the exception of the front middle USB port on the SER3 which only works as a 'USB 2.0' port. According to Beelink this is a 'USB 3.0' port (and is 'blue' in color) however "this USB port is connected by transferring other lines through an adapter, so the speed is very slow, the speed is only USB2.0":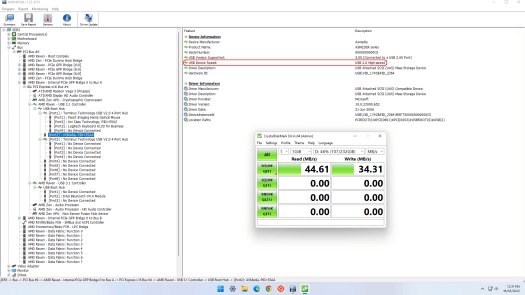 Also, the SEi8 specification lists the Wi-Fi as generation 6 however the installed M.2 2230 is only a generation 5 card being an Intel Wireless-AC 3165 which is the same as in the SER3 and U59: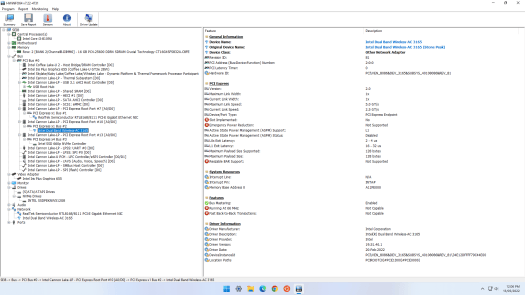 and is somewhat hidden in that it is located under the M.2 2280: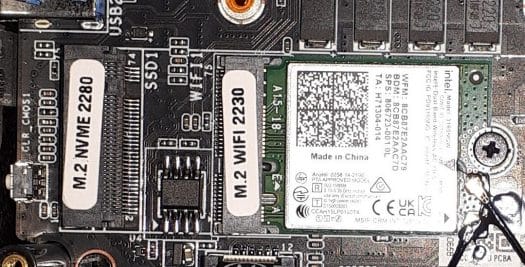 Finally, the SEi8 specifications list the Bluetooth as version 5.0 however it is actually only version 4.0: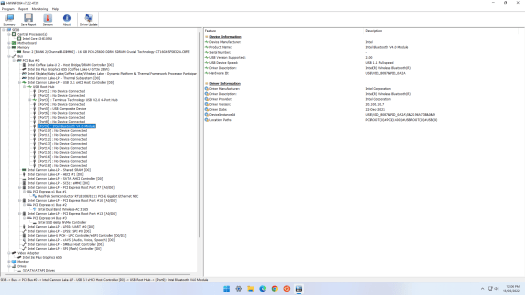 Box contents
In each box, you get a power adapter and cord, both a short and a longer HDMI cable, a VESA mounting bracket together with a small packet of miscellaneous screws, and a multilingual user manual: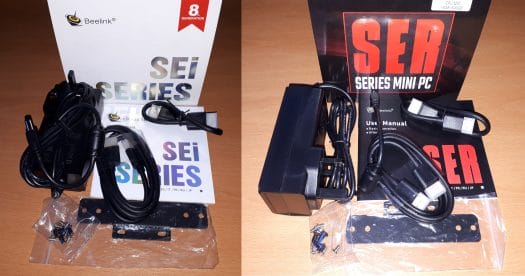 Review Methodology
When reviewing mini PCs, I typically compare their performance against some of the more recently released mini PCs. I now review using Windows 11 version 21H2 and test with a selection of commonly used Windows benchmarks and 'Phoronix Test Suite'.
Prior to benchmarking, I perform all necessary installations and updates to run the latest version of the OS. I also capture some basic details of the device for the OS.
Installation Issues
On the SER3 running the pre-installed AMD Radeon Software errored with a software and driver version mismatch:
however, this was easily resolved by downloading and installing the latest version (22.5.1):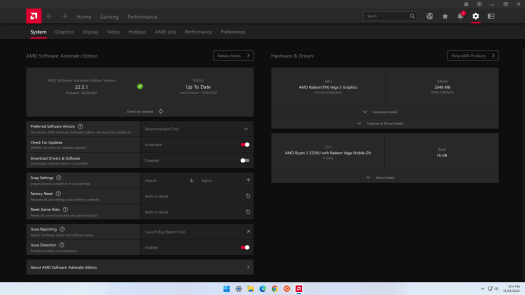 Beelink SEi8 (Intel) vs Beelink SER3 (AMD) – Windows 11 Performance
Initially, both mini PCs came installed with a licensed copy of Windows 11 Pro version 21H2 which after applying updates was build 22000.675. A quick look at the hardware information shows each is aligned to the specifications noting the exceptions listed above.
For the SEi8:
and for the SER3:
After a brief check confirming working audio, Wi-Fi, Bluetooth and Ethernet, for each mini PC I set the power mode to 'High performance' and ran my standard set of benchmarking tools to look at performance under Windows.
The results for the SEi8 were:
I also tested Cinebench R23: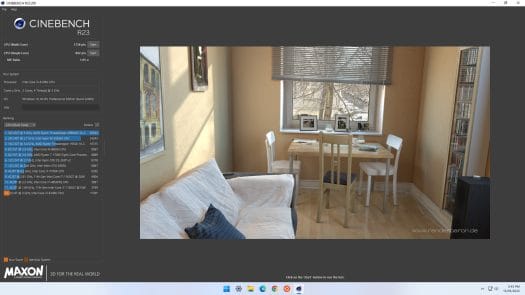 For my specific set of Phoronix Test Suite tests the results were: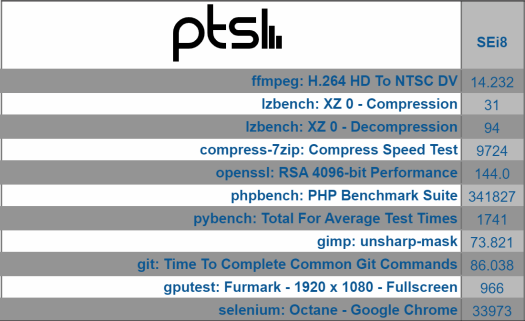 For the SER3 the results were:
Additionally, the Cinebench R23 result was: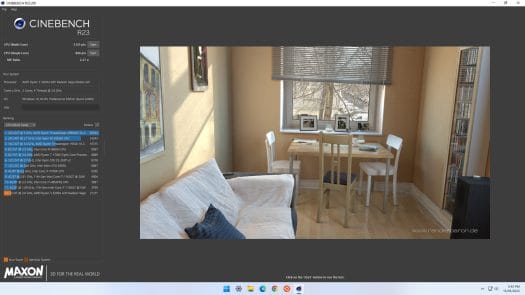 and the Phoronix Test Suite results were: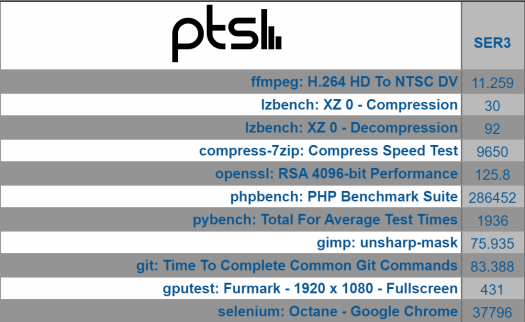 Taking a detailed look at the CPU and GPU performance shows for the SEi8 whilst its i3-8109U CPU is around 20% slower than the SER3's 3200U the iGPU is around 35% better. Extending the comparison to include the U59 shows that its N5095 CPU effectively matches the SER3's 3200U but its iGPU is between 50% to 60% slower than SEi8 and SER3: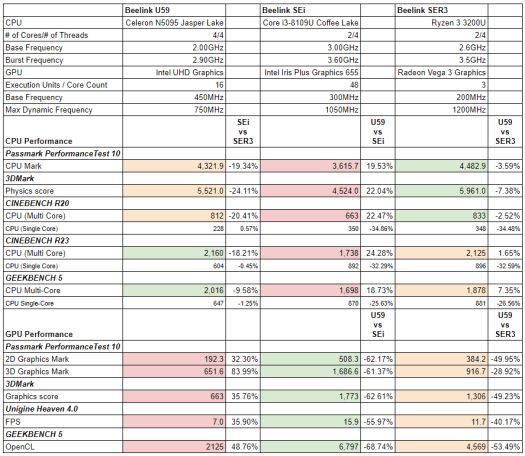 All these results can then be compared with other recent mini PCs including the U59:

Video playback in browsers & Kodi
For real-world testing, I played some videos in both Edge and Chrome. On Edge, the initial codec for a video is 'av01' however if it struggles to play the video (for example 4K @ 60 FPS) it switches to 'vp09'. Chrome however always used 'vp09' and as a result Chrome performed better than Edge on each mini PC with overall the Intel's iGPUs performing better than AMD's:

I also played variously encoded videos in Kodi all of which played up to 8K @ 30 FPS without issue on the SEi8 using hardware for decoding: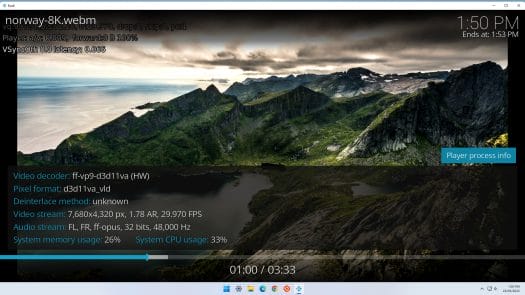 However, the SER3 resorted to using software decoding for the final 8K @ 30 FPS video which resulted in frame skipping: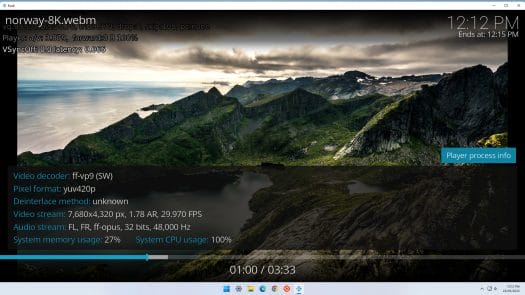 Initial Observations
Whilst the physical appearance, port configuration, and price are similar, there are subtle differences between the SEi8 and SER3. In simplistic terms, the Intel SEi8 offers better iGPU performance compared to the AMD SER3 which has better CPU performance. However in terms of 'everyday' usage both perform equally being slightly better than the Intel U59.
| Highlights | Limitations |
| --- | --- |
| SEi8 has better iGPU performance | U59 has only M.2 SATA storage |
| SER3 has better CPU performance | SER3 effectively has only four USB 3.1 ports |
| U59 includes Type-C 'Alternate Mode' video output | U59 has only USB 3.0 ports on the rear |
In the second part of this review, I'll look at Linux performance using Ubuntu and review the thermals, networking, and power consumption. Continue reading "Beelink SER3 & SEi8 mini PCs review – Part 2: Ubuntu 22.04"
I'd like to thank Beelink for providing the SEi8 and SER3 for review. The SEi8 (Intel i3-8109U) mini PC retails at around $359 on Beelink and Amazon, and $349 for the SER3 (AMD Ryzen 3 3200U) on Beelink / Amazon for the 16GB/500GB configurations used in this review.

Ian is interested in mini PCs and helps with reviews of mini PCs running Windows, Ubuntu and other Linux operating systems. You can follow him on Facebook or Twitter.