Canonical has just released Ubuntu Core 22, a containerized variant of Ubuntu 22.04 LTS, optimized for IoT devices and embedded systems and supporting Ubuntu's new real-time kernel.
In Ubuntu Core, everything is a snap, including the kernel, OS, and applications both to improve security to sandbox each package and to enable updates of specific packages from the IoT App Store over-the-air (OTA). If something goes wrong during the update, the system will automatically roll back to the previous version, so the device cannot be bricked. The Snap system also minimizes network traffic through delta updates.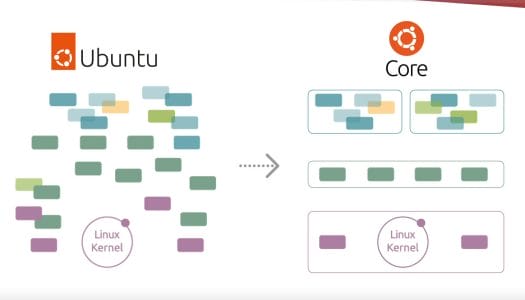 Ubuntu Core 22 also provides advanced security features with secure boot, full disk encryption, secure recovery, as well as confinement of the OS and applications as discussed above. Customers also benefit from Canonical's 10 years (until 2032) of security maintenance of kernel, OS, and application-level code, which can be important for deployments in enterprise and public sectors.
Some features of Ubuntu Core 22 highlighted by Canonical include:
Migration and backward compatibility – Ubuntu Core 22 (UC22) maintains the same partition layout as Ubuntu Core 20 (UC20) for smoother upgrade and backward compatibility
LTS alignment – The OS is based on Ubuntu 22.04 LTS and will be fully supported for the whole life of 22.04 LTS (until 2032)
Performance improvements – Both footprint and memory usage have been optimized and reduced, and Ubuntu Core 22 also delivers faster boot time and snap execution time.
Remodelling – New feature that allows changing any of the elements of the model assertion, including brand, model, IoT App Store ID or version, etc… in order to let resellers rebrand devices
Validation-sets – A validation set is an assertion that lists specific snaps that are either required to be installed together or are permitted to be installed together on a device or system. Those snaps would then be updated consistently and simultaneously towards well-defined and predictable revisions.
Factory reset – To restore an Ubuntu Core device to a known pristine state, while preserving essential data created during initialization. It was possible to do with Ubuntu Core 20, but the new version of the operating system makes the task much easier.
Quota groups – Set resource limits on services inside the snaps it contains, with maximum memory and CPU usage currently supported
MAAS support – "Metal As A Service" treats physical machines like virtual machines (instances) in the cloud. It is now possible to deploy Ubuntu Core 22 to bare-metal devices in the field using MAAS.
If you'd like to give Ubuntu Core 22 a try, you can download one of the images for Raspberry Pi 2 (32-bit only), Raspberry Pi 3, Raspberry Pi 4, Raspberry Pi 400, Raspberry Pi CM4, Raspberry Pi Zero 2 W, or Intel "Dawson Canyon" and "June Canyon" NUC. It might be possible to try Ubuntu Core 22 on other 64-bit x86 hardware, but the NUC platforms have been certified for the new OS.
More details may be found in the announcement, a blog post, and the product page.

Jean-Luc started CNX Software in 2010 as a part-time endeavor, before quitting his job as a software engineering manager, and starting to write daily news, and reviews full time later in 2011.