The DongshanPI-D1s development board is comprised of a soldered-on Allwinner D1s RISC-V system-on-module board (SoM) and a carrier board with two 40-pin headers and a 2.0mm dedicated header. This development board is specifically designed to teach programming with a focus on the RISC-V architecture.
The development board was designed by 100ask. They previously designed the Dongshan NeZha STU a development board based on the Allwinner D1. The main difference between the two is that 100ask did not include the Ethernet and HDMI interfaces on the DongshanPI-D1s board. The pinout of the headers is also slightly different because they opted to make the headers compatible with the widely used 40-pin GPIO from Raspberry Pi single board computers.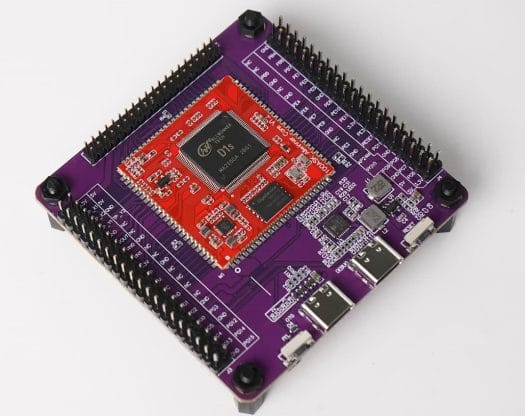 DongshanPI-D1s preliminary specifications:
D1s Core Lite

SoC – Allwinner D1s single-core XuanTie C906 64-bit RISC-V processor @ 1.0 GHz with with 32 KB I-cache + 32 KB D-cache
Memory – 64 MB DDR2 (SIP)
Debugging – USB-C port for built-in JTAG+UART debugger based on BL702 RISC-V MCU
Storage – 16MB SPI NOR flash (GD25Q127C)
Video decoding – H.265/H.264 up to 1080p @ 60fps and MPEG-1/2/4, JPEG, VC1 up to 1080p @ 60fps
Video encoding – JPEG/MJPEG up to 1080p @ 60fps
Carrier board

Storage – MicroSD Card slot
USB

1x USB Type-C OTG Port (FlashSystemPort)
1x USB Type-C port for debugging through the BL702 for UART debug and CKlink port

Expansion

J2 – 40-pin 2.0mm pitch header for display interfaces (RGB, MIPI) and audio for example headphones
J3 – 40-pin 2.54mm pitch Raspberry Pi compatible header with power signals, GPIO, I2C, SPI, TP_X/Y, TV IN/OUT, USB
J4 – 40-pin 2.54mm pitch Raspberry Pi compatible header with power signals, GPIO, UART, I2C

Misc – RESET and FEL buttons
Power Supply – 5V via USB-C OTG port or debug port.
Dimensions – 70x70mm
Note: Those are the specifications for the V1.0 version of the board, and the V1.1 variant may not use a system-on-module, and instead the company would solder the CPU, memory, and storage directly on the main board.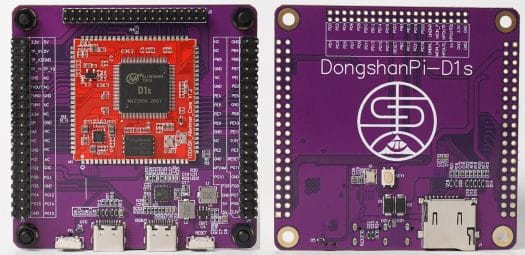 The board is equipped with the RISC-V debugger to perform chip-level debugging and development. The board is mostly positioned for students who like to study low-level programming. T-head and Allwinner will support Tina Linux (OpenWrt + Linux 4.9) SDK for the board. In addition, 100ask will also provide Linux and RT-Thread Smart IoT RTOS support for this board. Motivated developers can also port FreeRTOS, T-Head's RT-Thread, Allwinner's MELIS, or even the bare metal Xfel Rust project to the board with the resources will discuss below.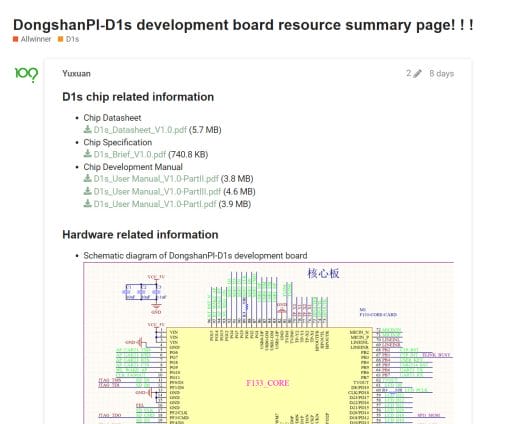 100ask provides developers with the schematic diagram of the development board, the datasheet, a product brief, and other information for the Allwinner D1s SoC, as well as information about the core T-HEAD C906. You'll find the documentation and resource information on a summary page.
The DongshanPI-D1s board is available on Aliexpress for $17.78 plus shipping. 100ask is also crowdsourcing software development and documentation for developers in mainland China and around the world although the information is only available in Chinese. Some functions will be sponsored by 100ask with free development boards and monetary compensation. The company welcomes any software be it a new operating system, a complete example of a Linux sensor module, or a new bare metal demo.

Li Zexi became a part-time writer for CNX Software in 2022 and works as a software engineer in an embedded software company in China. He's been passionate about embedded development and the Internet of Things for many years, with extensive industry experience, and a new and unique vision!