TwoTrees TS2 is a laser engraver with a 10W laser, and the company sent us a sample for review. I usually let Karl review this type of hardware as he's done previously with the Ortur Laser Master 2 Pro laser engraver, but he happens to be busy with another 10W laser engraver from a different company, so I decided to try it out myself this time around.
I'll write a two-part review, with the first part checking out the specifications, unboxing the package, and reporting my experience assembling my very first laser engraver, before engraving and cutting various materials in the second part of the review.
TwooTrees TS2 laser engraver specifications
Basic TS2 specifications provided in the user manual:
Laser

Power – 10 Watts
Wavelength – 445 nm +/-5

Control board – Makerbase DLC32 V.20 with ESP32-WROOM-32U module
Engraving accuracy – 0.1mm
Engraving speed – 10,000mm per minute
Engraving size – Up to 450 x 450 mm
Supported files – NC, BMP, JPG, PNG, GCODE, etc.
Supported engraving materials – Wood, plastic, paper, leather, bamboo, sponge paper, alumina, stainless steel, acrylic, glass, and more
Engraving methods – Image carving, text carving, scanning carving, contour carving, pixel carving
File transfer – USB, mobile app, PC or macOS programs, web-based user interface
Dimensions – 733 x 721 x 172 mm
Weight – 6.5 kg
TS2 materials – Aluminum profile and sheet metal parts
Temperature Range – 5 to 40°C
Humidity – 20 to 60% RH
Unboxing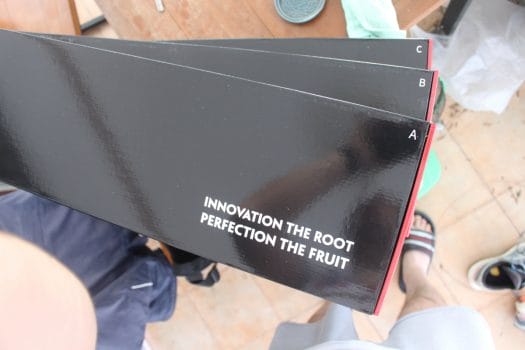 The TS2 laser engraver ships in three separate packages labeled A, B, and C.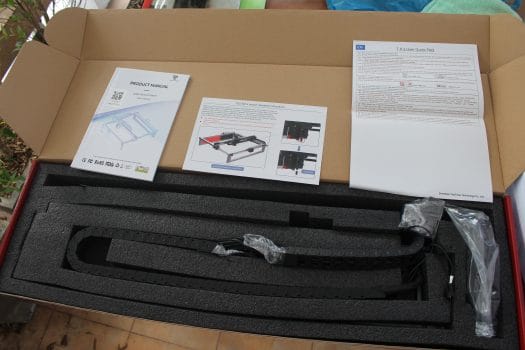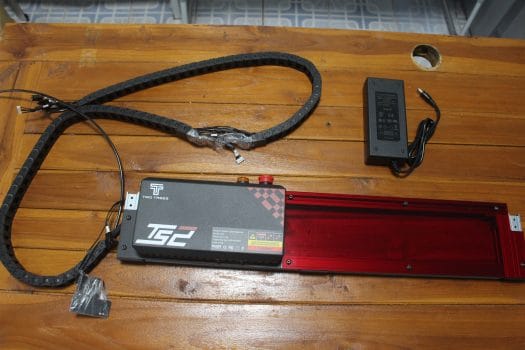 Package A includes the front frame with the ESP32 controller board and the cables and cable carriers attached to it, a 24V/4A power supply and power cord (not shown in the photo above), a useful user manual in both English and German, as well as a "TS2 flame sensor operating instructions" and a FAQ.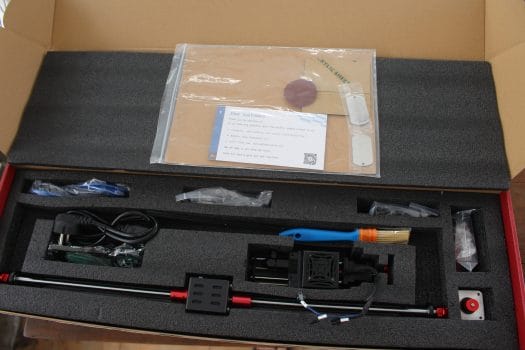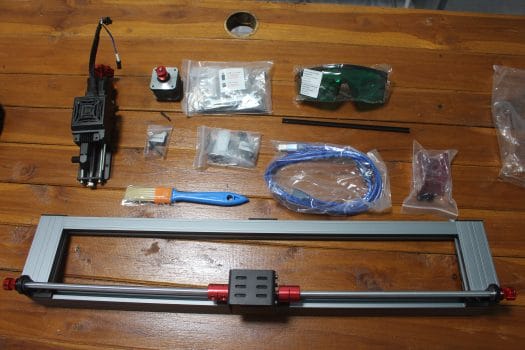 Package B includes the back frame and all the smaller accessories such as the 10W laser module itself, the X-axis stepper motor, a USB cable, an acrylic protective cover for the laser, a brush, and various screws. I thought I would have to buy some eye protection, but safety glasses are also part of the package, so no need. The company also provides some materials in package B, but at the time we discussed about the review there was also a free material package as part of the kit with different types of wood, cardboard, leather, and metals as pictured below.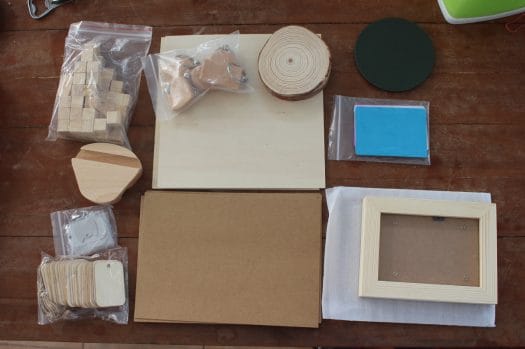 Package C just comes with three parts: left and right Y-axis frames and the X-axis cross beam.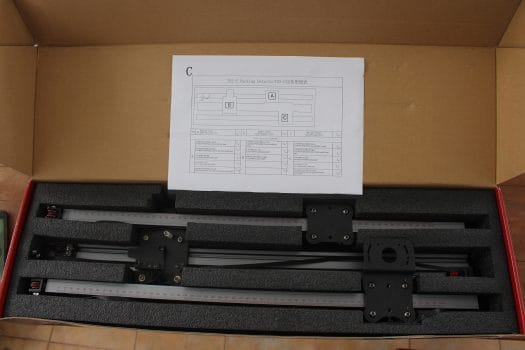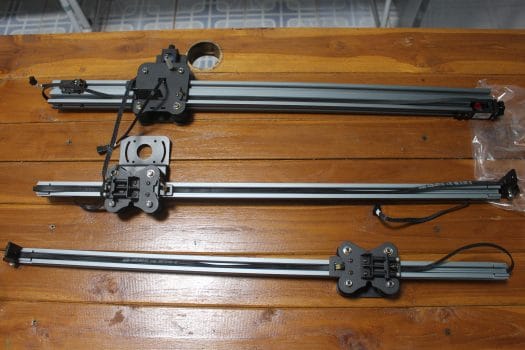 TwoTrees TS2 laser engraver assembly
For assembly, I followed the instructions in the TS2 user manual which can also be found online.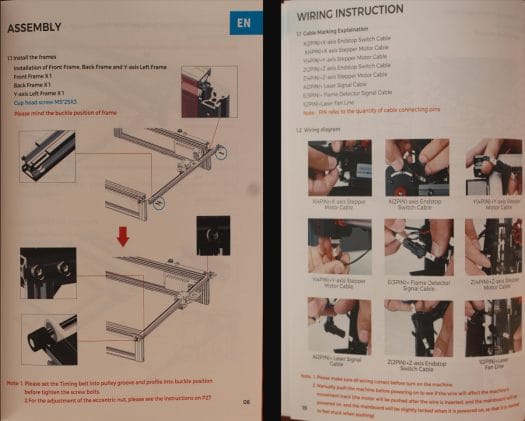 Those who prefer to follow video tutorials will find some on Youtube, and you can request support in a private Facebook group. I did not have to use either to assemble the device. It was relatively straightforward, but time-consuming as well, as it took me two to three hours to complete the build.
The main steps include assembling the right and left Y-axis frames with the front and back frame, installing the X-axis cross beam, mounting the laser module and its protective cover, attaching the cable carriers to the frame, and finally wiring.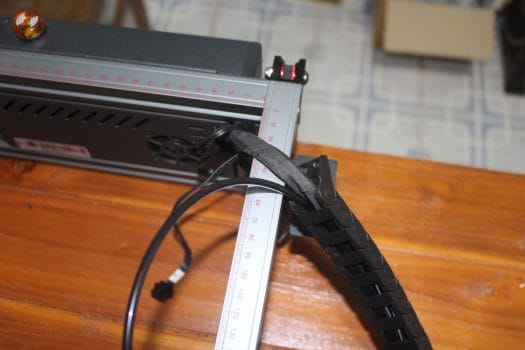 The assembly could have been a bit faster If I had made sure the cables coming out of the controller were underneath the left Y-axis frame, although to my defense, this was not specified in the manual. So I had to disassemble the left Y-axis frame, move the cables underneath, and reassemble it, which added 15 to 20 minutes to the build.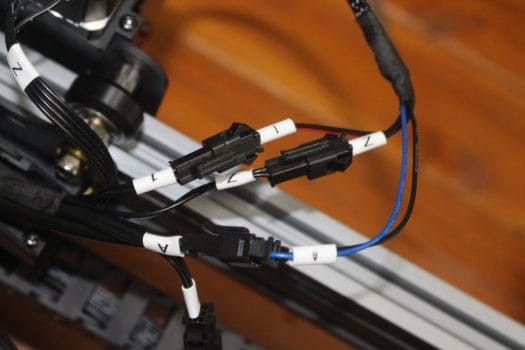 The wiring part is really easy since the cables are all properly marked, and you just need to clip each part accordingly.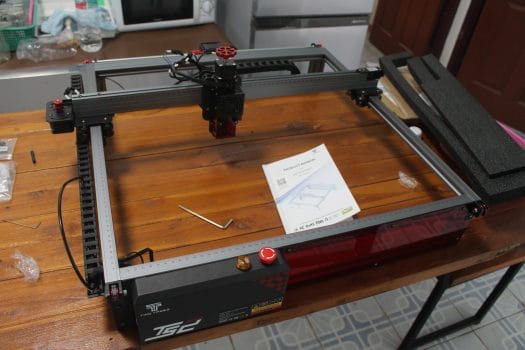 This is the final result. I was initially confused as there's a flexible black pipe on the right above that looks to be used with a pneumatic device, but is not connected to anything. I ended up tucking it into the carrier part and found out it was for an optional air pump that's not included in the standard kit after reading the user manual a bit more.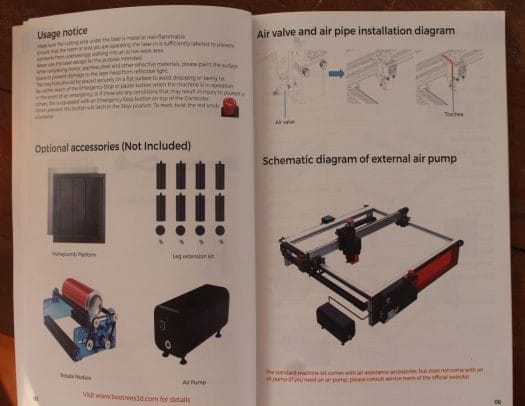 Good! So that means I can confirm the assembly should now be complete.

Software and what's next
I'll do more reading and learning before firing up the device, as I want to make sure I don't make any errors, especially with regard to the safety of persons and the table as an earlier review of a different 10W laser module showed things can go wrong.
I'll also have to consider what software to use. I'm a Linux user, but the user manual provides instructions for LaserGRBL program for Windows and LightBurn commercial engraving software for Windows and macOS. I can see there are GRBL tools for Linux, but since I'm a beginner, I'll probably play it safe and install LaserGRBL on a Windows 11 mini PC first. I can also see there's the MKSLaser Android app and a web-based user interface. So at this time, I'm thinking of checking out LaserGRBL, the Android app, and the web interface in the second part of the review along with engraving and cutting testing.
I'd like to thank TwoTrees for sending the TS2 laser engraver for review. It is now available for $599 [Update save $100 with coupon CN100].
Continue reading: TwoTrees TS2 laser engraver review – Part 2: A beginner's experience with LaserGRBL and MKSLaser

Jean-Luc started CNX Software in 2010 as a part-time endeavor, before quitting his job as a software engineering manager, and starting to write daily news, and reviews full time later in 2011.