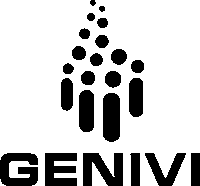 I've recently read in the news that a few operating systems had achieved GENIVI compliance. So let's see what Wikipedia says about the GENIVI Alliance:
The GENIVI Alliance was founded on March 2, 2009 by BMW Group, Delphi, GM, Intel, Magneti-Marelli, PSA Peugeot Citroen, Visteon, and Wind River Systems with the goal of establishing a globally competitive, Linux-based operating system, middleware and platform for the automotive in-vehicle infotainment industry. Since then, the alliance has expanded to more than 100 members who are working together to deliver an open and globally consistent software platform based on Linux for use by the whole car industry.
So the clear goal here is to have some set of software specifications and standards (Currently GENEVI 1.0) in the automotive industry in order to speed time to market and reduce the cost of developing Infotainment applications.
GENIVI comes from a concatenation of Geneva and IVI (In-Vehicle Infotainment).
GENIVI Specifications and Compliance Program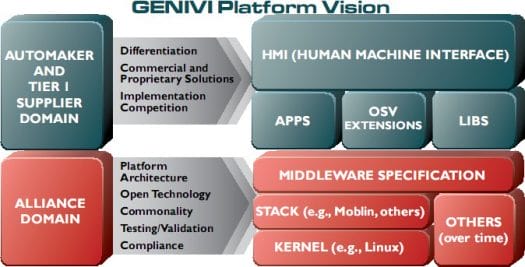 As you can see from the diagram above, GENIVI aims to standardizes lower level software such as middleware and kernel using open source component, whereas at the application level, companies would still use proprietary (closed) software to differentiate themselves.
That means once a vendor writes an application that is GENIVI compliant, it would be able to support on any GENIVI compliant platform.
It seems the full specifications for GENEVI 1.0 are not available to non-members, and only summaries are available to the general public. For further information on GENIVI, you may read GENIVI Fact Sheet, White Paper and FAQ.
Members can have their platforms, products and services certified compliant via the GENIVI Compliance Program. However, as for the specifications, the details of the compliance program is not available to non-members.
If you want to access those documents, you'll need to become a memeber. There are 3 types of membership to GENIVI: founding member (150,000 USD the first year, 100,000 USD for renewal) , core (25,000 USD per year) and associate (5,000 USD per year). Full details can be obtained on GENIVI website.
Current GENIVI Compliant Implementations:
The Future of GENEVI
Finally, you may want to watch the interviews below with the president and 3 director of GENIVI:
Graham Smethurst, President, GENIVI. General Manager of Infotainment & Communications System – BMW
Doug Welk, Director, GENIVI. Group Manger of Connected Vehicle Technologies & Applications – Delphi
Gerulf Kinkelin, Director, GENIVI. Innovation Area Manager of Electrocity, Electronics & Telematics – PSA
Kevin Smich, Director, GENIVI. VP, Segment Marketing – ARM
where they discuss the future of GENIVI and how companies can help contribute to its success.


Jean-Luc started CNX Software in 2010 as a part-time endeavor, before quitting his job as a software engineering manager, and starting to write daily news, and reviews full time later in 2011.