I've received 2 new devices to play with this week, as Geekbuying sent me Tronsmart Promotheus set-top box and Measy U2C, a mini PC with a webcam, so that I can test and review them. Today, I'll leave the "Spaceship" set-top box parked in another galaxy, and I will review Measy U2C mini PC. This HDMI dongle is powered by Rockchip RK3066, runs Android 4.1.1, and comes with 1 GB RAM, 8GB Flash, Wi-Fi & Bluetooth connectivity, and a built-in 2MP Webcam. For complete specs, you can check my post about B12 mini PC since this device uses the same board internally. Geekbuying sells this all-in-one mini PC for $74.99 including shipping.
As usual, I'll post some unboxing pictures, and then review the device, this time, with a section dedicated to the webcam, since this is the key selling point of this mini PC.
Measy U2C Unboxing
Measy U2C comes in the prettiest package I've ever received for a mini PC, and it has clearly been designed to be shown in brick and mortar shop. The back of the package shows "Designed in USA", in case that's important to some people.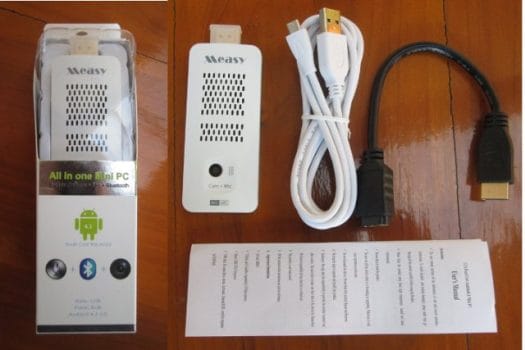 The package contains the mini PC, a long (1.5m) microUSB to USB cable for power, a very short HDMI cable, and user manual in English with an hard to read font. There's no power supply, and a marking on the device shows it can be powered by 5V/500mA, but it's 5V/1A on the package. More on that later.
Let's have a closer look at the device.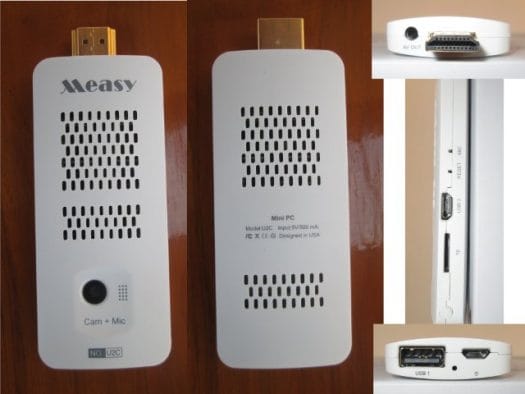 The device has plenty of ventilation on both sides of the casing. On the "top" of the device, we'll find the camera and markings for the microphone (but it's not actually in this location). There's HDMI and AV output on one of the sides, a microSD card slot, microUSB port, reset, microphone, and a power button (that allows you to switch between standby and power on) on the length of the casing, and a full USB port and a micro USB port on the other side of device.
First Boot, Settings, and First Impressions
Let's to attach a USB keyboard and mouse, insert U2C into the TV, and connect one of the microUSB port (both can provide power) to the TV USB port. Yes! It seems this device does not need to use a power adapter, as I can reach the Android Home Screen and move the mouse around.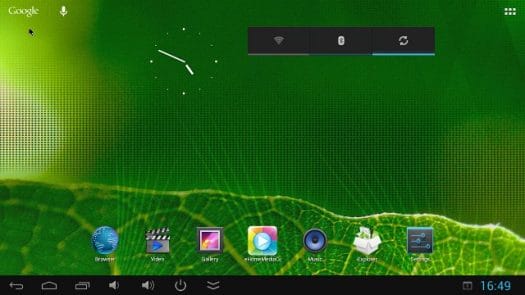 The user interface is a standard Android Home Screen with a few pre-installed applications: Stock Browser, Video player. Gallery, eHomeMediaCenter (A DLNA server/client), Music, Explorer (A file manager with access to flash, SD card, HDD, and LAN), and Settings.You also have the Vol+/- button, a soft power off button, and a button to go full screen which is really nice with videos and games.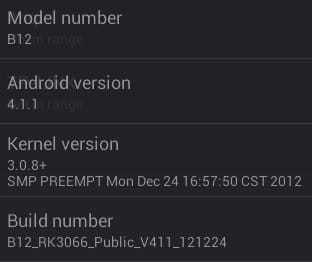 In the settings menu, we have options to connect to Wi-Fi, Bluetooth (built-in), Ethernet (USB dongle) , VPN and use tethering. As usual, connecting Wi-Fi the first thing I do, and I did have problem since I was unable to type with my USB keyboard. So I though it was possibly a power issue, and used a 5V/2A power supply but the problem remained the same, and sometimes the mouse would freeze too, with the only solution being to reboot.. Even connecting the keyboard directly to the USB port of the Measy U2C did not fix the problem. Later I found that via the USB Hub, the keyboard would work but not the mouse, or vice versa. So I resolved to connect the mouse to the USB port, and use the software keyboard for the rest of the review. After "fixing" the input issue, Wi-Fi setup was a breeze. The display section allows you to choose between several HDMI output mode: 480p, 576p, 720p50, 720p60, 1080p50 and 1080p60 (default) and 2 AV output modes: PAL and NTSC. Several Developer Options are available (including USB debugging / ADB). In the "About device" section, we find out the model number is "B12″, and it's running Android 4.1.1 with kernel 3.0.8.
I'm very pleased to say Google Play is working just fine, which was not the case this the last 2 devices I tested, and I could install several applications (e.g. Antutu, ES File Explorer, MX Player, Temple Run 2, Angry Birds Star Wars…) without any problems. The firmware is not rooted, but Geekuying provides both the firmware and rooting instructions for the device, and the root procedure is rather easily to follow.
I've also run the 2 custom apps (eHomeMediaCenter and Explorer). I haven't setup a DLNA server, so I could not really test the first one, and "Explorer" has a real nice user interface, and I could access a Windows share, but I could not play any video from there.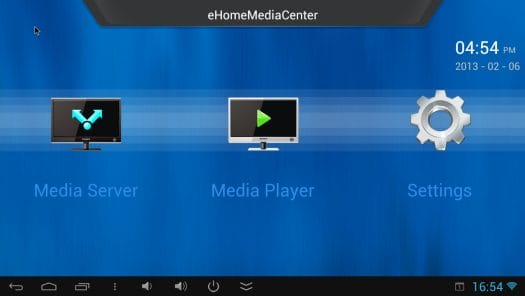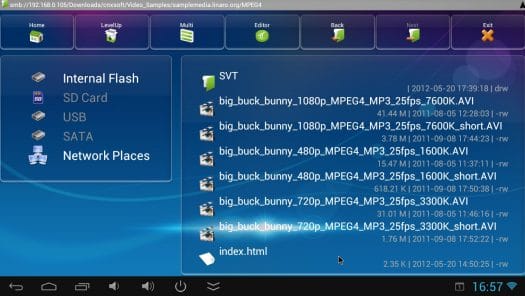 Apart from the keyboard issue, the mouse froze several times, and once as I downloaded and installed several apps from Google Play, the stick just rebooted. After that I lost both Wi-Fi and Bluetooth. I could recover Wi-Fi immediately, but Bluetooth only started to work after a few reboot. So there may be more work to make the firmware stable. Having said that, after all those issues, I could use this HDMI stick for several hours without encountering such problems again, and the system fells smooth.
As with other Android mini PCs, games can be an issue. Angry Birds Star Wars can be played, but many other games such as Temple Run 2 just don't take input from the mouse.
Measy U2C Video Playback (and Wi-Fi)
There are three media players pre-installed:
ES Media Player
Video Player
"Video"
I just used ES Media Player for video playback testing, and also tried with MX Player when the test failed. I used samplemedia.linaro.org videos, and a few others, and played them from a CIFS/SAMBA share in Ubuntu:
H.264 codec / MP4 container (Big Buck Bunny), 480p/720p/1080p – OK
MPEG2 codec / MPG container, 480p/720p/080p – OK
MPEG4 codec, AVI container – OK
VC1 codec (WMV) – 480p but 20 to 30s delay before playback. 720p & 1080p failed since I'm probably not patient enough to wait several minutes. Same problem with MX Player.
Real Media (RMVB) – OK
MOV file from Canon camera – 720p videos will stop after a while. (Same issues as other mini PCs, it appears to be an issue with Wi-Fi)
FLV videos – OK.
WebM – 480p/720p/1080p – OK
MKV (several codecs) – OK.
I'm also tried some AVI with Xvid codec, and there seems to be the same issue as VC1/WMC files that is a long 20 to 30 seconds delay (but it's probably not buffering) before starting playing the videos.
I'm quite satisfied with the video playback experience on Measy U2C, and it can actually play all videos I usually test (except high bitrate >= 10Mbps), and the only issue is really the starting time with some videos. I had no problems playing the videos over Wi-Fi, and a file copy (278 MB) between the SAMBA share and the flash memory took 2m46s (1.67MB/s) which is even faster that Hi802 (1.42MB/s). I could also play a 17.5 Mbps video from the flash very smoothly, something that was not possibly from Hi802's microSD.

Measy U2C Camera
When I first posted about Kimdecent B12 mini PC, I saw many comments on this blog and other sites saying it's just impractical to have the camera embedded in the device, and in many case I agree, but if your TV has an HDMI input on the side it just works fine.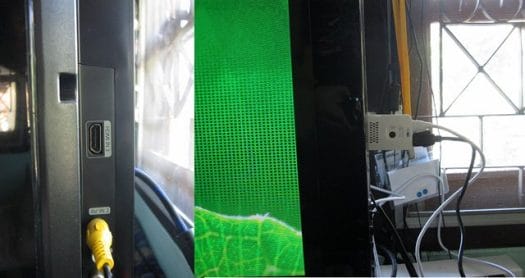 Although this way, you can't sit directly in front of the TV, but since you'd probably be 2 or 3 meters away, I found sitting in front of the camera instead of the TV was not really a big issue. You could also consider an HDMI male to female adapter that allows 180 degrees rotation for more flexibility.
I've tried both Skype and Google+ Hangout apps and both worked just fine with video of decent quality in good light conditions, and audio of an acceptable level. If you want to check the video quality you can watch both videos: day time with fair quality, and night time with pretty bad quality and lots of (red) graining.
So you may think if you don't have an HDMI input on the side of your TV, it's a pretty useless device. That's why Geekbuying, or more exactly the manufacturer, designed a dock to connect your Measy U2C, and allow you to rotate it to adjust the camera in the right direction.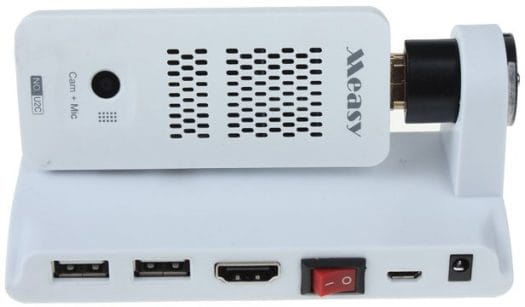 That's pretty neat. It will be available after Chinese New Year, and we don't know the price yet, but it would probably have to be cheaper than buying an external webcam and an equivalent Rockchip RK3066 mini PC to be an interesting option. Having said that, the hardware on/off can also be a selling point.
The score for Antutu (6757) is quite lower than I expected, as MK808 scores in the around 10,000 with Antutu 3, so the device could actually run at 1GHz (1008 MHz) as indicated in the infor sections of Antutu and Quadrant, and not 1.6GHz as indicated in the benchmark results.
The Quadrant benchmark did run fine, but the font in the display is ridiculously small, so we can't read the results…
Measy U2C (B12) PCB
Now let's open the case to have a look inside. The top of the board features the 2 microUSB port, the microSD card, the camera module, Rockchip RK3066 and 2 NANYA RAM chips. There's also a Wi-Fi antenna which could explain the excellent Wi-Fi performance. For those wanting to hack the device, it would be good to investigate if the 3 though holes under the Rockchip SoC could be the UART pins. [Update: It's more likely to be an IR receiver, see The Cageybee comments below].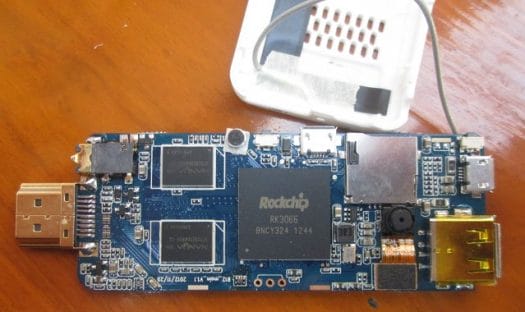 On the other side, we've got the Wi-Fi/Bluetooth module, the flash memory (Hynix), and 2 more NANYA RAM chips. Two smaller chips T659102 & Rockchip RK1000 are respectively power management and video output chipsets.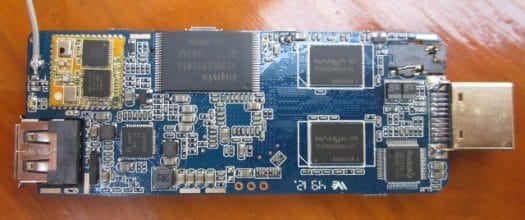 Conclusion
I did not have the best of start with the device as my USB keyboard could not work together with my USB mouse, and I experienced several mouse freezes, and one random reboot, but if those issues can be fixed, and I assume they will as Geekbuying works with some ROM developers, the device performance is fine, video playback is excellent, Wi-Fi performance is the best I've ever seen on this type of device, and if you're going to watch videos the button to hide the status bar is great.
The issues I've found so far:
Problem to support both USB mouse and keyboard on my setup
Potential stability issues (random reboot, mouse pointer disappears…)
20 to 30s delay to start some videos (VC1/XVID?)
Low score with Antutu benchmark (CPU clocked at 1GHz?)
Poor performance of the webcam in low light condition (e.g. in a room with the light on at night). FYR standard webcams also struggle in my room at night, but not as much.
Some games do not recognize "mouse" touch, e.g. Temple Run 2 and Subway Surfers. This happens in other mini PCs as well.
There was also one issue with "Explorer" since it could not play videos from a SAMBA share, but to me, this is a minor issue as I normally use ES File Explorer for this purpose.
At $74.99, it also means you pay around $20 for the built-in 2MP webcam, since products with the same specs (excluding the webcam) such as MK809 II or Rikomagic MK802 III go for around $55. However, with a built-in camera, you don't have to worry if your webcam will be supported, it's just working out of the box.

Jean-Luc started CNX Software in 2010 as a part-time endeavor, before quitting his job as a software engineering manager, and starting to write daily news, and reviews full time later in 2011.