Up to now, I always connected USB keyboard and mouse to Android mini PCs I tested. It works but it's not always fun to use. Mele F10 Fly mouse is a dual sided 2.4GHz remote control with one side being somewhat of a standard remote, while the other side is a QWERTY keyboard. A gyroscope is also integrated in to the remote, which allows it to be used as a "magic" remote and mouse the mouse pointer. I've bought one on DealExtreme for $25.20, and I'll do a short review about the remote today, even though it's not exactly a new device.
Mele F10 Unboxing
I've received the F10 in a slightly damaged package. This happens often as to save on costs packages are often sent in bubble mailers, but all items I've received have usually worked fine.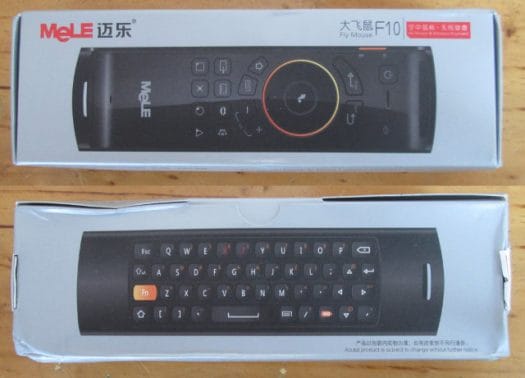 The other sides of the package indicate Mele F10 can be used in Windows 98SE/Me/2000/XP/Vista/7, Mac OS, Android, and Linux operating system, and that the device is FCC and CE certified. The device size is 169 x 48 x 19mm, its weight 160g.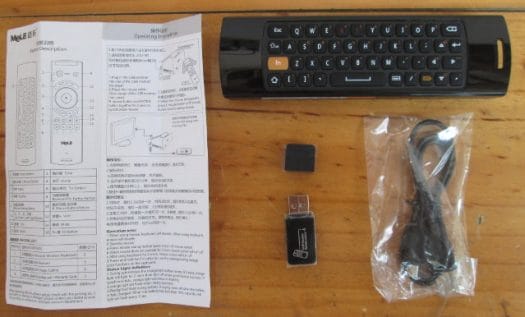 Inside the package, we'll find the remote itself, a small 2.4GHz USB adapter, a USB to mini USB cable for charging, a sheet of paper that serves both as a user's manual and a warranty card.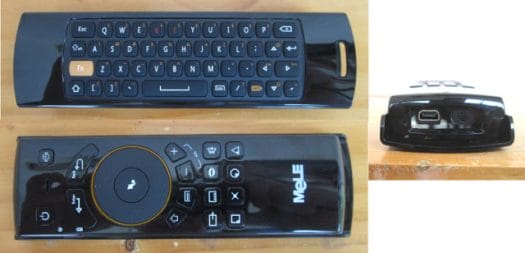 We've got the QWERTY keyboard, the standard remote, and a mini USB port for charging. There's also an emplacement on the right on the mini PC port which is not populated, but that on some model is used to fit a microphone to be able to use voice commands. Not shown in the picture above, is a LED that blinks when you press a key, and when the internal battery needs to be recharged. There's also an IR transmitter at the front of the remote, but this is most probably useful for Mele's own set-top box only (Edit: It's only used for the Power button). If you use a Linux box with an IR sensor, you could also record the remote code with lirc, and create a specific file. I don't know how this is handled in Android.
Mele F10 Review
The battery was already charged when I received it, but it's probably a good idea to charge it before use. To get started, you need to connect the 2.4GHZ USB Adapter to your device/computer, and the very first time, press the right mouse button (Back) and the left mouse button (Enter) at the same time for 2 seconds to synchronize the mouse, and when the pointer disappears press one of the mouse buttons again. I only did this in the first device I tried, and the remote just worked straight-away with the other devices.
I connected the USB adapter into G-Box Midnight MX2, MK908, and my Linux PC, and it worked immediately without any extra set-up required.
This kind of 3-in-1 remote is really awesome when using with Android touch based applications such as a web browser, navigating Android menu, etc… The only flaw I found is that the mouse pointer alignment seems to shift overtime, and you have to recalibrate it manually, by hitting the sides of the screen. The video below shows this issue and the "fix" clearly. If you have small hands, the qwerty keyboard may feel a little too long, and you may have to stretch out to reach the keys in the middle.
In XBMC application which is designed for IR remote, it's possible to use the arrow keys to navigate, but the OK button is the right mouse (Enter) button, and the center button in the middle of the remote which is counter-intuitive. There's also not play/pause, ffwd and frwd keys found on typical set-top box, so you have to use the mouse pointer for those controls. In XBMC Linux, AFAIK, I know there's a way to configure keys, but I don't know if it's feasible in Android (Edit: Yes, we can reconfigure key assignments, see comment). However, Mute and Volume -/+ buttons work properly on the remote which is a plus.
After seeing one of the latest Mele videos where they showed a game (Similar to TurboFly 3D) controlled by a fly mouse, I kind of hoped some of the games could take advantage of the F10 gyroscope, but that's not the case. You can play games such as Angry Bird Star Wars using the mouse pointer controlled by the Mele, and I can indeed play TurboFly 3D, but only in keyboard mode by using the arrow keys to control the spaceship, and mouse button to fire. I contacted Mele for details, and they replied "Most game can not played by the current F10 fly mouse", which implies a new version should be released with the most popular games supported.
In the video below, I show Mele F10 used with the Android Browser, XBMC, and Angry Birds. I also show the "calibration" issue of the remote.
In conclusion, Mele F10 is a very good device for many applications in Android, and I did not experience the frustration I got with standard IR remotes in Android. However, the current button arrangement is not ideal for XBMC, and none of the games I tried could make use of the gyroscope, although I could play some games in mouse and remote modes.
In newer version, I'd like them to fix the "alignment" issue, provide some play/pause, ffwd, frwd… keys for media player applications, and support more games with the gyroscope. A Bluetooth version would also be useful as many recent Android mini PCs and set-top boxes come with built-in Bluetooth.

Jean-Luc started CNX Software in 2010 as a part-time endeavor, before quitting his job as a software engineering manager, and starting to write daily news, and reviews full time later in 2011.