Silicon Labs, who bought Energy Micro earlier this year, has recently introduced a new family of 32-bit MCU based on ARM Cortex M0+ called EFM32 Zero Gecko, as well as the corresponding starter kit. These ultra low power MCUs (currently 16 products) are destined to be used in  IoT applications such as mobile health and fitness products, smart watches, activity trackers, smart meters, security systems and wireless sensor nodes, as well as battery-less systems powered by harvested energy.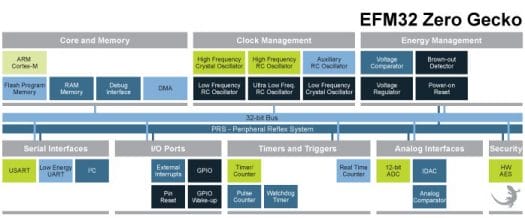 The key features of this family include:
ARM Cortex-M0+ core @ 24 MHz
4kb to 32 kB flash and 2kb to 4 kB RAM memory
17 to 37 GPIO
Single 1.85–3.8 V power supply
5 Power modes
Hardware AES (Some models only)
-40° to 85 °C operation range
Package options: QFN24, QFN32 and QFN48
EFM32ZG222F32, the Zero Gecko MCU with the most memory and features, has the following specifications:
ARM Cortex-M0+ CPU platform @ up to 24 MHz with Wake-up Interrupt Controller
Energy Management System:

20 nA @ 3 V Shutoff Mode
0.5 μA @ 3 V Stop Mode, including Power-on Reset, Brown-out Detector, RAM and CPU retention
0.9 μA @ 3 V Deep Sleep Mode, including RTC with 32.768 kHz oscillator, Power-on Reset, Brown-out Detector, RAM and CPU retention
46 μA/MHz @ 3 V Sleep Mode
114 μA/MHz @ 3 V Run Mode, with code executed from flash

Memory – 32 KB Flash, 4 KB RAM
37 General Purpose I/O pins:

Configurable push-pull, open-drain, pull-up/down, input filter, drive strength
Configurable peripheral I/O locations
16 asynchronous external interrupts
Output state retention and wake-up from Shutoff Mode

4 Channel DMA Controller
4 Channel Peripheral Reflex System (PRS) for autonomous inter-peripheral signaling
Hardware AES with 128-bit keys in 54 cycles
Timers/Counters:

2× 16-bit Timer/Counter
2×3 Compare/Capture/PWM channels
1× 24-bit Real-Time Counter
1× 16-bit Pulse Counter
Watchdog Timer with dedicated RC oscillator @ 50 nA

Communication interfaces:

1× Universal Synchronous/Asynchronous Receiver/Transmitter – UART/SPI/SmartCard (ISO 7816) /IrDA/I2S with triple buffered full/half-duplex operation
Low Energy UART – Autonomous operation with DMA in Deep Sleep Mode
I2C Interface with SMBus support – Address recognition in Stop Mode

Ultra low power precision analog peripherals

12-bit 1 Msamples/s Analog to Digital Converter – 4 single ended channels/ differential channels, On-chip temperature sensor
Current Digital to Analog Converter – Selectable current range between 0.05 and 64 uA
1× Analog Comparator – Capacitive sensing with up to 5 inputs
Supply Voltage Comparator

Ultra efficient Power-on Reset and Brown-Out Detector
2-pin Serial Wire Debug interface
Pre-Programmed UART Bootloader
Temperature range -40 to 85 ºC
Single power supply 1.85 to 3.8 V
TQFP48 package
The company also provides a starter kit (EFM32ZG-STK3200) featuring EFM32ZG222F32 MCU (See specs above) with the following key features:
EFM32ZG222F32 Zero Gecko MCU
Advanced Energy Monitoring v2
Real-time energy and power profiling
Backup Capacitor for RTC mode
USB interface for Host/Device/OTG
LESENSE demo ready
Light, LC and touch sensors
SEGGER J-Link debugger
Free evaluation compiler versions
Supported by Simplicity Studio in Windows, Linux and Mac OS X.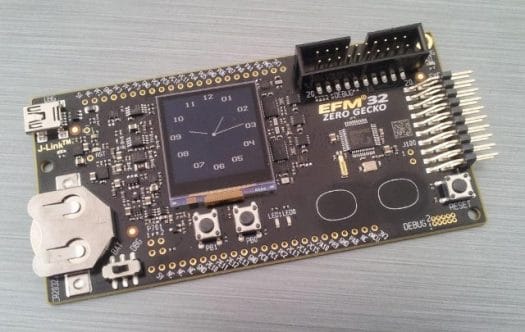 Samples of Silicon Labs EFM32 Zero Gecko MCUs are available now in QFN and QFP packages, and production quantities are planned for Q4 2013. Product pricing for the Zero Gecko MCUs in 100,000-unit quantities begins at $0.49. The EFM32ZG-STK3200 starter kit is available now and priced at $69. It's also possible to win one, if you have an interesting project, and are lucky.
You can find more information on EFM32 Zero Gecko and EFM32ZG-STK3200 Starter Kit pages. You may also want to read one user's review of the Zero Gecko Starter Kit.
Thanks to Viswa for the tip.

Jean-Luc started CNX Software in 2010 as a part-time endeavor, before quitting his job as a software engineering manager, and starting to write daily news, and reviews full time later in 2011.