NETGEAR NeoMediacast Android HDMI Dongle (NTV300D) Features Wi-Fi 802.11ac Module
NETGEAR has announced a new HDMI dongle called NeoMediacast, but also known as NTV300D model, running Android 4.2.2, with functionalities very similar to all the HDMI TV sticks / mini PCs originating from Chinese manufacturers we've seen for nearly 2 years. AFAIK, NETGEAR is the first relatively well-known global company to unveil an Android HDMI TV stick for the consumer market. [Update: see comments for details how it will reach the comsumer]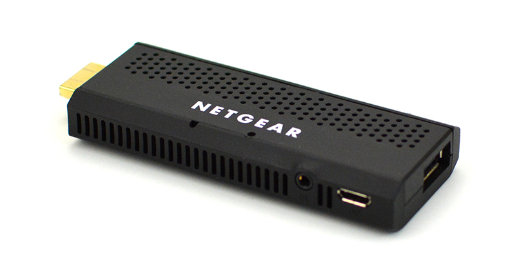 Key features published for NTV300D by the company:
Android 4.2+ supported with RDK support in the future
1080p/60 full HD, H.264/MPEG4 video decode
Supports HDMI 1.4 and HDCP 2.1
Miracast-enabled
Wi-Fi 802.11ac 1×1 AC 450 Mbps, Bluetooth 4.0
USB powered
Micro SD slot for playback/storage
Micro USB (OTG) for secondary storage
Misc – Infrared Port, status LED
DRM support for Microsoft PlayReady, Google Widevine and Adobe RTMPe
Remote control unit – RF4CE or Bluetooth supported
So there's now information about the SoC and/or memory usage. Albeit it looks very much like Geniatech ATV120, powered by AMLogic AML8726-MX dual core ARM Cortex A9 SoC, the hardware must be different because it supports Bluetooth 4.0 and 802.11ac. I haven't seen the later any other mini PCs in dongle form factor.
The company has also designed their own user's interface, and added DRM support to the firmware.
The device will be sold with a USB Cable, an HDMI Cable, a Remote unit, and an IR blaster cable once it becomes available in Q2 2014. Further details may vbe available in NETGEAR NeoMediacast page.