Tivizen USB Dongles Bring Digital TV (DVB-T, ATSC, 1Seg) to Your Android or iOS Devices
If you want to watch digital terrestrial TV on your Android tablet / phone / mini PC, or your iPad / iPhone, I've already written about Geniatech WiTV / Yeshgo Meron, as well as Geniatech PT115m / PT115e. The former are battery powered DVB receiver sending TV channel to your mobile via Wi-Fi, and is already available for purchase. The latter are micro USB or USB DBT-T dongles that you can insert into your Android or iOS devices, but they still do not seem to be available for purchase. Today, I've come across Tivizen USB dongles that appears to be very similar to PT115m/PT115e except there are several models with support for DVB-T, DVB-H (iOS and PC), ATSC (iOS only), 1Seg, and SBTVD standards, and they've been available since 2012…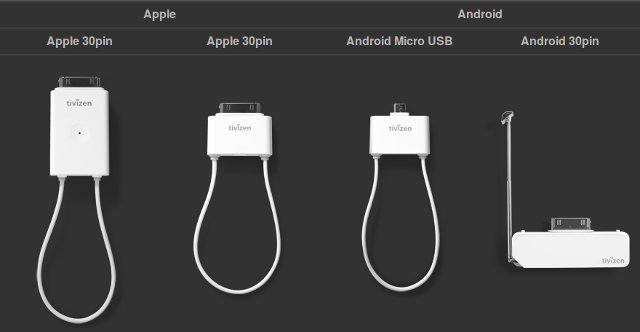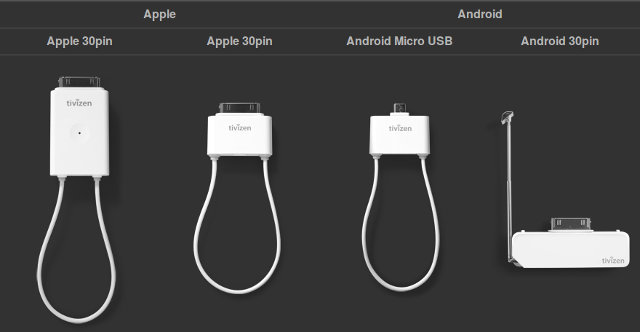 I won't list the available technical specs for each device (mainly connector, dimensions, and weight), but here are the key features of the dongles:
Watch Live TV – Watch mobile DTV broadcasts.
EPG Support

Search for the currently available channel list
Display the TV guide information
Watch TV while browsing TV Guide.
Full-EPG (iPad only) – Preview TV Guide up to two weeks in advance.

Reminder Service (only available on iOS) – Reserve TV programs with EPG, provide notification service with Push-Message feature, and set or remove reminders.
Record Live TV
Support Web Browser

Allows you to use a web browser while watching TV.
Support adding & editing bookmarks(only available on iPad and tablet).

Auto-Run – App Run Apps automatically when connecting to the product.
Edit Channels – Delete a channel(s) from the channel list or change the order of the channels.
Various Screen View Modes

Full screen with the corresponding aspect ratio
Full screen stretched to display
Watch the TV and the channel list together.
x1.5, x2 size screen mode(only available on iPad and tablets).

Landscape/Portrait Screen Mode – Auto-rotates the screen according to the landscape/portrait orientation, support a dedicated UI for the landscape/portrait screen, lock/unlock the screen auto-rotation function.
Auto Power-Off – Turn off automatically when it is not being used for certain periods in order to avoid unnecessary battery consumption.
Volume Up/Down
Auto Firmware Update
Real Time Product Status Check – Show battery level (if any), charging status, and DTV signal strength.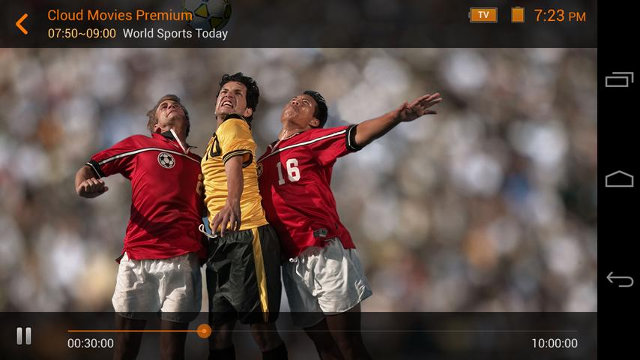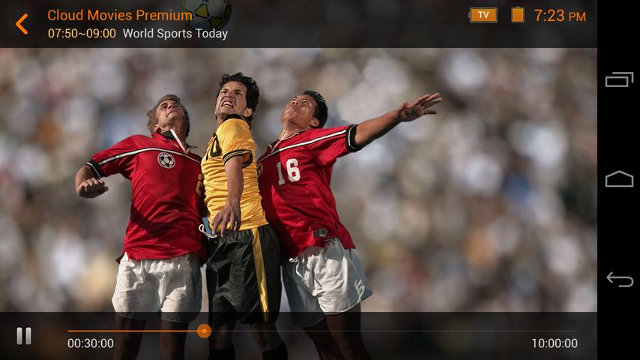 Some of the USB dongle come with a built-in battery, but most don't. In order to use the product you need to install Tivizen DVB-T Wi-Fi (Android), Tivizen (iOS) or Tivizen ATSC M/H app. You'll need a device running Android 4.0 or greater with a micro USB or USB port, and support for USB host. You can test the latter before you buy the product by installing and running USB Host diagnostic. According to the reviews on Google Play, this is rather hit or miss, with people very happy when it works, but some people quite upset as it may not work at all, especially after upgrading their phone firmware. Having said that, the company appears to provide frequent updates (latest is 19th of January 2014), and answers to negative feedback.
The video below quickly Tivizen pico USB dongle connected to a Google Nexus 7 (2012) tablet.
People living in Europe can purchase iCube Tivizen dongles on DuregExpress.de and Amazon UK. Tivizen pico DVB-T for Android is available for 60 Euros including VAT, and free shipping to Germany, and a few extra Euros to other European countries. Beside Tivizen. iCube, the products are sometime found under the brand Elgato and Humax, and the company behind the products seems to be Valups. I'm not sure where to buy ATSC and 1Seg dongles. The SBDTV dongle is available here. Beside the USB dongle, the company also provide Tivizen iPlug, a Wi-Fi DTV receiver similar to Yesho Meron, but without battery, and a tablet with a built-in DVB-H receiver (South Africa only) called Walka7 or WalkaTV. You can find more details on the different USB dongle models on Tivizen icube page, and all DTT products on tivizen.com