Probox2 EX is an Android TV box powered by Amlogic S802-H processor with 2GB RAM and 16GB eMMC, an hardware very similar to MINIX NEO X8-H, and an upgrade to the Tronsmart Vega S89 Elite and Shenzhen Tomato EM8 / Enybox M8 TV boxes I've reviewed previously, with more storage (16GB vs 8GB), dual band Wi-Fi, and S802-H instead of S802 for hardware DTS and Dolby audio decoding. I've already published an unboxing post for Probox2 EX, so today I'm going to test the firmware, including overall performance and stability, video playback, gaming, and most hardware features, as well as Remote+ air mouse with audio and gaming capabilities, which comes with the device.
First Boot, Settings and First Impressions
I've found two AAA battery to insert into Remote+ air mouse, connected an HDMI cable, an Ethernet cable, the Wi-Fi antenna, the RF dongle for Remote+, and the power adapter to Probox2 EX. After pressing the power button on the box, it will boot within 30 seconds or so, with the user interface shown below that is a little different from other Metro-style user interfaces found in most Amlogic S802 Android media players.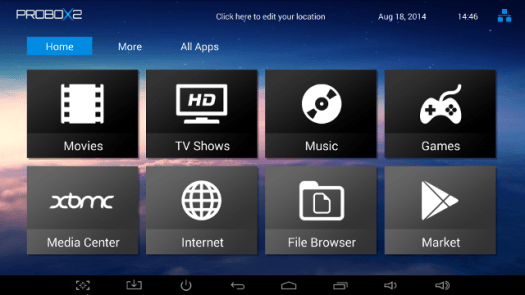 On the top row of the screen, we can see Probox2, the weather forecast (which works properly), the date, time, and network status. There are eight icons in the rest of the UI. The top four are folders for apps which are called Movies (4K MoviePlayer, MXPlayer), TV Shows (Netflix, XBMC), Music (Music, Google Play Music), Games (Frozen Bubble), and the four bottom icons are links to XBMC, a File Browser, and Google Play, as well as an Internet folder with the stock Browser and Chrome. In all folder, there's a "+" icon that lets you add you own apps. On top of icons, you'll find text with Home, More and All Apps. More will show more folders (Favorite, Photos, Streaming,. Social), as a task killer, and a link to custom settings. The user interface resolution is 1920×1080 (1080p), and that means videos are also played with true 1080p output. You can click on the screenshot above to check the real size.
The "Setting" menu is bascially the same as found in Tronsmart Vega S89 and M8 with Network, Display, Advanced and Other.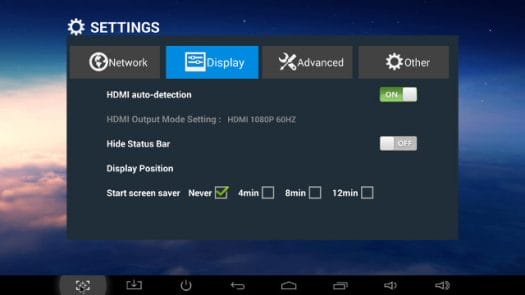 You can select between Wi-Fi and Ethernet in the Network section. By default the Display settings will automatically detect the video output, and it properly select 1080p60 in my case.. I've disable auto-detection to check the other and there's only: 720p50/60, 108050/i60, 1080i50/60. No 24Hz mode, and strangely no 4K mode. I'm not sure if it is an issue with the firmware, or it cleverly detected my TV is not an UHD TV. If I connect the AV cable, disconnect the HDMI cable, and switch to AV input on my TV, the box will properly output to AV using 480cvbs or 576cvbs depending on option in Display menu. I can confirm audio is working OK in this mode. Unfortunately I could not find any way to go back to HDMI, even after a factory reset. It was a little late at night, and based on my extensive experience, if something does not work late at night, better go to bed, as invisible Goblins are probably working on your box, and they will go home at dawn. This works for software bugs too :). And magically, I could connect to HDMI again this morning. Other settings include "Hide Status Bar" (ON by default), Display Position, and Screen Saver timeout (Never, 4, 8, or 12 minutes). I've enabled the status bar, as I find it's easier to navigate between apps and home screen.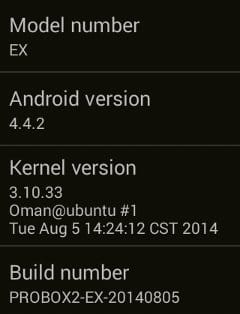 The Advanced menu will let you start Miracast, and I could connect with my Android 4.2.1 phone after the second attempt. The first attempt found the display, but it could not connect. The mnue also lets you enable the software Remote control (not tested, but you can download RemoteIME.apk on your smartphone or tablet), adjust CEC controls, set the screen orientation, and select digital audio output (PCM, S/PDIF pass-through, HDMI pass-through). The Other button will give some details about the Android version (4.4.2), kernel version (3.10.33) and provides access to OTA System Update, which unfortunately is not enabled, so any firmware upgrade would have to be done with the SD card at best, and via the USB firmware tools at worst. You can access the standard Android settings by clicking on More Settings. Android Settings are based on the phone interface, not the tablet interface.
The Android Settings are needed for specific network features such as VPN and portable hotspot, and to enable Bluetooth. There's a nice single 16GB partition with 13.24 GB free, so there's plenty of space for apps, and some data. The firmware was rooted. Looking into the "About MediaBox" section shows the model number is  ""EX", and just like the custom settings section, it shows Android 4.4.2 is running on top of Kernel 3.10.33.
I could install all applications I tried on Google Play Store including Root checker, Antutu, Quadrant, Candy Crush Saga, etc… Paid apps such as Sixaxis Controller also installed properly. I've installed Amazon AppStore to download Riptide GP2 that was one of the "Free App of the Day" some time ago.
Remote+ air mouse does most of the job. Yet using the air mouse to input text with the soft keyboard is not the most convenient, and the remote lacks thr play/pause and trick modes keys that are useful in media players such as XBMC. At some point the remote stopped working, so I though the AAA batteries were depleted, and I temporarily used Mele F10 Pro instead, until I released later that Remote+ started to work again. If you like to use voice search, the built-in microphone is great.  Simply start Google Search, press the audio button on the remote say "OK Google" followed by your query. I've also successfully performance a Skype Echo test with the remote. I've tested the gaming mode in the Gaming section of this review. You can have a look at Probox2 EX user's interface, as well as demos of the built-in microphone with Google Search and Skype in the video below.
The power button on top of the device is used to power it on and off. A short press will power the device, and if somehow the system hangs (it never happened to me),  a long press (about 10 seconds) will turn it off. The power button on the remote can only to used to suspend or power off the device, you'll need to press the power button on the media player to start it from power off state.There's also a soft power button in the status bar, which can be useful if you want to use another remote or a mouse and keyboard. I've checked the temperature of the box after playing a 3D game. My infrared temperature checker detected 50 °C for both the top and bottom of the enclosure. My room temperature was around 28 °C.
The box never hung or frozen during my hours of testing, albeit several times, some apps just closed. But it's difficult to determine if it is a system issue, or a bug in the app. The overall performance is usually good thanks to the 2GHz processor, and a fast eMMC flash.
Video Playback
The videos are played from XBMC browsing a SAMBA share on a USB 2.0 hard drive connected to a computer running Ubuntu 14.04. I'm using the Ethernet connection of the device. I had no problems with SAMBA in XBMC and ES File Explorer.
I first played videos samples from samplemedia.linaro.org, and as well as H.265/HEVC codec from Elecard also based on Big Buck Bunny video:
H.264 codec / MP4 container (Big Buck Bunny), 480p/720p/1080p – OK
MPEG2 codec / MPG container, 480p/720p/1080p – OK.
MPEG4 codec, AVI container 480p/720p/1080p – OK
VC1 codec (WMV), 480p/720p/1080p – OK
Real Media (RMVB) – RV8, RV9, and RV10 – OK (could be a little more smooth though)
WebM / VP8 – 480p and 720p OK, 1080p is watchable most of the time but feels slow at time.(VP8 is software decoded)
H.265 codec / MPEG TS container

XBMC – 360p has some audio cuts, 720p frames skipping and frequent audio cuts, 1080p lot of skipped frames and constant audio cuts
MXPlayer – 360p OK, 720p OK most of the time, but not so smooth when panning, 1080p will has the same symptoms as 720p but worse, and it exits after a while. No audio cuts heard in 360p/720p
VP8 and H.265 not codec supported by the Amlogic processor, and are done using software decoding, so if you read H.265 on a S802 box that's a distortion of the truth, as it won't work properly. You need to wait for S805 or S812 processor for proper HEVC/H.265 support.  To their credit, W2COMP did not mention H.265 support on Probox2 EX package.
I've also tested some high bitrate videos:
ED_HD.avi

(1080p MPEG-4 – 10Mbps)

XBMC – Won't even start to play
MXPlayer – Audio only, but I can switch to software decoded, and it's playing smoothly most of the time, except in fast moving scene where it feels a little slow.

big_buck_bunny_1080p_surround.avi (1080p H.264 – 12 Mbps) – OK.
h264_1080p_hp_4.1_40mbps_birds.mkv (40 Mbps) – OK
hddvd_demo_17.5Mbps_1080p_VC1.mkv (17.5Mbps) – OK
Jellyfish-120-Mbps.mkv (120 Mbps video without audio) – OK (Played from USB drive connected to box)
High definition audio codecs could play fine even from SAMBA (down-sampled to PCM):
AC3 – OK
Dolby Digital 5.1 / Dolby Digital 7.1 – OK
TrueHD 5.1 & 7.1 – OK
DTS-MA and DTS-HR – OK
These could also work in other players such as MXPlayer thanks to hardware DTS and Dolby support provided by S802-H. The latter may also help for smoother video, as it frees CPU power for other tasks.
Sintel-Bluray.iso Blu-ray ISO file could play just fine in XBMC, and I could also navigate between the eight chapters of the video. But for some reasons, I could not change the subtitles easily in XBMC menus, clicking on the up or down icons would jump to next language, only to come back to the default language of the video, and it's only after many tries that I managed to switch to English.
Amlogic S802(-H) support 4K video playback downscaled to 1080p, most probably even on 4K/UHD televisions, so I tried a few:
HD.Club-4K-Chimei-inn-60mbps.mp4 – OK

sintel-2010-4k.mkv – Can play smoothly but there are frequent artifacts on the right of the video.
Beauty_3840x2160_120fps_420_8bit_HEVC_MP4.mp4 – Plays but in slideshow style… (Expected since S802 does not support HEVC codec).
Bosphorus_3840x2160_120fps_420_8bit_HEVC_MP4.mp4 – Same as above
Jockey_3840x2160_120fps_420_8bit_HEVC_TS.ts – Same as above
Other AVI, MKV, FLV and MP4 videos in my library could all play just fine. Somebody comment about video playback stability issue in EM8/M8 box, where videos stopped after 30 minute or so. So I played a complete 1080p mkv video (1h40) in the box, and it played until the until. Up to now Probox2 EX box is probably the best device I've tested when it comes to video playback support. It only fails with HEVC and VP8 videos which are not supported by the S802-H's VPU, and decoded by software leading to mediocre performance with these two video codecs, and the lack of 24Hz video output may be a problem for some.
Links to various video samples used in this review and be found in "Where to get video, audio and images samples" post and comments.
Network Performance (Wi-Fi and Ethernet)
The network test consist in transferring a 278 MB file between a SAMBA share and the internal flash using, and vice versa, repeating the test three times using ES File Explorer. I had a big smile on my face, when a saw transfer speed up to 3.25MB/s using Wi-Fi. When it comes to Wi-Fi performance, Probox2 EX is clearly ahead, and puts the competition to shame, as the transfer times averaged 1:39 (2.8 MB/s).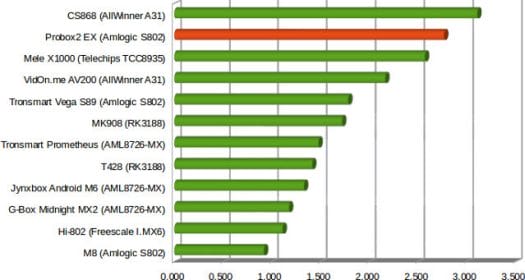 The only device that's faster than Probox2 EX is CS868, but the latter as very poor firmware, which is not the case for Probox2 EX. It easily beats the two other S802 boxes I tested, namely Vega S89 Elite and M8. While testing Wi-Fi, I also tried the Miracast function. The first time, even though my phone could see the display, it would not connect. Trying a few hours later, it worked just fine, and you could mirror my phone screen on the TV.
I've also tested Ethernet with the same procedure. and the transfer from SAMBA to flash was done @ 6.3 MB/s (44s), and flash to SAMBA @ 5.79 MB/s (48s). Which is much better than Wetek Play and Vidon.me AV200.

There's an important remark however. I always use the latest version of ES File Explorer from Google Play, so software may improve overtime, and the changelog for the latest version (3.1.9 – August 6, 2014) lists "-Improve SMB performance", so even though I'm sure Probox2 EX performance is good, the results above may have been amplified due to software improvements (except for WeTek Play tested on 14th to 16th August). I haven't investigated the scale of the improvement yet, but it might something worth looking into it.
Miscellaneous Tests
Bluetooth
Bluetooth is built-in the device, and I had no problem pairing it with my Android smartphone (ThL W200), and transfer a picture from my phone to the device.
I've tried Sixaxis Compatibility Checker and Sixaxis Controller, and although the drivers seems OK, I could not use my PS3 Bluetooth gamepad clone, as it won't connect, and Sixaxis will segfault.
For the first time, I've also tested Bluetooth 4.0 BLE with Vidonn X5 activity tracker, and it worked flawlessly.
Storage
Both a micro SD card and a USB flash drive formatted to FAT32 could be mounted and accessed successfully.
I've also connected my USB 3.0 hard drive with NTFS, EXT-4, FAT32, and BTRFS partitions. Here are the performance results achieved by copying files between the internal flash and the partitions using File ES Explorer.
| | | |
| --- | --- | --- |
| File System | Read | Write |
| NTFS | OK | OK |
| EXT-4 | Not mounted | Not mounted |
| FAT32 | OK | OK |
| BTRFS | Not mounted | Not mounted |
I used A1 SD Bench for storage testing with the custom locations set to /storage/external_storage_sda1 for the NTFS partition, and the read speed is 29.64MB/s whereas the write speed is 30.97MB/s, which seems very good, and close to the performance It can achieve on my PC when connected to a USB 2.0 port. This compares to respectively 25.63MS/s, and 24.81MB/s for WeTek Play.
If you have ever upgrade your PC from a mechanical hard drive to a SSD, or upgrade from a Class 4 to a Class 10 SD card when running Linux on a development board or device, you should now how important I/O performance is important to the overall system performance, but seldom mentioned. So I've also decided to started testing internal storage. The eMMC flash in Probox2 EX can be read at 27.57MB/s, and written at 15.11 MB/s according to A1 SD Bench app.
USB Webcam
A no-brand USB webcam worked with Skype. I could see the video, and tested audio successfully with the Echo service. Since also tried Remote+ as a microphone, and it worked. However I did not manage to make it work with Google Hangouts. The camera icon would just show for one second or less, and disappear.
Gaming
I've tested three games: Candy Crush Saga, Riptitde GP2, and Beach Buggy Blitz.  Candy Crush Saga is normally not demanding, and I could play using Remote+ air mouse.
I decided to play Riptide GP2 with Tronsmart Mars G01 wireless gamepad, and at first I had no issues, but as with other S802 boxes the frame rate with default settings feels a bit low, probably because of 1080p resolution, so I lower the quality settings to try again, and shortly after the game because unplayable with sometimes one frame every 4 seconds. The box had run smoothly for over 5 hours before this, and I measured 50 °C on top and bottom of the box, so I decided to take a break, and enter suspend mode. Thirty minutes later, the temperature fell to 35 °C, and I started it, and played Riptide GP2 to try to reproduce the issue. Four races and no problem, but at the fifth race, or about 20-25 minutes later, the game became unplayable again. It's possible my relatively high room temperature (28 to 30 °C) impacts the cooling of the device. The first time I played Riptide GP2, Mele F10 Pro dongle was connected, and Mars G01 gamepad was detected. But when I tried later with Remote+ RF dongle, Mars G01 was not detected, simply because Remote+ is also registered as a gamepad, so I had two gamepads in my system which confused the game/system.
I played Beach Buggy Blitz with Remote+ to test the gaming mode of the air mouse. There are four modes available via a single "Mode switching" key: remote control, air mouse, gaming mode (vertical), and gaming mode (horizontal). Unfortunately, there's no indication of the mode you are currently in, and at the beginning it's quite confusing, especially if you are not sure you are in vertical and horizontal mode. The gaming mode is making use of the gyroscope, and in the game you can to select "Tilt mode". You can then hold and move the remote like a steering wheel to turn left and right, it works, but in this mode none of the keys can be used for breaking, which can be an issue… So instead I switched to "Gamepad mode" in the game, where I could define the keys, and play the games with the D-Pad and X,Y, B and A buttons. In this mode, you'll obviously lose the gyroscope feature, but it's much more easier to control, and at least you can break when needed. I played Beach Buggy Blitz for 30 minutes, and I could not reproduce the issue experienced in Riptide GP2.
Probox2 EX Benchmark
Antutu benchmark scores varies widely between Amlogic S802 devices, even with the hardware same. Some people get 22,000, others 30,000 with the same model, so the relevance is limited. Anyway, I've tested Probox2 EX with Antutu and Quadrant for reference.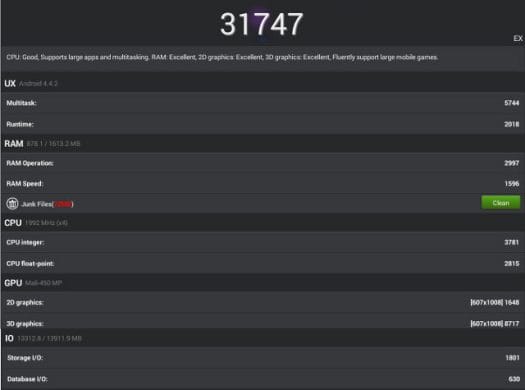 With 31,747 points, this Android media player gets the highest score I've personally seen in such type of device. Please note that Antutu and Quadrant did not run in full screen, but in portrait mode with 607×1008 resolution (taking about a third of the screen), so this may have impacted the GPU score. The Storage I/O score with 1,801 is much higher than in Vega S89 Elite (851) and M8 (751) probably because Probox2 EX features an eMMC flash, where the other two come with a standard NAND flash.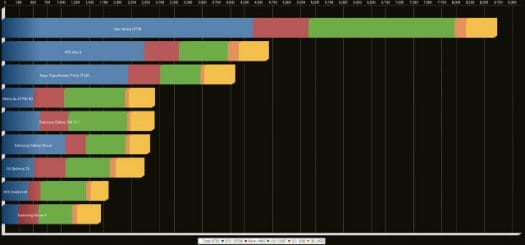 The Quadrant score (8728) is also much greater than the scores for Vega S89 Elite (5323) and M8 (6536), but these had older firmware. Since then I have tested Vega S89 Elite with Antutu and firmware 107k4, and found a score of 29,000 points instead of 22603 points with the firmware I used during my review. So firmware version matters!
Conclusion
During the first 5 hours of test I just found Probox2 EX was amazing: stable, fast, and everything seemed to work. Video playback was also flawless, networking performance outstanding, and the remote/airmouse fun to use. Unfortunately I eventually found its Achilles' heel when I started playing 3D games, especially Riptide GP2, where the system started to slowdown considerably to manage overheating. The good news here is that the device won't just overheat and hang or reboot, but will just slow down to cool itself down. In most cases, it's not a problem, as you may not even notice it, but in games, where you need real-time rendering, it can be.
PRO:
Stable firmware and excellent system performance thanks to CPU and fast eMMC
Provided Remote+ air mouse that can also be used for voice search, and gaming.
Best video playback support I've seen so far. It plays everything smoothly except H.265 and VP8 which are done by software.
DTS & Dolby hardware decoding.
Outstanding Wi-Fi and Ethernet performance (However, it may be partially due to improvement in SAMBA performance in ES Fie Explorer)
Most features just work (Bluetooth, Miracast, USB webcam, etc…)
Android Kitkat with XBMC and true 1080p user interface
CONS:
May overheat under load, and performance scaled down dramatically to manage system temperature. Reproduced with a 3D game (Riptide GP2), but not others.
Potential HDMI <-> AV switching issues
Video Output: No 24Hz support, no 4K option. [Update: Apparently this firmware hides 4K options when connected to FullHD TV (1080p)]
Webcam supported in Skype, but not in Google Hangouts
OTA firmware update does not work / not implemented
Remote+ lacks play/pause, ffwd, ffrd… buttons for media players.
If I had received this STB in winter, it's quite possible I may not have noticed the overheating issue during 3D games. Probox2 EX is still one of best Android mini PC I've ever used, albeit if you like to play 3D games during extended period of times, I cannot recommend it. But for everything else I think the box is great. The lack of 4K support may not matter that much since in Android everything is downscaled to the user interface resolution (1080p), so even if the box outputs to 4K, it would still be shown @ 1080p.
I can't compare it to MINIX NEO X8-H directly, since I don't have the latter, but MINIX does have unofficial and official support forums, which W2COMP/PROBOX2 does not have, so you can't rely on the power of the community for help, and instead you have to go through customer support. There has been several firmware update for their previous Probox2 products, so hopefully there will be too for Probox2 EX (no firmware file has been released so far).
Probox2 EX and Remote+ can be purchased for $149.99 including shipping. As a comparison, other TV Boxes based on S802-H with similar features include MINIX NEO X8-H selling for $149.99 with more basic NEO M1 air mouse, and Vega S89-H for $120 without air mouse. You may also want to check Probox2 EX product page.

Jean-Luc started CNX Software in 2010 as a part-time endeavor, before quitting his job as a software engineering manager, and starting to write daily news, and reviews full time later in 2011.