A few days ago, I wrote an Unboxing and Specs post about the M8, an Android TV Box powered by Amlogic S802 quad core Cortex A9 processor. The review took a little as I was waiting for a new firmware. I've now upgraded this S802 Box, and been able to complete a review. As usual , I'll start by giving my first impressions, have a look at the user interface and settings, test different king of video files, evaluate Wi-Fi performance, and try to cover most hardware features including Bluetooth, external storage, USB webcam, and so on. The overall user's experience, is very similar to Tronsmart Vega S89, but there are some notable differences I'll go through during the review.
First Boot, Settings and First Impressions
Shenzhen Tomato sent me a sample unit which they call TM8 (Tomato M8?), but I'll just refer to the device as M8 in the review. The device comes with a simple IR remote comes, but did not include two AAA batteries. I only use the remote shortly, as I prefer using an RF remote with Android, and I used Mele F10 air mouse during testing which includes a QWERTY keyboard, and a gyroscope to easily move the mouse pointer. Beside the IR remote, the sample I received only included a 5V/2A power supply, so i also had to take a spare HDMI cable. Retail versions of the box may included an HDMI cable however. Before connecting the power, I've connected an Ethernet cable, an HDMI cables, and the Mele F10 USB RF dongle. There's no power button on the device, so as soon as you connect the power, a blue LED lits up, and the device boots to the same Windows 8 / Metro-style user's interface as Tronsmart Vega S89.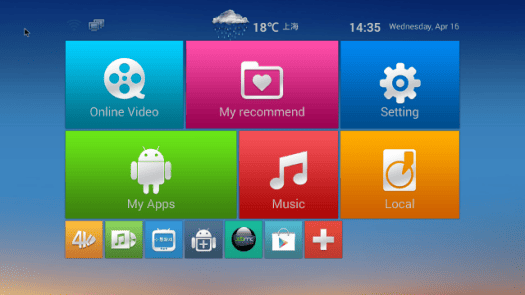 At the top of the screen there are status icons (Ethernet/Wi-Fi/Bluetooth/Storage), the weather (only Chinese cities are available in the settings), as well as the time and date. There are also six main menus, the same a Vega S89, but with different apps: Online Video (One Chinese app), My recommend (favorite apps), Setting, The firmware in M8 as quite a few Chinese apps, which were not present or removed from Vega S89 firmware. There are also shortcuts on the bottom of the screen with 4K player, Music, Chinese IPTV app, and APK installer by default. You can add and remove the ones you want as you wish, and I've done this with XBMC and Play Store as you can see from the screenshot. The user interface resolution is 1920×1080.
The "Setting" menu gives you access to the settings shown in the same Metro-style with four sub menus: Network, Display, Advanced and Other.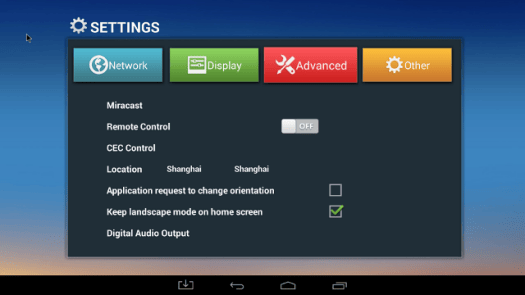 The network settings allow you to select Ethernet or Wi-Fi, the display settings has exactly the same options as Vega S89: autodetect resolution, UHD / 4K output support, hide or show the status bar, adjust the display size, and screensaver. I've enabled the status bar, as it's more more convenient to use that way, and the bar automatically hides when you play videos. The Advanced menu will let you start Miracast (Source only, not a display), enable the software Remote control (RemoteIME.apk, adjust CEC controls, set your location (only Chinese cities are available), set the screen orientation, and select digital audio output (PCM, SPDIF pass-through, HDMI pass-through). The Other button will give some details about the Android version (4.4.2) and kernel version (3.10.10). There's also an OTA System Update menu, which does not work. You can access the standard Android settings by going through Setting->Other->More Settings. The Android settings in this box are based on the phone interface, not the tablet one, which requires a few more clicks.
You can check the user's interface and settings in the video below. If you have already watched Vega S89 UI walk-through video, you may have well skip this one as it's the same, except from the pre-installed apps which are a little different.
I've used HDMI output with 1080p during my testing, which was automatically detected as I started the device. But If I switch to manual mode, I can also see 4K video output at 24, 25 and 30 Hz, and as well as 4K SMPTE. There's also an AV output, which is automatically used, if HDMI is not detected. It works fine including stereo audio output. Once you are using AV output, you can go to the setup menu to select between 480cvbs and 576cvbs. To switch back to HDMI, insert the HDMI cable. and select the input on your TV. A reboot is not necessary.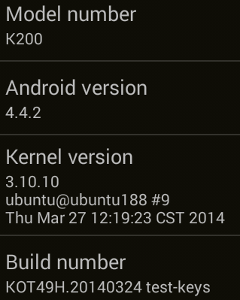 There's 5.75 GB space reserved for the user out of the 8GB NAND flash, and right after firmware upgrade, there's over 5GB free space on the single partition available. The firmware was rooted. Looking into the "About MediaBox" section shows the model number is "K200″, and just like the custom settings section, it shows Android 4.4.2 is running on top of Kernel 3.10.10.
I could install most applications from Google Play Store including Facebook, ES File Explorer, Root checker, Antutu, Quadrant, Vellamo, Candy Crush Saga, etc… Sixaxis Controller failed to install returning an error in Google Play. It's the same behavior as Vega S89, and I've been told all paid apps won't install. I've also installed the Amazon Play Store, to use one of the free app of the day I previsouly downloaded on another device (Riptide 2).
As mentioned previously there's no power button on the device, and all you can do is to used the IR remote to enter and exit standby mode. A real power off will require you to disconnect the power. I've checked the temperature of the box after running a 3D game. The top was 55 °C, the bottom 43 °C, with my room temperature around 28 °C. This is exactly the opposite of Tronsmart Vega S89 where the top is "cool", but the bottom is hot.
As expected performance is good, and the system is extremely responsive, but the firmware is not that stable, as I experienced several hangs up / freezes, requiring a power cycle. This happened during benchmarks, gaming and while taking screenshots. In two instance, the device apparently turned itself off automatically (Blue LED off), maybe due to overheating. I also had some text input issues from times to times (double characters) using Mele F10, and it also happened with Vega S89 but I forgot to mention it.
Video Playback
XBMC 13.0-beta 1 is pre-installed on the device, so I've used XBMC for video testing. I only used MX Players in case of errors, and to double check Dolby / DTS audio.. The videos are played from a SAMBA share on Ubuntu 13.10 using the Ethernet connection of the device. I had no problem for SAMBA configuration in XBMC nor ES File Explorer.
I started with the videos from samplemedia.linaro.org, plus some videos with H.265/HEVC codec from Elecard:
H.264 codec / MP4 container (Big Buck Bunny), 480p/720p/1080p – OK
MPEG2 codec / MPG container, 480p/720p/1080p – OK.
MPEG4 codec, AVI container 480p/720p/1080p – OK
VC1 codec (WMV), 480p/720p/1080p – OK
Real Media (RMVB) – Failed. Nothing happens.
WebM / VP8 – 480p/720p/1080p is – OK. (1080p failed in Vega S89)
H.265 codec / MPEG TS container, 360p/720p/1080p

XBMC – Audio only then crash,
MX Player – Can play and audio works, but everything is in slow motion with many frames skipped.
I've also tested some high bitrate videos:
ED_HD.avi (1080p MPEG-4 – 10Mbps) – No video, audio only.
big_buck_bunny_1080p_surround.avi (1080p H.264 – 12 Mbps) – OK. No audio/video sync issues as in Vega S89.
h264_1080p_hp_4.1_40mbps_birds.mkv (40 Mbps) – OK
hddvd_demo_17.5Mbps_1080p_VC1.mkv (17.5Mbps) – Video is supported but some frames are skipped.
I've also tested common audio codecs below, using PCM in XBMC, and I got the same results as with Vega S89:
AC3 – Can decode audio, but video was very slow
Dolby Digital 5.1 / Dolby Digital 7.1 – OK
TrueHD 5.1 & 7.1 – OK
DTS-MA and DTS-HR – OK
MX Player, however, won't output any audio when playing these files using the H/W decoder.
Sintel-Bluray.iso, a free Blu-ray ISO file, could play just fine in XBMC, and I could also navigate between the eight chapters of the video.
I've tested several 4K Videos in MX Player (XBMC does not work – audio only):
HD.Club-4K-Chimei-inn-60mbps.mp4 (60 Mbps) – OK
Sintel.2010.4K.mkv – Frequent pauses (buffering?) during playback after enabling S/W decode for AC3 5.1 audio. No audio output using the H/W audio decoder.
Beauty_3840x2160_120fps_420_8bit_HEVC_MP4.mp4 – Slow motion video playback in MX Player…
I also tested several AVI, MKV, FLV and MP4 videos, and they could all play, except one FLV which only had audio output. I did not experience the audio/video sync issues I found in Vega S89 in any of the videos.
Links to various video samples used in this review and be found in "Where to get video, audio and images samples" post and comments.
Wi-Fi Performance
Using ES File Explorer, I've transferred a 278 MB file between a SAMBA share and the internal flash, and vice versa, repeating the test three times. I've tried testing the transfer at different times to avoid the issues I had with Vega S89. But the results were more or less consistent. Wit5h this device there's a clear difference in performance between transfers between SAMBA to the flash, and vice versa. Transferring the file between flash and SAMBA took between 3:16 and 4:54, but in the reverse direction it took between 5:51 and 7:47. The transfer times averaged a poor 5:02 (0.92 MB/s), which makes M8 the laggard among devices I've tried.

I've tried to play some of the 1080p videos from Linaro samples, and none of them could play without pauses due to buffering.
I'll add the usual disclaimer about Wi-Fi: "Please bear in mind there are many factors when it comes to Wi-Fi performance, and the results you've got with your setup may be greatly different from the ones I've gotten here."
Miscellaneous Tests
Bluetooth
Bluetooh is built-in in this Android TV Box, and you can enable it only from the standard Android settings, as there's no option in the Metro style settings. M8 won't find any devices (I have a Linux PC with a Bluetooth dongle and an Android phone). However I can pair my phone (ThL W200) to M8. Unfortunately it does not seem to work that well, as I failed to transfer any files, as there's no notifications after sending a picture from either direction. My Ubuntu PC can detect M8, but fails to pair.
I've skipped Sixaxis Compatibility Check (free app), as M8 can't install paid apps, in this case, Sixaxis Controller.
External Storage
I could use both an SD and a USB flash drive formatted to FAT32 successfully, and played some MP3 and videos.
USB Webcam
I could use a low cost no brand USB webcam with Skype. Video was OK, the "Echo Test" in Skype could record my voice using the webcam mic, and repeat my voice. I could also start a video call in Google Hangouts, something that did not work with Vega S89.
Gaming
I've tested games: Angry Birds Star Wars, Candy Crush Saga, Beach Buggy Blitz, and Riptide 2. The first two are simple games that play fine on all recent dual core or quad core hardware. I've configured Beach Buggy Blitz to maximum graphics settings, and it could still run smoothly. Riptide 2 could run very well too. With the Mali-450MP6 GPU there should not be any problems running the vast majority of Android games with high graphics details.
Since we can't install paid app, I could not test Sixaxis controller. I found it's usually difficult to play games on Android TV devices, but I've seen SomeCoolTechs video review of the Vega S89 using G910 bluetooth gamepad that works with many games without much hassle, which I may have to check out. You could also use with your smartphone as a controller using Droidmote.
M8 / TM8 Benchmarks
CPU-Z gives bascially the same information for M8 as for Vega S89. The CPU is reported as a quad core Cortex A9 r4p1 clocked between 24 MHz to 1.99 GHz with an ARM Mali-450 GPU, and the board is also the same: k200. However, the firmware won't be fully compatible as Vega S89 Elite (8 GB flash) uses AP6220 Wi-Fi module (2.4 GHz), and Vega S89 (16 GB) and M8 (8GB) uses AP6330 (2.4/5GHz).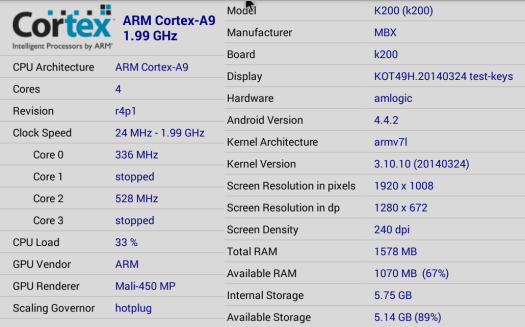 The rest is also exactly the same including pixel resolution (1920 x 1008), "dp" resolution (1280 x 672) 1578 MB RAM (available to Android), and 5.75 GB flash for the user.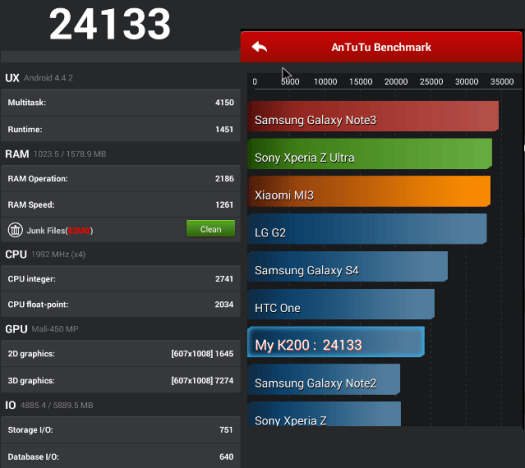 M8 gets 24,133 in Antutu from, the play store, against 22,603 for Vega S89 Elite. In Vega S89, Antutu detailed results showed "4x cores @ 1104 MHz", but in M8 it shows correctly "4x cores @ 1992 MHz". Firmware is newer in the M8, so this may one reason. Some people have reported reaching 30,000 points in Antutu, with allegedly the same firmware, so I wonder if it's because of some thermal management, as my room is relatively warm at 28 degree C. Just as with Vega S89, the GPU benchmarks have been run in portrait mode (607×1080), instead of full screen mode, which means other apps are likely to have issues too. I'd like to point out M8 failed to completely run Antutu once or twice, so it may be possible they've extracted some more performance as the expense of stability.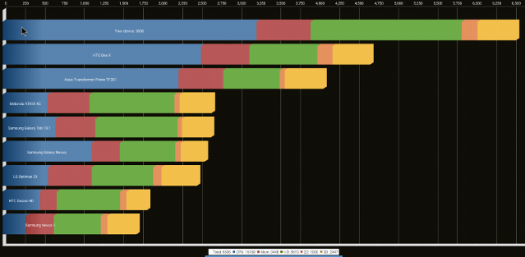 With 6536 points, M8 gets a significantly better score than Vega S89 Elite (5363) in Quadrant.
Vellamo failed to run completely in M8.
Conclusion
M8 / TM8 has very performance, unfortunately the firmware is not always stable, and there still quite a few issues that needs to be fix.
Let's summarize the PROS and CONS
PROS

Smooth and fast firmware.
Android 4.4 Kitkat
XBMC 13 pre-installed
Blu-Ray ISO and 4K video playback
1080p user interface
4K video output up to 30 fps supported
Good Ethernet performance (60 Mbps video playback OK)
Good video formats/codecs support
USB webcam works with Skype and Google Hangouts
HDMI CEC support

CONS

Stability problems. Not catastrophic, but the device may still hang a few times. Could it be temperature related?
Bluetooth not working.
Poor Wi-Fi performance.
Can't install paid apps via Google Play.
Sometimes non-optimal user's experience:

Need to switch between XBMC and MX Player depending on video files
Multiple input devices required, e.g. if you use an air mouse, you still need to access the IR remote to put the device into Standby.
Bluetooth not available from default settings menu
Only Chinese cities available for weather

H.265 not working smoothly (frames skipped). Probably not fixable (not supported by hardware, and GPGPU not supported by Mali-450)
DTS, Dolby, AC3 not supported by hardware, but software decoded in XBMC (Can't be fixed, SoC related)
As with Vega S89, the firmware needs some work. The main problems are the stability of the firmware, and Wi-Fi performance is very poor. Bluetooth does not appear to be working properly either, at least with my phone. Compared to Vega S89, M8 however provides a better video playback experience without any audio/video sync issues, and the USB webcam could be used with both Skype and Google Hangouts. There's the same need to jungle between XBMC, and MX Player depending on the video codecs or container formats used.
I'd like to thanks Shenzhen Tomata for providing a sample, and if you're planning to buy M8 in quantity you could consider purchasing via the company Alibaba website. Individuals can purchase the box through Aliexpress, DealExtreme, or GeekBuying for about $100.

Jean-Luc started CNX Software in 2010 as a part-time endeavor, before quitting his job as a software engineering manager, and starting to write daily news, and reviews full time later in 2011.