It's been a little while since I unboxed Tronsmart Orion R28 Meta Android TV box, but since the product was still consider "beta" by GeekBuying, I wanted to wait for a OTA firmware update (109k4), which was released at the beginning of the week. Since I've already listed the technical specifications, and showed pictures of the board and device, I'll focus on feature tests and benchmarks results in the review.
First Boot, Settings and First Impressions
I quickly tried the basic infrared remote control, inserting two AAA batteries, and it does the job, but for Android, you really need a pointing device, so I switched to Mele F10 Deluxe air mouse during testing. I've connected a whole bunch of cable, and peripherals to the box including an HDMI cable, a USB hard drive, an Ethernet cable, a USB webcam, and a USB hub with RF dongles for my air mouse and gamepad, and USB flash drive. When you connect the power, it won't start immediately, and just need to press the power button on the device to boot it up. The remote can not turn the box on. Boot time is about 35 seconds, a bit longer than the 20 seconds boot time I experienced in some other Rockchip RK3288 powered media player.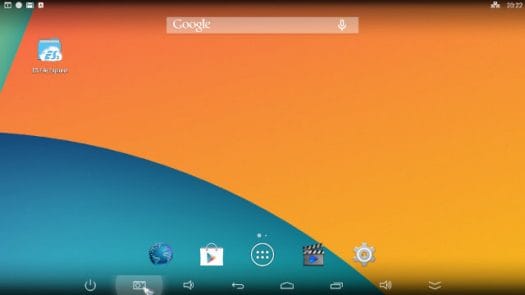 Orion R28 TV boxes only coem with the standard Android home screen, so if you prefer a TV friendly launcher, you'd have to install one from Google Play. The task bar can be shown or hidden with the double arrows icon on the right. The user interface resolution is set to 1920×1080.
The Android settings are pretty standard. Wi-Fi, Bluetooth, Ethernet, and Data Usage menus, as well as a "More" section with VPN, Portable Hotspot, etc… can be accessed in Wireless and Networks section. Display settings include font size adjustment, overscan compensation menu, video output selection (HDMI / YPbPr / TV), and resolution: "auto", 1080p 24/25/30/50/60Hz, 720p 50/60, 720×576 or 720×480. If you own a 4K UHD TV, you should also get some extra options up to 4K 60Hz. "TV" mode is composite output, and you can select PAL or NTSC, whereas YPbPr will only support 480p and 720p (no 1080p). "Default Output" (PCM), "Spdif Passthough", and "HDMI Bitstream" (HDMI pass-through) options are available in the Sound settings (pass-though not tested). The review was done using HDMI output, but I've also tried composite and component (YPbPr). Composite output works for PAL and NTSC, but there was the usual green bar at the bottom with NTSC. For once, I managed to make YPbPr work, but only in greyscale (Luminance Y), with the Chrominance signals apparently not outputted..
There are three version for Orion R28: Pro with 8GB flash, Meta for 16GB flash, and the upcoming Telos with 32GB flash. My model is R28 Meta with a 16GB eMMC partitioned into a 1.91GB "Internal Storage" partition for apps, and a 16 GB (black magic alert!) "NAND FLASH" partition for data, with about 11.6 GB available space. I have not checked the free space in the "Internal Storage" partition before thr review, but after installing the applications required for the review, I had just 564 MB available, so some people will want to install custom ROMs to tweak the partition allocation.
The "About device" section includes to OTA updates option: "system updates", and "wireless update". You'll need to click on Wireless Update to install new firmware updated. I've done so with upgrading 108k4 firmware to 109k4 firmware. The OTA update did not delete my existing apps and account settings.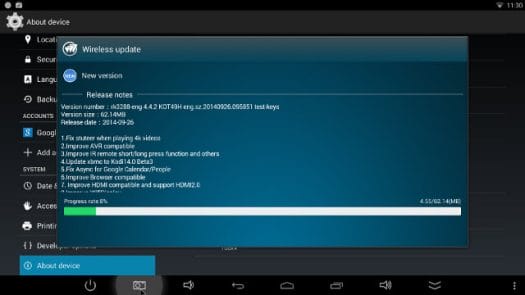 Other information include the model number: Tronsmart Orion R28, the Android version: 4.4.2, the kernel version: 3.10.0, and the vendor software version: 109k4. The firmware is already rooted.
I'll skip the user interface / settings video here, because it's just the same as other RK3288 TV boxes, minus a custom launcher.
I managed to install most apps via Google Play such as ES File Explorer, MX Player, Antutu, Beach Buggy Blitz, CPU-Z, etc… Some incompatible apps include Vidonn, Fruit Ninja, and a few others. I'll also installed Riptide GP2 through Amazon AppStore.
Power Off/standby handling is mostly OK. A short press on the remote/box power button will put the device into standby mode, and by pressing the power button again will make it active. A long press on the power button (remote/box) will pop-up the Android menu with Power Off/Silent Mode, for a proper power off. One annoyance is that you can't power the device with the remote control, and you need to press the power button on the box itself. If you use Mele F10 Deluxe the power button is the same, and power off work, but I could not go into standby, as the screen would just turn off for one or two seconds before becoming active again. Tronsmart Meta R28 becomes pretty hot, but it's a common "feature" for all RK3288 boxes. The maximum temperatures measured with an infrared thermometer on the top and bottom of the box were respectively 52°C and 59°C after Antutu, and 57°C and 67°C after playing Riptide GP2 for over 20 minutes.
The firmware is stable and smooth, and I only had one freeze while playing an FLV video in XBMC. I never experienced slowdowns, but boot time, and to a lesser extend app loading is not quite as fast as on HPH NT-V6 or Kingnovel R6, because the eMMC flash read throughput is not quite as high on R28, as we'll see below.
Video Playback
All other RK3288 devices I tested came either without XBMC, or with XBMC 13 (custom version) pre-install, but Kodi 14-alpha4 came with 109k4 firmware, so it's interested to see if there are any improvements. The test environment includes an Ubuntu 14.04 server with a SAMBA from which I play videos from Kodi/XBMC, or MX Player in case of issues, over Ethernet.
Let's start with some videos samples from samplemedia.linaro.org, to which I added H.265/HEVC and VP9 videos:
H.264 codec / MP4 container (Big Buck Bunny), 480p/720p/1080p – OK
MPEG2 codec / MPG container, 480p/720p/1080p – OK. Some hardly noticeable blinking effect in scenes with grass/trees, but it also happens on my PC, so it could be the original video.
MPEG4 codec, AVI container 480p/720p/1080p – OK
VC1 codec (WMV), 480p/720p/1080p

XBMC – Audio only
MX Player – OK (H/W decode)

Real Media (RMVB) – RV8, RV9, and RV10 – OK and relatively smooth, but not as perfect as on PC (VideoLAN)
WebM / VP8 – OK
H.265 codec / MPEG TS container

XBMC – 360p and 720p – OK, except seeking does not work. 1080p – many scenes are not smooth, and all 4 CPU cores are maxed out due to software decode.
MX Player – OK (H/W decode)

VP9 (low resolution) – OK.
This version of Kodi can handle H.265 decode by software up to 720p, MPEG-2 playback seems better, but VC1 videos are still not supported.
Next are some higher bitrate videos:
ED_HD.avi

– OK, no problem even in fast moving scenes
big_buck_bunny_1080p_surround.avi (1080p H.264 – 12 Mbps) – OK.
h264_1080p_hp_4.1_40mbps_birds.mkv (40 Mbps) – OK
hddvd_demo_17.5Mbps_1080p_VC1.mkv (17.5Mbps) – Audio only (That's the VC1 codec issue in Kodi).
Jellyfish-120

-Mbps.mkv

(120 Mbps video without audio) – OK
I usually play Jeelyfish-120-Mbps.mkv from a USB hard drive because of the high bitrate, but since Gigabit Ethernet is working fine, that's the first device that can play it over SAMBA.
High definition audio codec could play (downsampled) in XBMC and MX Player:
AC3 – OK (but aspect ratio set to 1:1 is Kodi)
Dolby Digital 5.1 / Dolby Digital 7.1 – OK
TrueHD 5.1 & 7.1 – OK
DTS-MA and DTS-HR – OK
Kodi handled a Blu-ray ISO file (Sintel-Bluray.iso) properly.
Yet again none of my 4K video samples could play successfully in Kodi, with somewhat better results in MX Player:
HD.Club-4K-Chimei-inn-60mbps.mp4


Kodi – OK most of the time, but skips about 60 frames at the end of the video (The image will freeze before the end of the video).
MX Player – Not so smooth, and audio stops well before the video is complete (audio/sync issue?)

sintel-2010-4k.mkv

Kodi – Many frames dropped.
MX Player – Severe decoding issues. Like I see the garbled video in five small screens.

Beauty_3840x2160_120fps_420_8bit_HEVC_MP4.mp4 (H.265)

Kodi – Slow motion
MX Player – OK (H/W decode)

Bosphorus_3840x2160_120fps_420_8bit_HEVC_MP4.mp4 (H.265)

Kodi – Slow motion
MX Player – OK (H/W decode)

Jockey_3840x2160_120fps_420_8bit_HEVC_TS.ts (H.265)

Kodi – Slow motion.
MX Player – Plays with S/W decode in slow motion.

phfx_4KHD_VP9TestFootage.webm (VP9)

Kodi – Won't start.
MX Player – Slow motion (maybe 1 to 3 fps)
Finally, I went through my video library with AVI, MKV, FLV, VOB and MP4 videos. Some FLV video would make the system freeze, requiring an hard reset. At least one video suffered from audio/video sync issues. I could play a complete 1080p video (1h50) in Kodi, so at least the system appear to be stable, even if many videos can't be played smoothly. This is not unique to Tronsmart Orion R28 by the way, as other RK3288 boxes are also pretty poor when it comes to video playback.
Links to various video samples used in this review and be found in "Where to get video, audio and images samples" post and comments.
Network Performance (Wi-Fi and Ethernet)
I've now testing both 2.4Ghz Wi-Fi with TP-Link TL-WR940N router, and 5GHz (802.11n/ac) with TP-Link TL-WDR7500 (Archer C7) router. The test consists in transferring a 278 MB file between a SAMBA share and the internal flash, and vice versa. ES File Explorer is used for this purpose, and the test is repeated three times. But before going through the test results, here's an interesting image…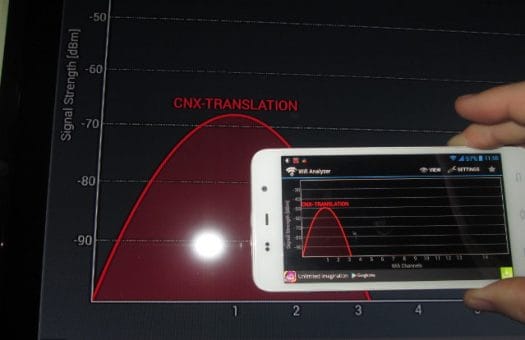 Whereas I get about -49 dB on my phone, the Wi-Fi signal strength in Orion R28 is much lower (-68 dB). As an experiment, I've also removed the Wi-Fi antenna in case it was just a bad contact, but it drops to about -82 dB, so there's another problem somewhere else. That means in Android I only get a "fair" signal, instead of the "excellent" I normally get with other devices in my office, behind just 6 meters (+wall) from the router.
The weak signal did not seem to affect 802.11n transfer rate, bt may have impacted 802.11ac which ended up being slower than 802.11n… However, I'd expect it to affect range quite a bit, as normally I get signal that weak when I'm in the garden about 15 meters from the router.
At last! An Android mini PC where Gigabit Ethernet works for me! I could transfer a 885 MB file between the internal flash and SAMBA @ about 14 MB/s on average.

Although this test usually works well with Fast Ethernet, the internal storage's read/write speed will be the bottleneck with Gigabit Ethernet transfer, so transferring from SAMBA to flash is significantly slower (11.8MB/s) than from flash to SAMBA (19.66 MB/s), and even more so from USB HDD to SAMBA (28.5 MB/s), yet it gives an idea of actual file transfer performance between the network on the device.
In order to get a true estimate of Gigabit Ethernet performance, I used iPerf app and iperf in my Ubuntu PC, using "iperf -t 60 -c 192.168.0.104 -d" command line in Android. Gigabit Ethernet first, followed by Fast Ethernet:

Client

connecting

to

192.168.0.110

,

TCP

port

5001

TCP

window

size

:

 

425

KByte

(

default

)

--

--

--

--

--

--

--

--

--

--

--

--

--

--

--

--

--

--

--

--

--

--

--

--

--

--

--

--

--

--

[

 

6

]

local

192.168.0.104

port

58157

connected

with

192.168.0.110

port

5001

[

ID

]

Interval

      

Transfer

    

Bandwidth

[

 

6

]

 

0.0

-

60.0

sec

 

5.22

GBytes

  

747

Mbits

/

sec

[

 

4

]

 

0.0

-

60.0

sec

 

5.74

GBytes

  

822

Mbits

/

sec

[

 

5

]

local

192.168.0.104

port

5001

connected

with

192.168.0.110

port

37834

--

--

--

--

--

--

--

--

--

--

--

--

--

--

--

--

--

--

--

--

--

--

--

--

--

--

--

--

--

--

Client

connecting

to

192.168.0.110

,

TCP

port

5001

TCP

window

size

:

 

136

KByte

(

default

)

--

--

--

--

--

--

--

--

--

--

--

--

--

--

--

--

--

--

--

--

--

--

--

--

--

--

--

--

--

--

[

 

6

]

local

192.168.0.104

port

58259

connected

with

192.168.0.110

port

5001

[

 

6

]

 

0.0

-

60.0

sec

  

655

MBytes

 

91.6

Mbits

/

sec

[

 

5

]

 

0.0

-

60.1

sec

  

661

MBytes

 

92.4

Mbits

/

sec

Fast Ethernet performance is excellent, very close to the theoretical 100 Mbps achievable, and I'd assume Gigabit Ethernet performance will please most people with 747 Mbps and 822 Mbps.
Miscellaneous Tests
Bluetooth
Bluetooth transfer from phone to Android media player is working fine.
The device is rooted, and I could confirm my PS3 Bluetooth gamepad clone is properly recognized with Sixazis Compatibility Checker.
However, I failed to connect to my Vidonn X5 activity tracker, so it could mean Bluetooth Low Energy (Smart) is not working.
Storage
Both a micro SD card and USB flash drive formatted with FAT32 could be automatically mounted and accessed by the systems.
For once, I could see four partitions in ES File Explorer (/mnt/usb_storage/USB_DISK2 directory), but as usual only the FAT32 and NTFS partitions on my USB 3.0 hard drive could be mounted.
| | | |
| --- | --- | --- |
| File System | Read | Write |
| NTFS | OK | OK |
| EXT-4 | Not mounted | Not mounted |
| FAT32 | OK | OK |
| BTRFS | Not mounted | Not mounted |
I benchmarked the NTFS partition (/mnt/usb_storage/USB_DISK2/USB3_NTFS) with A1 SD Bench. Read transfer rate: 27.50 MB/s, write transfer rate: 22.68 MB/s. Both numbers are not that great, but I suppose still acceptable. Orion R28 is on the right on the chart.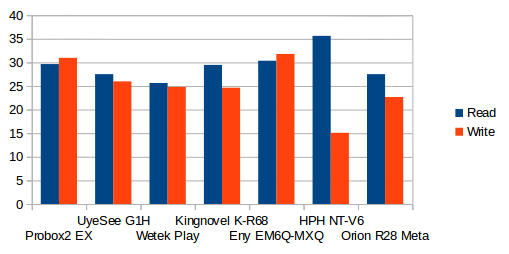 The eMMC flash has a decent write speed (13.58 MB/s), but the read speed (20.19 MB/s) is over half of other competing products based on Rockchip RK3288. The latter will mostly affect boot time, and app loading time during normal use.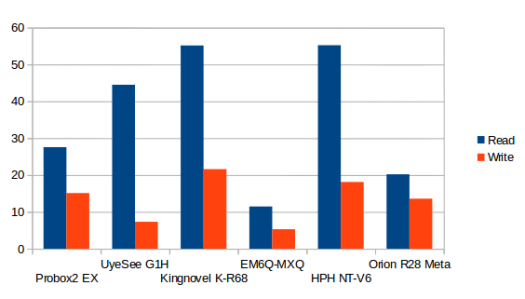 USB Webcam
I could make a video call with my UVC USB webcam in Skype with both audio and video working, but I had to make a few tries, and Skype hung a few times with Android asking me to kill or wait for Skype to respond.
Google Hangout recognized my webcam, and could make a video call, unfortunately all I got was a black screen. Audio worked however.
Gaming
I played Candy Crush Saga, Beach Buggy Blitz, and Riptide GP2. As usual ran very nicely on RK3288 thanks to the Mali-T764 GPU. I played Candy Crush Saga with Mele F10 Deluxe, and the two racing games with Tronsmart Mars G01 wireless gamepad. Both Beach Buggy Blitz and Riptide GP2 were smooth with maxed out graphics settings, although the latter would benefit from an even faster GPU at times. Temperature measurements after playing Riptide GP2 for over 20 minutes: 57°C (top) and 67°C (bottom).
Tronsmart Orion R28 Meta Benchmark
No surprise here with 36,865 points in Antutu 5.1. It's slightly faster than NT-V6 because the processor is clocked at 1.8 GHz instead of just 1.6 GHz.
Vellamo 3.x scores are just as expected, and comparable to other Rockchip RK3288 mini PCs.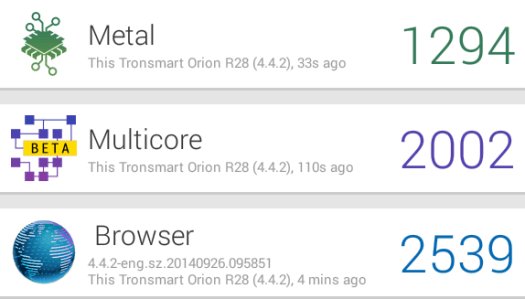 Ice Storm Extreme benchmark score (7,513) is about the same as other RK3288 TV boxes, even in the higher range, as these report scores between 7,000 and 7,500+.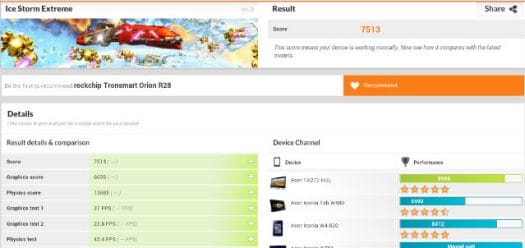 Conclusion
Tronsmart Orion R28 Meta comes with a fast processor, excellent 3D graphics performance, and a decent, although not outstanding eMMC. The firmware feels smooth, and I only experience one system freeze in XBMC/Kodi while playing an unsupported video file. It's also the only Android mini PC where Gigabit Ethernet actually works for me, so this is a big plus, although issue with other models maybe only be due to interoperability problems with my Gigabit switch. There are also some downside like weak Wi-Fi signal, yet with above average Wi-Fi performance, and video playback needs improvement, especially in XBMC/Kodi, but other Rockchip RK3288 media players have the exact same issues.
PRO:
Fast new processor
Good platform for games with excellent 3D graphics performance, and support for RF and Bluetooth (PS3) gamepads.
Stable and fast firmware.
First and only box with working Gigabit Ethernet so far (for me).
Video Output – 1080p support 24, 25 ,30 , 50 and 60 Hz output. 4K @ 60Hz should be supported (not tested). Composite is working.
Support for OTA update
Proper power off/standby handling.
CONS:
Kodi/XBMC has too many issues: VC1 not supported, H.265 only supported by software, audio/video sync issue, few 4K videos could play properly, may hang system, etc…
Weak Wi-Fi signal, although performance is OK.
Video output – Component does not fully work (grayscale only)
Webcam not working properly (black screen) in Google Hangouts. OK in Skype but the app does not seem very stable.
Bluetooth Low Energy may not be working
Tronsmart Orion R28 Meta can be purchased for $119.99 on GeekBuying or Aliexpress, You can also get a cheaper model without 802.11ac support (just 802.11 n/g/n) and only 8GB eMMC, called Orion R28 Pro, for $99.99 on GeekBuying or Aliexpress.

Jean-Luc started CNX Software in 2010 as a part-time endeavor, before quitting his job as a software engineering manager, and starting to write daily news, and reviews full time later in 2011.