I've already shown some pictures, listed specs and reported Antutu benchmark results for Infocus CS1 A83 Android tablet powered by Allwinner A83T octa core processor. I've been using this tablet as my main mobile device for about a week, and for about 3 to 5 hours a day, and I'm now ready to write a full review reporting my experience with this Full HD tablet.
General Impressions
I mainly use a tablet to browse the web, check emails, play some casual games like Candy Crush Saga, watch some YouTube videos, and Skype calls, and I could not really fault the tablet for any of these applications. Having said that, my reference device is only ThL W200 smartphone powered by Mediatek MT6589T processor with a 5″ display @ 1280×720, and for all the tasks listed Infocus tablet is much better because it's more responsive, the 1920×1200 is crisp, and the cameras are working (for now). I could get a GPS fix quickly too, but GPS is not something I tested thoroughly on the tablet.
Battery life is also good for my needs as a charge of the 3,550 mAh battery lasts for well over 24 hours, and takes 2 hours to complete (8% to 98%). They say the first impression is what count, and CS1 A83 (aka C2107) does a good job at that since it boots in about 15 seconds. I've only experienced two major annoyances with the volume down button, which requires a strong press to work, and Wi-Fi connectivity does not always work after getting out of standby, requiring a reboot. I worked around the latter issue, but setting Wi-Fi always on in the settings.
Benchmarks: Antutu, Vellamo, and 3DMark
Benchmarks are useful as a quick way to evaluate a device's performance, but they should not be the only reason for your to buy a particular tablet, smaprthone, or any other device.
I've already run Antutu last week, but I'll include it again today, which shows a score (26,000) a little lower that what you'd get with an Amlogic S802 device (4x Cortex A9 @ 2 GHz + Mali-450MP6 GPU).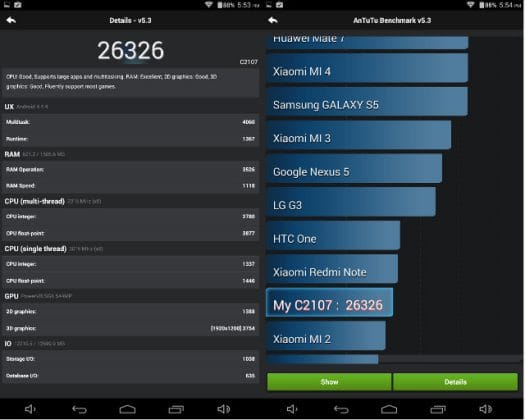 I've also run two more benchmark to evaluate browser, and multicore performance with Vellamo 3.1 , and 3D graphics with 3DMarks Ice Storm Extreme.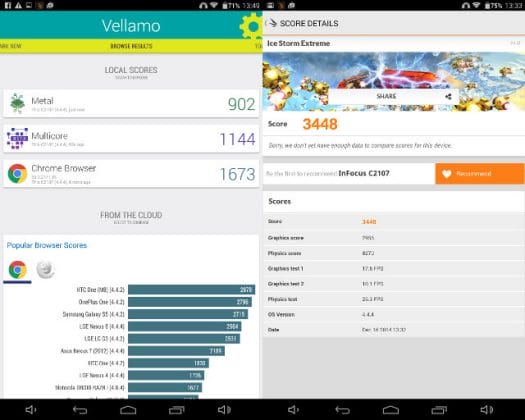 Vellamo Score browser score is about the same as LG Nexus 4 smartphone (Qualcomm Snapdragon S4 Pro – APQ8064), and at 3,448 points for 3Dmark Ice Storm Extreme, InFocus C2107 is certainly not a gaming beast, but as we'll see below it's still very much usable.
Internal Storage and Wi-Fi Performance
Internal storage performance is important for overall system responsiveness, as for example while installing apps some system slow down considerably due to I/O activity, and for boot and app loading time. So far, InFocus CS1 A83 is the best device I've ever tested with regards to eMMC performance thanks to 58.87 MB/s read speed, and 29.36 MB/s write speed. Benchmark app used: A1 SD Benchmark. Please note that InFocus CS1 A83 us the only tablet in the chart below.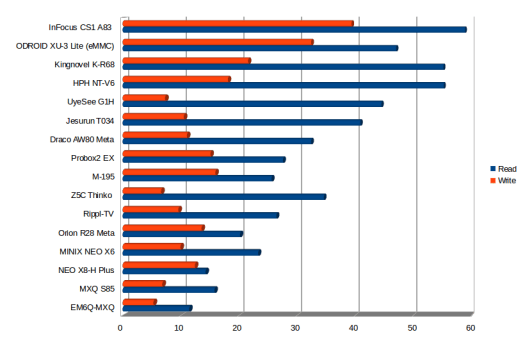 I've also tested the tablet Wi-Fi performance by transferring a 278 MB file over SAMBA using ES File Explorer. I obviously placed the tablet in the same location I normally place TV boxes and development boards.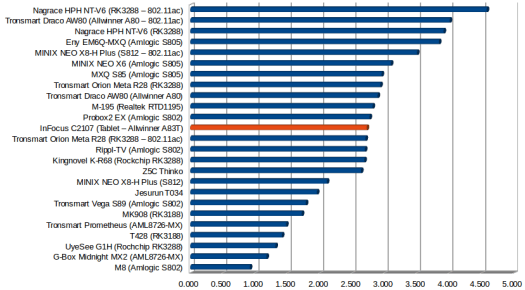 The tablet transferred the file at 2.72 MB/s (21.76 Mbps) on average which puts it in the middle of the pack. It's quite possible I should not really compare Wi-Fi performance of a tablet with the one of media player, since these are different form factors. Your environment, including your router firmware, may also greatly impact the relative Wi-Fi performance between devices.
Performance is average, but I never lost Wi-Fi connectivity during active use. The first couple of dauys everything worked fine, but then I started to be unable to connect to my Wi-Fi router when getting out of stack. First I rebooted the tablet to work around the issue, but finally I went to Wi-Fi Settings-> Advanced (Via … green icon on top right),, and set "Keep Wi-Fi on during sleep" to always. This may affect battery life a little bit, but at least this annoying Wi-Fi issue went away.
Rear and Front Facing Cameras
Rear Camera
The 8MB rear camera does the job, and it clearly delivers better pictures than ThL W200 smartphone, but it struggles in low light conditions for for still pictures and videos, I suppose like most devices. I was also impressed by its ability to take close pictures such as text on books or PCBAs thanks to its autofocus, which at times takes about 1 or 2 seconds to focus. Beside slow focus, and poor quality in low light conditions, the lack of flash may be one of the main downside.
Since photos speak more than words, I've include photos samples, as well as video samples at night and day time which I've uploaded to YouTube, such make sure you watch them at the max (native resolution).
Video Samples

Other video samples:
Font-facing camera
The 2MP front facing camera is mostly used for selfies, and video conference, so I've taken a few close shots of pets and statues.
I've also use Skype with the device, and it worked as expected, although the picture is quite dark, and I have not found a way to adjust the front-facing camera brightness, so you'd have to make sure you call in a well lit environment for an optimal visual experience.
Video Playback
In order to test video playback, I simply installed Antutu Video Tester, and run to test to find out Allwinner A83T gets a very good score of 631 points which makes it close to the top of the rankings. This app uses the stock video player test audio/video codecs, and video quality.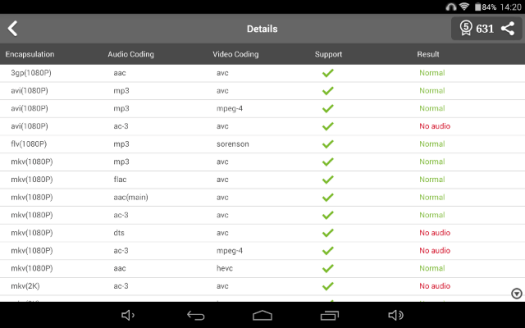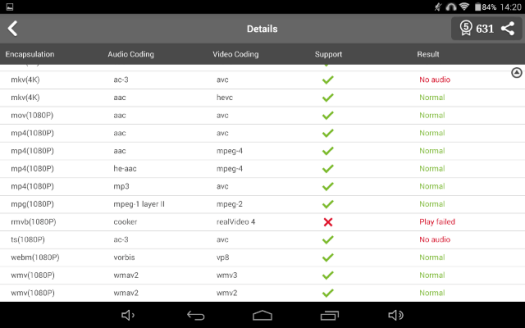 The device fails to play a realVideo 4 video, and can't decode ac3 (Dolby Digital 5.1) and DTS audio.
As a comparison a device such as Open Hour Chameleon (Rockchip RK3288) can play all video files, but also fails to decode AC3 and DTS (with the stock player), and only gets 263 points due to the poor video quality of Rockchip RK3288 processor (so far, and hopefully firmware upgrades can fix this). To work around the audio issue, you could also install XBMC / Kodi which (most probably illegally) decodes AC3 and DTS by software.
Battery Life
Battery life is an important feature of mobile devices. For my usage, i.e. 3 to 5 hours per day watching YouTube videos, browsing the web, checking emails, some games, and Skype video calls, a full charge is good for over 24 hours.
In order to get a more standardized evaluation of the battery life, I've been recommended to use LAB501 Battery Life app which provides ways to test battery life for web browsing, video playback (720p), and gaming use cases. I planned to fully charge the tablet, and stop the test when the battery level reached 15%, however for some reasons the browser test stopped at around 50% twice. A full charge sometimes stops at 98%, and won't go to 100% even after one hour or more. Wi-Fi was on, and brightness set to 50% for all tests.
Here are the results:
Browsing (98% to 53%) – 229 minutes (3h50). Extrapolating a linear discharge, it would have last around 7 hours
Video (100% to 12%) – 397 minutes (6h37). It should be good enough for 3 to 4 full movies on a charge.
Gaming (99% to 15%) – 276 (4h36)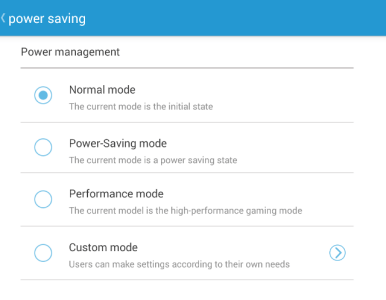 The tablet also comes with a Dashboard app showing CPU, memory & Storage usage, as well as battery charge, and option to clean junk, boost memory (by killing apps), and as shown above, set some power savings parameters. I've only used the tablet in Normal mode, but if you need extra battery life, or a boost in performance for game, these may be options to consider.
Miscellaneous
Bluetooth
Both file transfer and Bluetooth Smart (BLE) worked just fine. The latter was tested with Vidonn X5 smartband.
GPS
I haven't done much testing with GPS, and at first I thought the tablet may not have GPS, because there are not options for GPS in the Settings. Eventually, Google Maps, Nike running+, and GPS test confirmed the tablet supports GPS, and can get a GPS fix relatively fast, at least when I have an internet connection. I have not tried to roam outside.
Gaming
I've played Candy Crush Saga, Beach Buggy Bleach, and Riptide GP2 on the device, and all three games played rather nicely, albeit I noticed a little of sluggishness in Candy Crush Saga. The two racing games played quite well, but it's probably because they adapt the level of details to the device used.
Others
Multitouch app showed the touchscreen supports five touch points max.
The auto brightness works, but is not really well suited to my eyes / preferences, so most of the time, I set the brightness manually. The good thing is that in the dark, I can set the brightness low enough, so that I don't need third party apps like Lux Lite. I wish it would be possible to teach the device the level of brightness depending on lighting conditions.
The stereo speakers at the back of the tablet are clear and loud, much louder than my smartphone speakers, but this is probably to be expected.
Video Review
I've also shot a video review to show a bit more of different options, benchmark results, gaming (Candy Crush Saga, and Riptide GP2), GPS, PDF reader (Acrobat) performance with a large PDF file (ODROID mazagine), and more. The video has been shot with a sports camera, explaining the lens distortion (fisheye effect).
Conclusion
I really like this tablet, as the screen is sharp, performance is good enough for my need, as well as battery life. The main annoyances for me are the Volume down button not working well, and auto-brightness not configurable.
Here are the list of cons and pros based on my experience.
PROS
Clear and crisp 1920×1200 display
Fastest internal storage I've tested so far
Good video playback (based on Antutu Video Tester results)
Decent Battery Life – > 24 hours on a charge for my usage
Auto focus allows for clear pictures even at close distance (in good light conditions).
CONS
Volume down only working when pressing hard (Probably only with my early sample)
Wi-Fi may fail to reconnect after getting out of standby (Work around -> Set Wi-Fi always on).
Video / still picture quality poor in low light conditions, and lack of flash
Some games may feel a little sluggish (Candy Crush Saga)
Front-facing camera image is darker than usual in Skype, but this may be a Skype issue, rather than a problem with the tablet's camera (TBC)
Auto-brightness can't be customized (but it should be fixable via a paid app)
Allwinner and Foxconn sent me an early sample of the tablet, and it's not available for sale just yet. I'm not even sure of the exact name, maybe it will be sold as InFocus C2107, or maybe InFocus CS1 A83. Price on the invoice was $170. As reference, I've checked the price for Amlogic M802 / Mediatek MT6592 tablets with a 7″ display using 1080p or 1920×1200 resolution, 2GB RAM, 16GB flash, and other similar specifications which should provide similar performance than the Infocus tablet. On such model is Chuwi-VX3, which sells for about $180 to $190 but also includes 3G support, so Infocus CS1 A83 should be cheaper than this model, and $150 to $170 including shipping would be a competitive price (IMHO).

Jean-Luc started CNX Software in 2010 as a part-time endeavor, before quitting his job as a software engineering manager, and starting to write daily news, and reviews full time later in 2011.