I've had HD18T Android TV box with a DVB-T2 tuner for several months, but I've only installed a roof antenna recently, so I've decided to give it another try since my indoor antenna did not pick-up any signal with that box. The set-top box is also known as EM6-T2 or HD18T2, and features Amlogic AML8726-MX dual Cortex A9 processor which has been used in numerous boxes in the past, so I will only focus on my experience with the DVB app in this mini review.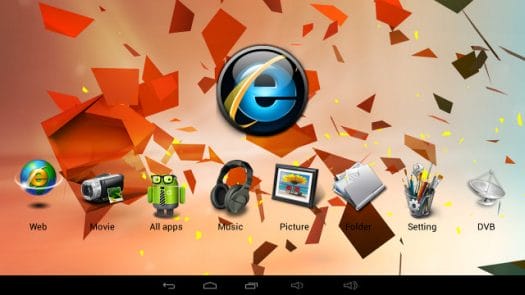 If you want to use DVB-T2 go straight to the right and click on DVB app. Where you'll then be greeted with a pop-up windowsasking if if you want to scan channels.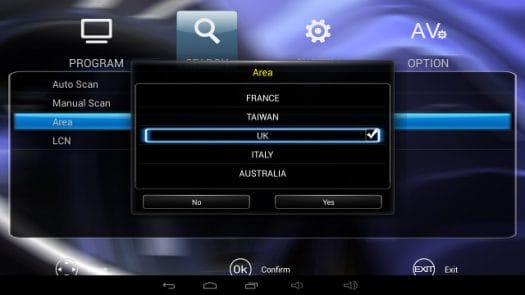 You can do autoscan, manual scan (for one frequency), select the area (France/Taiwan/UK/Italy/Australia only), and enable/disable LCN (Logical Channel Numbering). At first I selected "Australia", and the system did not find any channels, but after switching back to "UK", the device found most, if not all, digital TV channels available in Thailand, including HD channels, meaning DVB-T2 is clearly working just fine. However, several people in Singapore complained that DVB-T2 does not work at all, and only DVB-T channels could be viewed. So your mileage may vary.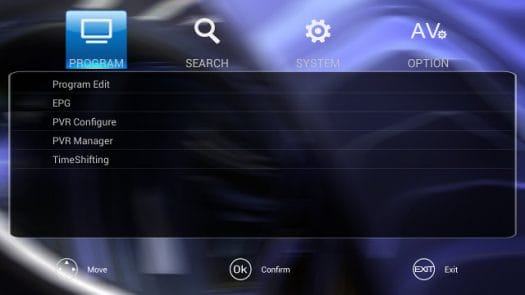 In the program section you can delete or rename channels in the Program Edit menu, check the EPG and schedule recording, configure the PVR function (recording path and timeshitfing duration), access the PVR manager (password: 0000) to view or delete recordings, and TimeShifting to be able to pause live TV.
Using the box to watch TV works relatively well, although some of the channels marked with "$$" in the info overlay produced background noise (with the proper image), meaning I could only really watch about 25 channels, while it's working just fine on a cheap Linux based DVB-T2 set-top box such as Samart Strong Black. I've also noticed some stability issues, as I may lose either picture or audio from time to time, requiring a reboot.
PVR function can be started with the "Rec" button on the remote, and you just need to input the duration. You can watch another channel at the same DVB-T2 frequency while recording. When I tried a single DVB-T2 stream could handle 6 TV channels. If you go over the boundaries, the system will ask if you want to cancel recording.
Once recording is complete, you can go to PVR manager to view the videos, but I did not manage to play any recording from there, so instead I went back to the main menu, and clicked on Movie app to access TVRecordFiles folder on my hard drive, and watch the recordings. Unfortunately all videos were recorded without audio, and I got some artifacts from time to time.
Time-shifting is working OK, but I could not find a way to manually hide the "record" button and the controls overlaid on top of the video, which can be annoying, although they'll hide after a while (maybe one minute or so).
Other available settings are shown in the screenshot below. Picture size can be set to auto, 4:3 or 16:9, while the selectable languages for subtitle and audio are only English and Chinese. I don't understand what "Blackout Policy" means.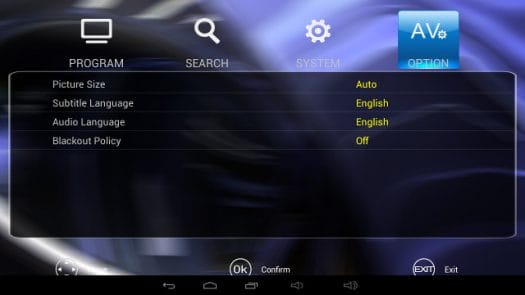 The system menu has some options to enable subtitles, reset data, set password, and set the TTX region (a few more languages are available here).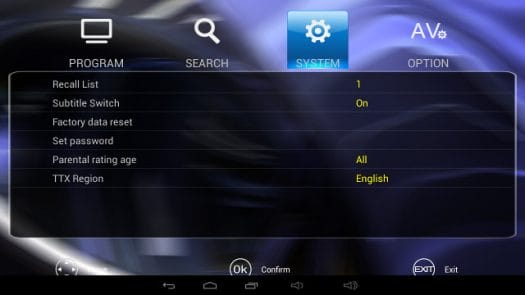 The firmware version installed was built on May 14, 2014, with building number JDQ39.20140514. I could not find any other firmware updates.
You may want to watch the review video below for more details about DVB app.

The sample was sent to me by Shenzhen Tomato, and if you want to purchase this type of box in quantities you may contact them. I don't recommend buying such device based on my experience, but at least it's relatively cheap as it can be found on DealExtreme for $73.99, or Aliexpress for just under $70.

Jean-Luc started CNX Software in 2010 as a part-time endeavor, before quitting his job as a software engineering manager, and starting to write daily news, and reviews full time later in 2011.