Rippl-TV is an Android TV box based on an update revision of Eny Techology/Shenzhen Tomato M8 (square) TV Box with an Amlogic S802 quad core processor, but featuring a different firmware with an alledgedly customized Android 4.4 OS called utilOS, and a launcher based on XBMC also called Rippl-TV. I've already written an unboxing post, including pictures of the board, so today I'l focus on the full review, and compare the performance to the original M8, as well as a closer look at the new user interface.
First Boot, Settings and First Impressions
Rippl-TV comes with an IR remote, and as long as your stay in XBMC and play videos, it's fine, but as this type of remote is usable with most Android apps, I used Mele F10 Deluxe air mouse instead to control the device. I've connected an Ethernet cable, an HDMI cable, a USB hard drive, and a USB hub with Mele F10 Deluxe and Tronsmart Mars G01 gamepad RF dongles, as well as a USB UVC webcam. There's no power button, so as soon as you connect the power supply, the blue LED turns on the board boots. After Rippl-TV logo, comes a Rippl-TV animation with creepy audio, and after around 90 seconds the device is ready to use.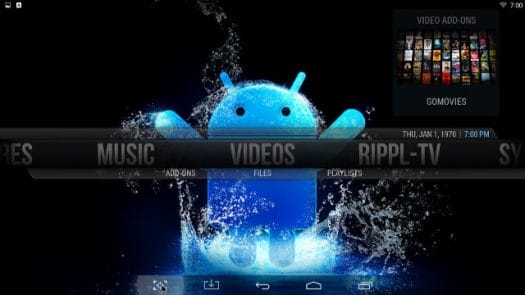 The first time, you're being ask to select the "home app" either MediaBox launcher, the metro-like launcher found in other Amlogic TV boxes like Tronsmart Vega S89, or Rippl-TV, the XBMC centric launcher. I've used Rippl-TV launcher as it is one of the key selling point of the device.
The device comes with lots of add-ons pre-installed that let you watch live TV over IP, or even movies, probably more or less legally. The system menu has not been ported to Rippl-TV UI, and instead its using the metro-style system menu found in other S802 media players, as well as the standard Android settings for "advanced settings". I won't go through all settings, so simply read Tronsmart Vega S89 review or M8 review if you have never come across the user interface, although I'll show it in my user interface walk-though video below. For a couple of minutes I struggled to find a way to access the list of apps from this launcher, and it turns out, you just have to click on Rippl-TV.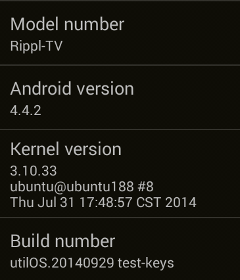 Since virtually nobody is using composite output, I only used HDMI during my test, and it was set manually to 1080p60. There's a single flash partition, which I find nice, with 5.75GB total space, and about 4.5 GB free after I completed this review. utilOS is based on Android 4.4.2 and runs on top of Linux kernel 3.10.33. The firmnware is rooted. It will probably be an issue to get a download firmware, since it could be easily installed on cheaper competing products.
Both Google Play and Aptoide are pre-installed in order to let your install various apps, and I have to say I failed to find any unsupported app in Google Play, except Vidonn smartband app. I tried to install Riptide GP2 via Aptoide, but the game failed to start (license check failed), so instead I installed it via Amazon AppStore since I got it as part of a "free app of the day" offer.
There's no power button, so the only way to truly turn off the device is to disconnect the power. There are multiple power options in Rippl-TV including Timer, Power off System, Reboot, Hibernate, and Log Off, but most simply reboot the device. You can however go in standby mode with the power button on the remote control. It works with Mele F10 Deluxe power button too. I've checked the temperature of the box after running Antutu benchmark. The top was 45 °C, the bottom 39 °C, with my room temperature around 28 °C. After Riptide GP2 the temperature went up to 55 °C (top) and 48 °C (bottom).
Watch the user interface walk-through to see the boot time, how to use Rippl-TV UI, and available options.
After testing the reboot option, Rippl-TV launcher refused to launch (black screen), and I had to clear data in the Android settings, meaning I lost all pre-installed add-ons, and some of XBMC settings (SAMBA shares), but I could restore the pre-installed add-ons with XBMC Backup as shown in that video. It hapenned another time, and instead of "clearing the data", I simply "cleared the cache" and it could recover without losing settings and XBMC config.
Apart from that very annoying issue with the black screen and losing pre-installed add-ons, I did not really encounter any other major issues with the firmware, all is nice, fast and smooth. So stability is definitely better than with the firmware I tried on M8 last April.
Video Playback
Rippl-TV reports XBMC 1.1 version which does not mean much, but it's probably based on XBMC 13 Gotham. I'll only test video with Rippl-TV in this review, and play them from a SAMBA share located on a PC running Ubuntu, unless otherwise stated.
I played videos from samplemedia.linaro.org, and as well as H.265/HEVC codec and VP9 test videos:
H.264 codec / MP4 container (Big Buck Bunny), 480p/720p/1080p – OK
MPEG2 codec / MPG container, 480p/720p/1080p – OK.
MPEG4 codec, AVI container 480p/720p/1080p – OK
VC1 codec (WMV), 480p/720p/1080p – OK
Real Media (RMVB) – OK for RV8, RV9 and RV10, but smoothness could be a bit better.
WebM / VP8 – 480p/720p/1080p – OK
H.265 codec / MPEG TS container, 360p/720p/1080p – Audio only. H.265 is not supported in this version of XBMC.
VP9 – Won't even start
I've also tested some higher bitrate videos:
ED_HD.avi (1080p MPEG-4 – 10Mbps) – No video, audio only.
big_buck_bunny_1080p_surround.avi (1080p H.264 – 12 Mbps) – OK
h264_1080p_hp_4.1_40mbps_birds.mkv (40 Mbps) – OK
hddvd_demo_17.5Mbps_1080p_VC1.mkv (17.5Mbps) – Video is playing but frames are skipped or dropped, and it's clearly noticeable.
Jellyfish-120

-Mbps.mkv

(120 Mbps video without audio) – OK (Played from USB hard drive)
Mostly no problem with high-end audio codec (PCM output):
AC3 – OK
Dolby Digital 5.1 / Dolby Digital 7.1 – OK. However. some bright parts of the video with 7.1 audio are blinking.
TrueHD 5.1 & 7.1 – OK.
DTS-MA and DTS-HR – OK.
The processor used is S802, not S802-H with proper Dolby/DTS license, so XBMC is handling decoding by software.
Sintel-Bluray.iso is playing fine, so Bluray ISOs are supported.
4K video play as expected, except for the new codec (H.265/VP9)
HD.Club-4K-Chimei-inn-60mbps.mp4 – OK
Sintel-4k.mkv – Plays, but artifacts can be seen on the right of the screen
Over twenty AVI, MKV, FLV, VOB and MP4 videos could also play without issues. There's a recurrent display bug in Rippl-TV with the last video frame often shown in the background, when it should not be. At one point, I also have had problem s changing the view mode of the video (16:9, Stretched, Zoomed) as it did not have effect, but it does not happen all the time.
I played a 2h00 1080p mkv video without issues, so I could not reproduce the 30-minute playback issue some people had with M8/.
Links to various video samples used in this review and be found in "Where to get video, audio and images samples" post and comments.
Network Performance (Wi-Fi and Ethernet)
To evaluate network performance, and the time it takes to transfer a file over Wi-Fi or Ethernet, I transfer a 278 MB file between a SAMBA share and the internal flash, and vice versa, using ES File Explorer, and repeating the test three times. Rippl-TV had decent, but average performance with a speed of 2.69 MB/s on average.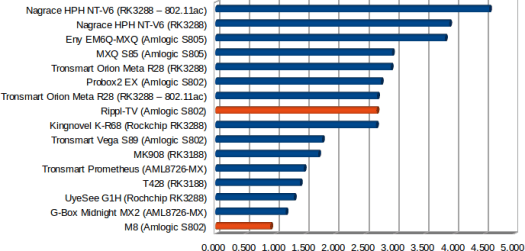 Fast Ethernet performance is also OK, and actually one of the fastest devices.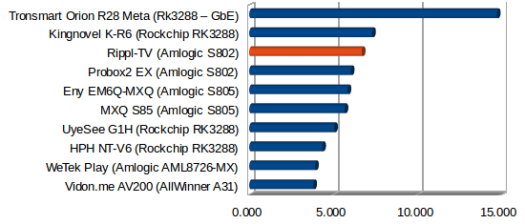 In order to get a "pure" network test, I also used iPerf app and iperf in my Ubuntu PC, using "iperf -t 60 -c 192.168.0.104 -d" command line in Android, and here we can see some weakness when it comes to pure Ethernet performance, but it might be the same for all Amlogic devices.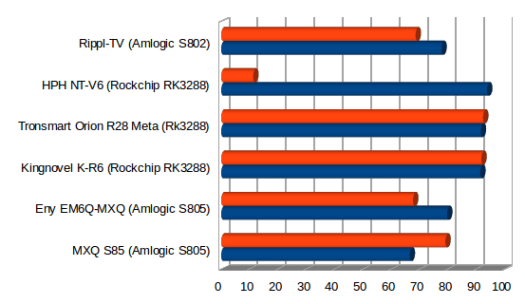 Miscellaneous Tests
Bluetooth
I use ThL W200 Android smartphone to send a picture to Rippl-TV which is recognized as "bluedroid".
Sixaxis Compatibility Checker mentions PS3 Bluetooth Gamepads "appear to be supported", but the driver segfaults, so I could not connect my Sony game controller clone to the device.
Vidonn X5 activity tracker was used to test Bluetooth 4.0 LE. Since I could not install Vidonn app from Google Play (incompatible), I directly installed vidonn.apk, and successfully connected to my wristband to get the data.
Storage
The system could detect and mounted a micro SD card and USB flash drive formatted with FAT32, but only the the NTFS and FAT32 partitions on my USB 3.0 hard drive could be mounted, as with most other Android devices..
| | | |
| --- | --- | --- |
| File System | Read | Write |
| NTFS | OK | OK |
| EXT-4 | Not mounted | Not mounted |
| FAT32 | OK | OK |
| BTRFS | Not mounted | Not mounted |
A1 SD Bench is used to test performance for internal storage, and the USB NTFS partition. In this firmware, the NTFS partition is located in /storage/external_storage/sda1. The read speed is 24.98MB/s, and the write speed 23.47MB/s, both of which are a little underwhelming.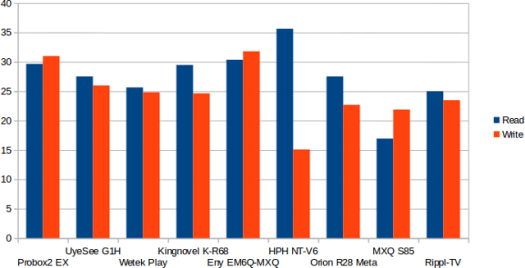 The internal storage of Rippl-TV is good enough not to suffer from poor loading time, and slowdowns. Yet for some reasons, boot time is painfully slow.
USB Webcam
Skype and Google Hangouts are both working well with a generic USB UVC camera with built-in microphone.
I tested audio successfully with the Echo service in Skype, and could record a video message too, something that often crashes in other devices. Google Hangouts also recognized the camera, and I could make a video call.
Games
Candy Crush Saga and Beach Buggy Blitz were very smooth and nice to play. I played the former with Mele F10 Deluxe, and the latter with Tronsmart Mars G01 wireless gamepad. Beach Buggy Blitz was set to the best graphics quality possible, and ran smoothly. Riptide GP2 is also playable, but just not as smooth as on Rockchip RK3288 platforms, and I encountered the same "3D graphics freeze" issue, where the game is stuck on a picture for a short while, before carrying on,. It started to happen on the fourth race, before it become impossible to play on the 6th race. The solution is to wait, and let the system cool down. Temperature measurements after 6th race: 55°C (top) and 48°C (bottom).
Rippl-TV Benchmark
I'll keep the benchmark section short, since I've tested enough Amlogic S802 devices previously, and simply ran Antutu.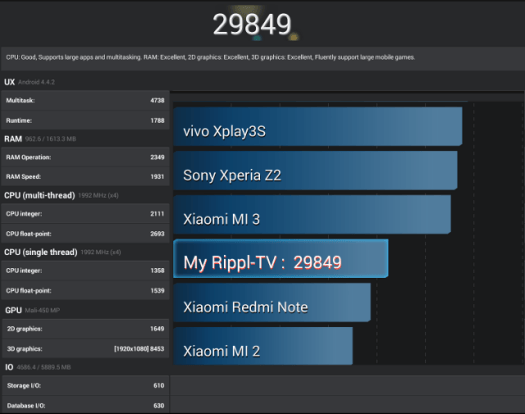 Rippl-TV gets 29,849 points in Antutu 5.1, a very good score for an Amlogic S802 based device.
I was also expecting CPU-Z app to report a k200 board (like for M8), but it reports "Rippl-TV" model made by "Tomato" manufacturer, and based on "rtv83" board.
Conclusion
Rippl-TV is clearly a better product than M8/TM8 TV box, with a firmware much more stable, better Wi-Fi performance, and the same if not slightly better video playback support in XBMC. Rippl-TV user interface may be confusing at first, but once you get used to it, it's pretty nice. The pre-installed add-ons are convenient if you want to watch live TV or movies, and don't know which add-ons to install, or don't want to spend the time to do it. The only worrying part is when I tried the "reboot" function once, and Rippl-TV launcher failed to start (black screen), and I could only fix it by "Clear Data" for Rippl-TV app in the Android settings, which meant I lost all pre-installed add-ons, and had to re-install them. The black screen issue happened twice, but is not easily reproducible.
PRO:
Stable and fast firmware
XBMC 13? pre-installed with many add-ons for Live TV, movies, series, etc…
Blu-Ray ISO and 4K video playback
1080p user interface, 4K video output up to 30 fps supported
Good Ethernet performance (60 Mbps video playback OK), and decent Wi-Fi performance
Good video formats/codecs support in XBMC
USB webcam works with Skype and Google Hangouts
CONS:
No power button
Potential black screen issues with Rippl-TV launcher. Fixable with "Clear Data" or "Clear Cache" in Android settings.
Rippl-TV / XBMC Issues: Last video frame sometimes shown in XBMC user interface, and sometimes changing the View Mode (16:9 Stretch, Zoom, Original…) as no effect.
OTA firmware update not supported.
Relatively slow boot time (90+ seconds)
Some 3D games, such as Riptide GP2, may freeze after a while. Common to other platforms using Mali-450MP GPU.
Sony Sixaxis game controller are not recognized
More expensive than other Amlogic S802 boxes with similar hardware features.
Shenzhen Tomato provided the sample for review, and if you want to buy in quantity, you can contact them via rippl-tv.com. Individuals can purchase Rippl-TV for $139.90 on Amazon and Aliexpress plus shipping.

Jean-Luc started CNX Software in 2010 as a part-time endeavor, before quitting his job as a software engineering manager, and starting to write daily news, and reviews full time later in 2011.