Thai government has made digital television a priority, so they've launched a program to give a 690 Baht voucher ($21) to all households in Thailand. The voucher is send by registered mail to your home, and delivery has to be signed by a Thai person. Then you can go to a shop equipped with a Thai ID card and house registration book copy, present this voucher, and get a free (except for tax payers of course) DVB-T2 receiver, or use it to buy something a more advanced set-top box or digital TV package with 690 Baht discount.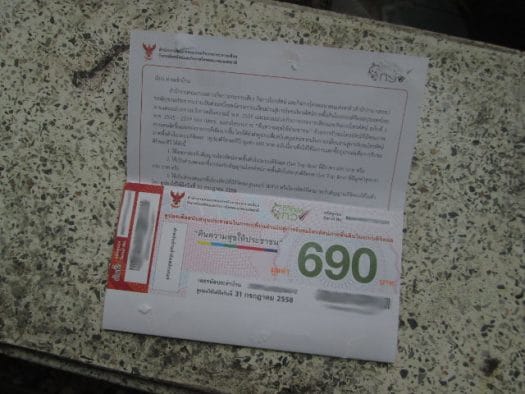 We decided to get a free DVB-T2 receiver, and ended up with a box called SAMART Strong Black supporting SD and 1080p video streams over DVB-T2, EPG (Electronic Program Guide), and with a USB port to connect devices for recording programs or time-shifting. SAMART is a Thai company whose name means "can" (formal) as in "we can", not as in "beer can"… So I decided to have a closer look at the device, and report what kind of features and hardware a $21 DVB-T2 may have.
SAMART Strong Black Specifications & Features
Specifications listed on the user's manual:
Processor – 32-bit RISC processor @ 550 MHz
System Memory – 64 MB DDR
Storage – 8MB Flash for firmware
Video Output – HDMI up to 1080p60 or AV
Tuner

System – DVB-T2 (ETSI EN 302 755)
Receiving Channels – 470 – 862 MHz
RF Input/Output Impedance: 75 Ohm
Active Antenna – 5V, 150 mA
Demodulation – QPSK, 16-QAM, 64-QAM, 256-QAM
In and Out Antenna connectors

Video Codec – MPEG-2MP@ML and MP@HL, MPEG-4 P2 ASP, H.264 MP & HP
Video Containers – MKV, AVI, MPG, MP4, TS, DAT, VOB, FLV, MPEG
Audio – Codec: MPEG-4 HE-AAC v1/2; Sampling freq: 22.1 kHz, 32 kHz, 44.1 kHz, and 48 kHz
USB – 1x USB 2.0 host port
Misc – Power LED, IR receiver, 3.5mm jack for IR extension, 4 buttons on front panel (power. vol/ch- +, vol/ch -, and exit/menu)
Power Supply – 100-240V 50/60Hz in to 5V/1.2A out
Power Consumption – Active: <= 6W, standby: <= 0.5W
Dimensions – 175 x 185 x 55 mm
Weight – 550 grams
Other features include 3D display support, picture adjustment (color/brightness/contrast), 7-day EPG function, USB hard drive for PVR, time-shifting, and firmware update functions, multiple audio and subtitles, automatic and manual channel scanning and so on.
SAMART Strong Black Unboxing
That's the pretty package for this DVB-T2 receiver box.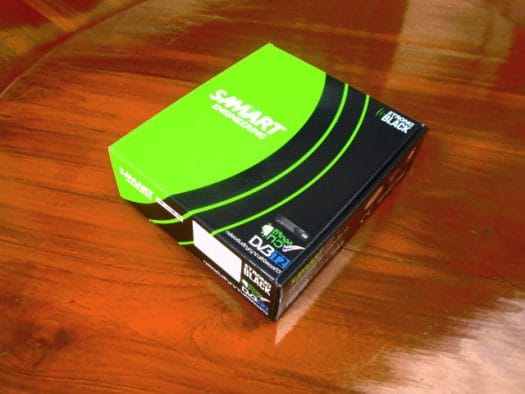 The box comes with HDMI and AV cables, a 5V/1.2A power supply, an IR remote control with two AAA batteries. a warranty card, a user's manual (strangely in English only), and some promotional brochure.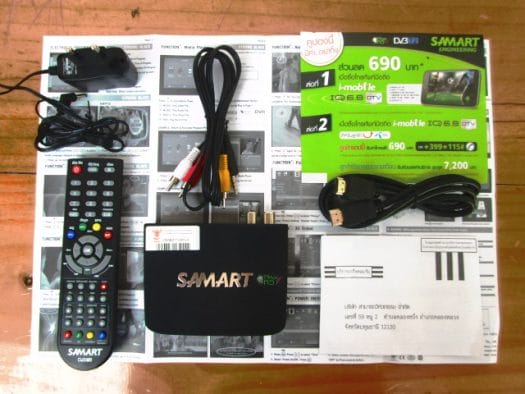 I'm not exactly sure that 5V/1.2A will be able to handle an external 2.5″ HDD, we'll have to see another day. Let's have a closer look at the device itself.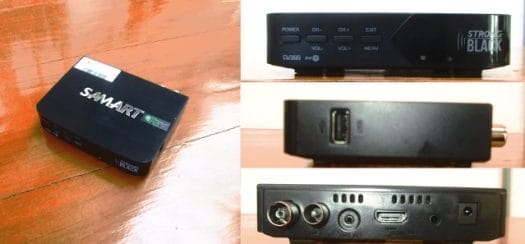 There's a government sticker on the top of the box to make it clear that box was "sold' as part of the program. Four buttons are on the front pane: power, Ch+/Vol-, Ch+/Vol+, and Exit/Menu, as well as the power LED, and a window for the IR receiver. The USB port is on the right side of the box. The rear panel comes with the following port from left to right: RF antenna connector, RF loop, jack for optional IR extension cable, HDMI output, 3.5,mm jack for composite and L/R audio, and power jack.
SAMART Strong Black Board Pictures
There's a two year warranty with the device, which I may have well lost, since as usual, I open the enclosure. There aren't any screws, so you have to pull the top of the box with some tools.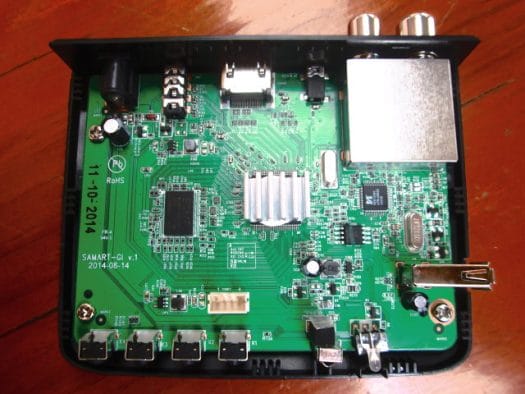 The board name is SAMART-G v.1, so it looks like it's really a locally designed and manufactured product. The processor has a small heatsink on top, but I failed to remove it because the thermal paste would have to be softened with heat, and I don't have the right equipment for that. But we can still check the other components: ESMT M14D5121632A is a 64GB DDRII RAM, and Mstar MSB1236C must be the demodulator.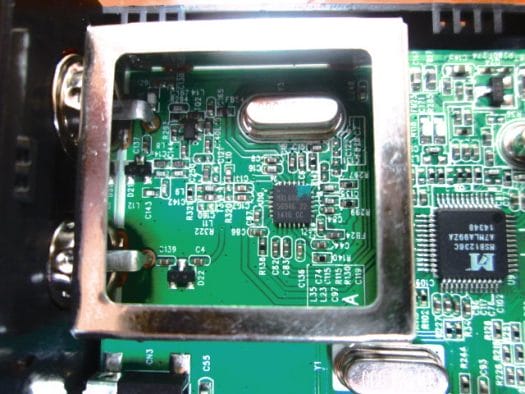 I've also open the shield on top of the tuner to find out the device uses MaxLinear MxL608 tuner, which appears to be quite popular, as over 10 million STBs feature this tuner.
Since I did not have full details about the processor, and the operating systems, I decidd to connect a USB debug board to the 4-pin connector on the board. The left and right are respectively ground and 3.3V pin, so I played with the two other pins, and selected various baud rate, but all I got on my minicom terminal was gibberish.
A Google search for 550 MHz processor used in STBs points to Mstar or Novatek processor, but since neither company list their products lists on their respective website, it's still unclear which exact processor might be used. I could only find one STB with star 550 MHz processor, and another one with Novatek 550 MHz processor. My guess goes towards Mstar since they've used an Mstar demodulator in their design.
We tried it at the shop, and it worked fine, but my indoor antenna at home must be too old, as the signal was 0% even though I live close to the broadcasting antenna. I tried to get a 300 Ohm to 75 Ohm matching adapter to make my own antenna, but I was told they don't do this in Thailand, it's old tech. maybe a language problem. So instead I purchased the matching adapter on Ebay, together with a cheap Digital TV indoor antenna.

Jean-Luc started CNX Software in 2010 as a part-time endeavor, before quitting his job as a software engineering manager, and starting to write daily news, and reviews full time later in 2011.