I reviewed MeLE PCG03 mini PC powered by Intel Atom Z3735F processor at the beginning of the year, and there are now many different models from manufacturer which all come with the same processor, 2GB RAM, and 32GB storage either in box or stick form factor. MeLE also released their own Bay Trail stick, similar to Intel Compute Stick, called MeLE PCG01, which they sent me for review.
Most of these products are very similar, and all run Windows 8.1 by default, so the main differentiating factor between companies being price, whether they use a properly licensed version of Windows or not, and the thermal design of the enclosure, which may also impact performance as a good design will prevent CPU throttling. So in this review, after quickly checking the mini PC and accessories, I'll take apart the device to check in more details what has been done to cool it, and follow up with some benchmarks and compare them to MeLE PCG03 results.
MeLE PCG01 Unboxing
I received the package via EMS Singapore in about 10 days after shipping.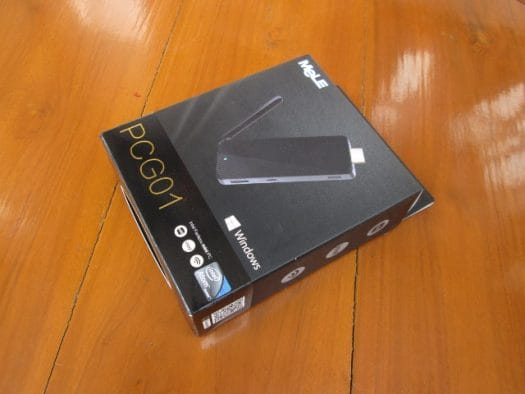 The stick comes with a USB OTG adapter, a female to female HDMI adapter in case you need to use an HDMI cable, a Quick Start Guide in English, and a 5V/2A power supply with US, UK, EU, and AU plug adapters which can really convenient for those who travel in various countries, and want to use the stick on the go.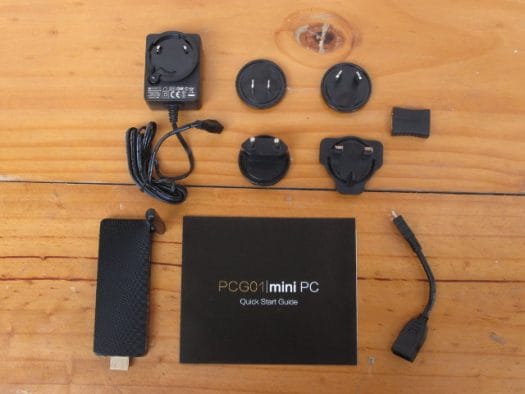 The device's enclosure has some "fins" on top, possibly for better cooling.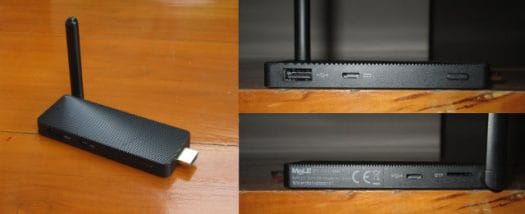 The interfaces are quite standard with one male HDMI output, two micro USB ports (one DC, one OTG), a USB 2.0 host port, a micro SD slot, and a power button. The external antenna differentiate PCG01 slightly from its competitors usually featuring an internal antenna.
I've also shot a short unboxing video.

MeLE PCG01 Tear-down
With the right tools, it's pretty easy to open the stick, as the bottom cover is simply clipped to the top one. Just start sliding a sharp tools in the small openings around the HDMI port to gently unclip the cover.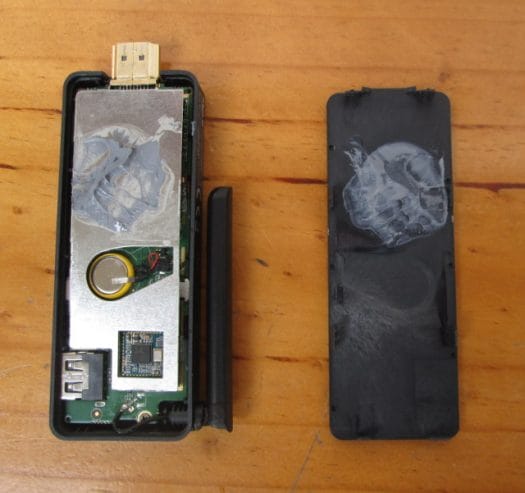 There's a thin metallic plate with some thermal paste to provide heat conduction to the bottom of the plastic enclosure.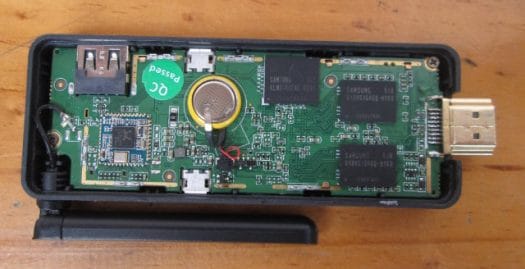 Again the metal shield will be easy removed, and we can see some of the components used for the stick like an RTC + battery, the usual Realtel RTL8723BS Wi-Fi + Bluetooth Bluetooth, and Samsung eMMC and DDR3 chips.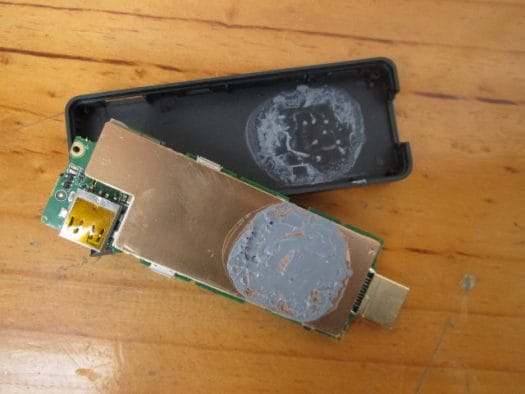 After loosening and taking out two screws, I could remove the board from the case, and again some thermal paste is used to conduct heat to the between a metal plate (but this time maybe made of copper) to the plastic enclosure.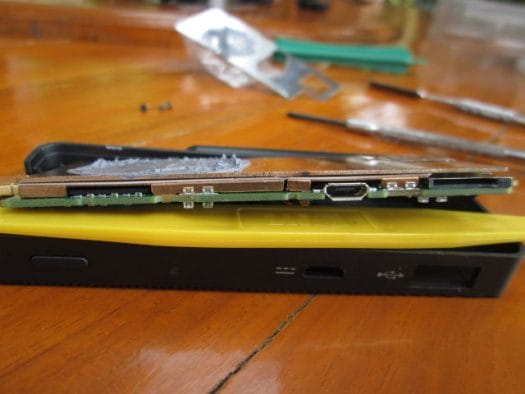 I haven't taken it apart further to avoid impacting the design, but there's a thin white rubber? layer right under the metal place, and another metal shield made of the same material. So the company appears to have made efforts to dissipate heat as best as possible.
Setting Up MeLE PCG01
I've connected a bunch of peripheral to the stick including a USB hard drive, as well as a kerboard and mouse via a USB hub connected via the USB OTG adapter that comes with the device. Despite having only a 5V/2A power adapter, I never had troubles while running the device.
However, my first boot was quite disappointing as Windows 8.1 was setup with simplified Chinese language, while I expected the same wizard as with MeLE PCG03., which let me choose my language, and create an account. But with MeLE PCG01, there was already an account, and that's what I could see when accessing the settings…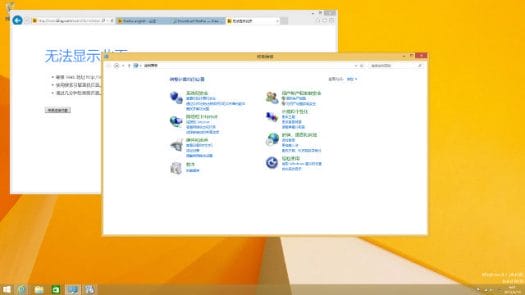 So I asked MeLE about this, and they told me: "You can change the languages as it has been already pre-installed with 16 languages kit in the settings which you do not need to download from the Internet." Unfortunately, since the interface was in Chinese, it was not exactly straightforward to change. Luckily, I found the following instructions on Internet to change the language to English in Windows 8.1, and MeLE eventually provided screenshots to change the language, together with apologies for not changing the language to English after testing.
Once, I got a the language right, I went to "PC Info" to check the license status…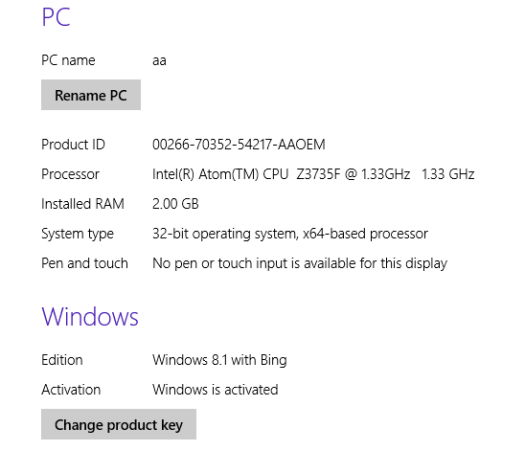 … and the device indeed runs an activated version of Windows 8.1 with Bing.
MeLE PCG01 Benchmarks and Temperature
The next step is to check PCMark 8 and CrystalDiskMark benchmark results and compared then with the ones I got with the larger MeLE PCG03.

MeLE PCG01 gets 1,116 points while PCG03 got 1,105 points for the same test, so both devices seem to perform as well. There's a "time measurement data not available" warning however for the stick results, and I'm not sure if may have affected the results.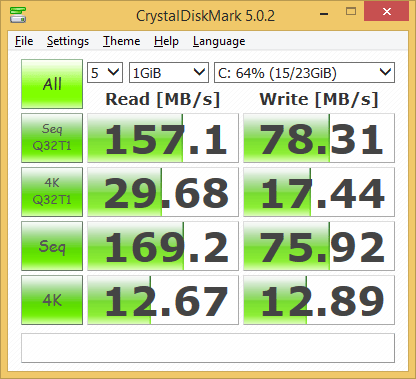 The Samsung flash used in the stick is also just as good as the ones in PCG03 with sequential read and write speeds of respectively 169MB/s and 76 MB/s (in CrystalDiskMark 5.0.2) against 165MB and 69MB/s for PCG03 (in CrystalDiskMark 3.0.3).
We've already seen Kodi works very well on Intel Atom Z3735F hardware either in Windows 8.1 or Ubuntu, but with some hardware such as PiPo X7, people noticed CPU throttling with some videos with high framerate, leading to poor video playback. So I tested two 1080p 60fps videos as well as a 2160p 24fps video in Kodi, and I could not notice any slowdown, but I still noted the maximum temperature I measured with an infrared thermometer.
Max Temperature
Case Top
Max Temperature
Case Bottom
Idle
63 °C
60 °C
Big Buck Bunny 1080p H.264 60 fps
80 °C
77 °C
Big Buck Bunny 1080p H.264 60 fps 3D
80 °C
78 °C
Sintel 4K H.264 24 fps
72 °C
69 °C
Although the videos played smoothly, the device got pretty hot at 80°C maximum while playing the 60fps videos, and with some other videos with different codec and/or bitrate, it might be that the system needs to slowdown a bit in order to cool down, but it's not something that happens with the three test videos I used.
Conclusion
MeLE PCG01 is another Bay Trail-T TV dongle, but the company's work on the thermal design seems to have paid off, as performance is just as good and stable as on larger devices which are supposed to handle heat better. The stick also comes with a proper license for Windows 8.1 Bing, and an external Wi-Fi antenna. Although I have not formally tested the latter, I used the Wi-Fi connection to download videos and benchmark applications, and it maxed out my Internet connection (11 Mbps) during download, without any loss of connection during the hour long download.
The biggest challenge for MeLE PCG01 may be its price, as they company asks for $169 including shipping on Amazon US, while Intel Compute stick, with virtually the same specs, goes for $153 also including shipping. However, MeLE does some regular promotions on their Aliexpress store, and PCG01 is currently available for $126.75 for the next 4 days.

Jean-Luc started CNX Software in 2010 as a part-time endeavor, before quitting his job as a software engineering manager, and starting to write daily news, and reviews full time later in 2011.