I've already written a short review of Mele PCG03 mini PC powered by Intel Atom Z3735F processor, with 2GB RAM, and 32GB eMMC flash, where I found out that almost it's not the fastest device around, it's still usable for most tasks, albeit you can quickly run out of space with only 32GB storage, so if you really plan to use it as an actual computer using applications such as email clients, web browser and office suites, an external USB hard drive, or connection to a NAS is probably a must, or you'll probably have to run Disk Cleaner fairly often. Mele PCG03 also have a valid Windows 8.1 license, and a VGA port, both of which are often missing on many other Bay Trail-T mini PCs.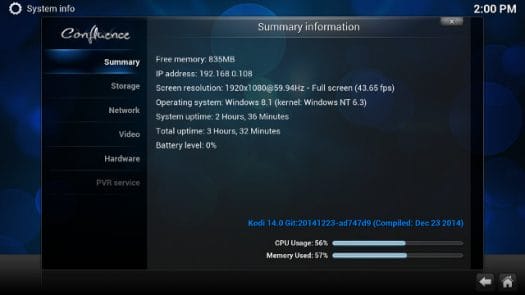 I've now installed Kodi 14.1 – downloaded directly from xbmc.org – on this low cost and low power computer, in order to go through my video test files, and see how it performs compared to the many ARM based Android TV boxes I've tested in the past. I've played the videos over Ethernet from a SAMBA share on an Ubuntu 14.04 machine, unless otherwise noted. I full expect the results to be identical on other Intel Atom Z3735 / Z3736 based mini PCs such as MeegoPad T01 or Pipo X7.
The device was connected to LG 42UB820T, a 4K UltraHD television, but the maximum output resolution supported by the box is 1080p60 (1920×1080), so that's the output resolution I used for testing.
Let's get started with videos samples from samplemedia.linaro.org, plus some H.265/HEVC videos (Elecard), and a low resolution VP9 video:
H.264 codec / MP4 container (Big Buck Bunny), 480p/720p/1080p – OK
MPEG2 codec / MPG container, 480p/720p/1080p – OK. But XBMC reports decoding at 24 fps, instead of the video native 25 fps.
MPEG4 codec, AVI container 480p/720p/1080p – OK
VC1 codec (WMV), 480p/720p/1080p – OK
Real Media (RMVB), 720p / 5Mbps – RV8, RV9, and RV10 – OK, but at 720p and 1080p video is played at about 22 fps instead of 25 fps.
WebM / VP8 – OK
H.265 codec / MPEG TS container – 360p and 720p OK, 1080p video is not really watchable (15 fps), and audio cuts.
WebM / VP9 (no audio in video) – OK
Followed by some higher bitrate videos:
ED_HD.avi – OK
big_buck_bunny_1080p_surround.avi (1080p H.264 – 12 Mbps) – OK.
h264_1080p_hp_4.1_40mbps_birds.mkv (40 Mbps) – OK
hddvd_demo_17.5Mbps_1080p_VC1.mkv (17.5Mbps) – OK, but plays at 24 fps instead of 29.970 fps
Jellyfish-120

-Mbps.mkv

(120 Mbps video without audio) – OK (using USB hard drive)
High definition audio codecs below have only been tested using PCM output over HDMI, as I'll still waiting for Speakers to go with my AV receiver. So HDMI pass-through is still To Be Tested (TBT), and S/PDIF won't be tested since there's no S/PDIF output on MeLE's mini PC. I expect to update the table with HDMI pass-through in about a week. I've now tested HDMI audio pass-through using Onkyo TX-NR636 AV receiver. I selected WASAPI audio device in Kodi, and enabled all codecs below.

Video's Audio Codec
HDMI PCM Output
HDMI Pass-through
SPDIF Pass-through
AC3 / Dolby Digital 5.1
OK
OK
No S/PDIF Output on MeLE PCG03
E-AC-3 / Dolby Digital+ 5.1
OK
OK
Dolby Digital+ 7.1
OK
Some audio but frequent cuts
TrueHD 5.1
OK
No audio
Audio Formats Not Supported over S/PDIF
TrueHD 7.1
OK
No audio
DTS HD Master
OK
No audio
DTS HD High Resolution
OK
No audio
I could play Sintel-Bluray.iso without problem, so Bluray ISO are supported. I've been told encrypted ISO might be more problematic, but I don't have any sample to test. 1080i MPEG2 videos (GridHD.mpg & Pastel1080i25HD.mpg) could also play.
Intel Atom Z3735F processor does not support 4K video output, however it can still decode some 4K videos (H.264), but both H.265 and VP9 are out of reach:
HD.Club-4K-Chimei-inn-60mbps.mp4 – OK

sintel-2010-4k.mkv – OK
Beauty_3840x2160_120fps_420_8bit_HEVC_MP4.mp4 (H.265) – XBMC reports playback at about 10 fps, but it looks like 2 to 3 fps to me.
Bosphorus_3840x2160_120fps_420_8bit_HEVC_MP4.mp4 (H.265) – XBMC reports playback at about 10 fps, but it looks like 2 to 3 fps to me.
Jockey_3840x2160_120fps_420_8bit_HEVC_TS.ts (H.265) – Won't play at all (stays in XBMC UI)
MHD_2013_2160p_ShowReel_R_9000f_24fps_RMN_QP23_10b.mkv (10-bit HEVC) – Slow notion playback, just like other H.265 videos.
phfx_4KHD_VP9TestFootage.webm (VP9) – Plays at about 10 fps.

BT.2020.20140602.ts

(Rec.2020 compliant video) – Won't play at all (stays in XBMC UI)
I've also played some 3D videos:
bbb_sunflower_1080p_60fps_stereo_abl.mp4 (1080p Over/Under) – OK (Decoded at 60 fps as it should)
bbb_sunflower_2160p_60fps_stereo_abl.mp4 (2160p Over/Under) – Plays at about 10 fps, and frequent audio cuts.
Turbo_Film-DreamWorks_trailer_VO_3D.mp4 (1080p SBS) – OK
Please note that My TV does not support 3D, so I only tested video decoding capability.
All my AVI, MKV, FLV, VOB, IFO and MP4 videos could play smmothly, without A/V sync issues, and contrary to XBMC Android, the reported framerate is extremely stable. In most, if not all, Android media players, it's quite common to see 24 fps videos, being played at a reported 22 to 25 fps according to XBMC live log window. But in ths test, the vast majority of videos played exactly and constantly at the native framerate.
All the video above where played over Ethernet, but I switched to Wi-Fi, but my reliability test, consisting of playing a full 1080p movie (1h50 / MKV / 3GB). XBMC reported only 1 skipped frame over the whole movie, while in Android TV boxes I usually get 14,000 skipped frames for the complete movie.
I also wanted to test automatic frame rate switching, so I went to Settings->Video, changed the Settings level to Advanced, and set Adjust display refresh rate to match video to On start/stop. And got the following results using the Info button on the remote control of my TV for the video output:
23.976 fps video -> Video Output: 1080p24
24 fps video -> Video Output: 1080p24
25 fps video -> Video Output: 1080p50
30 fps video -> Video Output: 1080p60
50 fps video -> Video Output: 1080p50
59.94 fps video -> Video Output: 1080p60
60 fps video -> Video Output: 1080p60
So it's mostly working. If I open Intel HD Graphics Control Panel, the following refresh rate are available: 23p, 24p, 25p, 29p, 30p, 50p, 50i, 59p, 59i, 60p, and 60i, and I can set any of these refresh rates, but for example, when I set 59p, and press the Info button on the remote of my LG TV, I only see 1080p60, so it's difficult to know exactly what's going on for refresh rates such as 23.976 or 59.94 fps.
Anyway, the conclusion is excluding the lack of H.265 codec and 4K video output support, that's clearly the best experience I've had using XBMC / Kodi on any low cost hardware platform, as all 1080p or lower resolution videos could be played, the vast majority at the native video framerate, H.264 4K videos are playing fine (but outputted to 1080p), and automatic frame rate switching is working. [Update: 4K video are limited to 30 fps, as the system can't handle 4K 60fps at full rate]
Links to various video samples used in this review and be found in "Where to get video, audio and images samples" post and comments.

Jean-Luc started CNX Software in 2010 as a part-time endeavor, before quitting his job as a software engineering manager, and starting to write daily news, and reviews full time later in 2011.