4K TV boxes based on Amlogic S812 processor have been around for about 9 months, and I already reviewed MINIX NEO X8-H Plus and CX-S806 mini PCs, but Mygica ATV1900AC is one of the first to support Android Lollipop, so I though it would be interesting to see the progress made compared to devices that run Android KitKat. I've already taken apart the TV Box, and found some interesting Toshiba eMMC flash and Realtek 802.11ac WiFi chips on the board, but today, I'll test the firmware including stability, features and performance in this review.
First Boot, Settings and First Impressions
I've connected all ports of the device using the four USB host port with a webcam, hard drive, an RF dongle for a wireless gamepad, the RF dongle for the included remote, as well as inserting an HDMI cable, an optical audio cable S/PDIF, an Ethernet cable to Gigabit switch, and a Class 10 micro SD card. Finally I connected the power cable, and the device started straightaway. The boot took a long 1 minute 40 second to complete, so I disconnected all USB devices, except the one required for the remote, and boot time dropped to a more respectable 50 seconds, but I was still expecting a much faster boot.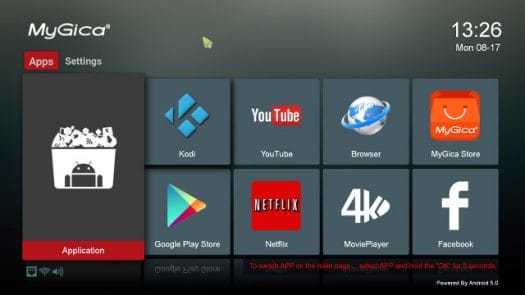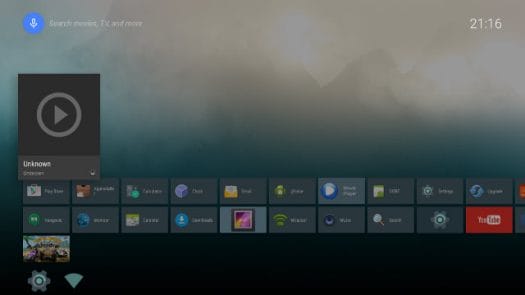 You'll then be offered to choose your launched between "Mygica Android 5.0" and "Home Screen", with the latter looking very similar to Google's Android TV launcher. I still prefer the first one, and that's the one I used for most of the review, although it misses the Status Bar which makes it a little harder to use with an air mouse, as I had to use the remote control to press the "Home" key.
Kodi 14.2 "Mygica Edition", YouTube, the Browser, Mygica store, Google Play, Netflix, 4K MoviePlayer and Facebook were all pre-installed and set as the shortcut in the interfaces. Other pre-installed apps include Miracast and Crackle.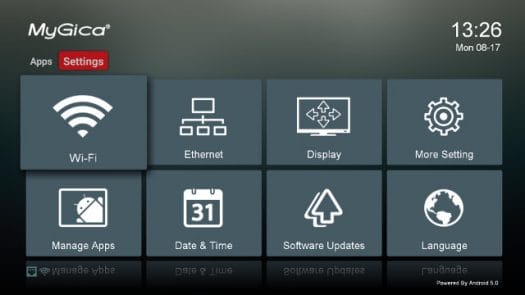 There's also Settings page on the right that will let you configure various aspect of the system:
Wi-Fi – Enable/Disable WiFi, Select ESSID, Connect via WPS…
Ethernet – Enable/Disable Ethernet, select Fixed IP or DHCP, configure Proxy if needed
Display

Screen resolution: Auto, 480p-60Hz, 576p-50Hz, 720p 50/60Hz, 1080i 50/60Hz, 1080p 24/50/60Hz, 4K2K 24/25/30Hz or SMPTE
Screen position
Daydream

More Setting – Android Lollipop Settings
Manage Apps – Open, stop, uninstall, clear data, cache, or defaults for a given app
Date & Time – Automatic Date & Time On/Off. The timezone however must be set via "More Setting"
Software Updates – Local or automatic updates
Language – List of languages for Android UI (Check walk-through video below for a complete list).
What you won't find here are options to set audio output like PCM, or HDMI / SPDIF pass-through, and it won't be in "More Setting" either, and instead, you need to go to the list of app, and access another Settings app (Icon with white background) to have more options, many of which are already accessible from the list above, and go to Device->Sounds->Digital Sounds… I'm not really impressed the way Settings are handled in that box, as you have 3 different places to adjust settings, a complete mess!
OTA firmware update is working, but with some caveats. I had played around one hour with the box, and installed all apps required for testing and taken a few screenshots, when the firmware update pop-up appeared. I clicked "Cancel" as I wanted to complete the current task. But soon the Upgrade app crashed, restarted and asked me again, after a few loop of this, I finally gave up and clicked on "OK" to carry on with the firmware update. It went well, except the procedure wiped out all installed app and my screenshots, meaning I had to restart all over again… I'd expect a firmware update made with Windows tools to wipe out my data, but not an OTA update…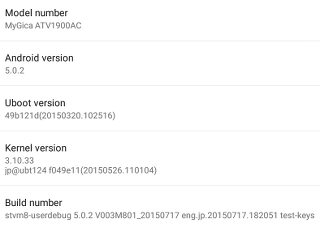 One good thing is that they did not separate app and data partitions (unless that explains why I lost all my data), as a single 12GB partition is used for both, so you won't quickly fill up the app partition present – usually 2GB large – in some other boxes. WiFi and Ethernet worked OK (more on that later), but there's no built-in Bluetooth, although there's an option for it in the Android Lollipop settings. I had no problem selecting HDMI output up to 4K30.
The "About device" section shows the model number is "Mygica ATV1900AC", and the system runs Android 5.0.2 on top of Linux 3.10.33. Despite having just update the firmware (OTA), the build date is on 17th of July 2015. Root checker exports the firmware is rooted.
The remote control is quite interesting. At first, when I saw the RF dongle, I assumed it was an air mouse, but it can only control the pointer with the arrow keys. The range is however excellent, and standing in the corridor around 10 meters from the device, I could still control it. It also supports Voice command and search, so you can start apps by just saying their name, e.g. Firefox, YouTube, K.O.D.I, and if the name if not recognized, it will just start a web search. You'll need an Internet connection for voice recognition to work. I have tested this feature in the review video below, where I also play 4K video samples in Kodi and 4K MoviePlayer, and go through the user interface and settings.
I haven't tried Mygica store, as Google Play worked mostly OK. As usual on TV boxes, SMS and GPS app can't be installed, but there was a long list of apps that should probably have installed, but did not including: all Bloomberg apps, AtHome Camera, some banking apps, Wiwo, Vidonn Smartband, Plants vs Zombies 2, Torque Lite, PPTV streaming, a Thai dictionary, Antutu Video Tester (OK first time, but not after firmware update) and a few more… The Amazon app installed just fine, and I could download Riptide GP2 racing game with it.
ATV1900AC can't be powered off, and the only option is go to into standby. It worked with both the provided remote control, and MeLE F10 Deluxe air mouse. Other Amlogic S812 TV boxes ran pretty cool, and the latest Mygica box is no exception, as the maximum temperature was 53°C and 49°C on the top and bottom of the enclosure after running Antutu 5.7, and 52°C & 46°C after playing Riptide GP2 for about 15 minutes.
I could a few hiccups as I started using the device, including some network connection problems (WiFi and Ethernet), and I found the settings a pain to navigate because options are all over the place, but the firmware is usually quite OK, and Android 5.0 really makes a difference when launching apps, especially games, as the load much faster than to ART runtine replacing Dalvik found in earlier versions.
Video Playback with Kodi
The box ships with Kodi 14.2 "Mygica Edition", so Geniatech must have made changed to the official Kodi 14.2 release, I'm just not sure what they are. Anyway, I used the provided version, and played video samples and movies stored on SAMBA shares over Ethernet. Initial connections to SAMBA shares in Kodi and ES File Explorer worked fine, but "connection time out" messages started to show up in Kodi a little later (after testing was complete), while ES File Explorer had no such problem.
Video samples from samplemedia.linaro.org, Elecard H.265/HEVC samples, and a low resolution VP9 video:
H.264 codec / MP4 container (Big Buck Bunny) – 480p/720p/1080p – OK
MPEG2 codec / MPG container – 480p/720p/1080p – OK could be smoother (Kodi live log also reports ~21fps instead of the native 25 fps)
MPEG4 codec, AVI container 480p/720p/1080p – OK
VC1 codec (WMV) – 480p/720p/1080p – OK
Real Media (RMVB), 720p / 5Mbps – Software decode @ ~20 fps instead of 25 fps
WebM / VP8 – 480p/720p OK. 1080p could be a little smoother (18 fps instead of 25 fps)
H.265 codec / MPEG TS container (360p/720p/1080p) – 360p: OK; 720p: OK most of the time, except in some scenes where the frame rate drops.. 1080p: plays at ~15fps with audio/video sync issues.
WebM / VP9 (no audio in video) – OK
Moving on to some higher bitrate videos:
ED_HD.avi

– audio only
big_buck_bunny_1080p_surround.avi (1080p H.264 – 12 Mbps) – OK.
h264_1080p_hp_4.1_40mbps_birds.mkv (40 Mbps) – OK
hddvd_demo_17.5Mbps_1080p_VC1.mkv (17.5Mbps) – 15 fps instead of 29.970 fps
Jellyfish-120

-Mbps.mkv

(120 Mbps video without audio) – OK (played from network)
The next step was to test some videos samples with HD audio tracks using PCM (down-sampling), HDMI pass-through with Onkyo TX-NR636 AV receiver. I skipped S/PDIF pass-through because as we'll see audio pass-through is not working, even after enabling AC3 and DTS in Kodi, as well as HDMI audio output in the hard to find part of the system settings.
Video
PCM Output
Kodi
PCM Output
"Video Player" app
HDMI Pass-through
Kodi
S/PDIF Pass-through
Kodi
AC3 / Dolby Digital 5.1
Audio OK, but video not smooth
No audio
PCM 2.0 (and Noise)
Skipped test
E-AC-3 / Dolby Digital+ 5.1
OK
No audio
PCM 2.0 (and Noise)
Skipped test
Dolby Digital+ 7.1
OK
No audio
PCM 2.0
Audio Formats Not Supported over S/PDIF
TrueHD 5.1
OK
No audio
PCM 2.0
TrueHD 7.1
OK
No audio
PCM 2.0
Dolby Atmos 7.1
OK
No audio
PCM 2.0
DTS HD Master
OK
No audio
PCM 2.0 (and Noise)
DTS HD High Resolution
OK
No audio
PCM 2.0 (and Noise)
Beside pass-through not working, any video with Dolby or DTS sound tracks will have to be played in Kodi, as other the system does not support them.
Sintel-Bluray.iso and amay.iso (Ambra – Prism of Life) Blu-ray ISO videos played fine, as did GridHD.mpg & Pastel1080i25HD.mpg my two 1080i MPEG2 video samples.
That's the best Hi10p video decoding I've seen so far as the video plays all the way and with less artifacts than usual, but unfortunately the videos are still not watchable:
[Commie] Steins;Gate – NCED [BD 720p AAC] [10bit] [C706859E].mkv – Audio & subtitles OK, and video plays with with some artifacts
[1080p][16_REF_L5.1][mp3_2.0]Suzumiya Haruhi no Shoushitsu BD

OP.mkv

– Audio & subtitles OK, and video plays with with some artifacts.
H.264 4K videos can play, but unfortunately H.265 4K videos won't play smoothly in Kodi 14.2, as it only supports software decode even after customization by Geniatech:
HD.Club-4K-Chimei-inn-60mbps.mp4 – OK

sintel-2010-4k.mkv – OK
Beauty_3840x2160_120fps_420_8bit_HEVC_MP4.mp4 (H.265) – Playing @ 2 to 3 fps
Bosphorus_3840x2160_120fps_420_8bit_HEVC_MP4.mp4 (H.265) – Playing @ 2 to 3 fps
Jockey_3840x2160_120fps_420_8bit_HEVC_TS.ts (H.265) – Won't play, the system stays in user interface.
MHD_2013_2160p_ShowReel_R_9000f_24fps_RMN_QP23_10b.mkv (10-bit HEVC) – Plays @ 3 to 4 fps.
phfx_4KHD_VP9TestFootage.webm (VP9) – Plays at 3 to 4 fps using software decode as all eight cores are close to 100% CPU usage.

BT.2020.20140602.ts

(Rec.2020 compliant video) – Won't play, the system stays in the user interface
big_buck_bunny_4k_H264_30fps.mp4 – OK
big_buck_bunny_4k_H264_60fps.mp4 – ~40 fps, with audio cuts, and audio/video issues (excepted, as it's not supported by the hardware…)
I've tried the H.265 videos @ 30 fps or less again in 4K MoviePlayer and they could also play smoothly, except 10-bit HEVC video, and BT2020. The ones with AC3 audio did not have audio.
The TV I use for reviews, namely LG 42UB820T, does not support 3D, but I can still try to play stereoscopic 3D videos to find out if the device under test can decode them:
bbb_sunflower_1080p_60fps_stereo_abl.mp4 (1080p Over/Under) – OK
bbb_sunflower_2160p_60fps_stereo_abl.mp4 (2160p Over/Under) – Audio only, black screen.
Turbo_Film-DreamWorks_trailer_VO_3D.mp4 (1080p SBS) – OK
Finally, I've played movies and videos from my library, including FLV, AVI, MKV VOB/IFO, and MP4 videos, and they could all play fine, except I've noticed one or two could not be zoomed / stretched. The option was there, but it simply did not work.
The stability test with a complete 1080p MKV movie ran without interruption, but scenes with panning did not seem as smooth as usual, and Kodi log window reported around 7,000 skipped frame.
Since Antutu Video Tester could not be installed from Google Play, I sideloaded version 2.2, and upgraded to version 3.0, before running the test. Last week, Beelink i68 got 532 points, but Mygica ATV1900AC got a much higher score at 1,059 points.
Antutu Video Tester 3.0 results can be found below, and somehow, AC3 audio is working according to the test results… Go figure.
Video samples can be downloaded from "Where to get video, audio and images samples" post and comments.
Wi-Fi and Ethernet Network Performance
In order to test network performance, a 278 MB file is transfered using ES File Explorer between a SAMBA share and the flash. The test is repeated three times, and the average is used. WiFi performance on Mygica ATV1900AC is outstanding, it's the best device in terms of performance I used both with 802.11 b/g/n (300 Mbps) and 802.11ac (867 Mbps) with transfer averaging respectively 5.08 MB/s and 7.45 MB/s.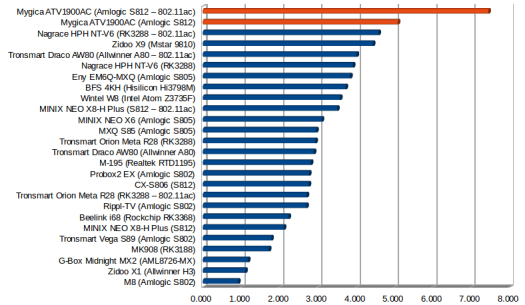 However, there's potentially a stability issues, as one of the transfer stalled and stopped (802.11n 2.4GHz). I could not easily reproduce the issue, and I could hear a commercial plane fly over when it occurred (Could it affect WiFi?). I also noticed a WiFi re-connection another time while shooting the video review embed above.
I also ran iperf "iperf -t 60 -c 192.168.0.104 -d" command line to check the raw performance for
Client

connecting

to

192.168.0.109

,

TCP

port

5001

TCP

window

size

:

 

136

KByte

(

default

)

--

--

--

--

--

--

--

--

--

--

--

--

--

--

--

--

--

--

--

--

--

--

--

--

--

--

--

--

--

--

[

 

6

]

local

192.168.0.104

port

53062

connected

with

192.168.0.109

port

5001

[

 

6

]

 

0.0

-

60.0

sec

  

555

MBytes

 

77.5

Mbits

/

sec

[

 

4

]

 

0.0

-

60.2

sec

  

230

MBytes

 

32.1

Mbits

/

sec
Client

connecting

to

192.168.0.109

,

TCP

port

5001

TCP

window

size

:

85.0

KByte

(

default

)

--

--

--

--

--

--

--

--

--

--

--

--

--

--

--

--

--

--

--

--

--

--

--

--

--

--

--

--

--

--

[

 

6

]

local

192.168.0.104

port

51591

connected

with

192.168.0.109

port

5001

[

 

6

]

 

0.0

-

60.0

sec

  

929

MBytes

  

130

Mbits

/

sec

[

 

5

]

 

0.0

-

60.3

sec

  

229

MBytes

 

31.9

Mbits

/

sec

A 885 MB file transfer from SAMBA to flash and vice versa took just under one minute using Gigabit Ethernet, again ranking Mygica ATV1900AC at the top of the charts.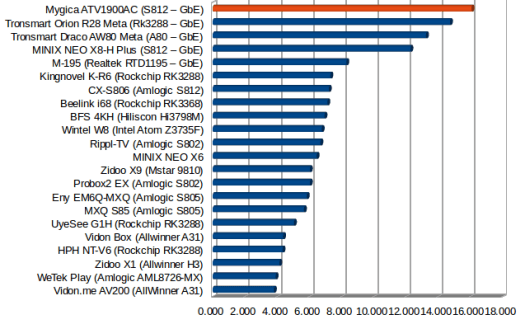 Contrary to transfers with WiFi or Fast Ethernet, transferring a file over Gigabit Ethernet is often bound by storage performance, and it's the case for Mygica's TV box, as running iperf shows Amlogic S812 Ethernet limitations as seen in other devices.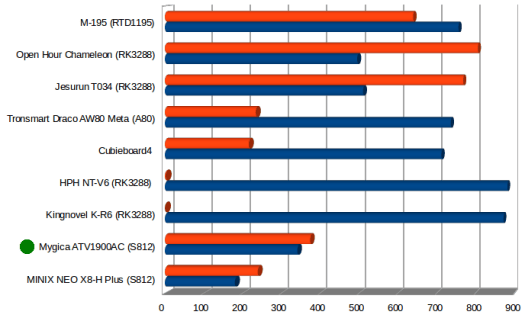 iperf output:

Client

connecting

to

192.168.0.110

,

TCP

port

5001

TCP

window

size

:

170

KByte

(

default

)

--

--

--

--

--

--

--

--

--

--

--

--

--

--

--

--

--

--

--

--

--

--

--

--

--

--

--

--

--

--

[

6

]

local

192.168.0.104

port

45170

connected

with

192.168.0.110

port

5001

[

ID

]

Interval

Transfer

Bandwidth

[

6

]

0.0

-

60.0

sec

2.38

GBytes

341

Mbits

/

sec

[

4

]

0.0

-

60.0

sec

2.61

GBytes

374

Mbits

/

sec

Since the fastest storage interface is USB 2.0 (480 Mbps max), this limitation is unlikely to matter in practise.
Miscellaneous Tests
Bluetooth
There's no Bluetooth capable chip in the device. However, there's a Bluetooth option in Android settings, and I tried to connect a USB Bluetooth 4.0 dongle, but still failed to enabled it. So Bluetooth is not supported, even with external hardware, at least with this firmware.
Storage
A FAT32 micro SD card could be access in read/write mode, and the NTFS and exFAT partitions in USB 3.0 hard drive could be mounted, however while the partition are about 250GB large, the system only detected 10MB partitions with 10MB free, so reading files worked, but copying files to these partitions failed due to an incorrectly reported lack of space…
| | | |
| --- | --- | --- |
| File System | Read | Write |
| NTFS | OK | No |
| EXT-4 | Not mounted | Not mounted |
| exFAT | OK | No |
| BTRFS | Not mounted | Not mounted |
| FAT32 | OK | OK |
That means I could not run A1 SD Bench app to benchmark USB 2.0 performance, so I only tested the performance of the Toshiba eMMC flash. The results are quite good, but far from the theoretical 270 MB/s and 50MB/s read and write speeds, probably because Amlogic S812 does not support eMMC 5.0 HS400 mode.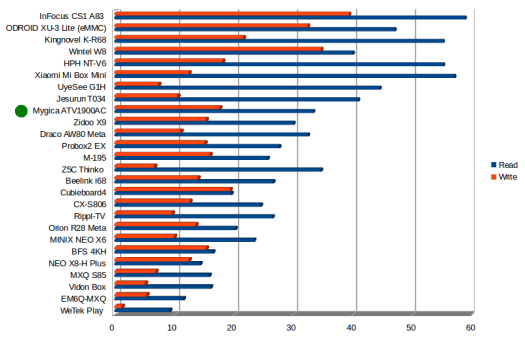 USB Webcam
The Echo / Sound Testing Service works in Skype, and I could make a video call, but for some reasons, there was no input from the camera, and I could only see the caller video.
Google Hangouts worked fine with my USB webcam.
Gaming
I installed Candy Crush Saga, Beach Buggy Racing, and Riptide GP2 to test gaming. The main difference compared by my previous versions was how fast the games would load, probably a combination of fast internal storage and ART runtime. Candy Crush Saga had no issue, Beach Buggy Racing was smooth using standard settings, but because a little less smooth with graphics settings maxed out. Riptide GP2 was not quite as smooth as expected even with default settings, while I was quite happy with all the game on MINIX NEO X8-H Plus. I did the previous test 9 months ago, and as it's a subjective test, I may have become an old grumpy man that is a little more demanding, or the processor may not run at its full potential…
Mygica ATV1900AC Benchmarks
Even though Amlogic S812 is a mature platform, it's still interesting to run CPU-Z, and in this case we find out that the processor only runs up to 1608 MHz, while most other devices run it at its full speed (2.0 GHz).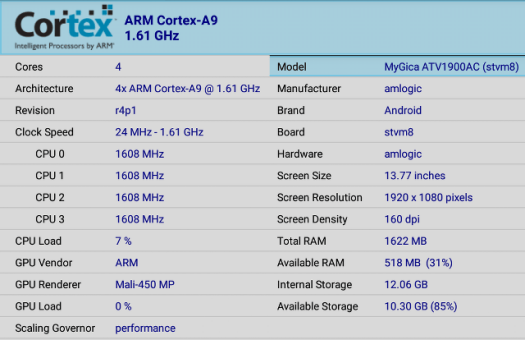 I doubled-check with Android terminal just in case…:

cat

/

sys

/

devices

/

system

/

cpu

/

cpu0

/

cpufreq

/

scaling_max

_

freq

And indeed the maximum frequency is set not too exceed ~1.6GHz. Other information looks good, and the board codename is stvm8.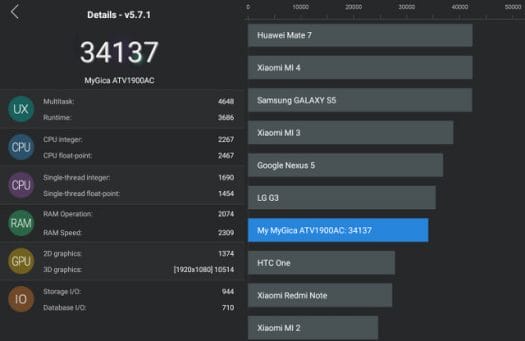 Despite the lower CPU frequency, Antutu 5.x score (34,137) is still higher than the one in MINIX NEO X8-H Plus box running Android 4.4 (31,204). Somehow (for a metal test), it seems that Android 5.0 has better integer and floating-point performance than Android 4.4, as the scores are about the same despite the lower frequency, unless Antutu changed how their benchmark behaves in their minor releases (5.7.1 vs 5.3). The runtime score is about twice as fast, and that one can easily be explained by the switch from Dalvik to ART, while 2D graphics score is a bit lower, and 3D graphics a bit higher.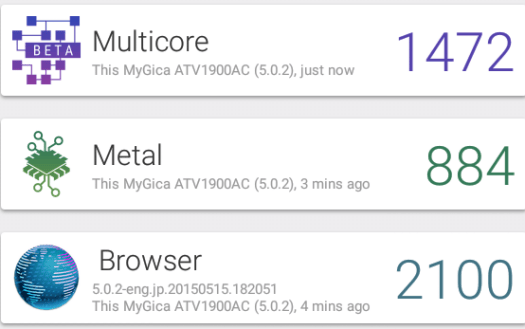 Vellamo 3.x metal score in Mygica (884) is also higher than the one in the MINIX device (792), while multicore is lower (1,472 vs 1808).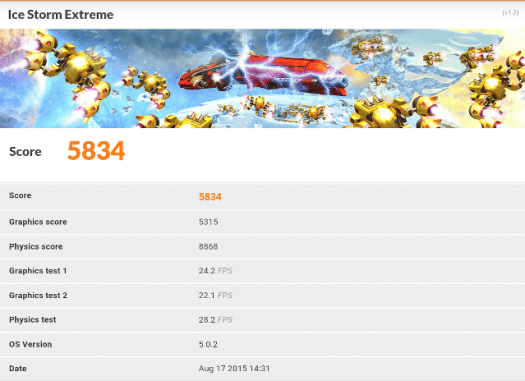 3DMark Ice Storm Extreme is slightly lower at 5,834 points vs 6,056 points. The Physics score is where the score difference was made, but both scores are pretty close.
Conclusion
There's certainly an advantage in running Android Lollipop firmware over KitKat as app will noticeably load faster. Mygica ATV1900AC has also by far the fastest WiFi connection I've ever seen on TV boxes both using 2.4GHz 802.11n and 5GHz 802.11ac, and Ethernet performance is also pretty good. Video playback in Kodi also pretty good, but their "Mygica Edition" is still based on Kodi 14.2, and H.265 hardware decoding does not work. I also never managed to make audio pass-through work. The firmware is usually stable and responsive, but there are still a few bugs and annoyances to iron out.
PROS:
Android Lollipop firmware
Very good Ethernet and outstanding WiFi performance (although with a question mark regarding stability)
Fast internal storage
Video Output – 1080p 24/50/60 Hz, 4K @ 24/25/30Hz, etc…
Video Support – Good in Kodi 14.2 for most videos, and very high score in Antutu Video Tester 3.0
Hardware video decoding for H.265 4K up to 30Hz in "4K VideoPlayer"
RF remote control with long range and voice command and search
OTA firmware update (with caveats see below)
Two launchers including an Android TV like.
CONS:
Kodi 14.2 "Mygica Edition" based on Kodi 14.2 does not support H.265 hardware decoding. (Kodi 15 should won't work either, see comment)
Audio issues:

HDMI audio pass-through does not work at all in Kodi
Dolby and DTS down-mixing not supported in 4K MoviePlayer and other players (except in Kodi, where it's handled by software).

Incorrect partition size detected on USB hard drive leading to read-only partitions
OTA firmware download program may crash, firmware update will wipe out apps and data
Lack of power off (only standby supported)
User-friendliness of parts of the UI could be improved – Settings are all over the place (in three different locations), the status bar cannot be displayed.
Bluetooth not supported (No built-in hardware, and USB Bluetooth dongle not recognized)
Mygica ATV1900AC can be ordered in quantities directly from Mygica/Geniatech, and consumers can purchase the Lollipop box on eBay for $179.99 including shipping, and soon on Mygica Aliexpress store. on Mygica Aliexpress store for $169 including shipping.


Jean-Luc started CNX Software in 2010 as a part-time endeavor, before quitting his job as a software engineering manager, and starting to write daily news, and reviews full time later in 2011.