Yesterday, I wrote a quick start guide for Orange Pi PC / 2 / Plus showing how to install Linux distributions on the board, and build your own image. With the launch of the $15 Orange Pi PC, Xunlong Software has taken over 1,500 orders for the board on their Aliexpress store, and probably sold a few hundreds or thousands in China via Taobao. So the board got relatively popular in a short time, considering it's only selling via these two channels. I tested my tutorial with Orange Pi mini 2 ($23), a very similar board also based on Allwinner H3, but just a little larger and with an extra USB hosty port, but apart from that it's similar to Orange Pi PC, and software compatible.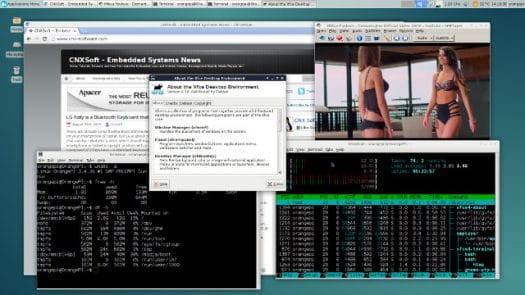 I had already wrote about my test results in the previous article, where I did not recommend using the board in Linux as a desktop platform especially since video hardware acceleration provided by the VPU was not enabled, but I was asked several questions, including whether I qould shoot a video. I've done so showing some of the system technical details in a terminal window, before running Chromium with multiple tabs, playing an embedded video, as well as playing videos (online and local) with SMPlayer and mplayer. I forgot to install LibreOffice before the test, but this should still give a good idea of what you can expect in Debian, or other Linux distributions running on Orange Pi Allwinner H3 board.
If you'd rather skip the video, this is what I had to say yesterday:
I've quickly tested the image. Chromium is pre-installed, and the developer must be from Croatia, since Chromium will start google.hr by default. Web browsing is fine, but Adobe flash (libpepperflash) is not installed, Thai language is not supported, and Youtube videos are super slow and unwatchable in Chromium. Having said that, you can use SMPlayer to watch YouTube video perfectly fine… in windowed mode (as shown in the screenshot below), but if you go full screen the system can't cope. I've also tried to play a 1080p H.264 video locally, but it won't play smoothly at all. es2gears (installed with apt-get install mesa-utils-extra) runs, but es2_info reports the render is the software rasterizer.
So the only new test was to play a 1080p H.264 video with mplayer which support multiple thread, and can (almost) play 1080p videos smoothly in full screen. I also noticed Chromium took about 5 to 6 seconds to launch from my Class 10 micro SD card. So whiel I don't recommend to use Orange Pi PC / 2 / Plus as a Linux desktop platform it can still be useful for headless application (server / embedded), or applications where HD video playback or OpenGLES is not required. The latter two however work in Android.

Jean-Luc started CNX Software in 2010 as a part-time endeavor, before quitting his job as a software engineering manager, and starting to write daily news, and reviews full time later in 2011.