Theaterinabox.tv has sent me Jynxbox M1V2 TV box running XBMC Linux Gotham 13.0, and powered by Amlogic AML8726-M3 processor @ 1 GHz with 2GB Flash and 1 GB RAM. This is an upgrade of the first version featuring AML872-M1 and 512 MB RAM. I'll go through the specs first, then show some unboxing pictures and video, and complete this post by reviewing the device by playing videos from the network and a USB flash drive, as well as going through the available add-ons in a video review.
Jynxbox M1V2/M1+ Specifications
Here are the specifications listed for Jynxbox M1V2 Pure Linux, aka Jynxbox M1+:
SoC – Amlogic AML8726-M3 @ 1GHz with Mali-400 GPU
System Memory – 1GB RAM
Storage – 2GB NAND flash + micro SD card reader (up to 32GB)
Video & Audio Output – HDMI up to 1080p (default: 720p)
Video Codecs & Containers- MPEG 1/2/4, H.264, X264, VC-1, WMV, M2TS, TS, RMVB, AVI, MKV, MOV, TS, MPEG, FLV, DivX, Xvid
Audio Codecs – MP2/ 3, OGG Vorbis, WMA, WAV, WMA PRO, PCM LPCM, MS-ADPCM, LC-AAC, HE-AAC, COOK, RA   Lossless,etc…
Connectivity – WiFi 2.4 GHz 802.11b/g/n, 10/100 Mbps Ethernet
USB – 3x USB 2.0 ports
Power Supply – 5V/2A
Dimensions – 108 x 105.5 x 19.5 mm
Jynbox M1V2 Unboxing
I've actually received two boxes by Fedex: one for review, one for giveaway. But since I'll have to drive to the post office anyway, I'll probably give away both next week or the week after.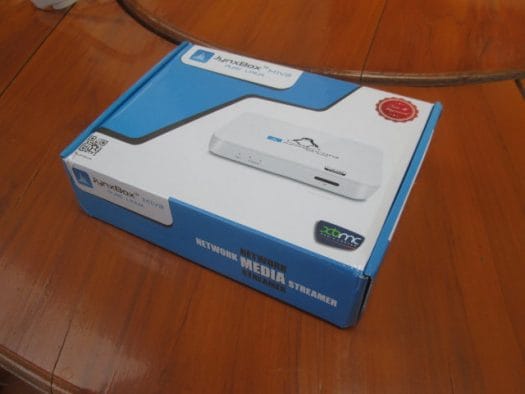 In the box, we've got the device, an HDMI cable, a remote with 2 AAA battery (included), a 5V/2A power supply, a warranty card and a Quick Start Guide.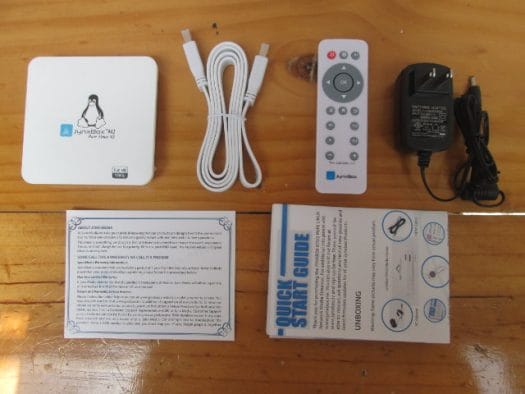 Let's have a closer look at this XBMC Linux box.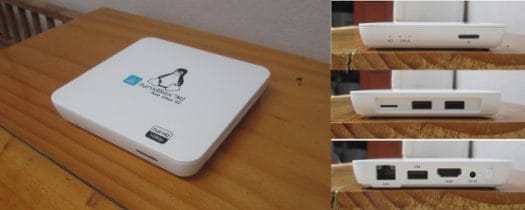 We've got network and status LEDs as wel as the IR receiver at the front, on one side two USB host ports and a micro SD slot, and at the back an Ethernet port, another USB port, an HDMI output, the DC jack and a power button.
You can watch the unboxing video below.
Jynxbox M1V2 XBMC Pure Linux Review
With this type of device, there's mainly only one thing to test: multimedia playback, and especially video playback. Despite hte low end hardware, the user interface still feel smooth (~30fps), as long as no video is playing in the background. Once a video is playing, you can feel the limitation of the hardware. For example pressing the back key, to display the menu while playing video usually takes 2 to 3 seconds. It may be a "feature", and I don't really feel much delays, if at all, while browsing files with a video playing in the background. Another annoyance is that I got the message "Add-on is incompatible due to unmet dependencies. Would you like to disable it on your system? " several times as lots of add-ons are pre-installed in the device (YouTube, Vevo, Navi-X, SportsDevils, and more).
I've played the usual videos from SAMBA shares using Ethernet, as well as a USB flash drive.  Later, I've also used Wi-Fi, configured with the Network Manager in Programs menu, to test video playback and estimate Wi-Fi performance.
I started with the videos from samplemedia.linaro.org:
H.264 codec / MP4 container (Big Buck Bunny), 480p/720p/1080p – OK
MPEG2 codec / MPG container, 480p/720p/1080p – It can play, but there's some sort of barely noticeable visual effects every few seconds, that makes like the pixels are jumping / colors are slightly changing. You may not notice it at first, but once you do, it's obvious.
MPEG4 codec, AVI container 480p/720p/1080p – OK
VC1 codec (WMV), 480p – Video stopped with audio cuts sometimes. ;720p/1080p – OK
Real Media (RMVB) – Can play @ 2 to 3 fps.
WebM / VP8 – 480p is sluggish, but sort of watchable,. it's getting worse for 720p with audio cuts as well,. and 1080p is unwatchable. It looks like software decoding is on for this codec.
High bitrate videos could play, except Elephant dream which is always a challenge:
ED_HD.avi

(1080p MPEG-4 – 10Mbps) – Black screen audio only.
big_buck_bunny_1080p_surround.avi (1080p H.264 – 12 Mbps) – OK
h264_1080p_hp_4.1_40mbps_birds.mkv (40 Mbps) – OK
hddvd_demo_17.5Mbps_1080p_VC1.mkv (17.5Mbps) – OK
Another good news is that the box can decode all high-ends audio codec, but unfortunately, the box does not quite have the grunt to decode these video smoothly either from USB or Ethernet:
AC3 – Audio OK, but sluggish video
Dolby Digital 5.1 / Dolby Digital 7.1 – Audio cuts during playback
TrueHD 5.1 & 7.1 – Audio cuts during playback
DTS-MA and DTS-HR – Buffering and audio cuts during playback
I've also played several videos with AVI, MKV, MP4, FLV… container formats. Most of the time they could play, but sometimes while browsing the video, the menu would crash, and XBMC restart automatically, and within 5 seconds I would get back the home screen. It happened for at least two videos. You don't need to click OK, you move the highlights on these videos.
A nice surprise was that I was able to Sintel Blu-ray ISO smoothly, including ISO navigation, and I could switch between chapters using Pg+ / Pg- keys on the remote.
Overall video playback is quite of a mixed bag, and the low-end hardware does show in higher bitrate videos.
I haven't checked use a file manager to test Wi-Fi performance (is there one in XBMC?), but just played some of the high bitrate videos that worked with Ethernet:
big_buck_bunny_1080p_surround.avi (1080p H.264 – 12 Mbps) – OK
h264_1080p_hp_4.1_40mbps_birds.mkv (40 Mbps) – OK
hddvd_demo_17.5Mbps_1080p_VC1.mkv (17.5Mbps) – OK
Sintel-Bluray.iso (~14.5 Mbps) – Buffering only one or twice during the 10 minutes I watched the movie.
The 40 Mbps "Bird" video could only play because Jynbox M1V2 must have a large buffer, at least bigger than the movie size (104 MB), as I've never been able to reach over over 25 Mbps over Wi-Fi from my office with any type of hardware. Nevertheless, the other video clearly show Wi-Fi is above average, as must ARM based devices I've tried won't manage these videos over Wi-Fi very well.
The remote control is actually quite nice with XBMC, but it would still have been nice to have Play/Pause and Stop buttons. I was also unable to change audio tracks on video with multiple audio tracks, same thing with subtitles in Sintel Bluray ISO.
Among the adds-ons, I've tried YouTube which you work OK, as well as SportsDevil, VEVO, and TED, which for some reasons could not find any streams, but my network is not always reliable.
If you want to get a better feel about the device performance, the high bitrate video issues, and see which add-ons are pre-installed, you can watch the video review below.
Inside Jynxbox M1V2
I've also opened the device to have a look inside.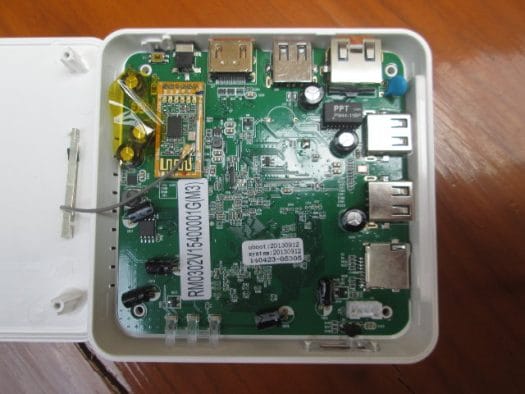 One interesting bit is the internal Wi-Fi antenna which may explain the excellent wireless performance of the device. U-boot and system images are dated 20130912, but XBMC 13 Gotham and the Linux kernel have been compiled in May 2014, so I'm not sure what "system" means here. I was unable to completed removed the board from the casing as it felt "glued".
Conclusion
Despite a single core processor, the Jynxbox M1V2 is perfectly usable, but this may not be the device for you if you are playing high bitrate videos with DTS / Dolby 5.1 /7.1 audio codec, as it won't handle these in a smooth way. Codecs support is also one the weak side. Let's go through the PROS and CONS:
PROS
Relatively smooth user interface (considering the hardware) and stable firmware
Excellent Wi-Fi performance, and decent Ethernet performance
Blu-ray ISO support
Many add-ons are pre-installed
CONS
Some video codecs are poorly supported: visual effects in some MPEG2 files, performance issues with some VC1 files, and all Real Media and VP8 videos.
XBMC may restart while browsing videos
Some apparently sluggishness in some parts of the menu while playing videos
Lack of play/pause and stop buttons on the remote control.
Jynxbox M1V2 Pure Linux is available from Theaterinabox.tv for $80, their Amazon store for $89.99, and I've also found it for $99.99 including shipping by Hong Kong Post on Aliexpress. Considering the performance you get out of this XBMC media player, the price is a bit on the high side, and you could get quad core player for this price with better performance and video support, except maybe when it comes to Wi-Fi where this box appears to shine, at least in my environment.

Jean-Luc started CNX Software in 2010 as a part-time endeavor, before quitting his job as a software engineering manager, and starting to write daily news, and reviews full time later in 2011.