Raspberry Pi 3 and hardkernel ODROID-C2 launched the same day, and together with Pine A64/A64+, are the only ultra low cost (<$40) 64-bit ARM development boards available or soon-to-be available, so I've decided to make a comparison of the three boards the same way I did with ~$10 boards with a Raspberry Pi Zero, C.H.I.P, and Orange Pi One comparison.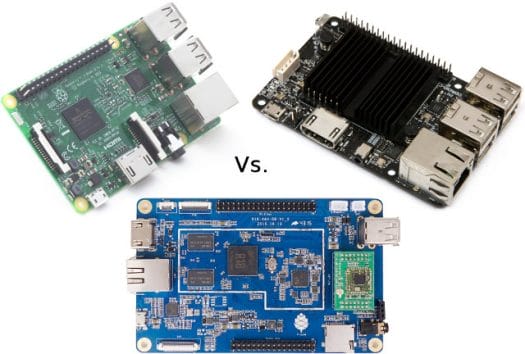 I've used features of Pine A64+ instead of Pine A64 since features and price are closer to the other two boards. Text highlighted in green means a board is clearly better than the other two for a given features, while a red highlight means it's the weakest of the three.
Raspberry Pi 3
ODROID-C2
Pine A64 Plus
Processor
Broadcom BCM2837 quad core Cortex A53 processor @ 1.2 GHz(4x ~2760 DMIPS)

Amlogic S905 quad core Cortex A53 processor @ 2.0 GHz

(4x ~4600 DMIPS)

Allwinner A64 quad core Cortex A53 processor @ 1.2 GHz
(4x ~2760 DMIPS)
GPU
VideoCore IV @ 300/400 MHz
Penta core (3+2) ARM Mali-450

ARM Mali-400MP2

Video Decoding

1080p30 for H.264, MPEG2* and VC1*

* Extra licenses required

8-/10-bit H.265 up to 4K @ 60fps, H.264 up to 4K @ 30 fps, H.263, VC1, Mpeg1/2, AVS,  Realvideo up to 1080p60

H.265/HEVC @ up to 4K @ 30 fps, H.264, VP8, AVS/AVS+ & MPEG1/2/2 @ 1080p60 , VC1 and MJPEG up to 1080p @ 30 fps

Video Encoding
Full HD H.264 video encoding

H.264 up to 1080p @ 60fps

H.264 up to 1080p @ 60fps

RAM

1GB LPDDR2

2GB DDR3

 1 or 2GB DDR3
Storage
micro SD card slot

micro SD card slot + eMMC socket

micro SD card slot
Boot media
micro SD card slot, USB or PXE (network boot)
micro SD card slot or eMMC socket
micro SD card slot
Ethernet

10/100M Ethernet via USB bridge

Gigabit Ethernet
Gigabit Ethernet
Wireless Connectivity

WiFi 802.11 b/g/n (2.4GHz) and Bluetooth 4.1 LE

No, requires USB dongle
Not included by default, but an optional WiFi 802.11 b/g/n & Bluetooth module can be added
USB
4x USB 2.0 host ports + 1x micro USB port for power only

4x USB 2.0 host ports + micro USB OTG port

2x USB 2.0 host ports

Video
HDMI 1.4 with CEC and

3.5mm composite video jack

HDMI 2.0 with CEC

Composite video can be added via unpopulated 2-pin header

HDMI 1.4

Audio
 HDMI and 3.5 mm audio jack (Shared with composite video)
HDMI

HDMI,  3.5mm audio jack
I/Os and other peripherals

40-pin header with 26 –GPIOs, 1x UART (debugging), 1x SPI, 2x I2C, PCM/I2S, 2x PWM

CSI (camera serial interface)

DSI (display serial interface).

40-pin header with GPIO, I2C, UART, PWM, 1-wire, and ADC

7-pin I2S for audio

Built-in IR receiver

40-pin Raspberry Pi 2 compatible header with up to 27x GPIOs, 1x I2C, 1x SPI, 1x UART.

34-pin "Euler" header with IR, I2S, 1x SPI, 2x UART, S/PDIF

4-lane MIPI DSI connector and touch panel connector

MIPI CSI camera interface 

Power
5V via micro USB
Idle power consumption:
With UI (Raspbian?): 0.31A @ ~5V
Terminal only: 0.22A @ 5.19 V
5V via micro USB OTG port or power barrel
Idle power consumption: TBD
5V via power barrel or 3.7V LiPo battery
Idle power consumption: TBD
Dimensions
85 x 56 mm
85 x 56mm

127mm x 79mm

Linux Support

Official: Raspbian with recent Linux 4.x kernel.

 Many other community supported distros including OpenELEC, OSMC, Ubuntu Matte, Ubuntu Snappy Core, etc…

32-bit user space only (currently)

Mainline Linux support in progress.

Official: Ubuntu 16.04 64-bit images with Linux 3.14 kernel

Amlogic S905 Mainline Linux support in progress (but likely preliminary)

Community: Ubuntu 16.04 64-bit with Kernel 3.10 (No GPU and VPU support)

Mainline support in progress.

Android Support

No (at least not a usable version)

Android 5.1
Android 5.1
Windows 10 IoT Support

Yes

No
Not yet, but maybe later
Community
Largest community so far for a development board on Raspberry Pi Forums.

Monthly MagPi magazine

Active community on ODROID forums

Monthly ODROID magazine

Somewhat active Pine64 Forum, but frequency of post should increase once many of the 36,781 Kickstarter backers receive their board
Documentation,  and hardware files.
Documentation is available via eLinux RPI Wiki, with little info about Raspberru Pi 3 specifically, but it's not really an issue, as it's software compatible with Raspberry Pi 2

Schematics are not available, even in PDF format, and the board hardware is closed source.

Broadcom BCM2837 datasheet is not available, however many of the peripherals will be similar to BCM2835 where the datasheet has been released.

Documentation can be found on ODROID-C2 Wiki.

Schematics (PDF), autocad files, and Amlogic S905 datasheet are not available (yet), but those files were provided for ODROID-C1.

No PCB layout or Gerber files are provided for ODROID boards, so the board is also closed source.

 

Documentation is available on Pine64 Wiki.

Schematics (PDF), and datasheet for all main chips including Allwinner A64 datasheet have been released.

PCB layout and Gerber files are not available, which makes the board closed source.

 

 Listed Price
 $35

 $40

 

$19 (1GB RAM) / $29 (2GB RAM) Kickstarter prices

Shipping to US address
 $7.99 via MCM Electronics

Total: $42.99

Total: $48.70 (Board price is $41.95)

 $7


Total: $26 or $36

Distribution network and Availability
Wide sales network, with most online retailers and some brick and mortar shops selling Raspberry Pi boards. Good availability as the foundation produces 300,000 boards before launch
Available via Hardkernel, or distributors in US and Europe. Shipping may be costly to some other countries.
Currently not available, and it's not clear which distributions channels will be used. Kickstarter backer s are starting to receive their boards.
Since there's quite a lot to go through, I may have made some mistakes, or missed some little known features, and corrections are welcome in the comments section. Please note that the prices for Pine A64 is likely to go up a little after the Kickstarter campaign.

Boards are likely to show similar performance in synthetic benchmark, except ODROID-C2 which should show a significant lead. However, I could not find benchmark for Pine A64 right now, and as we've seen this morning, Aarch64 improves performance significantly over Aarch32, so current benchmarks are likely to become invalid if/once Raspberry Pi 3 gets a 64-bit port. For example, Pine A64 is currently 15 times faster in sysbench CPU benchmark (prime numner computation) compared to Raspberry Pi 3, and it's clearly not showing the true performance difference.
As usual there's no board that is always better than the other two, and depending on your use case, technical ability, and other factors, one board may be better suited to you or your application.

Jean-Luc started CNX Software in 2010 as a part-time endeavor, before quitting his job as a software engineering manager, and starting to write daily news, and reviews full time later in 2011.