I've been using Xiaomi Mi Band 2 for a little over two weeks now, so I'm not ready to report my findings, and the results are mixed. If you are interesting in checking out the accessories, and physical aspect of the watch, feel free to read Xiaomi Mi Band 2 unboxing post first.
Since the new model adds an OLED display, let's first see what options it has to offer. The display is off by default, and pressing the capacitive touch button (please note that it's not a real physical button, so it won't work with most gloves for example) will turn on the display for 5 seconds. You can keep pressing to go through time, step count, distance, calories burnt, heart rate monitor, and battery level.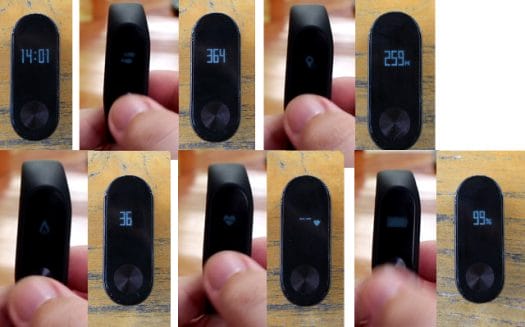 Except for time, there's a icon shown before display the actual value. If you find that the display does not look clear, that's because despite its IP67 ingress protection rating, humidity made it into the display, and all I did was washing hands and taking shower during the two weeks of testing. The issue only happened yesterday, so if possible you may consider taking it off before shower, and be careful when washing hands.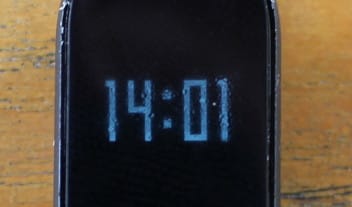 Just like other devices with OLED displays, it's barely readable under sunlight, as you can see from the picture below. If you click on the picture, and zoom in you'll find out the time is shown.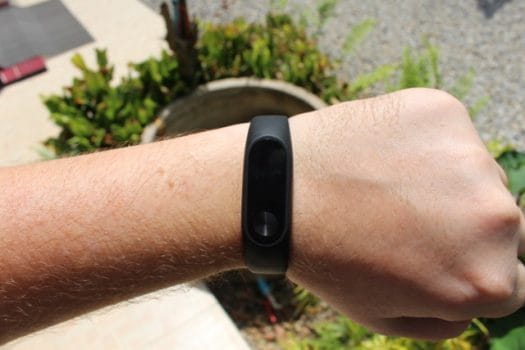 If you click on the picture, and zoom in you'll find out the time is shown. So you'd have to make some shadow with your other hand in order to read the display under sunlight. One good point is the algorithm that will automatically turns the display on for 5 seconds when you lift your arm. There are few false positive, and it works 80% of the time for me, the other 20% of the time I either press the button to check the time, or lift my arm again.
You'll need to install Mi Fit app for Android in order to synchronize time and fitness data between the tracker and your phone. At first, I was unable to pair Mi Band 3 with my Mediatek phone, but after making Bluetooth discoverable in my phone, the connection worked smoothly.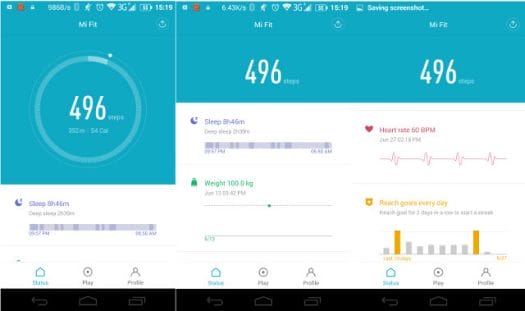 The first screen shows the number of steps, last night sleep pattern, your weight evolution (only if target is set), the last hear rate measurement, and the last 10 days step count goals. You can click on each item to get more info, including daily, weekly, and monthly statistics, sleep data, etc…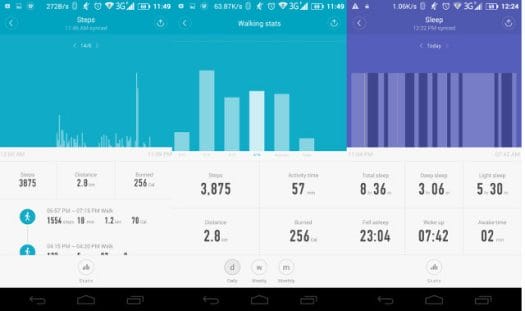 The "Play" button on the main menu is actually redirecting to settings, where you can set notifications for calls, SMS, apps, and sit alert, as well as define alarms.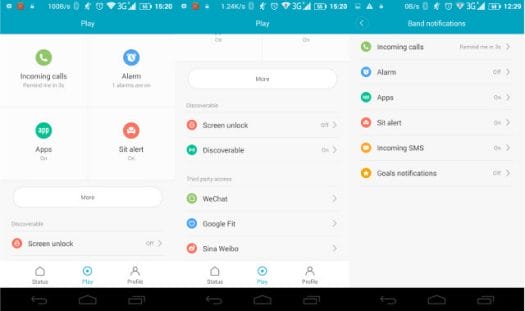 Call, and apps notifications worked well for me, but somehow SMS did not. Sit alert allows for 60, 90 and 120 minutes of inactivity before being triggered, while you can set three alarms, that will vibrate in 4 or 5 sequences of 3 vibrations, before snoozing and repeating the process again in 10 minutes. The app can also work with WeChat, Google Fit, and Sina Weibo, but since I don't use any of those services I have not tried. You should also be able to use Mi Band 2 to unlock your phone, but it requires Android 5.0 or greater, and my phone is still running Android 4.4.
The profile section will show your details, total stats, connected band(s), and allow you to set some options such as activity goals in steps, other notifications, and some settings such as metric, imperial or Chinese units for length and weight. If you click on "Mi Band 2" in Profile, you'll get more info about the band, firmware, and one feature I particularly appreciate: "Mi Band display settings" to select with items are displayed on the watch. I'm only interested in Time, Steps and remaining Battery , so that's what I've enabled.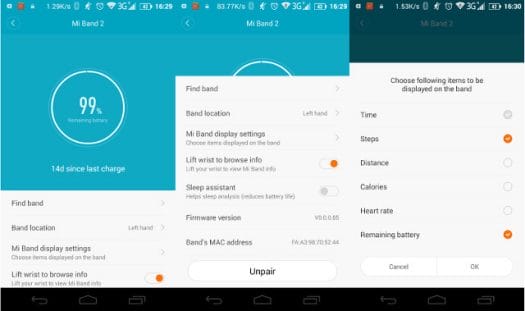 But let's go back to the main menu. If you tap on the top right corner you'll get another summary of your daily activity, as well as options to share it on social networks.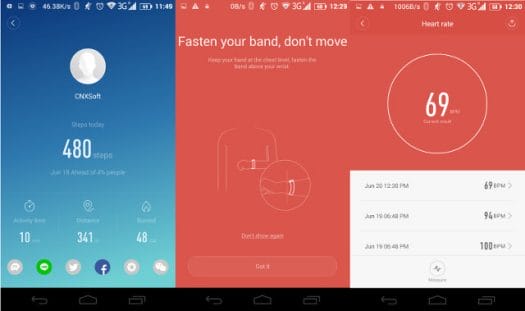 Tapping on "Heart Rate" will bringing a window saying "Fasten your band, don't move", a little strange since the most interesting part of hear rate monitors (HRM) is to check your hear beat during activity, but I tapped on "Got it" and a few seconds later I got a measurement. I tried several times, and in most cases it was pretty similar to the results I got with Energympro EP-SH09 fitness tracker.
Another way to get your heart rate is to simply cycle through on the watch until you get to the heart icon, and wait for a few seconds to get your heart rate. One downside of Xiaomi Mi Band 2 HRM is that it will only take one measurement, and continuous measurement is not an option. So when I went running, I planned to just tap from time to time to check it out. However, it would fail time and time again (the screen shows — x), and after 20 attempts I gave up during the run, but I repeat the test while a cool-down walk, and again it did not work at all. Back in the car, I could finally get a proper measurement, so it appears Mi Band 2 invalidates HRM measurement is your are not still. Please note that I was holding my arm straight and close to my chest while walking and running, so the "Don't move" message is to be followed seriously. Those results unfortunately make the HRM on Mi Band 2 nothing more than a useless gimmick.
I'm very satisfied with step counts however, as results are reproducible, and realistic with for example, 4,500 steps for a 4km run, and 2,300 steps for a 2km walk. Battery life is very good, although I did not get 20 days, I still manage to get 14 days on a charge. I did not enable phone and app notifications during the week, and battery went from 100% to 70% the first 7 days, I then enabled Skype, Facebook messenger, and phone call notifications, and the battery seemed to handle this very well, but for unexplained reasons the 12th day the battery dropped from 39% in the morning to 19% in the evening. You'll start to get an icon on the watch when battery falls below 10%, and I decided it was time to charge the tracker on the 14th day when it dropped to 5%. The complete charge took just above 2 hours.
You can see the Mi Band 2 in action in the video review below.

Some of the advantages and drawbacks for Xiaomi Mi Band 2:
PRO

Activity tracking (step count) is working well
OLED display allows you to follow progress without smartphone
Most features work reasonably well including sleep monitoring, phone and apps notifications, alarm, etc…
The display can be turned on automatically by lifting your arm (worked around 80% of time for me)
Custom selection of items shown on display
Very good battery life, around 2 weeks in my case

CONS

Useless heart rate monitor that does not support continuous monitoring, and only works when you do not move
OLED display is rather dim outdoor, especially in direct sunlight
IP67 rating can not be trusted, as humidity infiltrated the tracker, even though I only took showers and washed hands (no bath, no swimming).
Capacitive touch button won't work with (thick) gloves, or with wet hands, and may be triggered by flowing water/rain.
SMS notifications did not work for me
I'd like to thank GeatBest for sending a review sample, and if you are interested you can purchase Mi Band 2 on their website for $33.91 with coupon GBMI2. Other sellers include GeekBuying, Amazon US, and a few other alternatives.

Jean-Luc started CNX Software in 2010 as a part-time endeavor, before quitting his job as a software engineering manager, and starting to write daily news, and reviews full time later in 2011.