EBox T8 V (version 5) is the new EntertainmentBox.com  TV box specially geared towards the UK market with its choice of apps and online shop based in the United Kingdom. It's an upgrade to EBox T8-4 I reviewed last year, replacing Amlogic S905 quad core processor by Amlogic S912 octa-core processor, but keeping most of the same features including the SATA bay and EBox user interface. Since we've already checked out the hardware, likely based on Zoomtak U Plus, I'll focus on the firmware in the second part. It will be a shorter reviewed than usual since I have already tested many Amlogic S912 TV boxes, and I'll refer to T8-4 review when the user interface is identical, and instead focus on what has changed, and the usual suspects like audio pass-through, 4K video playback, DRM support, WiFi performance, etc…
EBox T8 V Setup Wizard, Setup, OTA Firmware Update, and Default Apps
I had already plugged the provided 1TB SATA drive into the device during the unboxing post, but I've also connected another USB hard drive, as well as HDMI and Ethernet cables, the RF dongle for S77 Pro air mouse that came with the box, a USB keyboard to take screenshots, and finally the power cord.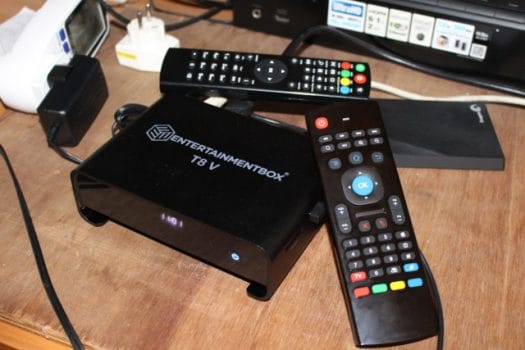 The power button on the box should be red, so if you want to start the TV box, press the button on the box, or the power button on the IR remote control, the power button will change to blue color, and the display will show "boot". If you want to use the air mouse to turn on the device, you'll need to use the IR learning function to learn the power key from the IR remote control. I've tried and it works well. The boot normally takes around 30 to 35 seconds. Note that the boot animation includes some music, which can be annoying if other people sleep, and you forgot to turn the volume down…
The first time, you'll go through a setup wizard for language, screen scale network, since nothing has changed here, I invite you to check EBox T8-4 Setup Wizard & Configuration section of my previous review for details.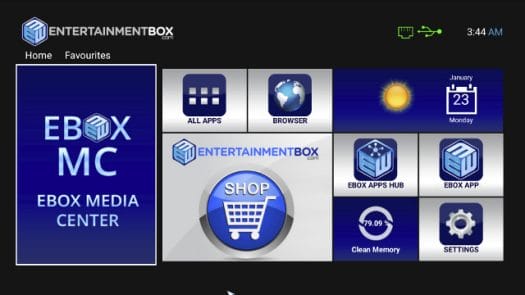 The launcher is also the same, but you now have an option to switch between the "beginners launcher", which includes Ebox Apps Hub and Ebox app for support, and the more barebone "experienced launcher" shown below.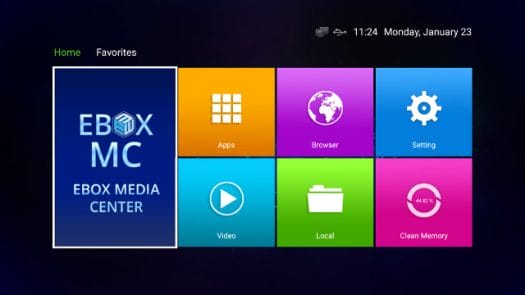 The Experienced Launcher setting interface is exactly the same as in T8-4, but the company made another Settings app for the Beginners Launcher.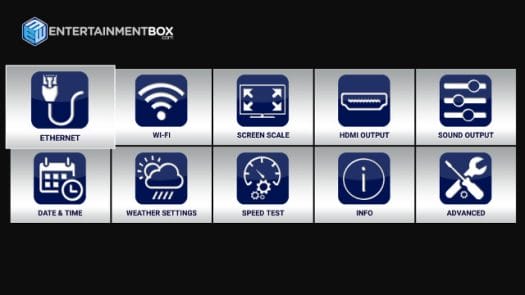 As fas I could tell however, all settings were the same, but just presented in a different way. The Speed Test is new, but it's just an Ookla speed test to check your ISP performance. Note my fiber optic connection is 20/10 Mbps to the bandwidth was maxed out in that test.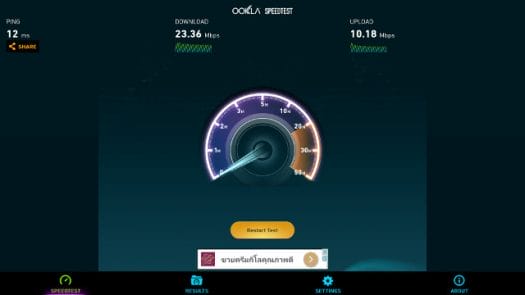 The Advanced icons redirect to the familiar Amlogic Settings app.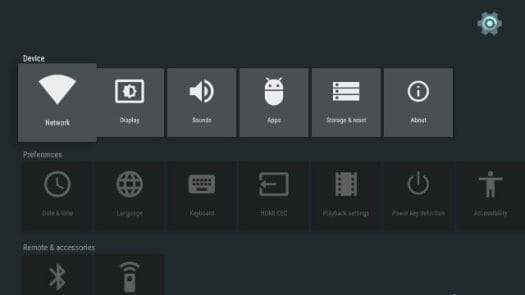 It's also interesting to quickly check out the system info that shows the model number is q201_9377, which can be useful in case you'll want to use an alternative firmware. Few people will likely try that, since you pay extra for firmware and support for the box.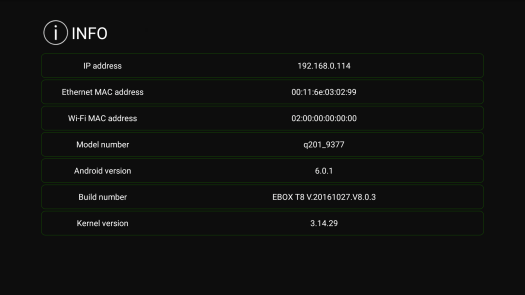 The list of app is what makes this box further different from the competition with UK specific apps such as BBC iPlayer, FilnOn Live, and WookieSports, with the latter not present in T8-4.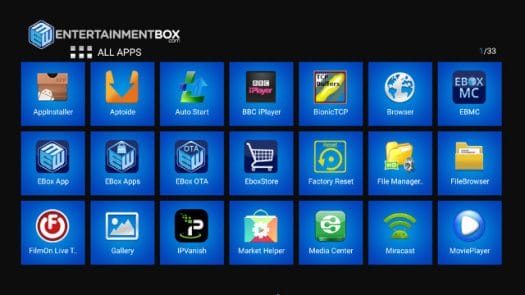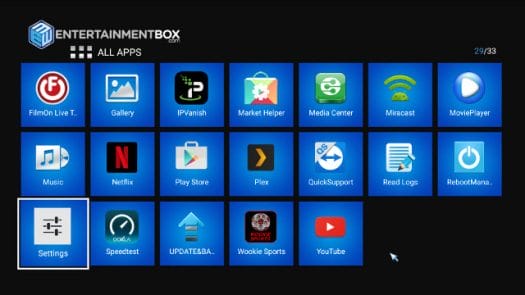 The company did not include TVCatchUp app this test, but for people who wants to watch UK programs but live outside the country, IPvanish app was added to let you setup VPN. You may want to check Installed App & IPTV streaming section in T8-4 review for details about the UK streaming apps.
Finally, I went to EBox OTA, it could find a new firmware, and the upgrade went smoothly.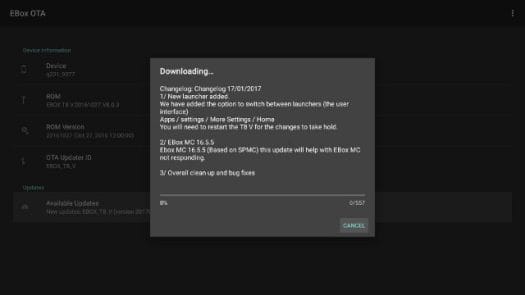 Check out OTA firmware section of my previous review for more info about that.
Power consumption is fine with 0.2W is power off mode with the two hard drives connected, and around 8 Watts at idle. The air mouse also worked well, and once you've programmed the IR remote control's power button to the air mouse, you won't need the IR remote at all. If you exclusively run Kodi (EBMC) then the IR remote control might be a little better since you can access some features like Zoom, aspect radio, and audio directly from the remote, and you won't need a mouse pointer at any times.
The user experience of the new T8 V was very much like the one of the previous model with the firmware working well, except that I had a "App not Responding" window appear twice, and the mouse cursor is quite small when you set video output to 4K.
Video and Audio Support in EBOX MC (Kodi 16.1) & DRM Info
EBOX Media Center (EBMC) is based on SMPC 16.4, itself a fork a Kodi 16.1 with optimization for Amlogic processors.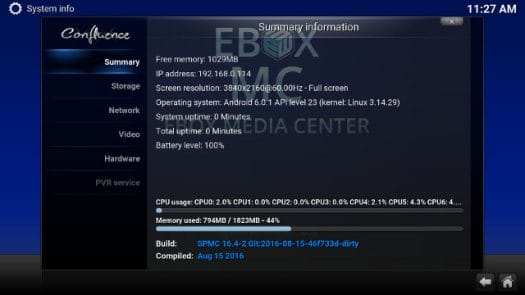 Before playing any videos, I disabled amcodec as instructed in a paper included with EBOX T8 V package.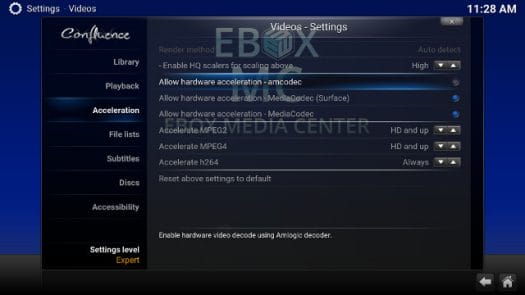 I also enabled automatic frame rate switching via "Adjust display refresh rate" option….
… as well as audio pass-through, with Dolby and DTS. Note that DTS-HD and TrueHD options are missing, and as we'll see below not working, so you'd better enable Dolby Digital (AC3) Transcoding too.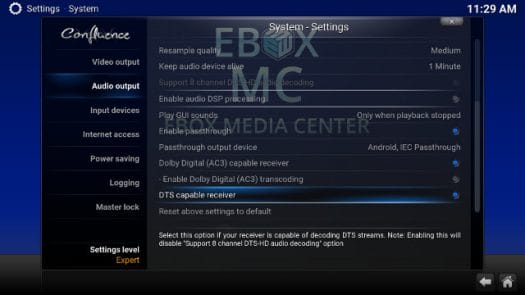 I played 4K videos over a SAMBA share using Gigabit Ethernet:
HD.Club-4K-Chimei-inn-60mbps.mp4 (H.264, 30 fps) – OK

sintel-2010-4k.mkv (H.264, 24 fps, 4096×1744) –  OK
Beauty_3840x2160_120fps_420_8bit_HEVC_MP4.mp4 (H.265) –  OK
Bosphorus_3840x2160_120fps_420_8bit_HEVC_MP4.mp4 (H.265) – OK
Jockey_3840x2160_120fps_420_8bit_HEVC_TS.ts (H.265) – OK
MHD_2013_2160p_ShowReel_R_9000f_24fps_RMN_QP23_10b.mkv (10-bit HEVC) – plays, but not perfectly smoothly
phfx_4KHD_VP9TestFootage.webm (VP9) – OK

BT.2020.20140602.ts

(

Rec.2020

compliant video; 36 Mbps; 59.97 Hz) – OK
big_buck_bunny_4k_H264_30fps.mp4 – OK
big_buck_bunny_4k_H264_60fps.mp4 – Not smooth, and audio delay (OK, not supported by Amlogic S912)
Fifa_WorldCup2014_Uruguay-Colombia_4K-x265.mp4 (4K, H.265, 60 fps) – OK
Samsung_UHD_Dubai_10-bit_HEVC_51.4Mbps.ts (10-bit HEVC / MPEG-4 AAC) – OK
Astra-11479_V_22000-Canal+ UHD Demo 42.6 Mbps

bitrate.ts

(10-bit H.265 from DVB-S2 stream) –  OK
Ducks Take Off [2160p a 243 Mbps].mkv (4K H.264 @ 29.97 fps; 243 Mbps; no audio) – Slow motion
tara-no9-vp9.webm (4K VP9 YouTube video @ 60 fps, Vorbis audio) – OK, but not perfect at all times.

The.Curvature.of.Earth.4K.60FPS-YT-UceRgEyfSsc.VP9.3840×2160.OPUS.160K.webm

(4K VP9 @ 60 fps + opus audio) – Plays but could be smoother
4K video playback working about as well as on other Amlogic S912 TV boxes, but automatic frame rate switching does not work, so if the video output is set to 4K @ 60 Hz, and you play a 24 fps video it might not be as smooth as it could be.
HDMI audio-pass through works but is limited to Dolby and DTS 5.1. Tested with Onkyo TX-NR636 A/V receiver.
AC3 / Dolby Digital 5.1 – OK (Dolby D 5.1)
E-AC-3 / Dolby Digital+ 5.1 – OK (Dolby D 5.1)
Dolby Digital+ 7.1 – PCM 2.0, no audio *
TrueHD 5.1 – PCM 2.0, no audio *
TrueHD 7.1 – PCM 2.0, no audio *
Dolby Atmos 7.1 – PCM 2.0 with audio *
DTS HD Master – DTS 5.1 only
DTS HD HR – DTS 5.1 only
DTS:X (not supported by Onkyo TX-NR636) – DTS 5.1 only
* If you set "Dolby Digital (AC3) Transcoding" in the settings, audio will be transcoded, and output Dolby D 5.1 audio.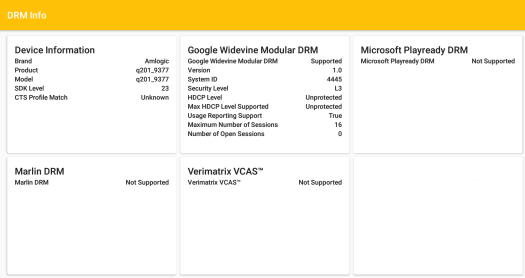 DRM Info apps shows Widevine Level 3 is supported.
EBox T8-4 Benchmarks – Antutu, Storage and Networking
I've run Antutu 6.x to make sure the system did not have any issue with performance, and T8 V achieved above 41,000 points, in line with the scores of other Amlogic S912 TV Boxes.

The 1TB internal hard drive (NTFS) shipped with the device was properly recognized with performance ~30 MB/s you'd expect from USB 2.0, while my external hard drive NTFS and exFAT partition could be mounted, and also delivered as expected with the recurring low write speed (5.88 MB/s) on exFAT partitions typical of the vast majority of Android TV boxes. Note that the 44.50 MB/s read speed for the exFAT partition is likely wrong, and affected by the slow write speed.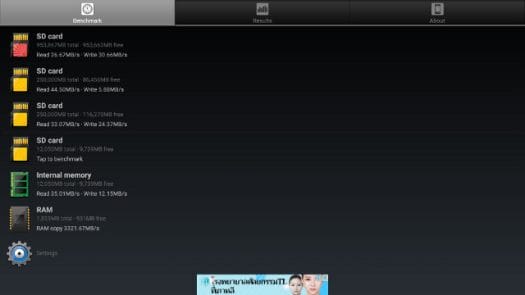 Internal storage performance (35.01MB/s & 12.15 MB/s) is OK without being outstanding, and works well enough.
My very first experience with WiFi did not quite go accordingly to plans, as the box hung when I enabled WiFi in the settings. My second attempts was successful with a 433 Mbps connection to my 802.11ac router. Performance was however underwhelming with an average of 2.4 MB/s transfer rate, that's quite typical of Amlogic S905X and S912 TV boxes.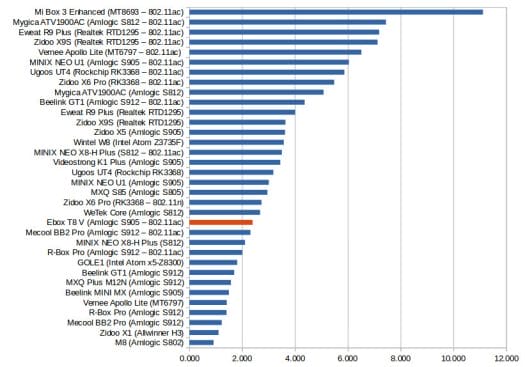 Conclusion
EBox T8 V offers user experience very similar to EBox T8-4, with slightly faster performance, decent 4K video playback which adds VP9 support, better support for audio pass-through albeit limited to Dolby Digital and DTS 5.1, and a few pre-installed video streaming app for the UK. I did not have any issues with the internal hard drive this time, but WiFi performance is not quite as good as on EBox T8-4.
PROS
Stable and responsive firmware
Easy to setup & e thanks to setup wizard, and bundled Air mouse.
4K video playback in EBMC (based on SPMC) with H.264, H.265 and VP9 well supported
HDMI audio pass-through working for DTS and Dolby Digital (AC3) 5.1
Pre-installed IPTV apps for the UK market such as BBC iPlayer and Filmon, as well as a VPN app.
2.5″ internal SATA bay
OTA firmware update
Good customer support with Live chat, forums, and online documentation
CONS
HDMI audio pass-through does not work for Dolby TrueHD and DTS HD
Automatic frame rate switching is not working
WiFi performance could be better
DRM support limited to Widewine Level 3
No Dolby and DTS licenses
Small mouse pointer when 4K is selected
Boot animation includes some music (potential issue at night).
EBox T8-4 + S77 Pro air mouse + 1 TB HDD bundle I reviewed can be purchased for 185.87 GBP including VAT (~$234 US), but you can also purchase the box with the standard IR remote control only for 104.99 GBP including VAT (~$132 US), or select other bundles with gamepad and/or wireless keyboard.

Jean-Luc started CNX Software in 2010 as a part-time endeavor, before quitting his job as a software engineering manager, and starting to write daily news, and reviews full time later in 2011.