Xilinx Zynq Ultrascale+ ARM Cortex A53 + FPGA SoC have now started to show up in boards such as AXIOM Board based on Zynq Ultrascale+ ZU9EG. Price for the board has not been announced, and while a similar Xilinx development kit goes for close to $3,000, some people are expecting the board to sell for $400 to $600. Since the price of FPGA vary a lot from a few dollars to $40,000 for the top end chips, I decided to find pricing info about Xilinx Zynq Ultrascale+ MPSoCs which lead me to Trenz Electronic TE0808 system-on-module, which was unveiled in May last year, and I'll cover in the second part of this post, after – hopefully quickly – describing Zynq Ultrascale+ family and nomenclature, and addressing the price "issue".
First, there are three sub-families within Zynq Ultrascale+ MPSoC portfolio:
CG models with 2x Cortex A53, 2x Cortex R5, FPGA fabric
EG models with 4x Cortex A53, 2x Cortex R5, a Mali-400 GPU, and FPGA fabric
EV models based on EG, but adding a H.264 / H.265 video codec capable of simultaneous encode and decode up to 4Kx2K (60fps)
Within each sub-families there are multiple parts that differ by their number of logic cells, and I/Os. Since AXIOM board is using ZU9EG, I focused on EG family which start from ZU2EG up to ZU19EG.

Once you've selected a part like ZU9EG, you'll need to select a package ranging from FFVC900 (900-pin) to FFVE1924 (1924-pin), and offering options in terms of the number of the number serial transceivers and I/Os. So I plan to check the price for ZU9EG with FFBV900 package which should be the cheapest for that model.
While 1688.com is a great site to check price for Chinese SoCs, you'll probably want to use Octopart to check for other silicon vendors, and that's what I did to check ZZU9EG-FFVC900 price. The cheapest I could find was on AVNet Asia for $2407 in single unit. The price should go down a bit in multiple quantities, but we should still expect boards based on this model to be around $2,500 to 3,000.
With that out of the way, let's now look at Trenz Electronics' SoM.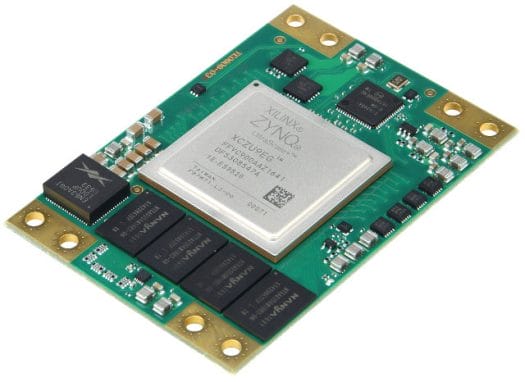 TE0808 UltraSOM+ specifications:
SoC – Xilinx Zynq Ultrascale+ ZU9EG MPSoC with four ARM Cortex A53 cores @ up to 1.2 GHz, two Cortex R5 "real-time" cores @ 500MHz, a Mali-400MP GPU, 600K System Logic Cells
System Memory – 2GB 64-Bit DDR4 by default (up to 8 GB supported)
Storage – 2x 32 MB dual parallel SPI Boot Flash by default (up to 512 MB supported)
User I/Os:

65x MIO, 48x high-density (HD) I/Os (all), 156x high performance (HP) I/Os (3 banks)
Serial transceiver – 4x GTR + 16 x GTH
Transceiver clocks inputs and outputs
PLL clock generator inputs and outputs

Board to Board Connectors – 4x 160-pin
Power Supply – Single 3.3V power source required; 14 on-board DC-DC regulators and 13 LDOs; LP, FP, PL separately controlled power domains
Dimensions – 76 x 52 mm; 3mm mounting hole for skyline heat spreader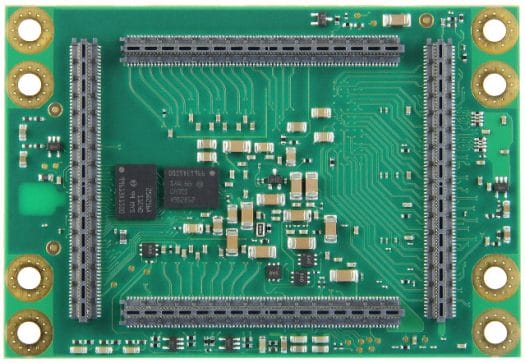 Two models are available with TE0808-03ES2 and TE0808-03-02I with the later coming with the first one based on XCZU9EG-1FFVC900 and the second XCZU9EG-2FFVC900I. I could not find what the differences are between "1FF" and "2FF" SoC. Note that the ICs used are currently engineering samples. The company recommends Vivado HL Design Edition to program the FPGA part of the chip, and PetaLinux 2016.4 is running on the ARM cores. You'll find all technical information you may need via the Wiki, and support from the forums.
Trenz can also provide TEBF0808-04 baseboard for development, part of TE0808-03ES2-S Starter Kit with a E0808-03 module SoM, a black Core V1 Mini-ITX Enclosure, a 12 V power supply, 2x XMOD FTDI JTAG Adapter, an 8 GB micro SD card, a USB cable and two Phillips screws.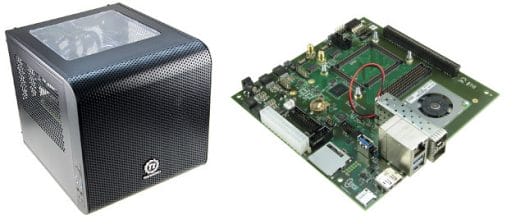 Baseboard key features and specifications:
Storage – micro SD card, eMMC flash (both bootable), 1x SATA connector
Video Output – Displayport Single Lane PS GT Connected
Connectivity – Gigabit Ethernet RJ45, Dual SFP+
USB – USB3 with USB3 HUB
Expansion

PCIe slot – PS GT Connected, one PCIe lane (16 Lane Connector)
FMC HPC Slot (1.8V max VCCIO)
One Samtec FireFly (4 GT lanes bidir)
One Samtec FireFly connector for reverse loopback
CAN FD Transceiver (10 Pin IDC Connector)

Debugging – 20 Pin ARM JTAG Connector (PS JTAG0)
Misc – Fan connectors, FMC Fan, Intel front panel connector (PWR/RST/LED), Intel HDA Audio connector
Power Supply

ATX Power supply connector (12V only PS Required)
Optional 12V Standard Power Plug

Dimensions – Mini-ITX form factor
TE0808-03ES2 SoM sells for 2,500 Euros in low quantities excluding VAT and shipping costs, TE0808-03-02I for 3,500 Euros, and the Starter Kit for 3,800 Euros. Prices go down to as low as 1,750 Euros per unit for orders of 1,000 modules or more. You'll find purchase links on Trenz Electronic' shop TE0808 Ultrascale+ page.

Jean-Luc started CNX Software in 2010 as a part-time endeavor, before quitting his job as a software engineering manager, and starting to write daily news, and reviews full time later in 2011.