Hardkernel ODROID-C2 board is getting some direct competition with FriendlyELEC's NanoPi K2 development board powered with Amlogic S905 processor with 2GB RAM, a very similar form factor, and many of the same features, which together with Khadas Vim (Pro) brings the number of low cost Amlogic based development boards to three.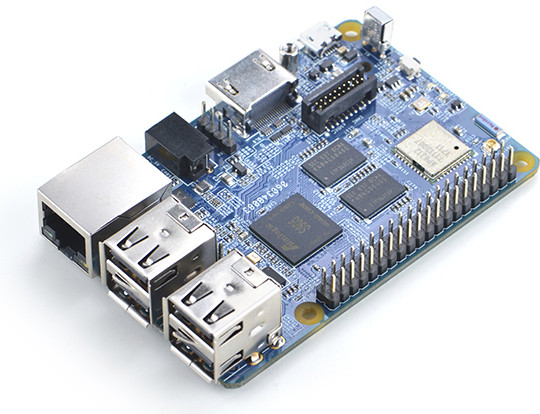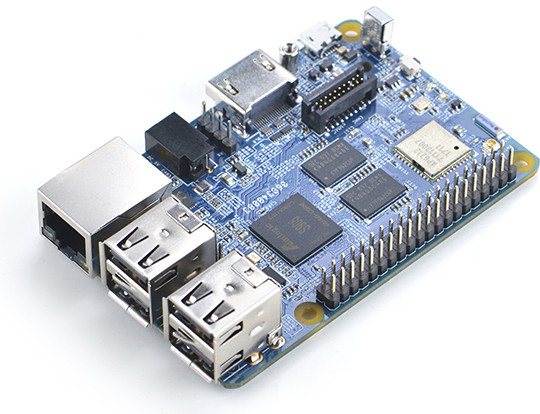 NanoPi K2 board specifications with differences compared to ODROID-C2 highlighted in bold or stricken-through:
SoC – Amlogic S905 quad core cortex-A53 processor @ 1.5 GHz with penta core Mali-450MP GPU
System Memory – 2GB DDR3
Storage – eMMC module socket, micro SD slot
Video Output – HDMI 2.0 up to 4K @ 60 Hz
Connectivity – Gigabit Ethernet (Realtek RTL8211F), 802.11 b/g/n WiFi + Bluetooth 4.0 (AP6212 module) with chip antenna + IPX connector
USB – 4x USB 2.0 host ports (GL825G USB hub) + micro USB OTG port for power and adata
Expansion Header

40-pin header with GPIO, I2C, UART, ADC, PWM, SPDIF, and CVBS
7-pin I2S interface

Debugging – 4-pin Serial console port (3.3V)
Misc – Status & power LEDs, IR receiver, boot selector, power jumper, power key (populated)
Power Supply – 5V/2A DC input via 4.0×1.7mm power barrel, or micro USB port (selectable via jumper)
Dimensions – 85 x 56mm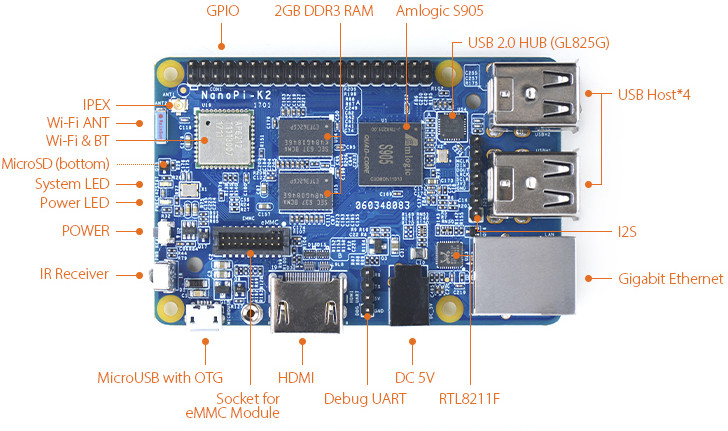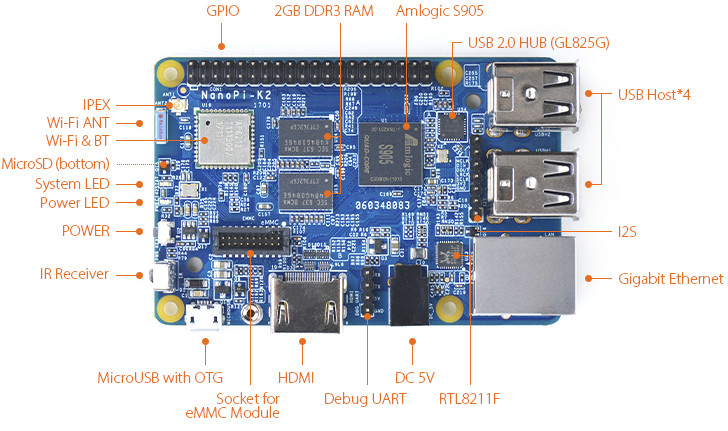 The main difference with ODROID-C2 is then the presence of a Wireless module. NanoPi K2 form factor also matches Raspberry Pi 3, so many – but not all – accessories designed for Raspberry Pi boards should work on the board. An Android 5.1 image is provided for the board, and later an Ubuntu image will be released too. More hardware and software details. including instructions to build from source (U-boot, Linux 3.14…) can be found in the Wiki. So Hardkernel has clearly an edge here, with Ubuntu 16.04 with GPU and VPU support, Android Marshmallow image, and several community supported images. Since the boards are so similar, I'd expect the software gap to narrow over time.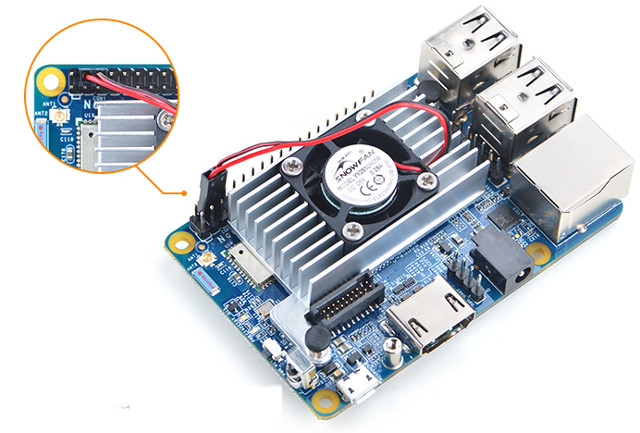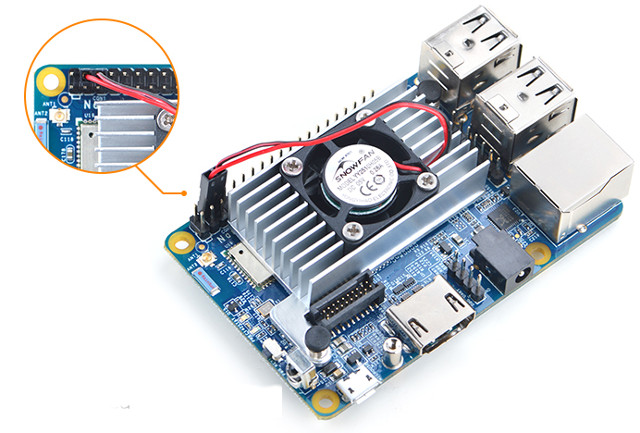 The board sells for $39.99 + shipping on FriendARM website, compared to $46 + shipping for ODROID-C2 board. FriendlyELEC will ship from China, but Hardkernel has a distribution network, so the final price with shipping and taxes will depend on your country of residence. The company has also designed a heatsink + fan kit for the board as pictured above, which adds $5.99 to the price. Since Hardkernel's eMMC modules can be fairly expensive, I was interested in finding out the price for those offered by FriendlyELEC. The only problem is that there aren't any yet…