Yundoo Y8 is one of the first Android TV boxes / mini PCs powered by Rockchip RK3399 hexa-core processor to be launched. GearBest sent me a review sample, and since I've already taken it apart in the first part of the review, I'll report my experience with the firmware in terms of stability and performance, as well as audio & video capabilities with TVMC (Kodi fork), and more.
First Boot, Setup, and First Impressions
I've first connected a few peripherals Seagate USB 3.0 drive to the USB port, a USB keyboard to one of the USB 2.0 port, and a USB hub to the other one with two USB RF dongles for MINIX NEO A2 Lite air mouse, and Tronsmart Mars G01 gamepad.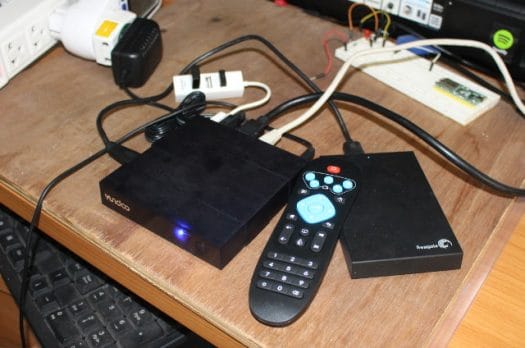 After adding Ethernet and HDMI cable, I pressed the power button on the unit to start it up. Please note that the remote control cannot turn on the box, so if you are comfortably seated in your sofa or lying down on your bed, you'd need to get to turn it on. The remote control can still be used to enter and get out of standby mode. A typical boot takes just around 20 seconds, and it's one of the fastest boot I've seen on TV boxes.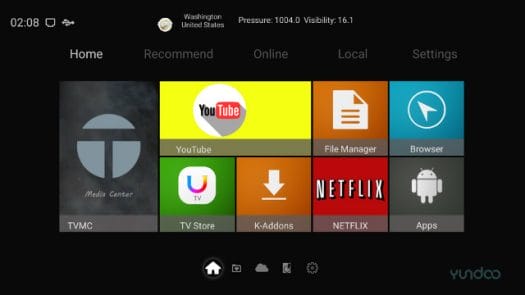 The launcher shows the time, networking and USB status icon, and weather forecast on the very top, and includes 5 sections with Home, Recommend, Online, Local, And Settings. The Home section has eight icon: TVMC media center (for of Kodi), YouTube (TV version), File Manager, Browser, TV store, K-Addons, Netflix, and Apps. The other three sections lists some pre-installed apps.
I've quickly tried the TV Store, and beside apps that can be found in Google Play, it also comes with some other extra apps, notably some IPTV apps that may or may not be legal in your country.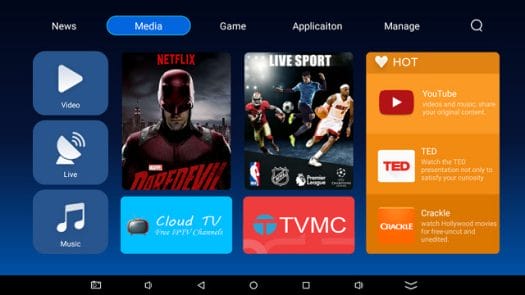 I clicked on the Video icon to get a list of 44 apps as shown below.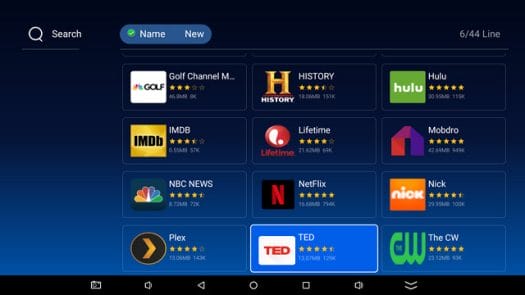 The Settings section in the launcher gives access to four icons: "Settings", "Weather" allowing you to input your city name, "Others" to change the "Theme " (launcher colors) / enable touch sound, and Systeminfo.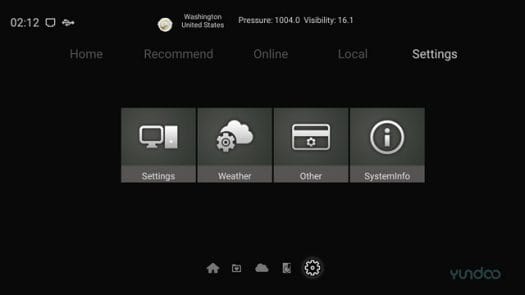 The latter shows YUNDOO-Y8 model runs Android 6.0.1, and comes with 4GB memory, 32GB storage. The MAC address starts with "ac:83:f3" which looks up to "AMPAK Technology, Inc.", so that's the WiFi module MAC address….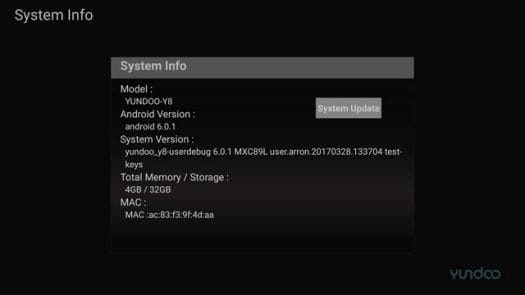 The Settings menu looks familiar, as it's just a colorized version of the Settings app found in Amlogic TV boxes.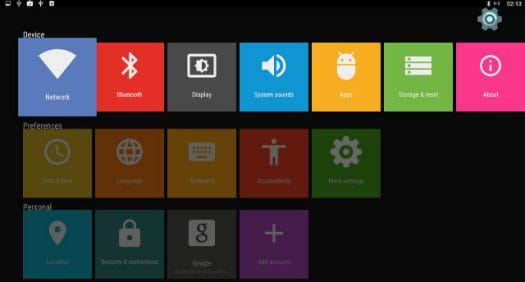 Some of the settings include:
Network – WiFi or Ethernet configuration
Bluetooth
Display – Day Dream, Calibration, and More Settings. Not that none of those allow you to change video output resolution.
System sounds – On/Off
Date & Time
Language
More Settings – Access to Android Marshmallow
Apart from Network to configure Ethernet or WiFi, Date & Time, and potentially Language, the rest of the settings are not really useful, or redirect to Android Marshmallow Settings.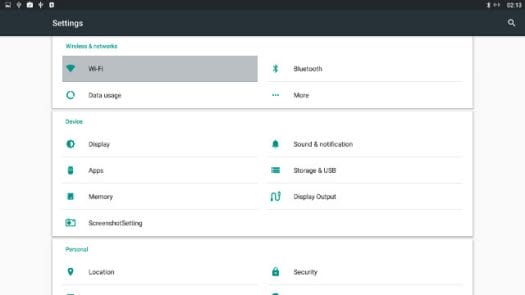 Notably, you'll to select Display Output option there to change the HDMI resolution. My box was setup to 720p60 by default, but I had no problems changing it to 3840x2160p-60 (YCbCr420).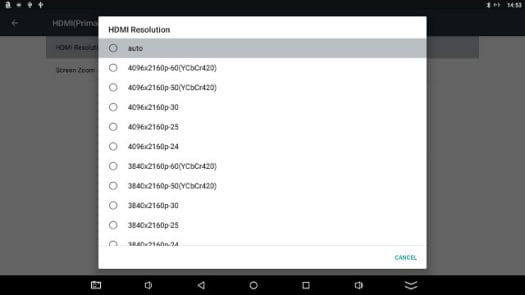 Here's the full list of options per resolution:
Auto
4096x2160p 60 (YCbCr420)/ 50 (YCbCr420) / 30 / 25 / 24
3840x2160p 60 (YCbCr420)/ 50 (YCbCr420) / 30 / 25 / 24
1920x1080p 60/50/25/24
1920x1080i 60/50
1360x768p 60
1280x720p 60/50
1024x768p-60
800x600p-60
720x576p-50, 720x576i-50
720x480p-60
My TV does not support YCrCr444 @ 50/60 using 4K resolutions, but if your TV does, you may have a few extra options (TBC).
PCM audio output, and HDMI / optical S/PDIF audio pass-through can be configured by going to Sound & notifications, and scrolling down there until Sound Devices Manager.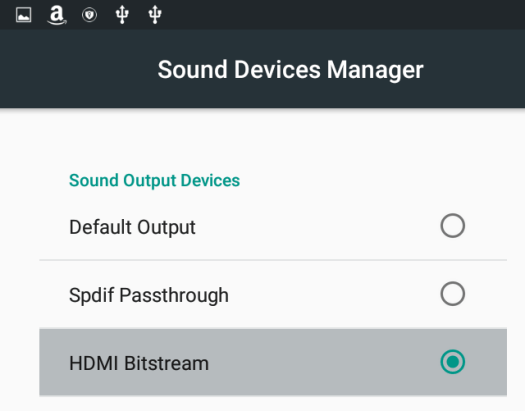 But I would not even bother since it does not work at all, as we'll see in the audio & video section of the review.
Other options found in most other recent TV boxes but missing in Yundoo Y8 are "HDR" (normal as not supported by hardware), automatic frame rate switching, and Printing.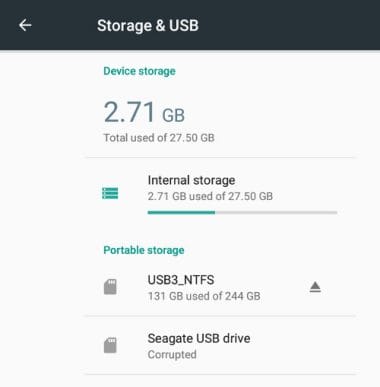 The TV box has plenty of storage with 27.50 GB partition. The system could only recognize the NTFS partition in my hardware, no exFAT, no EXT-4 support.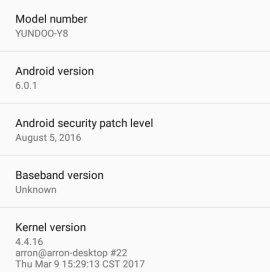 The About section shows the Android firmware relies on Linux 4.4.16, and the Android security patch level is dated August 5, 2016. The firmware is rooted by default. Wireless Update app appears to connect to an update server, but I could not verify if it is working, as the company did not provide an update to "yundoo_y8-userdebug 6.0.1 MXC89L user:arron.20170328.133704 test-keys" firmware I've been using for the review. The "firmware update" crashes several times again while running in the background, which pops up a window from time to time.
I tested the IR remote control up to 10 meters away, and it worked without issues. I also no trouble using the IR learning function to register my TV remote control's power button. The big downside has mentioned previously is that you can't turn on the box with the remote control, only with the power button.
I could install all apps I needed for review via Google Play and Amazon Underground stores.
Beside not being able to turn on the device with the remote control, power handling is implemented properly. You can go into and out of standby with a short press of the remote control's power key, and a long press will show a menu with Power off and reboot options. I measured power consumption with or without a USB hard drive attached in power off, standby, and idle modes:
Power off – 0.0 Watt
Standby – 3.0 Watts
Idle – 4 to 4.3 Watts
Power off + USB HDD – 0.0 Watt
Standby + USB HDD – 5.2 Watts with HDD LED on.
Idle + USB HDD – 6.0 Watts
I did not notice any obvious throttling during use, and after playing a 2-hour video in TVMC, I measured maximum temperatures of 52 and 51°C on the top and bottom of the case respectively with an IR thermometer. After playing Riptide GP2 for 15 minutes, the temperatures were 49 and 55°C. CPU-Z did not report a realistic value for the thermal sensor (26 °C).
Overall Yundoo Y8 left me with a positive impression at first with very good performance, fast boot times, and good stability. The main disappointment was the inability to turn on the box with the remote control, and to a lesser extend, I found the firmware update app crashing a few times a day a bit annoying, and the settings are not user-friendly, and missing a few parts that you'd normally take for granted like Printing support, and automatic frame rate switching.
Audio & Video Playback in TVMC (Kodi fork), DRM Info
TVMC media center is a fork of Kodi 16.1.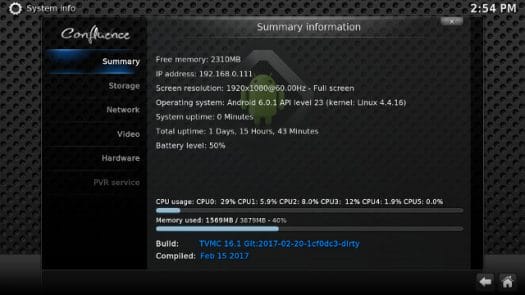 I played all videos from a SAMBA share over Gigabit Ethernet, unless otherwise noted.
Starting with some Linaro media samples and Elecard H.265 samples :
H.264 codec / MP4 container (Big Buck Bunny) – 480p/720p/1080p – OK
MPEG2 codec / MPG container –  480p/720p/1080p – OK
MPEG4 codec, AVI container 480p/720p/1080p – OK
VC1 codec (WMV) – 1080p – 480p/720p/1080p – OK
Real Media (RMVB), 720p / 5Mbps – OK
WebM / VP8 480p/720p/1080p – OK
H.265 codec / MPEG TS container  – OK
Not bad, and all videos were played with RKCodec, meaning hardware video decoding. Automatic frame rate switching is not working, so you can't expect perfectly fluid videos for 24 fps videos unless you manually change the resolution.
I tested videos with various bitrates:
ED_HD.avi

(MSMPEG4vs – 10 Mbps) – OK (software decode)
big_buck_bunny_1080p_surround.avi (1080p H.264 – 12 Mbps) – OK
h264_1080p_hp_4.1_40mbps_birds.mkv (40 Mbps) – OK
hddvd_demo_17.5Mbps_1080p_VC1.mkv (17.5Mbps) – Not perfectly smooth
Jellyfish-120

-Mbps.mkv

(120 Mbps video without audio) – OK
Audio supports looks promising when we look at Audio output settings in TVMC with TrueHD and DTS-HD part of the options.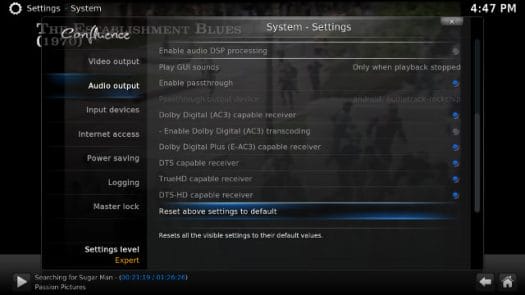 However, the actual results clearly show the mini PC is not capable of leveraging any AV receiver or amplifier you may have, and now it's only suitable for stereo audio.
Video
PCM 2.0 Output
(TVMC)
PCM 2.0 Output
(Video & Video Player app)
HDMI Pass-through
(Kodi)
HDMI Pass-through
(Video & Video Player app)
AC3 / Dolby Digital 5.1
Audio OK, video 1:1 aspect ratio
Audio OK, video 1:1 aspect ratio
No audio, video 1:1 aspect ratio.
No audio, video 1:1 aspect ratio.
E-AC-3 / Dolby Digital+ 5.1
OK
OK
No audio
No audio
Dolby Digital+ 7.1
OK
OK
No audio
Loud noise (like helicopter)
TrueHD 5.1
OK
OK
No audio
Loud noise
TrueHD 7.1
OK
OK
No audio
Loud noise
Dolby Atmos 7.1
OK
No audio
No audio
Loud noise
DTS HD Master
OK
OK
No audio
Loud noise
DTS HD High Resolution
OK
OK
No audio
No audio
DTS:X
OK
OK
No audio
Loud noise (never ending flatulence)
4K videos fare better, although more work is needed:
HD.Club-4K-Chimei-inn-60mbps.mp4 – Watchable,

but not perfectly smooth



sintel-2010-4k.mkv – OK, but

could be a little smoother

Beauty_3840x2160_120fps_420_8bit_HEVC_MP4.mp4 (H.265) –  OK
Bosphorus_3840x2160_120fps_420_8bit_HEVC_MP4.mp4 (H.265) – OK
Jockey_3840x2160_120fps_420_8bit_HEVC_TS.ts (H.265) – OK
MHD_2013_2160p_ShowReel_R_9000f_24fps_RMN_QP23_10b.mkv (10-bit HEVC, 24 fps) – Plays,

but not that smooth

phfx_4KHD_VP9TestFootage.webm (VP9) –

Very low frame rate (software decode)

BT.2020.20140602.ts

(

Rec.2020

compliant video) – OK
big_buck_bunny_4k_H264_30fps.mp4 – OK
big_buck_bunny_4k_H264_60fps.mp4 – The video somewhat plays but with a large audio delay  (4K H.264 @ 60 fps is not supported by RK3399 VPU)
Fifa_WorldCup2014_Uruguay-Colombia_4K-x265.mp4 (4K, H.265, 60 fps) – OK
Samsung_UHD_Dubai_10-bit_HEVC_51.4Mbps.ts (10-bit HEVC / MPEG-4 AAC) – OK
Astra-11479_V_22000-Canal+ UHD Demo 42.6 Mbps

bitrate.ts

(10-bit H.265 from DVB-S2 stream) – OK
暗流涌动-4K.mp4 (10-bit H.264; 120 Mbps) –

OK (hardware decode)

Ducks Take Off [2160p a 243 Mbps].mkv (4K H.264 @ 29.97 fps; 243 Mbps; no audio) – SAMBA:

Not 100% smooth

; USB hard drive playback: OK
tara-no9-vp9.webm (4K VP9 YouTube video @ 60 fps, Vorbis audio) –

Not smooth at all, massive artifacts

The.Curvature.of.Earth.4K.60FPS-YT-UceRgEyfSsc.VP9.3840×2160.OPUS.160K.webm

(4K VP9 @ 60 fps + opus audio) –

Not smooth at all, massive artifacts
Several videos are not quite as fluid as they could be, but a good point if 4K H.264 Hi10p video support, that the vast majority of other hardware platforms cannot handle. TVMC does not support VP9 hardware decoding, so I played the videos in Video Player instead:
phfx_4KHD_VP9TestFootage.webm (VP9) – OK
tara-no9-vp9.webm (4K VP9 YouTube video @ 60 fps, Vorbis audio) – OK

The.Curvature.of.Earth.4K.60FPS-YT-UceRgEyfSsc.VP9.3840×2160.OPUS.160K.webm

(4K VP9 @ 60 fps + opus audio) – OK, and one of the best playback experience I've had with that video, although I've still noticed a few tiny slowdowns at times.
Sintel Blu-Ray ISO file could play fairly well. AMAT ISO blu-ray file started in the menu, and I could start playing the video, but for whatever reason audio switches quickly and repeatedly between the AC3 and TrueHD audio track, so I did not get any audio at all. Other videos with multiple audio tracks did not have this issue.
Two 1080i MPEG-2 video could play just fine. Since I was pleasantly surprised to see 4K 10-bit H.264 video playback working, I was hopefully with lower resolution videos, but I did not turn out that way.
Commie] Steins;Gate – NCED [BD 720p AAC] [10bit] [C706859E].mkv – OK for video, audio and subtitles
[1080p][16_REF_L5.1][mp3_2.0]Suzumiya Haruhi no Shoushitsu BD

OP.mkv

– Crashes TVMC app (tried 3 times).
I'm assuming RK3399 VPU does not like "16 ref" in the 1080p video.  I tried to disable hardware acceleration in the settings, but RKcodec seems to be hard-coded in the app, so it did not change anything. If I play Suzumiya Haruhi no Shoushitsu video with "Video Player" app, all I get is a still image with the audio playing in the background for a while. I installed MX Player to work around the issue. I enabled the SW decoder in the app, and Rockchip RK3399 CPU was powerful enough to play the 1080p hi10p video smoothly with video, audio, and subtitles. In an ideal world, TVMC should detect if a video has a problem, and automatically fallback to software decoding…
I played some stereoscopic 3D videos to find out if they could be decoded as LG 42UB820T – the TV I use for review – does not support 3D:
bbb_sunflower_1080p_60fps_stereo_abl.mp4 (1080p Over/Under) – OK
bbb_sunflower_2160p_60fps_stereo_abl.mp4 (2160p Over/Under) – Playing with lots of artifact (No dual 4K decoder required for 3D 4K in RK3399).
Turbo_Film-DreamWorks_trailer_VO_3D.mp4 (1080p SBS) – OK
I completed TVMC/Kodi testing by playing full length movies with various container/codec combinations such as VOB, IFO, MKV, AVI, MP4, and DivX, and all played. The 2-hour video test also completed with any issues. You'll find all samples mentioned above in the video samples post.
Both YouTube TV and YouTube Mobile apps are installed, and both work very well, as long as you close your eyes. If you happen to open your eyes by mistake, you'll find out videos are all played at around 10 to 15 fps. So YouTube is not really usable to play videos with the current firmware..
DRM Info shows no DRM is supported whatsoever.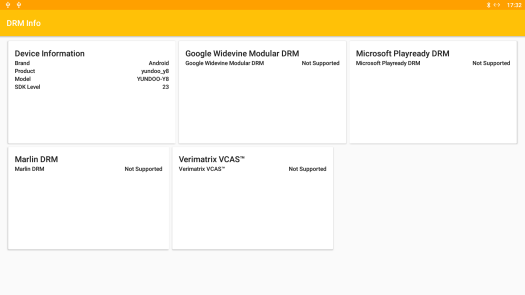 Network Performance (Wi-Fi and Ethernet)
I've already tested Gigabit Ethernet in RK3399 benchmarks post with iperf, and performance is excellent (881 Mbps upload, 939 Mbps download). But I've repeated the test to copy a 885 MB file from SAMBA to the flash and vice versa. The average file copy transfer rate is 11.57 MB/s, but there's a big difference between download speed (18.06 MB/s) and upload speed (8.5 MB/s). So I guess there may be a problem with SAMBA in Android 6.0 since it happens with other boxes with this operating system too.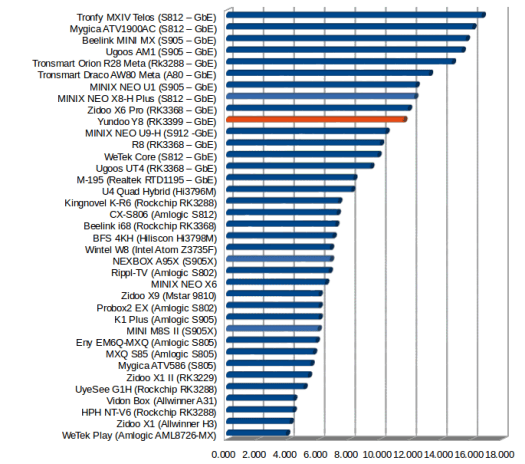 I repeated the test with a a 278MB file using ES File Explorer to test 802.11ac WiFi performance. Average: 1.6 MB/s; download:  3.2 MB/s; upload: 1.09 MB/s.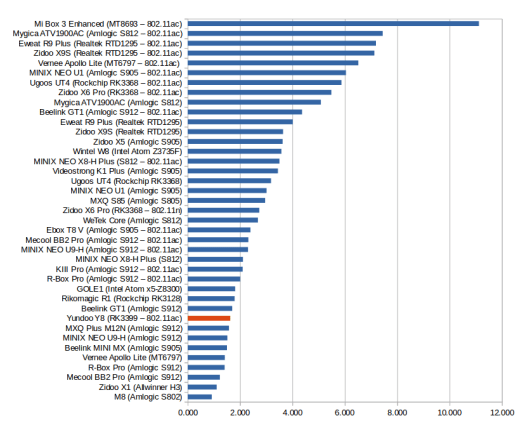 It does not look too good on the chart, but the main problem here appears to be related to SAMBA performance, and iperf shows about the same 802.11 WiFi performance in either direction.
WiFi download:

Client

connecting

to

192.168.0.111

,

TCP

port

5001

TCP

window

size

:

85.0

KByte

(

default

)

--

--

--

--

--

--

--

--

--

--

--

--

--

--

--

--

--

--

--

--

--

--

--

--

--

--

--

--

--

--

[

 

3

]

local

192.168.0.104

port

51820

connected

with

192.168.0.111

port

5001

[

ID

]

Interval

      

Transfer

    

Bandwidth

[

 

3

]

 

0.0

-

60.0

sec

 

1.81

GBytes

  

259

Mbits

/

sec

WiFi upload:

Server

listening

on

TCP

port

5001

TCP

window

size

:

85.3

KByte

(

default

)

--

--

--

--

--

--

--

--

--

--

--

--

--

--

--

--

--

--

--

--

--

--

--

--

--

--

--

--

--

--

[

 

4

]

local

192.168.0.104

port

5001

connected

with

192.168.0.111

port

35300

[

ID

]

Interval

      

Transfer

    

Bandwidth

[

 

4

]

 

0.0

-

60.0

sec

 

1.55

GBytes

  

223

Mbits

/

sec

[

 

5

]

local

192.168.0.104

port

5001

connected

with

192.168.0.111

port

35302
Miscellaneous Tests
Bluetooth
I manage to pair Yundoo Y8, shown as "TV Box", with my Vernee Apollo Lite Android smartphone, but only from the smartphone, as originating pairing from  the TV box would lead to an "Invalid key" error. Once pairing was successful, I could transfer three photos from my phone to the box over Bluetooth. I used  X1T bluetooth earbuds to listen to audio while watching some YouTube videos (@ 10 fps), and managed to get my PS3 Bluetooth gamepad clone working with Sixaxis app.
Storage
As we've previously seen, file systems support is limited to NTFS, and FAT32.
| | | |
| --- | --- | --- |
| File System | Read | Write |
| NTFS | OK | OK |
| EXT-4 | Not mounted | Not mounted |
| exFAT | Not mounted | Not mounted |
| BTRFS | Not mounted | Not mounted |
| FAT32 | OK | OK |
Storage performance was tested with A1 SD bench app, and performance on the NTFS partition of my USB 3.0 hard drive was very good @ about 95 MB/s for sequential reads, and 54 MB/s for sequential writes.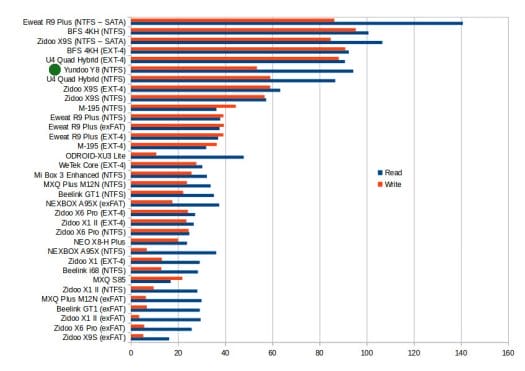 The internal storage did not work so well because of a cache read, but for reference the values were: 147.17 MB/s for seq. read, and 49.32 MB/s for seq. write. Nevertheless, the 32GB used in the TV box has pretty good performance  – despite being the lowest end 32GB eMMC flash from Samsung -, and I did not notice any slowdowns and the dreaded "app is not responding" window during use. If you purchase Yundoo Y8 with a 16GB flash expect lower storage performance, but I'm not convinced it would lower the performance much.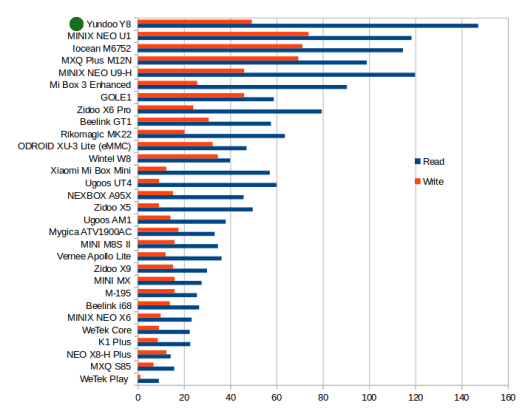 I still included the device in the chart above, but keep in mind that the blue (Read) should be shorter than on the chart.
Gaming
Beside getting two fast ARM Cortex A72 cores, Rockchip RK3399 SoC also comes with Mali-T760MP4 GPU that's almost twice as fast as the most popular TV box solutions such as Amlogic S912. I've started with easy game to check there was no bug in that early hardware, and Candy Crush Saga & Beach Buggy Racing easily passed the test, with the latter playing very smoothly even with maximum graphics settings. But even other platforms can manage that. So I switched to Riptide GP2, and to my surprise performance, in terms of frame per second, did not feel any better than on lower end TV boxes, although I could see a few more details, like crowds, in the game. That's a different result compared to Xiaomi Mi Box 3 Enhanced with Mediatek MT8693 Cortex A72/A53 processor + PowerVR GX6250 GPU, where I experienced both better quality/more details, and a much higher frame rate. 3DMark Ice Storm Extreme benchmark results are quite similar in both platforms (9,xxx points), so I wonder if this could be software problems, or possibly to game added too many details on that processor. I also switched video output from 4K to 1080p, but it did not make any difference.
I played Riptide GP2 for over 15 minutes, and performance was stable and constant throughout.
Yundoo Y8 Benchmarks
I've already run several benchmarks, and invite you to read "Yundoo Y8 Rockchip RK3399 TV Box System Info and Benchmarks" for details.

Conclusion
Yundoo Y8 mini PC works reasonably well, and you'll get a boost in performance while doing tasks like web browsing. 3D graphics performance looks very good in benchmark, but somehow it did not translate into better performance in the games I've tried. Storage (both USB 3.0 + internal), and networking performance (WiFi + Gigabit Ethernet) are all very good, so we have a good hardware base here. People mostly wanting a TV box to play videos may be disappointed, as it may not be worth to pay extra, as while most videos are playing in TVMC (Kodi 16.1 fork), features like automatic frame rate switching and audio pass-through are not working at all, and the hardware does not come with HDR support.
PROS
Powerful hardware with firmware relatively stable and responsive at this early stage
Video Output – HDMI 2.0 up to 4096x2160p 60Hz; 24/25/30/50/60 Hz refresh rates supported
10-bit H.265 and 10-bit H.264 (hi10p) video supported in TVMC up to 4K resolutions. 4K VP9 well supported in Video Player app.
Excellent networking performance for Gigabit Ethernet, and good 802.11ac WiFi performance
USB 3.0 storage delivers the expected performance
Fast internal storage (32GB version) lead to fast boot and app loading times
Good 3D graphics performance as reported in benchmarks
Power implementation is OK: 0 watt in power off mode; off/reboot/standby selection possible.
OTA firmware update appears to have been implemented (but not used in the first released of the firmware on March 28th)
CONS (and bugs)
TVMC/Kodi issues

no support for automatic frame rate switching
audio pass-through does not work at all
VP9 HW decode is not supported
Some videos are not as smooth as usual
no zoom option while playing videos.

Audio pass-through does not work in other video apps either (after enabling HDMI bitstream)
YouTube (TV & Mobile) apps can not play any video smoothly (maybe ~10 fps)
The remote control cannot be used to turn on the TV box
3D graphics performance in games not as good as expected (compared to Mi Box 3 Enhanced).
System Update app crashes several times a time
Settings – Settings App lacks options, so we need to go to Android Settings to set HDMI output, Audio device, etc… Printing option is also gone.
Some potential issues with SAMBA performance, especially upload.
I'd like to thank GearBest for sending a sample for review, and you could purchase the mini PC on their website for $109.99 with coupon GBYDY8, or $90 with coupon GBYDY816 for the 2GB/16GB version. I could not find other websites with the device.

Jean-Luc started CNX Software in 2010 as a part-time endeavor, before quitting his job as a software engineering manager, and starting to write daily news, and reviews full time later in 2011.