In the first part of A95X R2 Rockchip RK3328 TV box review, I listed the specifications of the device, took a few photos, and reported about the chip used in the PCBA. I've now had time to play with the box, so I can report about my experience with Android 7.1, video & audio capabilities, and the performance of the device in the second part of the review.
First Boot, Setup, and First Impressions
I connected a USB 3.0 hard drive to the USB 3.0 port of the box, a USB keyboard to one of the USB port to take screenshots, and a USB hub with the RF dongles for my air mouse and gamepad in the remaining USB 2.0 port. I completed the hardware setup with Ethernet and HDMI cables, as well as the power supply.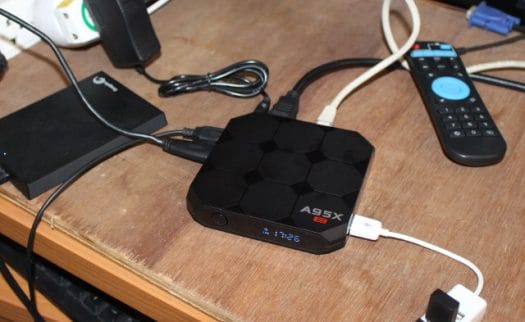 I then pressed the power button on the unit to start it up, the front panel display showed a "Boot" string, and the box booted to recovery mode automatically.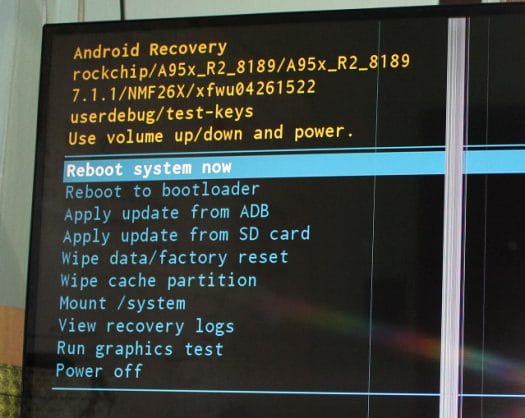 I remember I had a "update.zip" file  for U5 PVR Deluxe in my USB hard drive, so maybe that was the issue. So I deleted it, and it can boot normally now most of the time, as sometimes it will still go into recovery mode, maybe a power issue since the 5V/2A adapter is just on the limit… So the only way to reliable boot the device is to remove the USB hard drive during boot. A typical boot is very fast, as it only takes about 19 seconds, faster than all devices I've reviewed so far.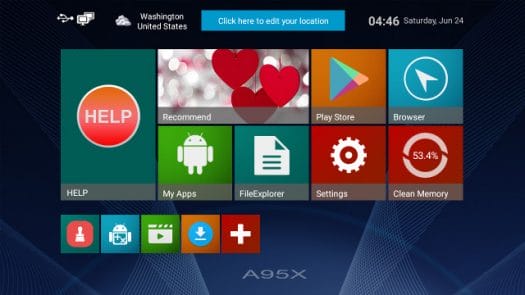 It's the first time I see this launcher, but the features are pretty standard with status icons, weather, date & time on the top, some shortcuts to the Play Store, web Browser, File Explorer, App list…., and a bottom row with customizable shortcuts. The HELP icon redirects to www.tvboxceo.com with a Q&A and Solutions sections explaining how to solve some common problems (e.g. how to install adult add-ons….), and download apps like TVMC (Kodi fork), Add-ons, Plex, Netflix, etc… Note that the resolution is only 1280×720, instead of 1920×1080 on most devices.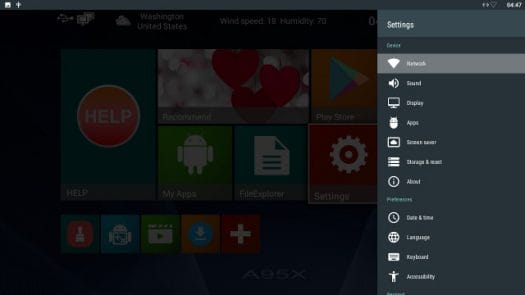 Clicking on Settings will bring a right panels with various options, instead of starting it full screen. The settings are pretty standard with Network for WiFi and Ethernet, Sound including Audio device to select Default Output, Spdif passthrough, or HDMI bitstream, Display to select resolution from 720x480p-60 to 4096x2160p-60(YCbCr420), and other typical settings you'd normally find in Android.  What's missing however are settings for HDMI CEC, HDR, and automatic frame rate switching that you'd normally find in (Amlogic) TV boxes.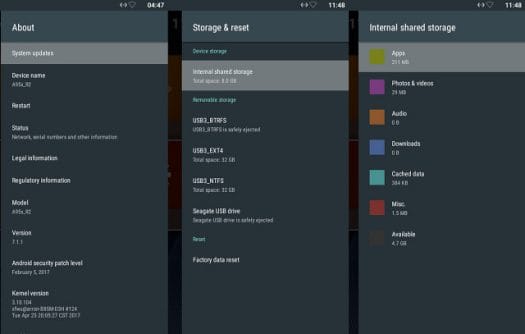 The box could detect EXT-4 and NTFS partitions in my hard drive, albeit with a wrong 32GB total size instead of around 250 MB, meaning BTRFS and exFAT are not supported. The Internal storage is reported to be 8.0 GB, but the actual available space is 4.7 GB before installing apps. The About Section shows A95x_R2 device runs Android 7.1.1 on top of Linux 3.10.104 with the latest Android security patch level dated February 5, 2017. The device is rooted, and OTA firmware appears to be working, but I could not confirm since I did not get any firmware update.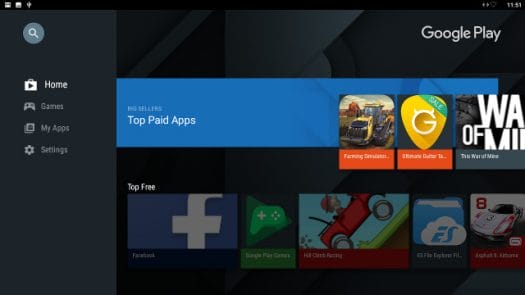 The box comes with Google Play for TVs, but search is not working as the search field will disappear about 2 seconds after you enable it, so I could only install some apps from the Top Free section like ES File Explorer File Manager, and Beach Buggy Blitz.
Instead I reverted to APKPure to install most apps, including Amazon Underground, which I then used to install the free version of Riptide GP2.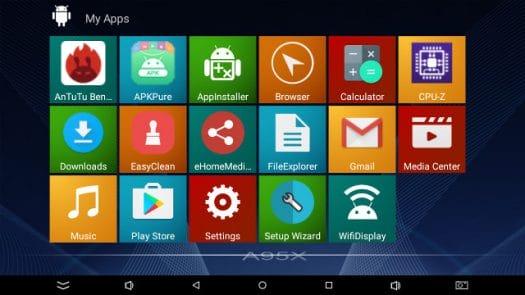 The screenshot above is after I installed APKPure, Antutu and CPU-Z, but it shows few apps are pre-installed, and Kodi is even missing from the list. However, when I tried to install Kodi from APKPure, it showed it was already installed, and I could only open it with started TVMC 16.1, but more on that latter.
The Setup Wizard app will allow you to run some basic configuration like language, overscan adjustment, and networking. It was not triggered during the first boot for me.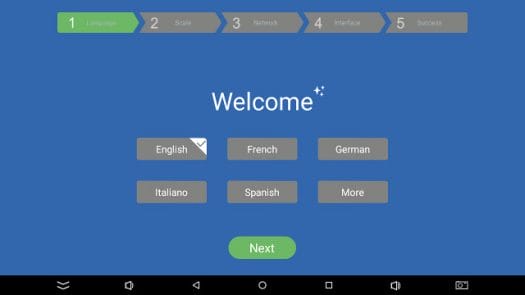 The status bar can be hidden or shown are you prefer, and includes volume, Android buttons, and a screenshot button.
I tested the IR remote control, which worked reliably up to 7 meters, and further than that I started to experience key misses. IR learning function is also working. As usual, I spent most of the time using MINIX NEO A2 Lite air mouse instead since it's so much more convenient in Android.
Power handling works a little differently than most TV boxes. The only way to turn on the device after you connect the power is to press the power button on the unit, but if your turn off the box with the remote control, it's possible to turn it back on with either the remote control or the power button on the device. A short press on the remote control's power button will put the box in standby mode, while a long press will show a menu to either power off or restart the device.
I've measured power consumption with and without USB 3.0 hard drive , and differentiated between "hard" power off (connected power supply, but not started), and soft power off (power off from remote control):
Hard power off – 0.0 Watt
Soft power off – 1.0 Watt
Standby – 1.0 Watt
Idle – ~4.0 Watts
Hard power off + USB HDD – 0.0 Watt
Soft power off + USB HDD – ~4.0 Watts
Standby + USB HDD – ~4.0 Watts
Idle + USB HDD – ~5.3 Watts
Soft power off mode is pretty much useless, as it consumes just as much as standby mode, and you need to go through the full boot sequence. If you want to properly turn off the device, you'll need to press the button on the unit for about five seconds, release it, and you'll see the "power off" sequence like you would on your phone. Power consumption will be zero watt in that case.
A95X R2 box is not super cool during use, but I have not noticed obvious CPU throttling during use. After playing a 2-hour video in Kodi / TVMC, the temperature measured with an IR thermometer on the top and bottom of the device was 49 and 54 °C respectively, and after playing Riptide GP2 for over 15 minutes, it went up to 50 and 57 °C. I also checked the temperature reported by CPU-Z after both test: 82.3 and 89.2 °C, so it looks to be on the limit. Gamin performance in Beach Buggy Racing and Riptide GP2 was very good, even with maximum settings, but it was certainly helped with the 1280×720 resolution.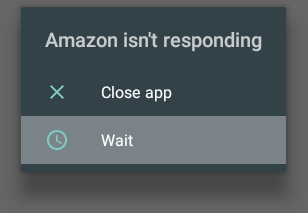 My first impressions with the TV box were rather mixed as beside the first boot into recovery, a 720p user interface, and an unusable Google Play, I also had many "App isn't responding window" due to the slow storage. The box basically comes to a halt when an app is being installed/updated in the background, so that's certainly a major downside for the box, especially when it does so in the background while you are using another program.
Video & Audio Playback in TVMC, DRM Info, and YouTube
TVMC 16.1, a fork of Kodi 16.1, is installed the box. However, by default, no icon is shown. I first found the app via APKPure, as when I search for Kodi, I could not install it, instead I was offered to Open it, and TVMC was launched.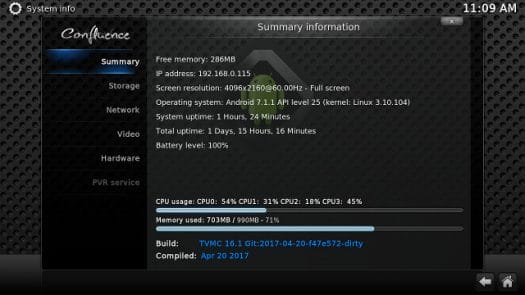 If you want easy access to TVMC icon, install it via the HELP section of the main launched. I enabled automatic frame rate switching in Kodi/TVMC, before trying a few videos (Linaro Media Samples) played from a SAMBA share over Ethernet:
H.264 codec / MP4 container (Big Buck Bunny) – 1080p – OK
MPEG2 codec / MPG container – 1080p – OK
MPEG4 codec, AVI container – 1080p – OK
VC1 codec (WMV) – 1080p – OK
Real Media (RMVB), 720p / 5Mbps – OK
WebM / VP8 – 1080p – OK
H.265 codec / MPEG TS container – 1080p – OK
All good, and to my surprise, automatic frame rate switching also worked just fine, so I played a few more videos, still from SAMBA, unless other stated (HDD = USB hard drive):
ED_HD.avi

(MPEG-4/MSMPEG4v2 – 10 Mbps) – OK
big_buck_bunny_1080p_surround.avi (1080p H.264 – 12 Mbps) – OK
h264_1080p_hp_4.1_40mbps_birds.mkv (40 Mbps) – OK
hddvd_demo_17.5Mbps_1080p_VC1.mkv (17.5Mbps) – OK
Jellyfish-120

-Mbps.mkv

(120 Mbps video without audio) – HDD: OK
Still very good, so let's switch to some 4K video samples:
HD.Club-4K-Chimei-inn-60mbps.mp4 (H.264, 30 fps) – OK

sintel-2010-4k.mkv (H.264, 24 fps, 4096×1744) – 

SAMBA: Frequent buffering

; HDD: OK
Beauty_3840x2160_120fps_420_8bit_HEVC_MP4.mp4 (H.265) –  OK
Bosphorus_3840x2160_120fps_420_8bit_HEVC_MP4.mp4 (H.265) – OK
Jockey_3840x2160_120fps_420_8bit_HEVC_TS.ts (H.265) – OK
MHD_2013_2160p_ShowReel_R_9000f_24fps_RMN_QP23_10b.mkv (10-bit HEVC) – OK
phfx_4KHD_VP9TestFootage.webm (VP9) –

1 to 2 fps (software decode)

BT.2020.20140602.ts

(

Rec.2020

compliant video; 36 Mbps; 59.97 Hz) – OK
big_buck_bunny_4k_H264_30fps.mp4 – OK
big_buck_bunny_4k_H264_60fps.mp4 – Not 100% smooth, and audio delay (H.264 @ 4K60fps not supported by VPU)
Fifa_WorldCup2014_Uruguay-Colombia_4K-x265.mp4 (4K, H.265, 60 fps) – OK
Samsung_UHD_Dubai_10-bit_HEVC_51.4Mbps.ts (10-bit HEVC / MPEG-4 AAC) –

SAMBA: Some audio cuts due to buffering;

HDD: OK
Astra-11479_V_22000-Canal+ UHD Demo 42.6 Mbps

bitrate.ts

(10-bit H.265 from DVB-S2 stream) –  OK
暗流涌动-4K.mp4 (10-bit H.264; 120 Mbps) – HDD: perfect.
Ducks Take Off [2160p a 243 Mbps].mkv (4K H.264 @ 29.97 fps; 243 Mbps; no audio) – HDD:

Slideshow

tara-no9-vp9.webm (4K VP9 YouTube video @ 60 fps, Vorbis audio) –

Massive artifacts (software decode)

The.Curvature.of.Earth.4K.60FPS-YT-UceRgEyfSsc.VP9.3840×2160.OPUS.160K.webm

(4K VP9 @ 60 fps + opus audio) –

Lots of artifacts (software decode)
We can start to see some "cracks" here, with some 50 to 60 Mbps videos failing to play smoothly over Ethernet + SAMBA, and VP9 hardware decoding not implemented in TVMC despite being supported by the processor (in theory). So I tried again the VP9 videos in FileExplorer, but I was not able to login to the SAMBA share, so I played them from the hard drive instead. It worked, but with large black bars on the bottom, left and right on the screen, and rendered on the framebuffer, meaning 720p instead of 4K.
The option to adjust Zoom/Aspect Ratio is also not available while playing videos in Kodi either.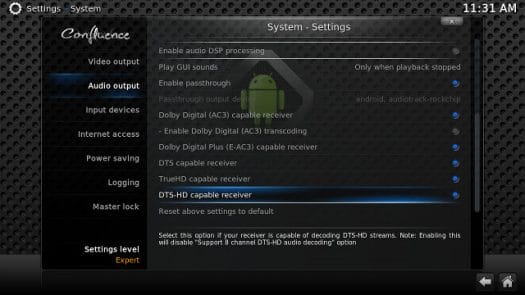 TVMC has option for audio pass-through for AC3, E-AC3, DTS, TrueHD, and DTS HD, so I tested those over HDMI with Onkyo TX-NR636 AV receiver, as well as stereo output (PCM 2.0) downsampling.
Audio Codec in Video
PCM 2.0 Output
HDMI Pass-through
AC3 / Dolby Digital 5.1
Audio OK,
video: 1:1 aspect ratio
Audio OK,
video: 1:1 aspect ratio
E-AC-3 / Dolby Digital+ 5.1
OK
OK
Dolby Digital+ 7.1
OK
OK
TrueHD 5.1
OK
OK
TrueHD 7.1
OK
OK
Dolby Atmos 7.1
OK
Dolby True HD 7.1
DTS HD Master
OK
OK
DTS HD High Resolution
OK
OK
DTS:X
OK
DTS HD MSTR 7.1ch B
My AV receiver does not support Dolby Atmos, nor DTS:X, so it correctly falls back to Dolby True HD and DTS HD Master. I'm pleasantly surprise here again. Note that the first time, I had some background noise for all pass-through options, but once I enabled HDMI BitStream in Android settings, and restarted TVMC, everything worked fine.
Playing Blu-Ray ISOs would often results in TVMC crashing, and when working AMAT.iso would play very very slowly, while Sintel.iso would play just fine. MPEG2 1080i videos & 720p/1080p Hi10p videos played perfectly well. That makes A95X R2 the very first TV box I own capable of handling all three Hi10p (10-bit H.264) videos samples I own at 720p, 1080p, and 4K resolution with video, audio, and subtitles working.
The box could also decode SBS and over/under 3D videos, but I could not confirm whether 3D is supported since my TV is not 3D capable. Various MKV, AVI, XViD/DViX, MP4, VOB/IFO, and FLV videos could play, and the TV box passed the reliability test with a 2-hour 1080p H.264 movie played over a SAMBA share. So while the Android performance is quite poor due to the slow storage, the video & audio capabilities are not too bad. The only problem is that at the end of the review, TVMC started crashing each time I played a video, and I could not fix it even after clearing cache and data….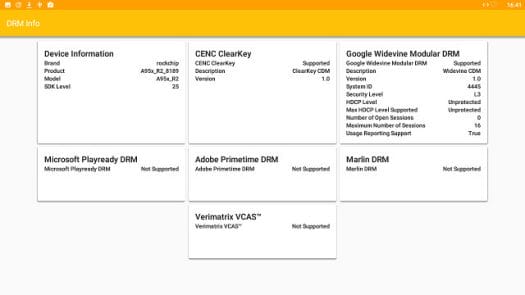 DRM Info app shows Google Widevine Level 3 is supported, meaning premium apps like Netflix won't be able to support HD or UHD video playback.
YouTube works, but can only play videos up to 720p (1280×720) resolution likely before the framebuffer is set to that resolution. The video are also rendered to the framebuffer, instead of the hardware video buffer, as I could take screenshots with the video, something that is not supposed to be possible when playing video on the hardware video buffer.
Networking & Storage Performance
A95X R2 is limited to 802.11n @ 2.4 GHz, so that's what I tested by copying a 278MB file between SAMBA and the internal flash, and vice versa, using ES File Explorer. I could transfer that file at 3.2MB/s on average, a very good results on this type of connection.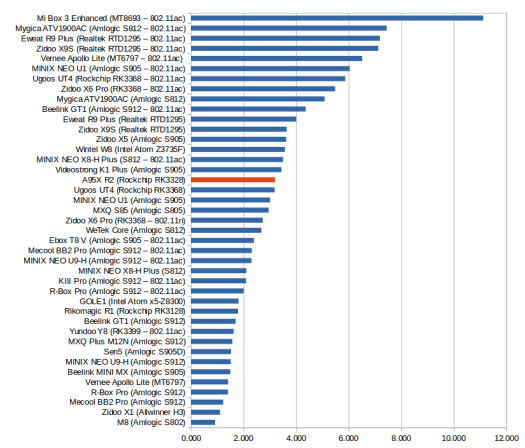 I also used iperf -t 60 -c ip_server to test raw speeds.
Client

connecting

to

192.168.0.108

,

TCP

port

5001

TCP

window

size

:

85.0

KByte

(

default

)

--

--

--

--

--

--

--

--

--

--

--

--

--

--

--

--

--

--

--

--

--

--

--

--

--

--

--

--

--

--

[

5

]

local

192.168.0.104

port

5001

connected

with

192.168.0.108

port

52572

[

5

]

0.0

-

60.0

sec

477

MBytes

66.7

Mbits

/

sec
Client

connecting

to

192.168.0.108

,

TCP

port

5001

TCP

window

size

:

85.0

KByte

(

default

)

--

--

--

--

--

--

--

--

--

--

--

--

--

--

--

--

--

--

--

--

--

--

--

--

--

--

--

--

--

--

[

3

]

local

192.168.0.104

port

36692

connected

with

192.168.0.108

port

5001

[

ID

]

Interval

Transfer

Bandwidth

[

3

]

0.0

-

60.1

sec

373

MBytes

52.1

Mbits

/

sec

and results are again pretty good. I also quickly tested Fast Ethernet using full duplex transfer, and the bandwidth was maxed out in both directions:

Client

connecting

to

192.168.0.115

,

TCP

port

5001

TCP

window

size

:

102

KByte

(

default

)

--

--

--

--

--

--

--

--

--

--

--

--

--

--

--

--

--

--

--

--

--

--

--

--

--

--

--

--

--

--

[

6

]

local

192.168.0.104

port

51422

connected

with

192.168.0.115

port

5001

[

ID

]

Interval

Transfer

Bandwidth

[

6

]

0.0

-

60.0

sec

655

MBytes

91.5

Mbits

/

sec

[

4

]

0.0

-

60.1

sec

663

MBytes

92.6

Mbits

/

sec

I won't test Bluetooth with this device, simply because it does not support it.
Switching to A1SD bench app for storage performance, I can confirm the cheap Samsung eMMC flash used in the device has poor write speed (6.46 MB/s), and read speed (71.14MB/s) should be ignored due to cached read. That flash is the reason of some of the very poor performance with the TV box at times, especially when write operation (e.g. installing/updating app) occur in the background.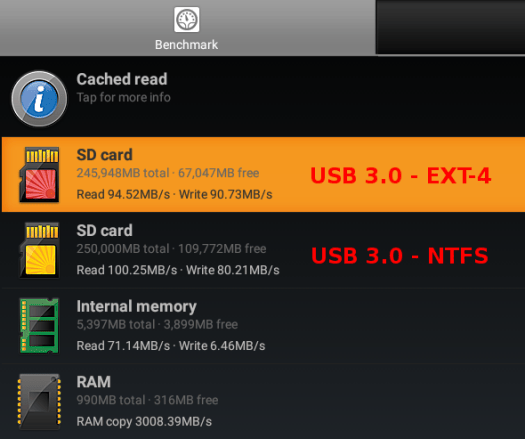 USB 3.0 performance is however impressive with 100.25 MB/s and 80.21 MB/s read and write speed on the NTFS partition, and 94.52 MB/s and 90.73 MB/s on the EXT-4 partition.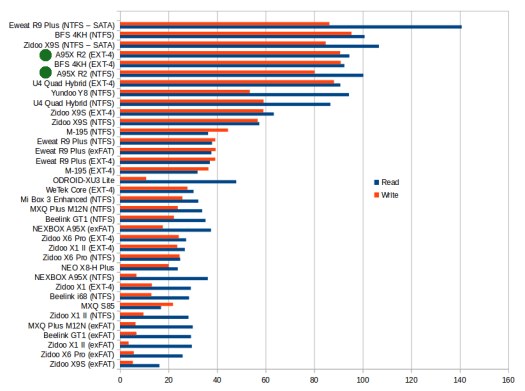 The performance is excellent, and is close to the performance I got on my main computer with that drive. That's very promising for other RK3328 hardware platforms, as sadly A95X R2 is bottlenecked by the Fast Ethernet connection.
A95X R2 TV Box / Rockchip RK3328 Benchmarks and System Info
CPU-Z reports a quad core Cortex A53 processor @ 408 MHz to 1.51 GHz with an ARM Mali-450MP GPU. The model is A95x_R2 (A95x_R2_8189), probably meaning there may be other models with a different WiFi module, and as mentioned previously the "screen resolution" is limited to 1280×720. 990 MB of total RAM is available to the system, and 5.27 GB of internal storage.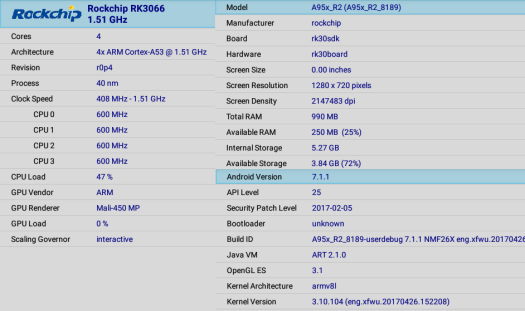 A95X R2 scores 33,117 points in Antutu 6.x , or about the same as TV boxes with Amlogic S905X, which should be expected, as both processors have similar features, except RK3328 has one less GPU cores. This is mitigated by the 1280×720 UI instead of 1920×1080. If the developer had chosen the latter, the score should have been a little lower.

Vellamo 3.x also reports similar scores with 1,943 point for Chrome Browser test, 1,464 points for Multicore (one test failed), and 937 for the Metal score, against 1,855 points for Browser test (note: not Chrome), 1,491 points for multicore, and 910 for Metal for an Amlogic S905X TV box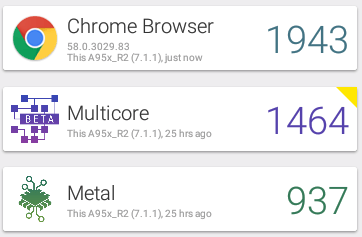 3DMark ICE Storm Extreme v1.2 reveals the weakness of the CPU with just 2,252 points, against 4,183 points on Amlogic S905X processor.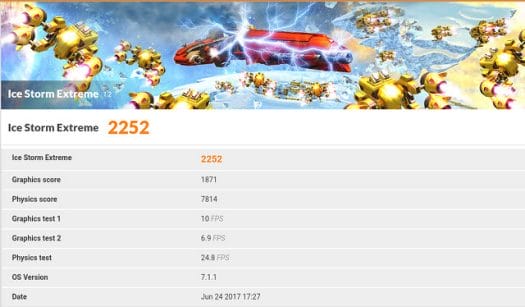 Conclusion
My review of A95X R2 did not start so well with boot problems when connecting a USB hard drive (using a beefier power supply may help), and frequent sluggishness and app is not responding pop-up windows appearing. However, video and audio playback are quite well support with automatic frame rate switching and HD audio pass-through working well. USB 3.0 performance is excellent, and I was also pleased with WiFi performance.
PROS
Latest Android 7.1.1 Nougat firmware
Good 4K video & audio support in TVMC (Kodi's fork) with automatic frame rate switching and HD audio pass-through working for DTS HD and Dolby TrueHD
Very good WiFi performance and stability (for a device limited to 802.11n)
Excellent USB 3.0 storage performance similar to what I get on my main computer
NTFS, EXT-4, and FAT32 file systems supported
Pretty design with compact box and front panel LCD display
Fast boot (< 20 seconds)
OTA firmware update likely supported (but not tested, since no new firmware)
CONS
Slow eMMC flash leading to sluggishness, and poor performance at times
Connecting a USB 3.0 hard drive may lead to booting into recovery (random issue)
Google Play is not usable, due to non-accessible search function
TVMC/Kodi issues – no zoom option during playback, VP9 hardware decoding not working, random crash when starting to play Blu-ray ISO's, failed to play any videos at the end of review
YouTube limited to 720p (due to 1280×720 UI)
No visible options for HDR, HDMI CEC, Deep Color, etc…
No Bluetooth support
DRM limited to Widevine Level 3
It's hard to recommend A95X R2 TV box due to the serious cons, but I find Rockchip RK3328 good be a good base on hardware with a faster eMMC flash, and Gigabit Ethernet, even potentially suitable for a NAS + TV Box combo due to the excellent USB 3.0 storage performance.
I'd like to thank GearBest for providing a sample for review. If you are still interested, you could purchase A95X R2 for $32.99 including shipping using GBA95XR2 coupon. The TV box can also be found on Banggood, GeekBuying, and Aliexpress for just under $40.

Jean-Luc started CNX Software in 2010 as a part-time endeavor, before quitting his job as a software engineering manager, and starting to write daily news, and reviews full time later in 2011.