I completed my review of MeLE PCG03 Apo mini PC with Windows 10 about two weeks ago, and at the time when I tried Ubuntu, all I got was a black screen. MeLE said they would release an Ubuntu image for the board soon, so I did not investigate further. The company has now released Ubuntu 16.04 Desktop ISO via a link on Twitter together with (partial) instructions, and the company told me another company had worked on the image. I sent the link to Linuxium, as in the past MeLE or that other company used his work without asking. I turns out the ISO was identical to Ubuntu 16.04 Desktop ISO released in April last year.

linuxium

@

LINUXIUMONE

:

~

/

Downloads

$

cmp

-

l

ubuntu

-

16.04

-

desktop

-

amd64

.

iso

.

mele

ubuntu

-

16.04

-

desktop

-

amd64

.

iso

.

canonical

linuxium

@

LINUXIUMONE

:

~

/

Downloads

$

Anyway, I still got the black screen issue using that image, and that's because I first failed to find the option in the BIOS to change boot to Linux. When the mini PC starts, press the Esc key to enter Aptio Setup Utility, go to Chipset->South Bridge, then OS Selection and select Intel Linux.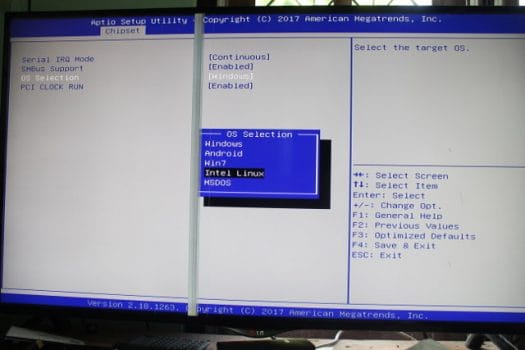 Interestingly, you can also select Android, Windows 7 (I doubt it would work), and MSDOS, probably meaning FreeDOS in that case.
Since nobody made any work to specifically add support to MeLE PCG03 Apo to Ubuntu, I decided to use a more recent Ubuntu 16.04.2 Desktop image LTS instead, and flashed it to a USB drive using Startup Disk Creator in my Ubuntu computer. If you are using Windows, you could go with UltraISO as explained in MeLE's instructions, or Rufus instead.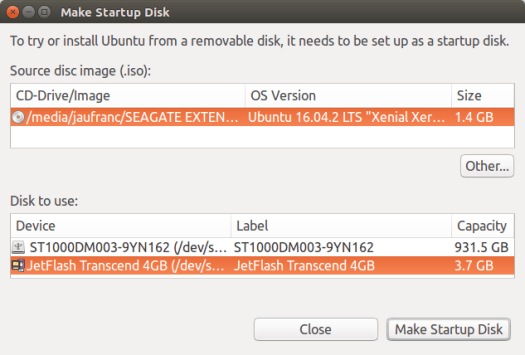 You can boot the drive either in Aptio Setup Utility, or by pressing F7 at boot time to enter boot device selection. In my case, I selected UEFI: JetFlashTranscend 4GB 8.07, Partition 1.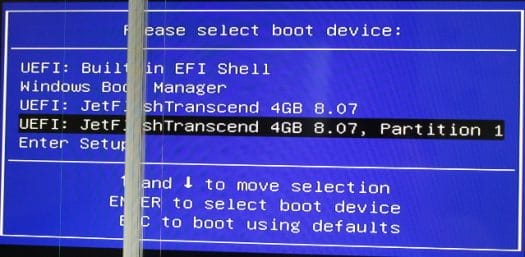 Shortly after I got the menu to try or install Ubuntu. I did not want to install it, as I would have probably had to reinstall Windows 10 after, since I won't kept this mini PC, so I only tried it booting from the USB flash drive.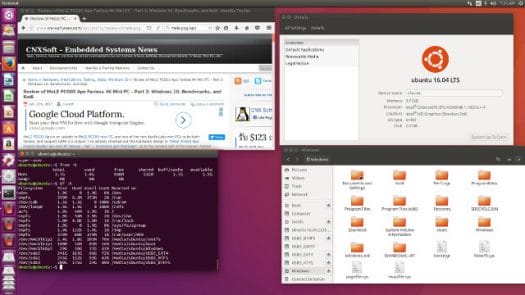 As you can see most features just work with the Ubuntu ISO released by Canonical. I tested audio with headphones and HDMI by playing YouTube videos in Firefox browser.
Features
Results
HDMI video
OK
HDMI audio
OK
VGA
OK
Ethernet
OK
WiFi
OK
Bluetooth
Bluetooth headset OK
Smartphone: Pairing OK, but can't send or receive files
USB 2.0 port
OK
USB 3.0 ports
OK
SD slot
OK
eMMC flash
OK
Headphone Jack
OK
The file transfer problem with Bluetooth is likely a software or interoperability problem between my phone and Ubuntu, as I've had the same issue on other Ubuntu devices.
The eMMC flash is also recognized, so you should be able to install Ubuntu – and replace Windows – to the flash too.

/

dev

/

mmcblk0p3

on

/

media

/

ubuntu

/

Windows

type

fuseblk

(

rw

,

nosuid

,

nodev

,

relatime

,

user_id

=

0

,

group_id

=

0

,

default_permissions

,

allow_other

,

blksize

=

4096

,

uhelper

=

udisks2

)

MeLE PCG03 Apo is sold for $159.20 including shipping on Aliexpress.

Jean-Luc started CNX Software in 2010 as a part-time endeavor, before quitting his job as a software engineering manager, and starting to write daily news, and reviews full time later in 2011.