Microchip has just introduced two new families of micro-controllers based on ARM Cortex-M4F with SAM D5x and SAM E5x series sporting up to 1 MB of dual-panel flash and 256 KB of SRAM both with ECC support. Both families also support QSPI flash with XIP (eXecute In Place) support, features an SD card controller and a capacitive touch controller, with SAM E5x family also adding support for two CAN-FD ports and Ethernet.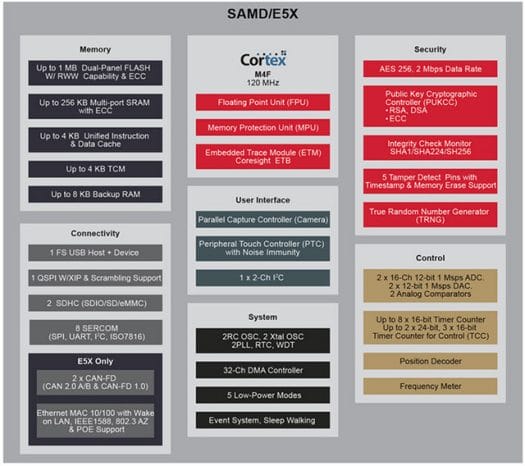 Microchip SAM A5x/E5x key features and specifications:
MCU Core – ARM Cortex-M4F core running at 120 MHz with single precision Floating Point Unit (FPU)
Memory – Internal memory architecture with user configurable Tightly Coupled Memory, System memory, Memory Protection Unit and 4KB Combined I-cache and D-cache; up to 256KB ECC SRAM, up to 1MB ECC flash
Storage I/F – Quad Serial Peripheral Interface(QSPI) with Execute in Place (XIP) Support
Peripherals

Up to 2x Secure Digital Host Controller (SDHC)
Peripheral Touch Controller (PTC) supporting up to 256 channels of capacitive touch
Full speed USB with embedded Host/device
Dual 1Msps 12-bit ADCs up to 32 channels with offset and gain error compensation.

Dual 1Msps, 12-bit DAC and analog comparator

Up to 8x Serial communication (SERCOM) ports configurable as UART/USART, ISO 7816, SPI or I2C
SAM E5x series only:

10/100M Ethernet MAC with IEEE1588 (E53/E54)
Dual Bosch CAN-FD 1.0 Controller (E51/E54)

Security – Symmetric (AES) and Asymmetric(ECC) Encryption, Public Key Exchange Support (PUKCC), TRNG and SHA- based memory integrity checker
Power Modes – Supports 5 Low power modes with 65µA/MHz Active Power Performance
Packages – 48 to 128-pin package options
Temperature Range – -40°C to 85°C
Some SAMD5x SKUs are pin-to-pin compatible ARM Cortex M0+ based SAMD2X MCU, so you can easily upgrade existing design with a more powerful MCU core. There only one main "sub-family" with SAMD5x: SAMD51, but SAME5x has three sub-families depending on Ethernet and CAN options:
SAME51 – 2x CAN-FD
SAME53 – Ethernet MAC
SAME54 – 2x CAN-FD and Ethernet MAC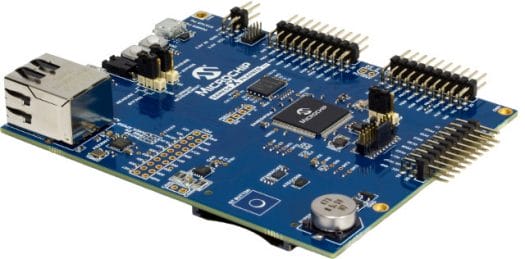 Microchip has used the higher end version of SAME54 processor in SAM E54 Xplained Pro Evaluation Kit in order to help customer kick-start development as soon as possible. Key features for ATSAME54-XPRO board:
MCU – Microchip ATSAME54P20A microcontroller
Storage – 256 Mbit QSPI Flash, SD/SDIO card connector, AT24MAC402 serial EEPROM with EUI-48 MAC address
Connectivity – 10/100M Ethernet (RJ45) via KSZ8091RNA PHY
USB – micro USB interface, host, and device
Expansion

Parallel Capture Controller header (ArduCAM compatible)
CAN connector
Three Xplained Pro extension headers

Debugging

10-pin Cortex Debug Connector with SWD
20-pin Cortex Debug + ETM Connector with SWD and four bit trace
Embedded Debugger
Embedded current measurement circuitry (XAM)

Security – Microchip ATECC508 CryptoAuthentication device
Misc – 1x reset button, 1x programmable button, 1x QTouch PTC button, 1x yellow user LED, backup super capacitor, 32.768 kHz & 12 MHz crystals
Power Supply – 5V via micro USB port
The board and all Atmel SAMD5x / E5x processor are supported by Atmel Studio 7 IDE, and Atmel START online tool to configure peripherals and software.
Microchip SAM D5x and SAM E5x are in available in volume production, with pricing starting at $2.43 for 10K orders. SAM E54 Xplained Pro Evaluation Kit is available for $84.99. Adafruit is also working on – likely cheaper – SAMD51 based Feather M4 and Metro M4 boards that will support Arduino (See github for current code).
More details can be found on SAM D and SAM E MCU product pages.

Jean-Luc started CNX Software in 2010 as a part-time endeavor, before quitting his job as a software engineering manager, and starting to write daily news, and reviews full time later in 2011.